Boston High School:

Taris Wilson
February, 1, 2014
Feb 1
2:14
AM ET
BOSTON -- It's been a down year for the Boston City League, but one that New Mission has thoroughly dominated. In league games this season, the No. 2 Titans have beaten opponents by an average of 30.7 points, including a 30-point drubbing of Charlestown in their first meeting back in December.
The second meeting -- complete with a 25-minute array of halftime festivities, and a hostile home crowd -- didn't go as planned. The Titans escaped Charlestown, 67-65, on a night it was honoring former Townie and UConn guard Shabazz Napier with the retirement of his jersey. And for Mission head coach Cory McCarthy, this was exactly the kind of win they needed.
"It was good, and in this environment," McCarthy said. "I think there's, like, Satan or somebody hanging on top of that rim, and he might be 10 feet tall, because we shoot the ball well and we just could not for the life of us hit anything from the perimeter."
In this gym, with its unique lighting and less-than-forgiving rims, the Titans (12-2) had to rely on their interior game, led by seniors Asante Sandiford (21 points, 10 rebounds) and Fred "Bam" Rivers (11 points, seven rebounds).
[+] Enlarge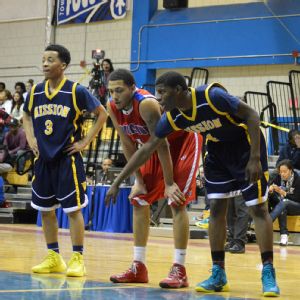 Brendan Hall/ESPNBoston.comAsante Sandiford (21 points, 10 rebounds) was a force in the post as New Mission staved off Charlestown.
Sandiford gave the Townies (9-7) fits early, drawing foul after foul underneath as players either leaped at his pump fakes or found themselves in awkward positions trying to handle his pivots. Sandiford went 6-for-8 from the line in the first quarter -- including three trips to the free throw line in the first 80 seconds of the game -- then dominated the paint in the second, going 5-for-6 from the floor.
Rivers, meanwhile, had to come up big late after finding the bench early, picking up his second foul just four minutes into the contest.
Clinging to a 62-60 lead following a free throw from Charlestown's Taris Wilson (18 points), Mission's Randy Glenn dribbled to the right wing and called for a Rivers pick to his left. The runway clear, Glenn blew by his defender and picked up a foul on the way up, sinking one of two for a three-point lead.
Charles Washington rimmed a pull-up attempt from the elbow on the ensuing Charlestown possession, and Rivers was there underneath to scoop the rebound and pick up another foul, hitting both free throws for the 65-60 lead.
After a Charlestown basket the other way, Rivers was sent flying to the floor after receiving the inbounds pass, and with his two made free throws and just 16.6 seconds left the game looked in hand at 67-62.
Not to be outdone, Oliver Benner (18 points) heaved up a deep three-pointer from the top of the key, then dragged Tyrique Lee into the Townies bench for the foul (after brief scuffling, players from both teams had to be separated, but no technical fouls were assessed). With 1.6 seconds left Lee missed both free throws, but Rivers corralled the board on the second shot to seal the victory.
"It was definitely a test," Sandiford said. "It shows we have to stay together at all times and keep our team chemistry up. Down the road we had a couple breakdowns, missed a couple of free throws, we were losing our head because of the crowd. It's very intense in here. But we learned that we have to finish at all times."
January, 13, 2013
1/13/13
2:37
AM ET
By
Chris Bradley
| ESPNBoston.com


PAXTON, Mass. -– Add this one to the growing list of games St. Peter-Marian wasn't supposed to win.

The underdog Guardians' second half run earned them a 74-66 over a bigger, more talented, and more athletic Charlestown squad, before a capacity crowd at Anna Maria College. This is St. Peter-Marian's third win over a top 25 opponent in the last six days, a feat no other team in the state has accomplished at any point this year.

Junior Connor Brown shot the lights out for St. Peter-Marian, knocking down five threes on his way to 22 points. In moving to 9-1 overall, Brown is the Guardians' fourth different leading scorer this season.

Charlestown dominated early on in this one. Taris Wilson got to the rim nearly at will off the dribble, Kevin Williams nailed three first-half treys, and Freddy Oliviera got some buckets off of his patented low post spin move. The Townies pressured SPM's guards via a 1-2-1-1 diamond press, and were able to get several buckets in transition early in the first half off of turnovers.

However, the Guardians adjusted at halftime, and Brown capitalized in the third quarter, hitting a couple of treys and leading SPM back from a 32-27 halftime deficit.

Role players get it done: Kevin Riley put in some hard work defensively in the first half, but made his presence felt offensively in the second half, scoring 12 points in the half and finishing with 15 in all. On three separate occasions he scored on double backscreens by the Guardians' big men.

Senior captain Anthony Manzello, who was the hero on Wednesday against St. John's, assisted on two of those baskets with pinpoint passes. It was an offensive boost that the Guardians needed, as Charlestown made a fierce run late in the fourth quarter.

"It's my favorite play, Manzello is a great passer," Riley said. "We've been playing together so long, he just knows how to catch me on the backside."

Six-foot-4 junior Sean Sweeney also performed well off the bench for the Guardians, rebounding and giving Berry a rest in the second half. The St. Peter-Marian crowd erupted in the fourth quarter when Sweeney caught the ball in the open floor, and put in an acrobatic lay-up after going by Oliviera and taking a whack to the head from Allijah Robinson.

Makai Ashton-Langford continued to show why he's one of the area's most talented freshmen. At one point in the second half the talented point guard came in and scored two consecutive and one lay-ups.

"Makai's a freshman and he plays with poise beyond his years," Guardians coach Marcus Watson said, with a laugh. "He's just aggressive. I basically tell him: make your mistakes and I'm going to live with them, But as you can see, he's pretty good."

Free throw woes: St. Peter-Marian missed 17 free throws in their thrilling win over St. John's, and it was a stat that Watson was disappointed about, emphasizing to his team in practice this week that in general they need to become a better free throw shooting team. The Guardians went 16-of-22 from the line tonight, but Watson says improvement can still be made.

"According to this I'm still not happy," he said as he looked down at the scorebook. "After our last game, our free throw shooting looked horrendous, so we just spent a practice shooting foul shots. I gave them the day off the day after we beat St. John's, and then on Thursday they came in and they shot free throws for the first 45 minutes of practice. It paid its dividends."

The Townies may want to take a similar approach going into Wednesday's showdown with city league rival Madison Park. Charlestown shot 17-30 from the free throw line against St. Peter-Marian. Despite the missed free throws, though, Charlestown coach Edson Cardoso was encouraged by the performance by his team going up against a St. Peter-Marian squad that is one of the scrappiest in the state.

"I think this will be a turning point, cause we're playing the type of style that we played last year," he said. "I saw spurts of that tonight. We missed thirteen free throws, maybe more...we're a team that usually can average in the 80's. It's going to take some work, but I think we'll be ready to play Madison based on the turning point of tonight."

Beating the press: Both teams broke out similar diamond, 1-2-1-1 full court presses. Watson scouted the Townies earlier in the week, and decided to press Charlestown full based on the fact that he expected the Boston City League power to do likewise.

"[The press] just opened everything up," Watson said. "We know teams that press don't like to be pressed, so we tried to sprinkle that in a little bit. I'm very happy with our defense."

On the other side of the ball, beating the press was key for Brown, who benefited from several open looks coming out of the Guardians' press break. He knocked down his first three attempts from outside in the first half, and added two more threes in the third quarter.

"We're a scrappy bunch, we just kind of go out and try and hit the open man," Brown said. "Whoever gets the ball, we trust them to do what's right. They were pressing; I just kind of went to the open spots. My teammates found me, and I hit open shots. That's all it comes down to."

Statement Win: The Guardians knocked off the state's 17th, 18th, and 19th ranked teams in the last six days, and their brutal schedule doesn't get much easier next week, taking on a pair of talented Division 3 teams in Whitinsville Christian and Hopedale, both teams are 8-1. As mentioned, beating three ranked teams in a week span had yet to be done this year, so in doing so St. Peter-Marian sent quite a message to the rest of the state, and they know it:

"I think it proves that Central Mass. basketball can compete. Not to say that we're going to beat everyone, but we just want to show that we can compete, and that we aren't going to run from anybody," Watson said. "There's a lot of quality teams in Central Mass. I really wanted to challenge my kids this year. I'm pretty pleased with my kids."

Brown said the wins add a lot of confidence for the Guardians going forward, as they still have plenty of tough teams left to face on their schedule.

"It feels awesome, playing all these teams from Eastern Mass. Coach tells us that we're not going to back down ever. It's just a great team win, we executed great on offense," he said.

"It's great, we come out and play these teams, nobody thinks we have a shot, and we just try to prove everybody wrong. Good team win, someone new shows up every night, you never know."


December, 23, 2012
12/23/12
12:55
AM ET
By
Chris Bradley
| ESPNBoston.com
CHARLESTOWN, Mass. -– If there was any doubt going into the weekend on whether or not St. John's Prep had the experience to win this year, consider those doubts halted.

Behind 18 points from senior captain Tyler Dooley, Prep knocked off a streaking Charlestown squad on the road on Saturday, 64-50, to move to 5-0 on the season.

Charlestown (2-3) looked as if it had overcome their offensive woes of their first two games of the season, especially after picking up two wins earlier this week over Brighton and East Boston. However, Prep was able to shut down star Townie guard Taris Wilson (five points) and forward Alijah Robinson (10), and forced Charlestown to make rushed decisions and take quick shots.

"We were just going to try to keep them in the halfcourt," said head coach Sean Connolly. "We didn't want to let them get too many transition buckets because they're so athletic and they're so talented."

The Eagles led Charlestown 33-26 going into the half, thanks to the impressive first half performance from Dooley and the Eagles' defensive effort.

The Townies made quite a run early in the third quarter, forward Freddy Oliviera scored six straight points to bring Charlestown within a point, at 38-37. At a pivotal point for Prep, their slew of guards came up big in the dribble-drive offense, slamming the door shut down the stretch.

Eagles reload: It was unclear how good the Eagles would be after losing several talented players from last year's team. Marcos Echevarria was supposed to be the Prep's starting point guard before transferring to St. Mark's, and 6-foot-5 forward Isaiah Robinson also left for prep school -– making his move to Salisbury School, in Connecticut. Prep also graduated several lead contributors off of last year's team, including thousand-point scorer Steve Haladyna, sharpshooter Mike Carbone, and 6-foot-4 swingman Freddy Shove.

Six-foot-4 guard Ben Judson, just a sophomore, is one of the MIAA's most promising talents. A lefty with deep range on his jumpshot and an ability to take most any defender to the rim off the dribble, he scored seven points down the stretch to help the Eagles seal the game. Max Burt (13 points) and Drex Costello (12 points) both hit big shots to lengthen Prep's lead in the fourth quarter. After the game, Connolly praised his captains -- Costello, Dooley, and Josh Syska -- for their leadership.

"With Tyler, Drex, Josh, we've got some great leaders this year," he said, "They play hard and set the tempo for us every day."

Dooley comes up big: Tyler Dooley was Prep's best player on Saturday, playing with an incredible amount of toughness and tenacity, a style of play that was clearly contagious to his teammates. Dooley attempted 13 free throws, converting 10 of them, and took some of the Townies hardest fouls -– getting up each time and continuing his playmaking ways. Showing a versatile game and an ability to run Connolly's offense well, he also finished the game with 6 assists.

"He controlled the tempo for us, he does such a good job running the offense and obviously he's our best ballhandler, he's the guy that makes us go," Connelly said.

Slowing it down: Prep was 4-0 coming into the day, but had yet to face a team as talented as Charlestown. Connolly spent plenty of time game planning for the talented, athletic Townies, making an emphasis to his team to slow the game down, set up their offense, and maximize possessions.

"We were just trying to get some movement, cutting through the zone to try and spread them out. We've got some pretty good guards, so were kind of trying to spread them out, get guys getting into the gaps and kicking and getting open shots," he said of their four-out offense that they put in to get open shots for their shooters.

Defensively, the Eagles got up in the face of Charlestown's guards and forced them to make a play one-on-one, and the plan was successful, as the Townies generally struggled in the halfcourt.

"It's a very good win, this is our toughest test by far so far this year," Connoly said, "This is a very good win for us, beating a very talented Charlestown team. I'm very proud of the way the kids played."
December, 22, 2012
12/22/12
1:02
PM ET
By
Brendan Hall
| ESPNBoston.com
Some notes and observations from another wild week of MIAA basketball:

***

Townies on a tear: Is there any team in Massachusetts more feast-or-famine right now than Charlestown?

Consider the first four results of the season (ESPNBoston.com ranking in parentheses):

Dec. 14 – vs. (4) New Mission – L, 87-60
Dec. 15 – vs. (3) BC High – L, 70-44
Dec. 18 – vs. (17) Brighton – W, 66-47
Dec. 20 – at (12) East Boston – W, 53-48

Talk about a brutal start, but talk about suddenly just turning it on. In the Brighton win, the Townies led 50-20 late in the third quarter; at Eastie, they went up 49-35 in the fourth before a late 14-0 run from the Jets made it interesting again.

We unceremoniously dropped Charlestown from the poll following the two season-opening blowout losses. But the way the Boston City League season is going under this new alignment, we might as well stick all five teams from the top tier in the poll and leave them there. It's going be a roller coaster.

On paper, this is a squad with Top-10 potential, but until the Brighton win they had yet to figure out how to work with each other –- that tends to happen when you have just one holdover from last season, and a couple of transfers.

Last season, the Townies switched to a 2-3 zone to crack out of a slump, and they rode that all the way to a Division 1 North title. Safe to say the 2-3 is here to stay. A key adjustment they've made within that is moving Allijah Robinson from the elbow to the baseline/corner on either side of junior center Freddy Oliveira.

Down the road, the 6-foot-6 junior may be a more natural fit along the wing; but right now, he gives the Townies a much-needed presence underneath the boards. With Robinson, Oliveira (6-foot-6) and junior Taris Wilson (6-foot-3) playing low in the zone, that's a pretty good amount of size to overcome.

The Townies show some toughness, too. Robinson filled the stat sheet in Tuesday's win (15 points, 12 rebounds, four blocks, four steals), but he also fractured the orbital bone on his right index finger. He had his hand taped up for Thursday's tilt with Eastie, but after shootaround decided to go bare-handed. He led the team in scoring anyways (16 points), and didn't appear to be lingering at all.

"I was surprised he was even hitting three's," Charlestown coach Edson Cardoso said. "I wrapped up his hand and he's like, 'I'm ready, coach'. One more game, and then he can rest for two weeks.

"He's getting tough. We want him to get tougher, he needs to get tougher, and tonight he proved that, through some injury, he stood in there and played his heart out. He's also become the leader in timeouts, being positive, telling guys 'Good job', and he's stepping up. He's coming out of his shell."

***

Body By Boyle: Hard not to come away from Lowell's 93-39 rout of a pretty sharp New Bedford squad and not think this is one of the more complete teams in Eastern Mass., one through eight.

Against the undersized Whalers, the Red Raiders were achieving seemingly whatever they wanted. They ran fast breaks at a blistering pace. They lobbed 50-foot passes over the top of New Bedford's press for easy baskets. When 6-foot-7 center Drew Healy picked up his second foul late in the first quarter, they went five-out and created a series of open perimeter shots with slick ball movement. When New Bedford brought the ball up, Lowell greeted them with an extended 2-1-2 zone defense that gave them fits.

Plain and simple, Lowell's starting five of Jonathan Perez, Kareem Davis, Kevin Brito, Zaryn Green and Healy is one of the better in Eastern Mass.

One of the biggest things I came away from was the team's overall upper-body strength. Players were ripping balls loose for steals. Underneath the glass, both guards and forwards alike were throwing their shoulders around and muscling their way to rebounds.

"I'm all over them about it in the offseason," head coach Scott Boyle said following the win. "The kids work hard in practice and in the offseason. They work hard for it."

Boyle's regimen is a bit unique, though, littered with dynamic exercises that hardly involve any weights. One day, players may be taking shot puts and either lugging them around the field house or tossing them. Another day, they'll be driving the rolled-up cheerleader mats around the perimeter of the gym (for an idea of how hard that is, try pushing a towel around the floor by driving your feet). Still another day, they might be across the city, pushing a sled on a hill behind Rogers Middle School.

"We do some crazy stuff...There's a lot of different stuff we do with them," Boyle said. "They're using their overall body strength, and I mean some of the kids are athletically gifted to start with, too. It shows up, and for us…they're a young team that's very talented.

"In our home court, we should be able to get on a team. In two weeks [the Raiders face New Bedford again on Jan. 6], they'll be fired up and ready to go.

Said Healy, "They were crazy hard, but it pays off. We did a lot of work to work on our body -– endurance, speed. It pays off."

***

Don't Doubt 'The Dot', ctd.: We penned Dorchester as a sleeper in the Boston City League during the preseason, and after taking some lumps early against Cambridge and Boston English, it looks like the Bears (3-2) finally got the signature win they were looking for.

Against Madison Park on Friday night, the Bears trailed 13-6 after one but exploded in the second, outscoring the Cardinals 30-5 in the frame to take a 36-18 halftime lead. They never looked back, winning going away 70-52.

After some early struggles, the Bears went back to what's worked well for them – guard pressure – and switched to an extended 2-3 zone. Later, they moved to a 1-2-2 halfcourt press, and forced a number of turnovers off of traps.

We know what junior guards Dean Lee (three 3-pointers) and Khalil Newson (13 points, 13 assists) are capable of, and what an avalanche the Bears' transition game can become when it gets a full head of steam. But the Bears also excelled in the halfcourt, sparked by two treys from Lee from his beloved baseline corner spot.

"Dean is our specialist," Dorchester head coach Johnny Williams said. "But he just stretches floor. Even if he doesn't hit it, they have to respect him. He demands so much attention."

The night's biggest contribution, however, came down low.

With star junior center D'Bryant Coraprez suspended for the first eight games of the season (violation of team rules), 6-foot-7 senior Dakari Hannahwornum stepped up with colossal night, pouring in 26 points, 28 rebounds and four blocks.

"And the funny thing with Dakari, we only gave him three passes," Williams said. "He gets everything off the miss. He's a tenacious rebounder, acutely aware of his surroundings around basket, finishes with his left or right, and he's able to contort his body to finish around the rim. He had two big, thunderous dunks that ignited the team."

Yet again, we are seeing the fruits of this new Boston City League alignment. The Bears, lined in the second tier (alternately the "B" or "Central" division), suddenly find themselves relevant -- and respected by their peers -- at just the right time.

"The crowd that was there, the other coaches that were there -– Hugh Coleman [Brighton], Mike Kasprzak [Melrose], Malcolm Smith [formerly East Boston], it meant a lot for our kids to see them finally," Williams said. "It was good for the kids. They work hard, and they wanted to prove they could play with one of the A division teams. The kids believe they can play with anyone in the state."

***

Bursting onto the scene: After two weeks of girls basketball, we know at least two things. Braintree, which has won its first three games by an average margin of 38 points, looks every bit the No. 1 team in the state. And Donnaizha Fountain might end up carrying Cambridge on her back most nights, as she did in the Falcons' 46-39 loss to Arlington Catholic (30 points, 10 rebounds, eight blocks, five steals).

But I'm looking at a few other explosive starts as well. Sophomore Molly Bent totaled 72 points this week in two games against New Bedford, both wins. With the graduation of Rogetta Donaldson and Olivia Costello, Bent has taken a more assertive role in the offense, which includes a faster pace. The Red Raiders can run, and when the run is there they can run a unique triangle offense that can get her the ball off of screens.

Also keep an eye out for Lowell's 6-foot-2 freshman center, Lexi Schecter. The pivot had a solid debut in the season-opening win over Haverhill (14 points, 10 rebounds), but the one that sticks out is her performance a few days later, registering 17 blocks in a win over Dracut.
December, 20, 2012
12/20/12
10:51
PM ET
By
Ryan Hannable
| ESPNBoston.com



EAST BOSTON, Mass. -– Charlestown lost its first two games by a combined 53 points, but don't let that fool you, as the Townies have now strung together two straight impressive wins. First over No. 17 Brighton on Tuesday by 19 points, and then a 53-48 victory over cross-town rival No. 12 East Boston (4-1) tonight.

"We weren't really in sync as a team and didn't trust each other as we do now," said junior forward Alijah Robinson. "Those two losses really woke us up and we just had to come together."

Robinson took matters into his own hands Thursday scoring a game-high 16 points leading Charlestown (2-2) to their second victory of the year. Robinson actually attended East Boston as a freshman and had his first dunk in the Eastie gymnasium.

"I just came out here with a mindset like I have to play like it is my last game in high school forever and I needed to compete better than anyone else," the 6-foot-8 center said. "I think I did really well tonight."

The Townies actually trailed 10-8 after the first quarter, but picked up the pace in the second scoring the first nine points and never looked back as they went into the locker room with a 27-19 lead. A combination of a tenacious full-court press and clutch shooting put them ahead at intermission.

Eastie fought back early on in the second half, cutting the deficit to just two at 31-29 midway through the quarter, but that was where Williams and the Townies exploded, going on a 15-2 run spanning midway through the third to the beginning stages of the fourth.

Charlestown had three dunks on the run, including one by Robinson, who scored nine of the Townies' 15 points. They led 46-32 with just over six minutes left in the game, but the Jets wouldn't go down quietly.

The Jets went on a 14-0 run of their own to pull within one at 49-48 with 52.7 seconds left in the game.

Following a Charlestown timeout, junior guard Taris Wilson drove to the basket, drawing a blocking foul and then hit one of two free throws, giving the Townies a two-point lead with 37.2 seconds left.

On the ensuing possession the Jets turned the ball over on a bad pass resulting in a backcourt violation. Williams was then fouled and made one of two free throws giving the Townies a three-point lead and the Jets one last shot with 15.1 seconds to play.

Sophomore guard Marcus Shaw's corner three rimmed out and Charlestown's Colin Collins added a fast break layup to seal the five-point win.

"I was never comfortable with that lead," Charlestown head coach Edson Cardoso said. "When you come in here the gym is tight and the fans are yelling, so mentally you have to be prepared to play throughout the course of the game."

Collins finished with 13 points, while junior forward Freddy Oliveria added 12 in the win.

Coming off of his game-winning full court shot and Sports Center No. 1 top play, Eastie's Pat Santos was limited to just three points. Sophomore Rasheed Bell led the Jets with 12 points.

Winners of two straight, the Townies are now starting to find their true identity, but still aren't completely where they want to be.

"We're just adjusting guys right now," Cardoso said. "We will probably go 10 or 12 deep because like I said our identity is starting to come out, but we still have some work to do."

Charlestown's work is not done before the holiday break, with a huge Saturday afternoon visit from St. John's Prep on tap.

"We are looking forward to the next game and not dwelling on the past, just getting ready for the next one," Robinson said.

PLAYING THROUGH PAIN
Despite his monster performance, Robinson was actually playing with an injured right finger -- an injury suffered in Tuesday's game against Brighton.

"I was like 'Jeez, you shot the ball pretty well with a broken hand'," Cardoso said about Robinson. "I was surprised, he was even hitting three's (two). I wrapped up his hand, and it is still swollen, but we just have one more game before break so he can rest for two weeks."

Cardoso was impressed with the toughness Robinson showed, playing virtually the entire game after sitting the games first three minutes.

"He is very tough, we want him to get tougher, and he needs to get tougher," Cardoso said. "Tonight, he proved that through an injury he could go out there and play his heart out."
December, 19, 2012
12/19/12
2:13
AM ET
By
Corey J. Allen
| ESPNBoston.com
CHARLESTOWN, Mass. -- Charlestown began the game on a 7-0 run, and while Brighton kept up for a bit, the Townies led by 30 at the end of three quarters and finally put away the Bengals, 66-47.

This is Charlestown's first win of the season, and it comes by almost 20. You are not alone if you are wondering if this is the same team that lost its first two games by an average of 26 points to No. 4 New Mission (87-60) then No. 3 BC High (70-44).

"We're trying to find the identity of this team," said Charlestown coach Edson Cardoso.

That may be an understatement.

Charlestown is now 1-2 after tonight's victory. Tonight's 19-point victory leaves the team's first win spread at nearly their average loss margin.

"It's a long season," laughed Cardoso.

In the first quarter, the Townies got two steals and only led 12-10 after the first eight minutes. After two quarters, the lead had spread to 12 as they had four steals in second quarter.

But the third quarter is where Charlestown pulled up anchor and sailed away with the game, spreading the lead to 30 at 50-20. This lead was spurred by the Townies doubling Brighton's rebound total for the quarter (10-5) allowed the Townies to outscore them 23-5 in the same frame.

"We practiced a lot of defense last night," added Cardoso. "We went back to basics. We're a defensive team, offense will come. The lead was a result of deflections, rotations, communication which led to some positive offense."

New Year, New Townies: If you compare last year's Charlestown roster to this year's, you would wonder if the teams were even fielded from the same school (They are). The one name which rang last year and is back is 6-foot-3 junior guard Taris Wilson (14 points).

"We're talking about 13 new faces and two returners," Cardoso said. "I tell these guys, 'You're not last year's team, you're a brand new Charlestown team. Continue to trust yourselves and your coaches and we will develop into a great team by the end of the season.'"

Bigger Heart: When coach Cardoso asks for "bigger heart" from junior forward Allijah Robinson -- after a stunning performance, accumulating 15 points, 12 rebounds, four steals, four blocks and two assists -- it will not be a negative request, but more of a tightening up of an already effective and energetic individual.

"We ask a lot of him," admitted Cardoso. "I think he's at 75 percent right now. He has a heart but I need it to be bigger. As he continues to gain confidence in himself, his teammates and the program, he will be firing on all pistons."

Different Game: Brighton's Nick Simpson, who ended the game with five points, four steals and two blocks, went to the locker room with an undisclosed injury in the third quarter and did not return to game play. He remained on the bench in his warm-up gear. As Simpson watched his team's hopes of closing in on Charlestown diminish, Cardoso was dreading the chance that the triple threat (scoring, rebounding and defending) would come back to thwart his team's efforts to close out the game.

"Had that kid caught one or two more threes, things may have been different," said Cardoso. "He's an unbelievable shooter. He was on the scouting report. If he had hit even a couple more threes, the game might have been closer."
December, 15, 2012
12/15/12
2:01
AM ET
By
Brendan Hall
| ESPNBoston.com
CHARLESTOWN, Mass. -- It was a physical contest to open the loaded Boston City North slate for both squads. But more importantly, at least for New Mission, it was an ugly contest.
History shows that when New Mission is "playing ugly"
like they did in their 2010-11 state championship season
, they tend to win. So while the No. 4 Titans' 87-60 win over a green Charlestown squad was full of turnovers and fouls, it was also full of floor burns, hard elbows and overall just getting nasty with one another.
Just how head coach Cory McCarthy likes it.
"If you remember my previous season [2010-11], we've never been pretty," McCarthy said, alluding to his 2011 MIAA Division 2 state champion squad. "Last year, I think we got a little too pretty, trying to do cute things like hit three's off of curls and stuff like that. So I think this year, we just got dirty again. We scratched, scathed and clawed again. That's New Mission basketball."
At the same time, there was something organic about the Titans (2-0) when sophomore point guard Juwan Gooding (23 points, five 3-pointers, seven rebounds) was in his element. The 6-foot Dorchester resident accounted for the Titans' first 11 points, including back-to-back-to-back three-pointers, to kick things off and put the Townies (0-1) in hurry-up mode early.
"I was just feeling it," Gooding said of the opening minutes. "I had my stroke going. When I hit one, I just thought I'd keep going."
At the other end, Gooding at times brought frenetic energy, meeting the ballcarrier at half-court and tried to pin him to the sideline, keeping his arms and hips active in an effort to try and jar the ball loose. Towards the end of the first quarter, this led to an easy breakaway layup by Shaquan Murray (14 points) that made it 17-10. Gooding finished with four steals total.
That defensive mentality -- harrass your man, invade his personal space, make him uncomfortable -- has permeated for years. But on this night, Gooding's hot hand from the outside was just as contaigious.
The Titans hit 11 three-pointers in all, seemingly none more important than the back-to-back sequence that made it 60-42 with less than three minutes to go in the third quarter. First, Percio Gomez (11 points) caught a sideline inbounds pass from Murray at the right elbow, then immediately kicked it back to Murray, who had strafed towards the corner. The next time down, Gomez took the ball at the right wing and drove deep baseline, kicking back out to Gooding for the 18-point advantage.
Mission closed the third quarter leading 71-45, after Gomez was award three free throws at the buzzer, having nailed five 3-pointers in that stanza alone. Six-foot-4 junior Fred "Bam" Rivers provided some muscle underneath, coming up with 10 points and nine rebounds.
Charlestown got a bulk of its production from 6-foot-6 transfer juniors Freddy Oliveira (15 points, eight rebounds) and Allijah Robinson (11 points, eight rebounds).
Breaking the Zone:
Charlestown broke out of a midseason slump last year by switching to a 2-3 zone (for seemingly the first time in school history), and rode that all the way to a Division 1 Eastern Mass. championship berth at TD Garden. Head coach Edson Cardoso says he still plans to mix things up between zone and man this season, but early on the Townies had some great possessions in the 2-3 zone defense, getting deflections up top from Robinson and Jimmy Edwards, as well as junior Taris Wilson.
Yes, the Titans attacked the zone with perimeter shots, hitting 11 three's. But on some nights, perimeter shots is not how you beat the zone -- sometimes, that's how the zone beats you. Mission, however, turned it on Charlestown by throwing some 2-3 offense right back at them.
"Most teams set up in a 1-3-1 against a 2-3, we run a 2-3 against a 2-3," McCarthy said. "We bring the three against the two, so we just go odd-even, our odd against their even, and then we just weave them. Then eventually, we duck a big in and throw it over the top, and we have isolation. So, that helps us playing against man or zone.
"For me, I struggled last year trying to figure out how our offense works. I think we have something that works, because I have such smart guys in the high post -- Chima [Ebele], Fred [Rivers], Nate [Anderson] when he's healthy. We're versatile, and we're not the same team as last year."
Anderson easing back:
Six-foot-7 senior center Nate Anderson has been slowly making his way back into the lineup, after being hamstrung the last week or so with an ankle sprain. Tonight, he got most of his minutes late in the game and nearly unnerved McCarthy when he went up for a dramatic tomahawk dunk in transition, missed, and hit the floor hard with a hard foul.
A few possessions later, Anderson broke to the top of the key for a deflection and steal, then broke away for a thunderous one-handed slam, drawing a wild reaction from the crowd with about two minutes to go in the game.
"Nate sideline to sideline is just disruptive," McCarthy said. "And he has it now, he has the passion now."
Bridges remains out:
Sophomore point guard Greg Bridges remains out of the lineup, and McCarthy says the 5-foot-7 spark plug isn't even practicing with the team right now.
Bridges started as a freshman last season for the Titans, and built up some hype for 2012-12 after an explosive showing at AAU Nationals last July, reportedly hitting 11 three-pointers in one game.
"He needs to take some time off, that's all," McCarthy said.
And the reason?
"Nothing really, other than to really focus on his future -- and he has a future," McCarthy said. "And we want to make sure we secure a future for him. He's a good kid, he just has to have some maturity."
The next Rony?
Cardoso was asked about the play of Gooding, and he brought up a familar name in Townie basketball folklore -- Rony Fernandez, the point guard who catalyzed the Townies to their first North sectional title since 2005 last March, and subsequently was named to ESPNBoston.com's MIAA All-State Team.
"He reminds me of Rony a little bit," Cardoso said. "Similar game, you know, Rony could shoot from deep, Juwan can handle it...He's a tough matchup, he's going to hurt a lot of teams."
March, 8, 2012
3/08/12
11:13
PM ET
By
Andy Smith
| ESPNBoston.com
READING, Mass. -- With less than one minute to go in Charlestown's Division 1 North tournament quarterfinal game against Central Catholic Thursday, Tyrese Hoxter stepped to the free throw line.
Charlestown was ahead by four points, so if he made both, Hoxter (12 points) could have forced Central to shoot desperation three's as their only way to get back in the game.
He made the first. If he missed the second, Central could still race down and get a quick basket and make it a one-possession game. His second shot hit the rim and bounced away, keeping Central's hope temporarily alive.
However, Charlestown's Tyrik Jackson (10 points, 11 rebounds) came away with the offensive board and passed it out to teammate Rony Fernandez on the perimeter. Central was forced to foul Fernandez, allowing Charlestown (19-4) to hold on for a 54-47 victory.
"I feel like we're playing great basketball right now," said Charlestown coach Edson Cardoso. "After the Comcast Tournament (win in February), we just went on a personal vendetta and said, 'You know what? Every team we play, we're going to leave it on the court, and that's what they did tonight."
[+] Enlarge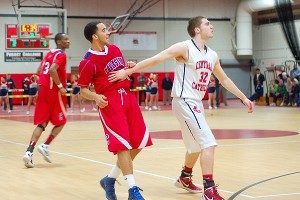 Brendan Hall/ESPNBoston.comCharlestown's Rony Fernandez (12 points) helped lead a fourth-quarter outburst that punched the Townies' ticket to Saturday's Division 1 North final.
Central (22-2) would not go away quietly though. On its next possession, Tyler Nelson (12 points) got a look at a three-pointer, but it missed. His teammate Shawn McCoy got the rebound and tried for the put-back, but that too was off the mark. Finally, it was up to Nick Cambio (10 points, 10 rebounds, 3 blocks) to grab the offensive rebound, but his shot from the baseline missed too.
Taris Wilson came down with the rebound, and he was quickly fouled. As Wilson got to the free throw line, the Central fans began to file out of the gymnasium in mass.
They knew, as the seconds ticked away, that it was not their team's night. Charlestown will be the team fighting for the Division 1 North title Saturday at the Tsongas Center, not Central Catholic.
"It feels like this team beats us every year, so it feels good to get one on them," said Fernandez (12 points).
Open And Shut:
Over a three-minute span in the middle of the fourth quarter, Charlestown went on a 12-0 run to take back the momentum that seemed to be building in Central's favor up to that point.
After being down as much as seven in the third quarter, Central came back to take the lead late in the quarter, and maintained it by a slim margin early in the fourth. Charlestown showed its resiliency, taking the lead and then some.
In one sequence during that stretch, Central had to call a timeout because Charlestown scored a basket, then got a steal on the next Central possession, allowing Hoxter to throw down an uncontested dunk. The Townies' faithful erupted in excitement, and Central coach Rick Nault called a timeout before things could get out of hand.
"I wanted to excite the crowd and just give my team a boost because the game was just a seesaw battle, going up and going down," said Hoxter.
Cardoso will take any momentum in the state tournament, no matter how his team can get it.
"I thought once Hoxter got on that breakaway, throws it down, we get more energy," he said. "Whatever it takes to motivate these guys. These guys are teenagers, so whatever it takes to motivate them, we've got to do it."
Nullifying Nelson:
A large part of the Charlestown defensive gameplan focused on Tyler Nelson. The team was very aware of what the sophomore guard could do when he is given open space to drive or shoot the basketball.
"We wanted to take out (Nelson)," said Fernandez. "We know he's their shooter, so we had eyes on him and followed him everywhere. We knew he could shoot so we wanted to stop him."
"I thought with Nelson, every time he caught the ball, get a hand up," said Cardoso. "When he comes off screens, stay on his hip. We scouted Central and had so many notes on them and saw how many plays they run for him, so I thought we needed to have eyes on him, and I thought Tyrese did a good job on him."
Few And Proud:
As teams get deeper and deeper in the playoffs, it is often the teams with the most depth that advance on. When relying on any one player to carry a team, it can become easy to defend.
That is not the case with Charlestown. It does not rely on any one player to shoulder the load, but instead can depend on multiple players to contribute effectively.
Thursday, six players scored, with four reaching double-digits. That balance will be trouble for the remaining teams in the Division 1 tournament.
"We knew this was going to be a low-scoring game, we didn't expect to score 85 points against a team like Central," said Cardoso. "No way are you going to score 85 against a great defensive team like that. We thought that maybe if we moved the ball and some guys got eight, some guys got nine, and we started chipping away, that maybe we'd have a chance to win this game. We didn't think anybody was going to have a standout, 25 to 30 point game."
March, 2, 2012
3/02/12
12:20
AM ET
By
Corey J. Allen
| ESPNBoston.com



CHARLESTOWN, Mass. -– Charlestown sophomore Taris Wilson twinkled in his high school playoff debut, dropping 19 points -- all from the floor, eight of those in the final quarter -- leading all scorers and his fifth-seeded Townies to a 72-54 victory over No. 12 Andover in a Division 1 North First Round matchup.

"Andover's a good team," said Charlestown coach Edson Cardoso. "They move the ball pretty well, they're very fundamentally sound and Coach Faze [Dave Fazio] does a great job with his kids. I thought tonight that we just played some great defense… It could've went either way. I just thought at the end we just had a great run on defense."

The game started off slow, and by the end of the first quarter the score was 12-8, advantage Charlestown. The teams played through the first half with a halftime score of 31-25.

Both teams started out the third quarter scoring on free throws, but at the five-minute mark, Charlestown started to warm up, holding an 11-point lead with 4:15 to go in the third. Less than a minute and two free throws later, senior Omar Orriols scored his first points of the game, a three-pointer, to make the game 43-27.

Then, Orriols came back to hit another on, stretching the lead to 19.

"I felt like we just picked it up," said Wilson of his team's third quarter performance. "The first half, we were just running like '[Andover] is a good fundamental team,''

At the the break, Wilson said that the team realized that they could produce more energy than they had in the first half, and to let a team like Andover stay close could spell danger, as they have shown throughout the season that given the chance to strike they are willing and able to regain a lead if ever allowed to.

"We really have to grind this out, get this 'W'" Wilson characterized the mood of the halftime spent in the Charlestown locker room.

Andover was able to claw back to end the third quarter, down 48-32. But the fourth quarter opened up with the Townies scoring eight unanswered points, setting the tone for the rest of the game and keeping the Golden Warriors at bay with no chance of sailing a come-from-behind ship.

Sixth Man: Coming off the bench, Taris Wilson was not supposed to be the leading scorer for the game.

One of Charlestown's veteran gunners, Rony Fernandes, Tyrese Hoxter or Omar Orriols were going to shoot out the lights, or senior forward Tyrik Jackson was going to be fed the ball like a Thanksgiving turkey and dominate the post, but none of those came true.

With 19 points, five rebounds, two assists and two steals, Wilson has made a mark in the history book for his postseason debut.

"I've been on Taris a lot lately telling him to step his game up, getting on him in practice and he finally came through for us," said an appreciative and smirking Hoxter, who finished the evening with 13 points, one rebound five assists, one steal and one block.

Listed at 6-foot-2 and 170 pounds, Wilson even got up above the rim to slam the ball home, a memorable moment for the crowd and a nodding achievement for the 16-year old with more basketball ahead of him this and seasons to come.



January, 28, 2012
1/28/12
10:25
PM ET
By
Brendan Hall
| ESPNBoston.com




FITCHBURG, Mass. -- Unsatisfied with the way his team was playing man-to-man defense, Charlestown head coach Edson Cardoso did something very un-Charlestown-like. At 2 p.m. yesterday during practice, he installed a Syracuse-style 2-3 zone.

And with a much anticipated rematch with archrival East Boston on tap for Tuesday, the switch -- coupled with the return of two key players -- might be just what the skidding Townies needed to snap out of their funk. After trailing by a slim margin through three quarters, the Townies broke through in the fourth, and held on for a crucial 55-52 win over Fitchburg, this afternoon at the Doug Grutchfield Field House.

"I said, you know what, I've never played zone before in my life, but tomorrow against Fitchburg we're going to try it," Cardoso said of yesterday's practice. "We just feel like the 2-3 zone makes us a better rebounding team, we weren't getting too many offensive boards, and tonight I think might be the first time we've outrebounded a team."

Said junior swingman Tyrese Hoxter (23 points) of the switch, "We're real long, so we knew it work to help us get out in transition."

Hoxter catapulted the Townies (9-3) in the fourth quarter with some impressive play around the rim. The 6-foot-3 slasher didn't miss in the final frame, going 5-for-5 from the field and hitting both of his free throw attempts -- both converting three-point plays -- to total 12 points and give Charlestown enough cushion to hold off an inspired Fitchburg rally in the final minute.

First, Hoxter took a deep outlet pass from Omar Orriols (20 points) for an easy layup and 48-42 advantage with under two minutes to go. Fitchburg's Mick Snowden (12 points) returned the favor on the ensuing Red Raiders (9-4) trip down the floor, hitting a three from the left wing. But Hoxter answered again, picking the pocket of Quinton Perkins (12 points, seven rebounds, four assists) and slipping in a soft breakaway layup.

The next trip down, Hoxter threw a dagger. Gathering himself behind the right elbow, he took his defender to his right, took off from the right block, and delivered a reverse windmill layup through two bodies, picking up a foul in the process. He hit the free throw to make it 53-46 with 50 seconds to go.

"The dude [his man] kind of ran with his hands down at me," Hoxter explained. "So I kind of just went after him. As I was getting into the lane, the guy that was sticking Tyrik (Jackson) had his back to me. So I knew he was going to see me, and once he saw me I went up on the left side."

Hoxter got one more basket, a cherry-pick off an intercepted entry pass by Taris Wilson, before Chuck Doss (10 points) cut the lead to 55-52 with 4.9 seconds left on a three. The Townies threw the ball away from contact on the inbounds to ice the win.

Abi Akanni also chipped in with nine points and nine rebounds for the Red Raiders, who have now dropped two straight.

Stars return: It was a first return to action for two of the Townies' stars, Orriols and Rony Fernandez, in several weeks. Orriols was suspended from the team for two weeks, while Fernandez had missed the previous month for personal reasons.

Fernandez finished with eight points and a few assists, but Orriols' play was especially encouraging. He was 3-for-4 from three-point range in the third quarter, and in the fourth quarter he came down with several long rebounds and steals that opened up transition play, where the Townies excel the best.

"Now you get to see how we play Charlestown basketball," Cardoso said. "The young guys did a great job stepping up, but our veteran guys are gonna take us where we need to go. Our younger guys are gonna step up when they have to, but it just feels better having Rony at the point to get us under control."

Said Hoxter, "It opens up the court for me. Two shooters, I can pass to my left or to my right, or if it's open I can just attack the hole."

Playing through pain: Cardoso applauded the efforts of Hoxter, who is playing through a sprained right wrist and was estimated to be at roughly "70 percent" health.

"We hope he's 100 percent by the time we play East Boston," Cardoso said. "But he's giving us what he can. He gives us a problem on the matchup zone, because he's so long and athletic. He did a great job for us."

Building Momentum: One of the reasons we like Fitchburg's chances come playoff time is how their aggressive non-conference scheduling conditions them for the month of February. Headed into next week, the Red Raiders sit at 5-0 in the Mid-Wach A, with losses to Charlestown (today), LaSalle (R.I.) (Dec.29), BC High (Jan. 7) and a surging St. John's of Shrewsbury squad last Wednesday that has suddenly won eight of their last nine after starting the year 3-4.

Closing out games has been a problem at times this year for the Raiders -- they led 40-39 after three quarters, and 27-22 at the half. But head coach Paul DiGeronimo was encouraged by the effort in the loss, and how it will affect them going forward.

"We're only going to benefit from this game today," DiGeronimo said. "We've played better than we played on Wednesday. So, if we can play better in a loss, than we're headed in the right direction. We wanted to win, but I felt better coming out of this one than I felt on Wednesday against St. John's.