March, 29, 2015
Mar 29
5:00
AM ET
Quick-hit thoughts and notes around the New England Patriots and NFL:
1. Running back Stevan Ridley is scheduled to make his first visits in free agency this week as he explores potential opportunities for 2015 that would have him playing elsewhere from New England. Ridley tore his right ACL on Oct. 12, had surgery Nov. 18, and is on target to receive full medical clearance in about six weeks. Ridley is probably looking at a prove-it type one-year deal because of the injury and thus one consideration he's weighing is landing with a team where there is a great chance to break through. Look for the needle to move a little with Ridley this week as he takes a couple visits.
[+] Enlarge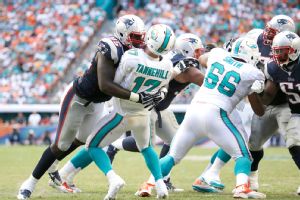 AP Photo/Lynne SladkyChandler Jones is looking to get healthy after post-Super Bowl surgery.
2. Patriots defensive end Chandler Jones has spent the majority of the offseason rehabilitating at Gillette Stadium, as I'm told he's among a group of players recovering from post-Super Bowl surgery. Jones, who missed six games in 2014 with a hip injury, has recently been walking with the aid of crutches. I don't get the sense from those close to Jones that there is any significant long-range concern about his health and availability, but when a player's offseason puts him on more of the rehabilitation track than the standard offseason workouts, it's deemed worthy of note.
3. Defensive tackle Vince Wilfork's two-year, $9 million contract ($5 million guaranteed) with the Texans didn't seem unreasonable for the Patriots to match, which initially sparked a question in my mind of whether Wilfork simply preferred to finish his career somewhere other than New England. But I now feel confident that wasn't the case. My strong sense is that the Texans' contract offer was at a higher level than where the Patriots wanted to be, and that's mostly what led to the end result.
4. The Patriots might be viewed as hardline negotiators by many, but I had one player agent at the NFL's annual meeting tell me the club is one of the favorites to deal with because of Bill Belichick's decision-making authority. It was explained to me that when the agent negotiates with other clubs, often times the team official doing the negotiating has to run all information up the flagpole to the appropriate people in the organization and that can bog down the process. In New England, with Belichick intimately involved in the process at times, it's more of a one-stop shop and can expedite deals getting done.
5a. Patriots quarterback Tom Brady accounts 10.2 percent of the team's salary-cap space in 2015, which is the highest mark on the team, followed by linebacker Jerod Mayo (7.5), tight end Rob Gronkowski (6.3), left tackle Nate Solder (5.4), right tackle Sebastian Vollmer (5.1) and safety Devin McCourty (4.3). For a comparison, cornerback Darrelle Revis accounts for a team-high 10.7 percent of the Jets' cap space, followed by left tackle D'Brickashaw Ferguson (7.8), center Nick Mangold (6.9), receiver Brandon Marshall (5.1), linebacker David Harris (5.0), cornerback Antonio Cromartie (4.6) and defensive lineman Muhammad Wilkerson (4.6). Revis, in essence, is the Jets' big quarterback contract.
5b. Brady played golf Friday with Michael Jordan in the Bahamas, the day before pictures surfaced on Barstool Sports of him playing basketball with MJ. Given the competitive nature of the two, we wonder how much small talk there actually was between them on the course, but that's one we surely would have volunteered to carry the bag to find out. Two of the greatest of all time in their respective sports. Brady's former teammates Larry Izzo, Wes Welker and Mike Vrabel, among other friends, were also together with him on the links.
6. As we start to get a better feel for the 2015 draft, it's always good to see if the opinions of coaches and scouts align with those of media analysts. With that in mind, Steelers coach Mike Tomlin said one thing that has stood out to him is that "if you're in the edge-rusher market, whether you define them as defensive ends or outside linebackers, this draft is rich in that area." As for the Patriots, they are already deep at that spot with Chandler Jones (2016), Rob Ninkovich (2016), Jabaal Sheard (2016), Michael Buchanan (2016), Zach Moore (2017) and Jake Bequette (2016), so for them it's a case where demand doesn't seem to align with the supply.
7. From the things that probably interest me more than others department: If the last two years at the NFL's owners meetings are any indication, the Philadelphia media market is the most intense of any in the league. This year at the meeting, owner Jeffrey Lurie and head coach Chip Kelly faced a barrage of aggressive questions, and it had me thinking that coaching the Eagles probably has some similarities to how Terry Francona once described managing the Red Sox. You're under fire every day, and it takes a coach or executive to be wired a certain way, as well as players to have a certain mentality, to succeed there.
8. My sense on where things stand with the Patriots and free-agent guard Dan Connolly is that it's a situation where the Patriots basically have had Connolly test the market while keeping an open dialogue with him, and then they'll see if they can ultimately find something that works. At this point, it doesn't seem like many other clubs have stepped up to spark the process along, which puts it in a holding pattern of sorts. With Connolly still on the market, the Patriots look a bit light at the guard spot.
9. The Patriots host the Jaguars in 2015, which will provide us an up-close look at quarterback Blake Bortles (No. 3 overall pick, 2014) to assess his standing among some of the NFL's up-and-coming prospects. Part of the Jaguars' thinking this offseason has been to surround Bortles with more weapons (e.g. signing tight end Julius Thomas), as well as improving the pass protection in front of him (e.g. signing right tackle Jermey Parnell), and they might not be done yet. Free-agent receiver Greg Jennings is drawing some consideration from Jacksonville, as his savvy in the slot and veteran presence might be a nice complement to second-year pass-catchers Marqise Lee, Allen Robinson and Allen Hurns.
10. For the fourth time in his 15 years as Patriots coach, Bill Belichick was honored as AFC coach of the year at the Kansas City-based "101 Awards" in late February. The "101 Awards" is a long-running tradition (since 1969) and while Belichick didn't attend the event to receive the award due to a scheduling conflict, his taped remarks expressed appreciation for the honor and also for what late Chiefs owner Lamar Hunt meant to the game of football and the AFC. One of the event's organizers, Gary Heise, relayed that Belichick told the story of how Hunt came over to him before one of the team's Super Bowl victories, shook his hand, and told him he hoped the Patriots would win because they were representing the AFC.
March, 28, 2015
Mar 28
12:30
PM ET
New England Patriots quarterback Tom Brady looks like he's having an enjoyable offseason.
In a post on his personal Facebook page Saturday morning, Brady showed video of himself taking a big jump into the water during a recent trip to Costa Rica. He added the following comment: "Never doing that again! #AirBrady
The jump is estimated at about 40 feet.


March, 28, 2015
Mar 28
5:00
AM ET
NBC studio football analyst Rodney Harrison co-hosted the "Under Center" program on NBC sports radio on Friday and here were a few sound bites of note on New England and the AFC East:
Patriots and pass-catchers. "The only thing I was a little disappointed in is that they really didn't upgrade at the wide receiver position. I knew they wouldn't pay Darrelle Revis, and that's just part of Bill Belichick's DNA; he's not paying a cornerback $16 million per year. He had an opportunity to sign Asante Samuel [in the past] and didn't. He just doesn't believe in paying those type of guys that kind of money."
Patriots made right call on Revis. "Darrelle Revis is a special cornerback. There are only 2-3 Darrelle Revises -- Richard Sherman [and] maybe [Joe] Haden. [Bill] Belichick has had a lot of success, but I think the way you offset that shutdown corner is you have to be able to bring in pass-rushers and you have to be able to put pressure on the quarterback. But also offensively, you know you're going to score points, you're going to probably score 25 to 30 points a game. It's kind of that bend-but-don't break mentality, when you get down in the red zone, you toughen things up, hold teams to a field goal. That's the thinking. Bill, he's not going to sell the farm for Darrelle Revis, because as good as Darrelle is, you know in a year or two maybe Darrelle is not going to be quite the same player he was this past season for the New England Patriots. So I believe that was the right move to make."
Patriots also parted ways with Brandon Browner. "Browner is not getting any faster. For a guy like that to lead the league in pass interferences and all the grabbing and holding, Belichick looked at him and said, 'There's no way I'm paying a guy $6 million when I can go and fill in a guy like Malcolm Butler.' When I was up there, Belichick told me in training camp, 'Malcolm Butler is a guy I really like, a guy who is going to be a really good player.' That's what you have to do as a coach, you have to bring these guys along and you don't have to necessarily pay cornerbacks $19 or $20 million a year."
[+] Enlarge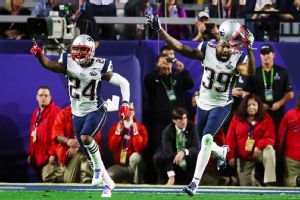 Damian Strohmeyer/AP ImagesThe Patriots showed this offseason that they aren't going to spend mega millions on star cornerbacks.
Jets might be a five-win team. "You can say whatever you want about Darrelle Revis, and I do believe he's the best cornerback in the league. But Darrelle Revis has not thrown a touchdown pass. He's not your quarterback. Yes, he can shut down a No. 1 receiver, but they need a quarterback. The Jets are, all of a sudden, on a high thinking they're going to win a championship. You're not going to win a championship, you're not even going to make the playoffs, because you don't have a quarterback. If you go into the season and you're expecting Geno Smith to improve, it's not going to happen. He might get a little better, but when times get tough, when adversity hits, guess what he's going to do? He's going to fold just like the last couple years. I don't believe in Geno Smith. I think this is a huge mistake. Hopefully in this draft, they try to address this quarterback situation, because if they go into the season with Geno Smith they might win five or six games."
Suh not enough for Dolphins. "I know they wanted to make a splash. They did the same thing [as the Jets]. At the end of the day Ndamukong Suh is the most dominant defensive lineman in this game, outside of J.J. Watt. But guess what? He's a defensive lineman. As great as he is, I would have never paid him that type of money. I'm looking at this as an opportunity to get three or four or five players to come in and really make a difference on this team. The Miami Dolphins didn't just need one guy to plug that middle. I understand you're trying to make a splash, get people around Miami excited, but I think it's a huge mistake. At the end of the day, you're not going to win a Super Bowl with Ndamukong Suh. You need a host of guys. I played on a 1-15 team, I played on a 16-0 team and trust me, it doesn't come down to one defensive lineman."
Bills on the rise. "I really like the Matt Cassel move, because EJ Manuel, he struggled with the confidence. To get a veteran quarterback that understands the division and understands Bills Belichick. He's been productive when he's been a starter. LeSean McCoy that gives them a different dimension. Charles Clay was one of my favorite players the last couple years. I'm really surprised the Dolphins didn't sign this guy; I think this is a huge mistake. At the end of the day, I think the Buffalo Bills made tremendous progress and really closed the gap with the New England Patriots."
March, 27, 2015
Mar 27
4:43
PM ET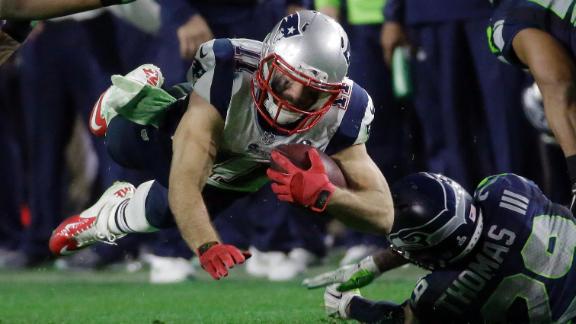 TEMPE, Ariz. -- A safety rule instituted earlier this week by NFL owners, which gives trainers at every game the authority to stop a contest if they think a player needs to be evaluated for a head injury, is being celebrated by some in the sports-medicine world.
Dr. Javier Cardenas, a neurologist in Phoenix who is the independent neurological consultant on the sideline for the Arizona Cardinals' home games, said the new rule is a major advancement for sports medicine.
"In my opinion, this is the biggest thing for sports medicine that has come out," said Cardenas, a Barrow Neurological Institute doctor who is on the NFL head, neck and spine committee. "Where else do you have a medical provider that actually is calling a timeout in any other sport? None. None. Huge for sports medicine."
Under the new rule, if the certified athletic trainer, who'll be sitting in a booth above the field as a spotter, sees a player who needs medical attention, he or she can use the official-to-official communication system to notify the side judge, who will then stop the game.
The purpose of the new rule is to allow Cardenas and other independent consultants at games throughout the league to evaluate players almost immediately after a big hit.
Here are details of the rule when the game is stopped for a medical timeout:
• The game and play clock will stop (if running) and remain frozen until the player is removed from the game.
• Both clocks will start again from the same point unless the play clock was inside 10 seconds, in which case it will be reset to 10.
• The team of the player being removed will have an opportunity to replace him with a substitute, and the opponent will have an opportunity to match up as necessary.
March, 27, 2015
Mar 27
11:33
AM ET
A closer look at linebacker Jonathan Freeny's contract with the New England Patriots, in addition to some thoughts on what he might bring the team from a brief film review:
Term: 1 year

Base salary: $850,000

Signing bonus: $150,000

Salary cap charge: $1 million
The 6-foot-2 Freeny projects as a possible core special teams player, and this deal is reflective of that. As a restricted free agent, the Dolphins could have tendered him at the lowest level at around $1.5 million but elected not to do so and made him an unrestricted free agent. The Patriots were active in targeting players who fell into this category, signing Freeny, cornerback Chimdi Chekwa and running back Travaris Cadet after they weren't tendered.
Specific to Freeny's skill set, some of his special teams snaps were watched from the 2014 season-opener against the Patriots. He showed up on kickoff coverage, kickoff return, punt coverage and punt return units. His size stands out (254 pounds). He usually isn't the first player down the field in coverage (speed isn't his game), but he's physical. Freeny's tackle on kickoff returner Patrick Chung (second quarter, 2:00 remaining) was a good example of what he might bring; he wasn't part of the first wave of pursuit but fought off an initial double-team block by James Develin and Tavon Wilson, used his hands and arm length to shed and ultimately make the tackle.
A player like former Patriots linebacker Matt Chatham comes to mind as a possible comparison.
March, 27, 2015
Mar 27
11:32
AM ET
ESPN.com news services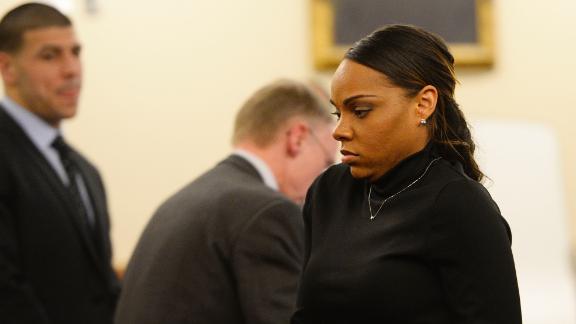 FALL RIVER, Mass. -- Former New England Patriots player Aaron Hernandez and his fiancee traded expressionless glances Friday as she took the witness stand to testify in his murder trial.
Shayanna Jenkins was called by prosecutors after being granted immunity, which means she was ordered to testify by the court or face time behind bars.
Jenkins, Hernandez's high school sweetheart and the mother of his 2-year-old daughter, appeared to be a reluctant and careful witness, pausing for long periods before answering and saying she couldn't remember details of the time surrounding the June 17, 2013, killing of Odin Lloyd, who was dating her younger sister. Lloyd's bullet-riddled body was found in an industrial park near the home Hernandez and Jenkins shared.
Hernandez has pleaded not guilty to killing Lloyd. The former tight end is being held without bail.
Some of what Jenkins said could hurt Hernandez, including that minutes after she dropped him off at a police station to be questioned about Lloyd's death, he directed her to give money to one of his co-defendants.
"He told me to meet up with Bo and give him money," Jenkins said, referring to Ernest Wallace.
Wallace and a third man, Carlos Ortiz, have pleaded not guilty in the killing and will be tried later.
Jenkins also told the jury that Hernandez was drunk in the hours before the slaying of Lloyd.
Hernandez, 25, watched Jenkins intently during her testimony, which lasted much of the day. She will return Monday to continue testifying. She previously pleaded not guilty to perjury in connection with the case. Prosecutors say she lied to a grand jury investigating the killing.
March, 27, 2015
Mar 27
5:00
AM ET
In the ever-evolving picture of the New England Patriots' roster, here is one viewpoint of the top areas from a need perspective at this time:
1. Guard. Starting left guard Dan Connolly remains a free agent and starting right guard Ryan Wendell, who didn't elevate to that spot until Week 5 of the 2014 season, enters the final year of his contract. Josh Kline and Jordan Devey are next on the depth chart, with Chris Barker and Caylin Hauptmann in the developmental pipeline. While Marcus Cannon and Cameron Fleming have taken snaps at guard, they are best utilized at tackle.

2. Cornerback. The Patriots have filled out the depth chart with a few signings, but six of the nine players have contracts that expire after 2015, so there's a longer-range need to consider as well.
3. Defensive tackle. With Vince Wilfork now in Houston, the Patriots have Alan Branch (6-foot-6, 325 pounds) and Sealver Siliga (6-2, 325) as their top big-bodied defensive tackles, with Siliga still using a walking boot after undergoing offseason surgery. Joe Vellano (6-2, 300) is next on the depth chart.
4. Off-the-line linebacker. The top of the depth chart is solid with Jerod Mayo, Dont'a Hightower and Jamie Collins, with the backups projecting more to a special teams role. Adding depth and potential upside that could contribute on defense in a pinch makes sense.
5. Wide receiver. Julian Edelman, Brandon LaFell and Danny Amendola return in the 1-2-3 spots, while Aaron Dobson, Brian Tyms, Brandon Gibson, Josh Boyce, Jonathan Krause and Kevin Dorsey round things out. The Patriots had considered adding Stevie Johnson to this group, but he signed with San Diego.
March, 26, 2015
Mar 26
2:20
PM ET
Every Thursday on ESPNBoston.com, there is a Patriots chat. Today's chat kicked off at 11 a.m. ET, can be recapped here, and included some of the following topics:
1. Revisiting the NFL's annual meeting and the vibe around Bill Belichick and the Patriots.
2. Patriots, Jets and tampering.
3. Draft thoughts and why a defensive tackle like Florida State's Eddie Goldman could fit the bill.
4. Revisiting cornerback Darrelle Revis' remarks about the Patriots not being in the ballpark of what he was looking for financially.
5. Vince Wilfork and his departure to become a Houston Texan.
6. Wells report on underinflated footballs.
7. Is there room for four tight ends on the final roster?
March, 26, 2015
Mar 26
11:15
AM ET
Mike Sando of ESPN.com's Insider puts together his initial thoughts/grades on each NFL team's free-agency moves, tapping the analysis of scouts and front-office personnel. It's always an enjoyable read.
As they were last year, these grades will be revisited in the coming months and adjusted so corrections can be made. For example, the Buccaneers were widely lauded as having the best free-agent approach at this time in 2014. Fast-forward to 2015 and they are picking No. 1 in the NFL draft, so we see what that initial grade from multiple outlets got them.
It is with that context that we pass along this year's piece, with Sando initially putting the Patriots closer to the middle of the pack. On cornerback Darrelle Revis, Sando writes, "Paying what the Jets paid wasn't going to make sense for them."
There's also the thought that defensive end Jabaal Sheard may be a "steal."
March, 26, 2015
Mar 26
10:23
AM ET
ESPN.com news services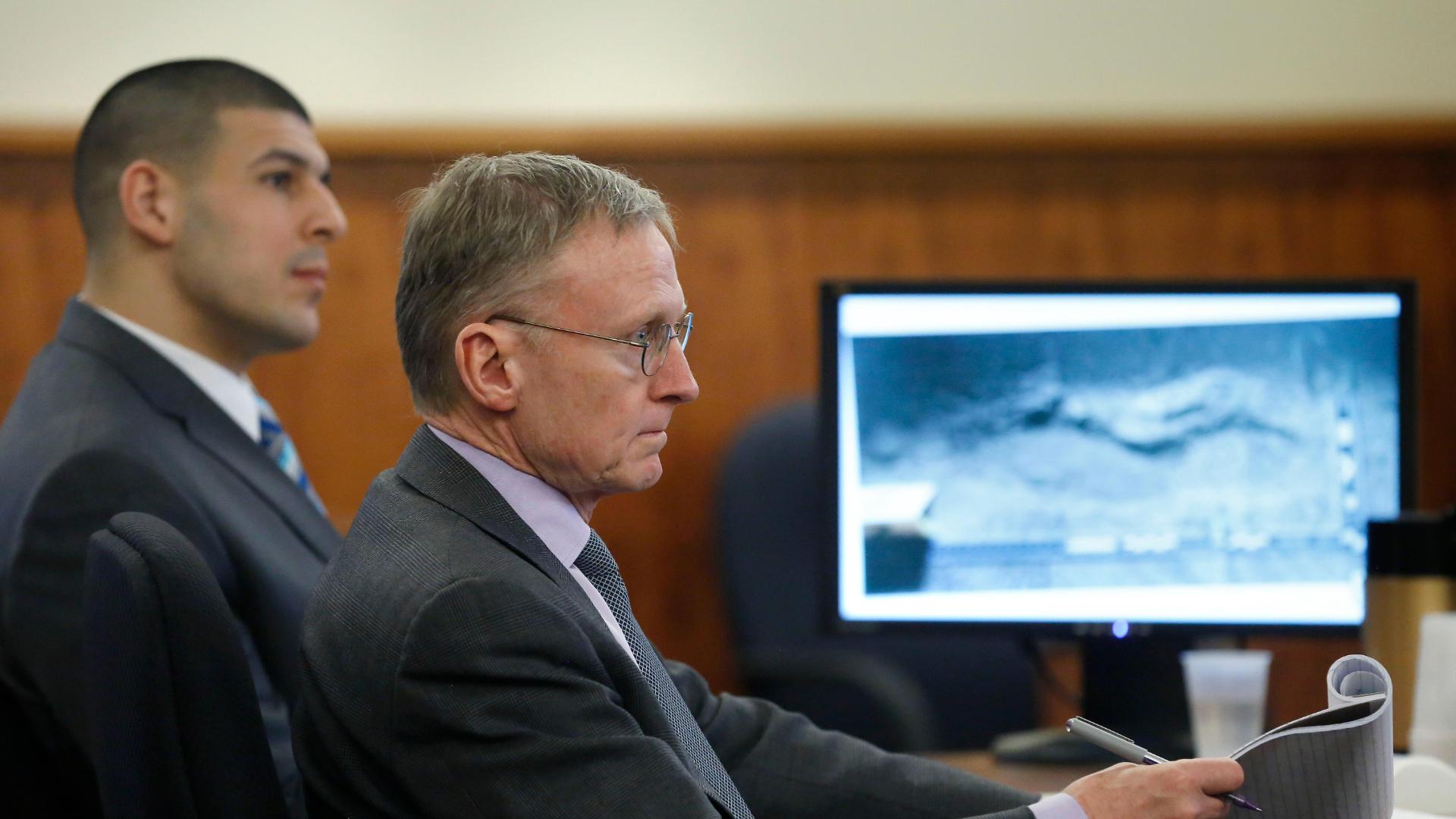 FALL RIVER, Mass. -- The murder trial of former New England Patriots player Aaron Hernandez was delayed briefly Thursday by a bomb threat called in to the courthouse, and the former tight end's fiancée reportedly will be called to testify Friday.
Superior Court Judge Susan Garsh cut off testimony at about noon ET after a court officer alerted her to the threat. She told jurors there would be a brief delay and they were led from the courtroom. Then she announced that the building was being evacuated.
The Fall River Justice Center was swept by Massachusetts State Police. No explosives were found, and employees were let back in about an hour later. Court resumed at 2 p.m., with Garsh telling jurors that there was no reason to believe the interruption was related to the Hernandez case.
Jurors were held in a building across the street during the closure. Security officers said Hernandez was taken out of the building but did not say where he was held.
Meanwhile, two people with knowledge of the matter told The Associated Press that Shayanna Jenkins, Hernandez's fiancée, will be called to testify Friday.
Jenkins was granted immunity by the court in February, which means she can be compelled to testify or else face time behind bars. There had been a question over whether prosecutors would call Jenkins, who has been in a relationship with Hernandez since high school and is the mother of his 2-year-old daughter.
Jenkins has pleaded not guilty to perjury. Prosecutors say she lied to a grand jury investigating the June 17, 2013, killing of Odin Lloyd, who was dating her sister. Lloyd was found shot to death at an industrial park less than a mile from the home that Jenkins and Hernandez share.
March, 26, 2015
Mar 26
10:00
AM ET
March, 26, 2015
Mar 26
5:00
AM ET
PHOENIX -- Closing the book on the NFL's annual meeting with a few leftover thoughts and notes:
1. The league's rule change to restrict the usage of eligible receivers as ineligible was obviously a direct result of Bill Belichick's strategy from the playoffs. I look forward to seeing what Belichick has up his hoodie sleeve in the 2015 season that forces the NFL to make another change. Arguably no one knows the too-big-for-its-own-good rule book better than Belichick, who it sometimes seems is operating on a higher level than his coaching peers. He'll come up with something else, there's little doubt.
[+] Enlarge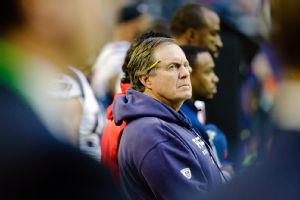 AP Images/Mark HumphreyWhile Bill Belichick's eligible/ineligible strategy has been made illegal, the Patriots coach figures to have something new up his sleeve.
2. One thing that's easy to forget: While the eligible/ineligible strategy worked well against the Ravens in the divisional round of the playoffs, the Colts stopped it decisively in the AFC title game. So when I see words like "trick" used to describe the strategy, it strikes me as a bit over the top.
3. A sign of the increasing media interest in the NFL: The league issued 305 media credentials for the meeting, according to a spokesman.
4. Belichick left the owners meetings on Tuesday, one day before they officially ended, and was spotted on campus Wednesday for Central Florida's pro day. That was a quick get-away.
5. When commissioner Roger Goodell was asked the status of the Wells report on underinflated footballs, and if he'd like it finished before the draft in late April, he said: "We have not put a timeframe on Ted Wells. We've asked him to be thorough, complete and when he's finished then he'll give it to us and to the public in general." Goodell was asked a follow-up question on if he felt the league handled the matter appropriately and said, "I made it very clear at the Super Bowl that we were not making any judgments and that we were obligated, as part of our role, to make sure we understand the facts whenever there is a charge, potentially, of a violation of our rules. We take it very seriously and that's our obligation. It's our obligation to the other 31 clubs. Ted Wells will be going through the report, and if there was anything that we as a league did incorrectly, we'll know about it in that report."
6. The league didn't announce any of its opening-week prime-time games, leaving us in suspense a bit longer on who the Patriots might face to open the 2015 season.
March, 25, 2015
Mar 25
10:44
PM ET
ESPN.com news services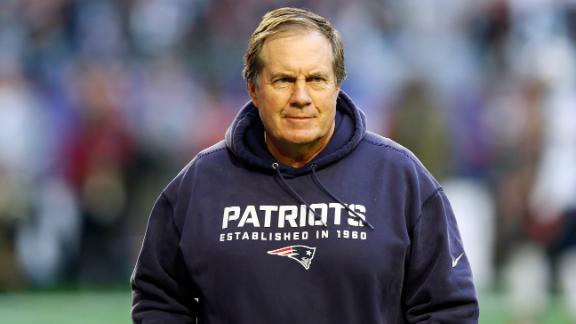 Patriots coach Bill Belichick strongly voiced his displeasure Tuesday that the league didn't want to spend the money to put four cameras in the end zone to give referees better angles on replay reviews, a league source told ESPN NFL Insider Adam Schefter.
The source -- who was in the meeting with NFL head of officials Dean Blandino, among others -- told Schefter that Belichick made his point with choice language.
The source said Belichick expressed concern that the league is willing to spend top dollar to send the Pro Bowl to Brazil and play regular-season games in London every season but doesn't appear willing to spend the money to pay for the extra cameras it would take to cover all end zone angles to assist instant replay.
New York Giants coach Tom Coughlin and Oakland Raiders coach Jack del Rio followed Belichick's comments with similar points about adding end-zone cameras, league sources told Schefter.
Cowboys coach Jason Garrett, meanwhile, was asked directly about Belichick's message in Tuesday's meeting and confirmed the gist of what the Patriots coach was saying.
"He expressed the importance of doing it -- the opportunity for us as a league to standardize this whole process," Garrett said. "I think if we're honest with ourselves, there probably are very few plays where we don't get a great look at it. But these are the scoring plays, these are the plays that they're going to look at. I think our ability to standardize that process as much as possible will help our game."
Garrett was asked about his support of the proposal and said: "I think we should do it."
March, 25, 2015
Mar 25
9:45
PM ET
PHOENIX -- Cornerback Darrelle Revis was a guest on the "Michael Kay Show" on ESPN New York 98.7 FM on Wednesday and here were a few of the notable sound bites from a New England Patriots perspective:
How competitive the Patriots' contract offer was in free agency. "I'm obviously not going speak the numbers. But I had the option, the $20 million option they could have exercised and they didn't. Then we tried to work on a deal, and the deal, we felt that it wasn't in the ballpark of what we were looking for. We just moved on. They moved on too. I had a great conversation with Bill [Belichick]. And we moved forward, just like they did. That's how I look at it."
The early stages of free agency and Jets' interest. "There was a lot of stuff going on at that time. In free agency, they were one of the teams who called. It was a [number] of teams. It was the Steelers, it was Cleveland, it was the Chiefs, it was the Packers, Baltimore. There were other teams as well. Guys were willing to fly down and meet with me. The whole situation with New York, like I said, it always goes back to that's where that's where I got drafted, that's where I feel most comfortable, that's where I feel familiar with. I know a lot of people in the building and I just felt like, for me, it was time to come home."
On money as a factor. "Contracts are contracts, we all know that. Both sides have to agree on the deal and the numbers are the numbers. It's not just one sided. It's going to get done by both sides agreeing to the terms."
Playing for Bill Belichick and Rex Ryan. "I love them both. I learned a lot from Rex, I definitely learned a lot from Bill. They have two different coaching styles. Having either one of them to be your head coach, I don't think you can go wrong either way. I'm just happy to play under those guys and learn a lot of football from both sides."
Belichick's sense of humor compared to Ryan. "Bill is funny. It's a dry sense of humor. If you're around him long enough, you'll get it, his dry sense of humor, his jokes. He'll crack a smile, and you'll crack a smile with him. He gets guys laughing and things, but Rex is a little more loud. Bill is a little more conservative and kind of more of a laid-back guy."
Seahawks' final play of the Super Bowl. "That was a crazy play call. It was. But at the same time, I guess, Pete Carroll felt comfortable, the coaching staff, throwing the ball at that time. After everything died down, you think 'Why not run the ball with the best running back in the game?' I guess they tried to make it, I call it the Tom Brady versus Russell Wilson game. They tried to make it a passing game. We made them pay at the end."