September, 20, 2014
Sep 20
5:00
AM ET
FOXBOROUGH, Mass. --
New England Patriots
rookie defensive end
Zach Moore
has taken the path never traveled before to make it to the NFL. He is the first player in the history of Division II Concordia-St. Paul
to be drafted
.
So it's no wonder when he was asked to sum up life as a Patriot, he responded this way: "It's the greatest job in the world."
[+] Enlarge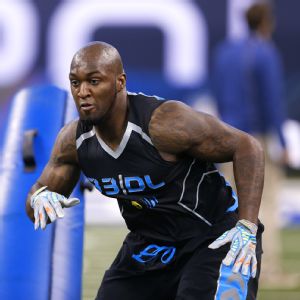 Joe Robbins/Getty ImagesThe Patriots liked what they saw of Zach Moore at Concordia and the NFL combine, drafting him in the sixth round.
Moore, whose striking resemblance to
Indiana Pacers
center
Roy Hibbert
has earned him the nickname "Roy" among teammates, was one of the Patriots' three sixth-round picks (198th overall). He played in the season opener at Miami as part of the punt-return unit, before he was a healthy scratch last week in Minnesota. He is viewed as a high-upside prospect who should grow with behind-the-scenes development based on the Division II level of competition he is coming from.
The engaging Moore shared his "football journey" this week:
When he first started playing organized football:
"At the age of 15, freshman year of high school at
Simeon Career Academy
in Chicago, Illinois, South Side."
Why he first started playing:
"The crazy thing about it was that I was originally supposed to play basketball there, with
Derrick Rose
there, I was fortunate to go to school with guys like him. But I just decided to play football because it fit my personality better."
First positions in football:
"I started off as a wide receiver, then I moved to tight end. Then my junior year, I played offensive line and defensive line. Senior year, it was primary on the offensive line at left tackle."
Favorite memories of high school football:
"The homecomings, the pep rallies. High school football is very fun, the 'Friday Night Lights', the whole atmosphere. The game I most remember was my senior year, us beating
Morgan Park
, our rivals in the conference. We hadn't beaten them in a couple years, and to go out with a win against our rivals was pretty cool."
Enrolling at Division II Concordia in St. Paul:
"I had to take the D-II route [because of eligibility requirements], which I didn't mind; the overall goal was to get my education, which I got [degree in criminal justice]. Concordia was a nice little quiet atmosphere where I knew I could develop."
Top memories at Concordia:
"We could be here all day. There are so many memories. I'm not sure I could just pick one. Football-wise, my sophomore year, we knocked off a ranked team in Division II -- Minnesota State-Mankato -- at their home. That was the largest crowd I ever played in front of; I think it was maybe 4,000 people there. Individually, the most memorable moments were my very first career interception my junior year and senior year when I blocked a kick for us to win the game."
When he knew the NFL might be a possibility:
"Growing up in high school, every player wants to play in the NFL. You always had that dream in the back of your mind, but I kind of put the league thing on hold when I got to college to focus on academics. I didn't really think it was going to be a reality coming from a small Division II unknown school. But I guess after my junior year, a lot of teams contacted me, and I talked to a lot of NFL personnel going into my senior year, and it went from there."
Reaction to being drafted by the Patriots in the sixth round:
"I was watching the whole draft as if I wasn't a part of it, just like a regular fan as I do every year. Then my phone rings, and I see a 508 area code and I'm like, 'This must be a bill collector or something.' So then I answered, and it was the Patriots. It was like, 'This really just happened.' I graduated one night and turn around the next day and get drafted. That whole weekend, I'll never forget."
What he loves about football:
"Just the whole competitiveness of it. The team atmosphere; you get real close to the guys in the locker room because you have to be on the same page and strive towards that one goal, which is a win every week."
Role models growing up:
"My No. 1 role model has always been my mom [Carolyn Blackshire] and my dad [Bobby Moore] for raising me to be a respectable, humble young man."
Favorite football players:
"I grew up watching Michael Strahan, Jevon Kearse,
Julius Peppers
and
Mario Williams
; those were some of my favorite players to watch – a lot of edge rushers."
What he prides himself on as a player:
"Definitely, [to be] hard-working. I make sure I am out there every day doing what I need to do to get better. In my situation, you have to be alert and ready to go. If the next man goes down, you might receive that call to step into his place."
Summing up his football journey:
"It's been a long and tough road, playing since 15 and now I'm 24. But I've stuck with it, all the adversity that I went through, and came out on top. Now I need to work hard to stay here, and I'm determined to do that."