March, 16, 2014
Mar 16
5:00
AM ET
Quick-hit thoughts around the NFL and with the Patriots:
[+] Enlarge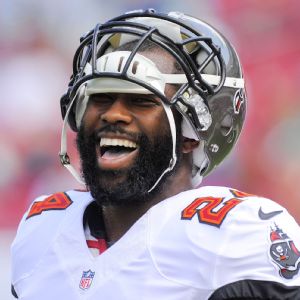 AP Photo/Scott A. MillerThe Patriots made a rare exception for an exceptional talent by giving Darrelle Revis a "fake" second year on his contract.
1. There was a lot to like in the Patriots' signing of cornerback
Darrelle Revis
,
which was detailed here
. Those thoughts still hold true, but after getting a closer look at the
details of the contract
, there were two things that stood out to me as un-Patriot-like.
One year after owner Robert Kraft said the team doesn't do "fake" deals, which was a response to those questioning if a contract extension for quarterback Tom Brady would simply be renegotiated in a few years, the team did a "fake" deal with Revis. The reason it's a "fake" deal is that the second year of the contract almost certainly won't be executed because it includes a whopping $25 million salary cap charge.

The two-year deal seems to be structured, in part, so that Revis can still claim he earns an average annual salary of $16 million. That appears to be important to him because that's the figure he held firm on when previously negotiating with the Jets, and that's also what he received from the Buccaneers after last year's trade. That the Patriots would acquiesce to that, albeit with a "fake" year, surprises me a bit because I can't think of another time they've placated a free-agent from another team in that type of contract/perception standpoint.
Revis is obviously an exceptional talent, and if that was the cost of closing a deal, it's well worth it. I'm not debating that as much as pointing out that these details deviated from what I perceive to be some of the core philosophies of the organization.
2. When details of Revis' deal were revealed, with the presence of a "fake" second year, some expressed disappointment the structure of the contract made it more of a one-year rental, in part because the team lost any leverage to assign the franchise tag on Revis in 2015. That might be the way it turns out, but I don't think the second year decisively alters the picture when it comes to a potential long-term agreement. The 2014 season will be about both sides getting a better feel for each other to see if it's a fit in the long run, and there's nothing that says the Patriots and Revis can't extend the deal at this time next year if they hit it off. A lot can happen between now and then.
3a. Similar to Revis, the details of cornerback
Aqib Talib
's contract with the Broncos reveal a few things that somewhat alter our initial impression of the pact. It was a reported six-year, $57 million contract with $26 million in guarantees when Talib signed it. But that's a bit misleading because $8.5 million of the "guarantee" is his 2016 base salary, and that's only guaranteed in the event of injury. So if the Broncos decide Talib isn't playing up to the desired level after two years, they can cut him and Talib wouldn't see the $8.5 million or any remaining money in the deal. That's why I'd more accurately describe the contract as a two-year, $18 million pact. When looking at it that way, it's much more reasonable.
3b. One other part of Talib's deal to pass along: He gets $31,250 for each game he's on the 46-man game-day roster in the 2014, 2015 and 2016 seasons, which when added up is $1.5 million of his reported $26 million "guarantee." Given Talib's injury history, I don't think it's any guarantee he sees all of that money.
3c. This is one reason why football consumers should always demand/seek deeper analysis of contract information once the official contract becomes available (it sometimes takes a few days after the initial agreement is announced). Many of the initial reported numbers are either inflated by agents to make them look better, or simply don't go into enough detail to provide important context.
3d. Final thought on Talib: My favorite Patriots cornerback to watch play since
Ty Law
(1995-2004).
[+] Enlarge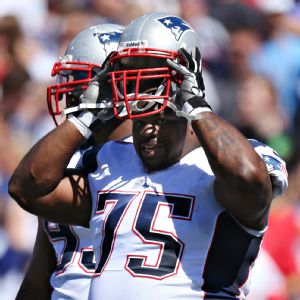 Tom Szczerbowski/Getty ImagesHas Vince Wilfork strapped on a Patriots helmet for the last time?
4. I'm not sure what's going to happen with defensive tackle
Vince Wilfork
and the Patriots, and on Friday, I shared the viewpoint that it's a conflict between
legacy and principle for Wilfork
. One could also debate if the Patriots should even be pursuing an altered contract at all. Marrying up those two thoughts, veteran Steelers cornerback Ike Taylor's remarks on
PFT Live
from Friday serve as a reminder that some players have an easier time accepting this type of situation, as it happens across the NFL every year. Taylor recently agreed to slash his salary from $7 million to $2.75 million. "Later on in my career, I understand it's a business. When you get around my age (turns 34 in May), they're going to ask you for pay cuts or you're going to wind up getting cut. I understood that and I kind of prepared myself for that," said Taylor, now in his 12th year, all spent in Pittsburgh. "That pride is a fall for a lot of people. Understanding the business side of being a Steeler, understanding the business side of the NFL, it's a young man's sport. I'm just happy I've been in the NFL long enough to say 'I can take a pay cut.' Some guys don't even get paid."
5. After analyzing what the signing of cornerback
Brandon Browner
might bring the Patriots, which included re-watching the 2012 Patriots-Seahawks game to get a better feel for his style of play, the following thought occurred to me: Should there be more concern the Seahawks, whose personnel acumen has been widely praised as they've built a Super Bowl championship roster, didn't make a more aggressive pitch to keep him? I think Browner can help the Patriots with physical play at the line of scrimmage, but if it's at a legitimate $17 million over three years as has been reported, that seems like a lot to pay for a scheme-specific player who will be 30 when the season begins.
6a. From the light-hearted department: When linebacker
Brandon Spikes
tweeted this picture
this past January, which came on the day he didn't show up for practice and contributed to the decision to place him on injured reserve, did anyone else have the same thought that maybe he should have considered signing with a different team than the
Buffalo Bills
?
6b. On a more serious note, the Spikes' signing looks like a solid one for the Bills. The last time we saw that team, the Patriots were running through them for 267 rushing yards in the season finale. Spikes might be a liability in coverage, but he's still an explosive hitter when playing downhill in the running game. His presence should help the Bills' run defense and add some sizzle to Patriots-Bills games this year.
7a. With receiver
Julian Edelman
agreeing to terms with the Patriots on Saturday (financials unknown) for what can safely be assumed to be the richest contract of his career, it had me thinking back to the grass-roots beginnings of his time with the team in 2009 and how he's truly earned everything that has come his way. After playing quarterback at Kent State, the Patriots were transitioning him to receiver/punt returner, and the punt returning didn't go so smoothly in the early going. One day, in front of thousands of fans at training camp, Edelman was muffing punts, fumbling others, to the point that fans started to boo him. I'll never forget that, just as I remember vividly Bill Belichick's resolve Edelman was going to help the team in a big way at some point.
7b. Leftover Edelman note: While he took a free-agent visit with his hometown 49ers on Friday, he used his
Facebook page
to relay his feelings about what truly was a homecoming for him.
8. Given the run of injuries the Patriots had at defensive tackle last season, one can't blame them for trading a 2014 fifth-round draft choice for veteran defensive tackle
Isaac Sopoaga
and a 2014 sixth-round draft choice last October. The cost to see if Sopoaga could plug a significant void was a minimal move down the draft board in addition to assuming a contract that included $1 million in guaranteed money in 2014. Worth a shot. As is turns out, it didn't work out, as Sopoaga wasn't a scheme fit in a reminder that the nose tackle position varies in each defense and it's a challenge to project how a player might adapt. That made the Eagles the big winner in the trade, especially considering they turned around and traded that fifth-rounder to the Saints for running back
Darren Sproles
a few days ago.
9. Panthers quarterback
Cam Newton
seemed to make great strides last year, but one wonders how much he'll be affected by the team losing its top three receivers this offseason --
Steve Smith
(Ravens),
Ted Ginn
Jr. (Cardinals) and
Brandon LaFell
(Patriots). Hard to believe that's the way general manager Dave Gettleman envisioned it unfolding.
10. When news first broke the Patriots had agreed to terms with Revis (reported by Adam Schefter, who else?), one of the first questions followers had was when the Patriots might hold an introductory news conference. The answer: Most likely never. Unlike some other teams who hold a news conference to introduce new players as a way of generating excitement among the fan base and more television coverage, the Patriots generally take a different approach and, if anything, have their players on more low-key conference calls. Specific to Revis, the reason that hasn't happened yet is that his contract actually has yet to be signed. That's considered a formality, possibly as early as Monday.
March, 15, 2014
Mar 15
11:30
PM ET
Thoughts on the
Patriots' reaching agreement
with receiver
Brandon LaFell
on a three-year deal, as reported by ESPN NFL Insider Adam Schefter:
Had success against the Patriots:
We've seen examples in the past where the Patriots have trouble defending a player, and in future years, that leads Bill Belichick to pursue that player.
Wes Welker
is the most notable example of that. While not at Welker's level, LaFell was excellent in the Panthers' 24-20 win over the Patriots on Nov. 18. He had a season-high seven catches and a touchdown.
Getting a feel for LaFell as a player:
When it was first learned that the Patriots hosted LaFell on a free-agent visit this past Wednesday, I went back to watch the Nov. 18 Patriots-Panthers game to get a better feel for his style of play. He aligned in various spots in the game, and was often used in motion. He played on the outside in two-receiver sets, although the Panthers often had two receivers to the same side, and in those cases, LaFell would usually be aligned as the inside receiver. In the three-receiver set, he would mostly be in the slot as the Panthers seemed to want the speed of
Steve Smith
and
Ted Ginn
outside. LaFell showed good hands (e.g., tough sideline catch for a first down), precise route-running (e.g., 9-yard slant for a touchdown against
Logan Ryan
) and strength as a blocker (e.g., he leveled defensive end
Andre Carter
on one play). LaFell doesn't wow with speed and might be summed up best this way -- a solid-not-spectacular receiver with good size (6-2, 210) and versatility. He also boasts potential as a red zone target, and he's been durable in his four years in the NFL (just four games missed).
Layering the receiver depth chart:
LaFell (fifth season) joins
Julian Edelman
(sixth) and
Danny Amendola
(sixth) as the most experienced receivers on the depth chart. That experience is balanced by the youth and potential of second-year pass-catchers
Aaron Dobson
(second round),
Josh Boyce
(fourth round) and
Kenbrell Thompkins
(undrafted). For those eyeing a consistent downfield presence outside the numbers, Dobson and his development still looks like the key. His offseason has been altered after he underwent surgery for a stress fracture in his left foot.
Back-and-forth with the Broncos:
Perhaps it was a coincidence, but news of LaFell's agreement with the Patriots came shortly after it was learned former Steelers receiver
Emmanuel Sanders
(whom the Patriots had signed to a restricted free-agent offer sheet last year) had agreed to terms with the Broncos. This has been a wild week for both teams in terms of significant free-agent signings, and the back-and-forth continued late Saturday night.
March, 15, 2014
Mar 15
11:03
PM ET
ESPN.com news services
The New England Patriots have reached agreement on a three-year deal with wide receiver Brandon LaFell, a source told ESPN NFL Insider Adam Schefter.
LaFell, who enters his fifth NFL season, played the last four with the Carolina Panthers. At 6-foot-2 and 210 pounds, he is an inside/outside receiver who started all 16 regular-season games in 2013 and finished with a career-high 49 catches for 627 yards and five touchdowns.
Against the Patriots in 2013, LaFell had a season-high seven catches for 59 yards and a touchdown in the Panthers' 24- 20 win in Week 11
LaFell entered the NFL as a third-round draft choice of the Panthers in 2010 after playing for LSU.
He is the second wide receiver the Patriots reached agreement with on Saturday. The team also brought back Julian Edelman.
The Carolina exodus continues as the Panthers have lost receivers LaFell, Steve Smith (Baltimore Ravens) and Ted Ginn Jr. (Arizona Cardinals) in the first week of free agency.
Information from ESPN.com Patriots reporter Mike Reiss contributed to this report.
March, 15, 2014
Mar 15
10:38
PM ET
By
ESPN Stats & Information
What were the top statistical storylines from Day 5 of NFL Free Agency?
Edelman stays in New England
Unrestricted free agent
Julian Edelman
agreed to terms to remain with the
New England Patriots
. Edelman developed a great rapport with
Tom Brady
last season, becoming his favorite target. No Patriots receiver had more receptions, yards, touchdowns or targets than Edelman last season. In fact, Edelman caught 70.5 percent of his targets from Tom Brady last season, the highest completion percentage by a QB-WR duo with at least 75 attempts.
Edelman ranked fourth with a career-high 105 catches last season, a huge leap from his previous career high of 37 in 2009. He was one of five players to catch 100 or more passes in 2013. Among 60 wide receivers with at least 75 targets last season, Edelman's 70.5 catch percentage was best in the league.
He also thrived in the slot position, recording over half of his receptions from there last season. Edeleman's 53 slot receptions ranked third in the NFL, behind only
Kendall Wright
and
Wes Welker
.
Peppers picks the Packers
Julius Peppers
could help bring some pass rush help back to the
Green Bay Packers
. The Packers sacked or put opposing quarterbacks under duress on 22.5 percent of dropbacks last season, tied for third worst in the NFL. However, the Packers tied with Peppers' former team, the
Chicago Bears
.
There are some questions on how effective Peppers can be at this point, especially as games progress. Peppers posted 7.0 sacks last season, tied for the second-lowest total of his career. He posted a sack for every 118.6 defensive snaps he was on the field last season, his worst rate in the last six seasons.
As a member of the Bears, Peppers was very disruptive in the first halves of games, recording 26.0 sacks. As the game wore on, however, Peppers' sack totals declined. All 7.0 of his sacks last season were in the first half.
Peppers has primarily played defensive end in a 4-3 scheme throughout his career. The Packers base defense is a 3-4. If the Packers have Peppers move to linebacker, it will be a relatively new experience for him. Since 2010, Peppers has logged a total of 19 snaps as a linebacker. He has played 3,328 total snaps over that time.
March, 15, 2014
Mar 15
10:15
PM ET
Free-agent wide receiver
Kenny Britt
, a 2009 first-round draft choice of the
Tennessee Titans
, is scheduled to visit the Patriots on Sunday, the NFL Network reports.
The 6-foot-3, 223-pound Britt played at Rutgers under Greg Schiano, one of Bill Belichick's close friends in the coaching fraternity. Britt hasn't met expectations in the NFL, in part due to injury and non-football reasons, and is coming off a season in which he played in 12 games and totaled 11 receptions.
The Patriots agreed to terms with free-agent receiver
Julian Edelman
on Saturday, and the reported visit with Britt indicates the team is still considering adding to its receiving corps.
Free-agent receivers
Brandon LaFell
(Panthers) and
Jason Avant
(Eagles) previously visited the team.
March, 15, 2014
Mar 15
7:00
PM ET
Free-agent linebacker
Dane Fletcher
is scheduled to visit the
Oakland Raiders
and will head to town Sunday.
Fletcher, who led the Patriots in special-teams tackles last season (15) and played 18 percent of the defensive snaps (primarily as a sub/coverage player), previously visited with the
Tampa Bay Buccaneers
.
The 6-foot-2, 245-pound Fletcher overcame long odds to emerge with the Patriots, signing as an undrafted free agent in 2010 and making the transition from college defensive end at Montana State to NFL linebacker.
In 2013, he was praised by coach Bill Belichick for his work in coming back from a torn ACL that sidelined him for the entire 2012 season.
March, 15, 2014
Mar 15
3:50
PM ET
Thoughts on the Patriots and receiver/punt returner
Julian Edelman
agreeing to terms
Saturday:
Edelman
What a difference a year makes
. When Edelman re-signed with the team last year, it was a one-year deal close to the minimum. The re-signing
wasn't viewed by many as a key move
in the team-building process, in part because of Edelman's injury history. But after Edelman totaled 105 receptions and stayed healthy for all of the 2013 season,
something he admitted was the main question dogging him through the first four years of his career
, the context of his return takes on a whole different meaning. He was the team's best receiver in 2013.
Patriots can't stop here at receiver
. While Edelman's return is critical, the Patriots still need more at the position. That could come in the form of development from the second-year class of
Aaron Dobson
,
Josh Boyce
and
Kenbrell Thompkins
, another free-agent signing, the return to health of
Danny Amendola
or a draft pick. The status quo won't be good enough.
Don't forget punt return role
. Coach Bill Belichick often talks about the importance of being strong in all three phases of the game -- offense, defense and special teams. The third phase, special teams, is sometimes overlooked. Along those lines, Edelman is one of the NFL's best punt returners and has been a game-changer at times with his dynamic work; his 12.3-yard punt-return average is the best mark in franchise history.
Trust with Brady
. When
Tom Brady
began throwing this past Monday for the first time since the team's AFC Championship Game loss, Edelman was the receiver catching passes from him on USC's campus. It speaks to the bond and trust they've developed over the past five years.
When the market dictates a return
. This situation was similar to last year when Edelman took a visit to the Giants before re-signing with the Patriots. The visit to another team gave him a chance to see how a different club valued him on the open market. Fast-forward to 2014, and Edelman's one visit this year was to the 49ers, on Friday, and that seemed to accelerate the process of his re-signing once again. No player wants to sell himself short, and that probably best explains why Edelman, who wasn't inclined to sign the Patriots' offer at the start of free agency, was ready to do so now. It will be interesting to see the financial terms of the deal and compare them to the contract the Patriots awarded Amendola in 2013, as Edelman outperformed the injured Amendola last year.
March, 15, 2014
Mar 15
3:08
PM ET
ESPN.com news services
Julian Edelman agreed to return to the New England Patriots on Saturday after testing the open market.
Edelman, who enjoyed a breakthrough 2013 season as New England's top receiver, took to Twitter to announce the deal.
Foxboro is home. Excited to be back. #grind

- Julian Edelman (@Edelman11) March 15, 2014
It marked the second straight offseason that Edelman was an unrestricted free agent, although this time around he had more leverage following a 105-catch season that included 1,056 receiving yards and six touchdowns.
Edelman had re-signed with the Patriots last offseason, taking a one-year deal worth a shade over $1 million if he reached all incentives (which he did). Only the Patriots and New York Giants had pursued him last year, in part because of his injury history.
Edelman, who turns 28 on May 22, noted that the big difference for him in 2013 was being able to stay on the field.
"The main thing about this year was that I had four years under my belt and 'could I stay healthy?' I haven't been able to stay healthy for a whole year," Edelman told ESPN Radio's "SVP and Russillo" program in the week leading up to the Super Bowl. "I was able to stay healthy and then guys get hurt and you're given an opportunity."
Edelman also is a dynamic punt returner, as he averaged 10.7 yards per return in 2013.
ESPNBoston.com's Mike Reiss contributed to this report.
March, 15, 2014
Mar 15
1:30
PM ET
As part of NFL Network's "Dynasty Week" series, one team has been highlighted each week. This past week spotlighted the Patriots.
Among those with Patriots ties in studio included receiver
Deion Branch
and running backs
Shane Vereen
and
Stevan Ridley
.
In a
segment on the "Total Access" program
Friday night, Vereen and Ridley teamed up with former Patriots Willie McGinest and Christian Fauria for a roundtable discussion.
McGinest shared his biggest takeaway from Bill Belichick's message during his own playing days in New England, saying it was, "Work hard, be accountable, be professional, and it wasn't about one particular guy."
Fauria offered up his first impression upon arriving in 2002: "What I saw when I got there was how connected everyone was in the locker room."
That led Vereen (looking sharp in his bow tie, by the way) and Ridley to relay that things are similar in the current locker room.
"It was an eye-opening experience, to say the least," Vereen said, before sharing what stood out to him the most: "The first team meeting [and Coach Belichick said the] train is leaving whether you're on it or not."
As for the Patriots' two free-agent signings this past week, cornerbacks
Darrelle Revis
and
Brandon Browner
, Vereen said they are two more pieces to the puzzle. Ridley then touched on the two key pieces.
"Any time Bill and
Tom [Brady
] are together, you have a shot," he said, before adding it takes a complete team to accomplish the ultimate goal.
March, 15, 2014
Mar 15
5:00
AM ET
The Patriots had arranged a free-agent visit for former Panthers wide receiver Steve Smith on Monday, but the Ravens ensured that Smith wouldn't make it to New England by signing him to a three-year, $11.5 million contract Friday.
Smith
"I had spoken to Coach Belichick personally when I was at the airport on my way to Baltimore," Smith told reporters on a late Friday conference call,
according to the Baltimore Sun
.
"We had a conversation that indicated that they were very interested in me. And I was also open to going there as well, but I really felt like after sitting here that this is the place that I felt would best fit me and they convinced me that I would fit in here very well."
Smith, one of the top competitors in the NFL, would have been a great fit in New England. It is easy to envision a potentially dynamic connection he would have had with quarterback
Tom Brady
.
But family considerations for Smith also made Baltimore a more ideal choice, as it's closer to Charlotte.
In some ways, this reminds me of the 2005 offseason when the Patriots were interested in free-agent receiver
Derrick Mason
, who like Smith was known for his competitiveness and toughness. But the Ravens, in part due to Mason's family considerations, trumped the Patriots that year as well.
If there is a silver lining for the Patriots, it's that the Ravens probably now will be out of the mix for free-agent receiver
Julian Edelman
, potentially clearing his path for a return to New England.
March, 14, 2014
Mar 14
11:01
PM ET
ESPN.com news services
ORCHARD PARK, N.Y. -- Free agent linebacker Brandon Spikes agreed to terms with the Buffalo Bills on Friday night.
The one-year contract is worth $3.25 million, sources told ESPN. It could reach $3.5 million with incentives, according to a source.
The former New England Patriots linebacker tweeted of the deal:
Gotta silence the lambs, get on my Buffalo Bill! #51 #BILLSMAFIA taking back the #AFCEAST #PoWwWwW

- brandon spikes (@BrandonSpikes55) March 15, 2014
The Bills also said they reached terms with former San Francisco 49ers running back Anthony Dixon.
Spikes had 86 tackles and an interception last season, the former Florida player's fourth with the Patriots. He's rejoining former Pats linebackers coach Pepper Johnson, the Bills' new defensive line coach.
Spikes is regarded as a key addition for a defense that struggled against the run last season and is under transition with Jim Schwartz taking over as coordinator. Schwartz replaces Mike Pettine, who left Buffalo after one season to take over as Cleveland's head coach.
March, 14, 2014
Mar 14
9:15
PM ET
Some thoughts on the Patriots' signing of free-agent cornerback
Brandon Browner
to a three-year, $17 million deal, as reported by ESPN's Josina Anderson:
Browner
Super-sized at cornerback position
. If there has been one underlying theme to the Patriots' two signings, it's that they are going big at cornerback. Between
Darrelle Revis
(5-feet-11, 198 pounds) and Browner (6-4, 221), the team now has two physical, press corners. They are players who are built to last.
Adjusting with the times
. When we think back to some of the cornerbacks the Patriots have targeted with early-round picks in the earlier years of Bill Belichick's tenure, they were smaller, quicker types. This was further expounded upon when Scott Pioli was serving as the team's vice president of player personnel and once noted the importance of reactive athleticism at the position, which explained why undersized players like 5-foot-9, 180-pound
Terrence Wheatley
(2008 second round) and 5-foot-10, 186-pound
Darius Butler
(2009 second round) were among the team's early-round picks. But the Patriots have been attempting to
adjust with the times
in recent years. With more and more bigger receivers in the NFL these days, the need for bigger corners has increased. The Browner signing reinforces that line of thinking.
Breaking down the rest of the depth chart.
With Revis and Browner added to the depth chart, the team now is well-stocked at the position.
Alfonzo Dennard
,
Logan Ryan
,
Kyle Arrington
and
Justin Green
return from 2013, giving the team a promising outlook. With the Patriots playing 67 percent of their defensive snaps in sub defense last year, the third, fourth and sometimes fifth corners have added importance. Plus, Browner is suspended for the first four games of the regular season, which also must be factored into the thought process.
Answering the safety question
. Some have asked if Browner might be a candidate to play safety, where the Patriots might be looking for reinforcements. The thought from here is that would eliminate one of his best assets -- the ability to get his hands on receivers at the line of scrimmage and disrupt the rhythm of the passing game with physical play.
Dueling Peyton Manning
. One final thought is that when the Patriots consider who they have to beat to make it through the AFC, the
Denver Broncos
are probably at the top of the list. We saw what Manning did to the injury-ravaged New England defense in the AFC Championship Game, and we wouldn't be surprised to learn that a small part of signing Browner was with this in mind. It's often hard to get to Manning with the pass rush (the Seahawks' performance in the Super Bowl is not easily duplicated), but another way to disrupt that lethal passing game is with phsyical play in the secondary. That's a big part of Browner's game.
March, 14, 2014
Mar 14
7:29
PM ET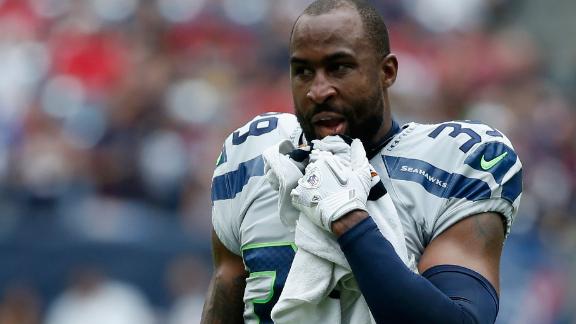 The New England Patriots have agreed to terms with suspended free agent cornerback Brandon Browner.
Browner told ESPN's Josina Anderson of the agreement before confirming it on Twitter:
Today, I am proud to announce that I am a New England Patriot. I am honored that the Patriots are (cont) http://t.co/mJmk9yN7Jo

- Brandon Browner (@bbrowner27) March 14, 2014
The deal is for three years and carries a maximum value of $17 million, Browner told Anderson. The Patriots announced the signing in a release Saturday.
Browner, a 2011 Pro Bowler, is suspended for the first four games of the 2014 regular season after violating the league's substance-abuse policy. His suspension also included the last two games of the 2013 regular season and last season's playoffs. He will be allowed to attend training camp and play in exhibition games.
Browner also was suspended four games in 2012 for violating the NFL's policy on performance-enhancing drugs.
He's the second high-profile cornerback added to the fold for the Patriots, as the team agreed to terms on a two-year deal with Darrelle Revis on Wednesday night.
Browner, 29, played and started eight games for the Seahawks last season, recording 19 tackles and one interception.
Revis and Browner headline a cornerback group that no longer includes Aqib Talib
March, 14, 2014
Mar 14
5:45
PM ET
Why is
Vince Wilfork
reluctant to accept the team's desire to alter his $7.5 million contract?
That question has been asked quite a bit since news broke Thursday that Wilfork has asked the Patriots to release him. It has been asked, in part, because it's highly unlikely that the 32-year-old Wilfork, who is coming off a torn Achilles, would receive that type of money elsewhere as a free-agent.
[+] Enlarge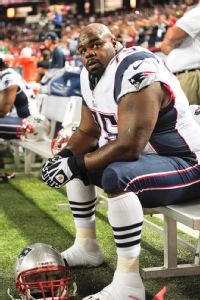 AP Photo / Jim MahoneyVince Wilfork is putting his Patriots legacy on the line with his stand.
We've covered the
business-based history
of Wilfork's time in New England, which adds context to how he might view the situation.
Now let's go a little deeper.
From this viewpoint, what makes this a compelling situation is that it puts two powerful forces in conflict -- legacy vs. principle.
Wilfork has been, by almost all accounts, a great Patriot. He traveled with the team last year despite being on season-ending injured reserve for the final 14 games, which is unprecedented in Bill Belichick's tenure, and his presence with the team was the subject of a "
60 Minutes Sports
" segment promoted by the club itself.
That's part of his legacy as one of the all-time great Patriots. He also has a Super Bowl ring from his first year with the team.
If the personable Wilfork starts and finishes his career in New England, he'd have a
Tedy Bruschi
-type presence in this region for decades if he so desired. Those situations are rare and to some, like Bruschi, that legacy would trump all.
But Wilfork is also deeply principled, and there is something to admire about that as well.
Even if remaining in New England gives him the chance to earn the most money in 2014, that's not always the clincher for every player. If Wilfork feels like he's already made concessions based on his business relationship with the team over the last 10 years, and doesn't have one more in him, that stance warrants respect and maybe a divorce is best.
In this case, one simply can't tell another person how they should feel. It's not a right-or-wrong-answer situation.
This is similar to what unfolded with
Wes Welker
last offseason, just to a little bit of a lesser degree. Welker felt it was hard to take the Patriots' final offer after giving everything he had to the franchise for six years, a stretch of time that included coming back from a torn ACL in about seven months. To Welker, it was easier to accept that same deal elsewhere in the form of a fresh start.
Based on Wilfork's request to be released, it appears he's reached the same point.
But that doesn't mean it is necessarily the end game.
The club seems prepared to give this some time to simmer before it reaches its conclusion, and maybe in time, there is a change of heart with either side -- Wilfork accepting the revised deal, or the team electing to honor the final year of the contract as is.
Thus, Wilfork's future will hang in the sensitive balance a bit longer -- legacy vs. principle.