March, 5, 2015
Mar 5
10:50
AM ET
Associated Press
FALL RIVER, Mass. -- A lawyer for former NFL star Aaron Hernandez has gone after a Massachusetts state trooper who testified that a tire track made at the scene of the crime matched a tire on a car that ex-New England Patriots player was driving the night of the killing.
Hernandez has pleaded not guilty to the June 2013 killing of Odin Lloyd, who was dating the sister of Hernandez's fiancee.
Massachusetts State Police Trooper Todd Girouard testified Thursday that the passenger-side rear tire on a Nissan Altima that Hernandez rented matched a track left near Lloyd's body.
But a Hernandez lawyer pointed out the trooper had only four and a half days of training on tire impressions and had only examined 15 tires in his career.
The trooper acknowledged the match was his opinion.
March, 5, 2015
Mar 5
9:45
AM ET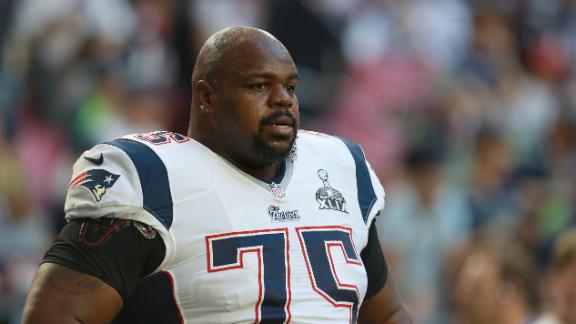 Veteran defensive tackle
Vince Wilfork
announced that the
New England Patriots
will not be picking up his option, making him a free agent when the 2015 league year begins March 10.
What it means:
Wilfork's value to the Patriots has multiple layers, and the team takes a hit if he's not on the roster. He is still an effective player on the interior of the defensive line; his 6-foot-2, 325-pound frame contributes to the club's run defense and also as a pocket pusher at times. Wilfork's impact extends to the locker room, where he has been a pillar and leader whom many look up to. Still, this decision was expected based on the dollars in play -- Wilfork was due a $4 million roster bonus March 10 and would have counted $8.9 million against the salary cap -- as the financial numbers are no longer in line with where the 33-year-old Wilfork is at this point of his career.
What's next:
Wilfork didn't rule out the possibility of re-signing with the Patriots for 2015
in his tweet
. We haven't heard from the Patriots if they would be open to Wilfork's return, but it's hard to imagine they wouldn't be if the sides could work out a new contract. At this point, Wilfork will have the freedom to test the market and see what he's worth, and it's our educated guess that the Patriots will keep an open dialogue with him and let him know the door remains open for his return depending on what unfolds on the market. Should Wilfork depart for good, fourth-year pro
Sealver Siliga
(6-2, 325) is the projected replacement.
Personal thought on Wilfork:
This is the way you draw it up when selecting a player 21st overall in the draft, as the Patriots did in 2004. Wilfork is a future Patriots Hall of Famer. He began his Patriots career with a Super Bowl victory, and if this is really the end, he would end his Patriots career with a Super Bowl title. From this viewpoint, he deserves all the success and accolades that come his way.
March, 5, 2015
Mar 5
9:20
AM ET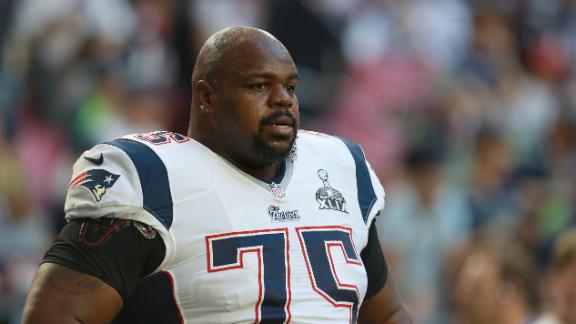 FOXBOROUGH, Mass. -- Veteran defensive tackle Vince Wilfork tweeted Thursday that the New England Patriots have informed him they will not pick up the option in his contract, thus making him a free agent when the new league year begins Tuesday.
The news was expected, as Wilfork, 33, was due a $4 million roster bonus on March 10. Had the Patriots picked that up, Wilfork also would have earned a $3 million base salary and counted $8.9 million against the salary cap.
The Patriots create $8.06 million in salary-cap space with the move. Wilfork and the Patriots could still reach a new agreement to extend Wilfork's career in New England, where he's played since the club selected him in the first round of the 2004 draft.
"I'm in a good place," Wilfork wrote in his statement. "I have a great relationship with the Patriots organization. Please know how blessed my family and I have been to be able to play 11 years in New England for an amazing organization. "
"New England has been and always will be my home," he added later in the statement.
Wilfork returned from a torn Achilles tendon in 2014 and played 73.4 percent of the team's defensive snaps. His primary responsibility was to take on multiple blockers against the run and provide a powerful pocket-pushing presence up the middle on passing plays.
Wilfork lauded Patriots coach Bill Belichick on Twitter, calling him "the greatest head coach ever" and saying he plans to play in 2015.
"Can I still play football? Hell yea! Do I still love football? Hell yea!" he wrote, citing that he has suffered just "one major injury" in his career and has "lots of gas still left in the tank."
March, 5, 2015
Mar 5
7:30
AM ET
The
New England Patriots
made several shrewd decisions that helped produce a Super Bowl championship last season. Now they're kicking off 2015 with a decision that is sure to please its fan base: All tickets will remain the same price.
Season-ticket holders received this news over the past few weeks in a letter from owner Robert Kraft and team president Jonathan Kraft.
As part of the letter, the Krafts wrote, "Last season, we introduced variable ticket pricing and received very favorable feedback from Season Ticket Members. In 2015, we will keep the variable pricing model by game and the cost of each season ticket will remain the same as last year. ...
"Thank you, once again, for your amazing support of our franchise and creating the energy and excitement throughout the season that helped us do our jobs and achieve our goals. We are already counting down the days until we unveil our fourth Super Bowl Championship banner with all our Season Ticket Members and look forward to another memorable night at Gillette Stadium to kick off the 2015 season."
The letter also noted that a number of stadium construction and enhancement projects are underway, including a new lounge at field level, a fantasy zone, and an expansion of the pedestrian bridge underneath the lighthouse.
"We will continue to invest in improvements and technologies that will provide new opportunities for fan engagement now and in the future," the Krafts wrote.
March, 5, 2015
Mar 5
7:25
AM ET
March, 5, 2015
Mar 5
5:00
AM ET
Fourth in a multipart series on free-agent fits at various positions leading into the start of free agency March 10.
Position:
Running back
Players under contract for 2015:
LeGarrette Blount
(2015),
Jonas Gray
(2015),
Brandon Bolden
(2016),
James White
(2017),
Tyler Gaffney
(2017),
Dion Lewis
(2015)
Level of need:
Moderate to high
Projected top targets:
Reggie Bush
(Lions),
Stevan Ridley
(Patriots),
Pierre Thomas
(Saints),
Shane Vereen
(Patriots)
Why Bush fits:
He just turned 30 and had one of his best seasons in the NFL playing under current Patriots assistant coach Brian Daboll in Miami (2011) when Daboll was offensive coordinator. He's one of the best pass-catching running backs on the market, and if Vereen signs elsewhere, he looks like the best possible replacement if the Patriots want to bring in a veteran as a possibility for that role. One of the main knocks on him at this point of his career is missing time due to injury.
Why Ridley fits:
He knows the system, has proven capable as a top power option, and has said he feels like he has something to prove in 2015. While likely going to have to settle for a one-year contract to set himself up for another crack at free agency next year (because of a torn ACL on Oct. 12), one question will be if it's a good match for Ridley and the Patriots in the sense that the team has a history of rotating its backs.
Why Thomas fits:
With 77 receptions in 2013 and 45 in 2014, he's one of the NFL's better pass-catching backs. He turned 30 in December and has spent all eight seasons of his NFL career with the Saints.
Why Vereen fits:
In an offense that trends to the pass, Vereen's role as the "passing back" had him playing 52.9 percent of the offensive snaps in 2014. He runs precise routes, has reliable hands, is a willing and capable pass-protector, and is a top-notch locker-room presence.
Other names of note:
Justin Forsett
(Ravens),
Frank Gore
(49ers),
Roy Helu
(Redskins),
Mark Ingram
(Saints),
Darren McFadden
(Raiders),
DeMarco Murray
(Cowboys),
Ryan Mathews
(Chargers),
C.J. Spiller
(Bills).
Market conditions:
Viewed as the deepest position in the draft by analysts, while free agency also is deep, creating an overflowing market.
Running back-based questions:
Will Vereen be wooed in free agency by another team that ups the bidding to a level the Patriots aren't comfortable matching? Is White, the 2014 fourth-round pick out of Wisconsin, a viable replacement as the pass-catching back if that happens? Does Ridley view a fresh start as his best option, or is a return to New England preferred? Does Gray become a bigger part of the plans in 2015 after slipping off the radar following the acquisition of Blount and being late to a meeting? Will Gaffney challenge for a role after the sixth-round pick out of Stanford was claimed on waivers from the Panthers last year?
March, 4, 2015
Mar 4
7:15
PM ET
New England Patriots
tight end
Rob Gronkowski
was a guest on
ESPN Radio's "SVP and Russillo" program
on Wednesday, with part of the discussion tied to the
ESPN Madden Ultimate Team vote
.
But things started with what Gronkowski has been doing since the Patriots' victory in Super Bowl XLIX.
Gronkowski
"When you win the Super Bowl, it changes lives," Gronkowski said on the program. "It's been very cool, but I was also [part of] a Super Bowl loss, when we lost three years ago. I can tell you this, winning it is a lot, lot different than losing it. It's been a great time. Pretty awesome."
Asked if there was one moment in which he thought,"I'll remember that forever," Gronkowski picked the celebratory parade.
"I didn't really know what it was going to be like, what I was really getting myself into. I didn't know duck boat rides were four miles with thousands and thousands of people [cheering]," he said.
A few other sound bites from Gronkowski:
Selecting his Madden team, which includes Tom Brady and himself:
"It was pretty cool to pick these teams. There are so many legendary players out there, it was kind of hard. Sometimes you went with your favorite player who was on your team growing up that you like to watch, but obviously I had to pick my first choice, which is the best QB ever, Tom [Brady]."
Calling Brady in the offseason and what those conversations are like:
"It's like a work atmosphere. Call him up, see where he's at and see if he wants to throw the ball around a little bit. Whenever you meet up with Tom, you always know you're going to be working -- at least for an hour or two on the field. You know you can always count on that."
What it's been like since the Super Bowl:
"It's been a little crazy, a lot of fun. I'm just enjoying the time, celebrating with my teammates, my family and friends. Basically just enjoying the time off because you go through the grind for seven months straight, so you kind of sit back, relax, have some free time to yourself, so it's been cool."
March, 4, 2015
Mar 4
5:45
PM ET
Former Harvard University long snapper Tyler Ott, who spent parts of 2014 training camp with the
New England Patriots
, has re-signed with the team on Wednesday.
The 6-foot-3, 245-pound Ott, who is from Tulsa, Oklahoma, was
Harvard's primary long-snapper
from 2011-2013. He was released by the Patriots in mid-August and did not snap in the NFL last season.
The Patriots' long snapper the last four seasons,
Danny Aiken
, is scheduled to become a free agent on March 10.
March, 4, 2015
Mar 4
1:45
PM ET
An Insider piece now posted on ESPN.com
highlights the "best fits" for veteran receiver
Andre Johnson
, who has reportedly been given permission to seek a trade by the Texans, and it's not surprising that the
New England Patriots
are high on the list.
A few thoughts:
Johnson
Starts with the salary
. Before even considering trade compensation, Johnson's salary would likely have to be addressed before the Patriots broached the possibility of acquiring him. As the Insider piece notes, Johnson has two years and $21.5 million remaining on the $67.8 million contract he signed back in 2010 and it's hard to imagine the Patriots absorbing that deal. One estimate on how far the Patriots would extend is to the
Julian Edelman
-type range of $4.75 million average per year. That figure was picked because the Patriots are generally cognizant of paying a big contract to a player from another team in terms of how it might affect others already on the club. Would that be good enough for Johnson? Perhaps it would from the perspective of giving him a chance to play with
Tom Brady
and have arguably his best chance to win a Super Bowl.
Would Houston trade with New England?
With the Texans competing in the AFC, and also facing the Patriots in 2015, one would think they'd prefer to trade him out of the conference. In that sense, it might be difficult for the Patriots to consummate a deal. But if there is no trade market, and Johnson is ultimately released and free to sign with any team, that obviously would alter the picture. (Johnson wouldn't be as high of a priority as retaining players such as
Darrelle Revis
and
Devin McCourty
, but it's still intriguing.)
Still has something to offer
. While every snap that Johnson played last season has not been watched at this address, there was enough viewing to come to the conclusion that the soon-to-be 34-year-old (birthday July 11) still can be a difference-maker at times. At 6-foot-3 and 230 pounds, Johnson would obviously be a nice addition to the core of Edelman (5-10, 200),
Brandon LaFell
(6-3, 210) and
Danny Amendola
(5-11, 195). With Brady throwing him the football, Johnson would naturally make the Patriots that much tougher to defend. A mid-round draft pick for Johnson, assuming he would accept a reduced contract, would be a coup for New England.
March, 4, 2015
Mar 4
11:49
AM ET
Associated Press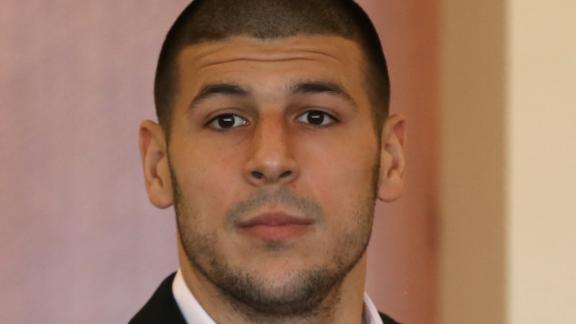 FALL RIVER, Mass. -- Prosecutors in the Massachusetts murder trial of former New England Patriots player Aaron Hernandez will not be allowed to introduce evidence about the shooting of a Hernandez friend in Florida a few months before the killing, a judge ruled Wednesday.
Hernandez is on trial for the June 2013 killing of Odin Lloyd, who was dating the sister of Hernandez's fiancée.
Before the trial began in January, the judge ruled that prosecutors would not be allowed to introduce evidence of the February 2013 shooting of Alexander Bradley. Bradley was at a Miami strip club with Hernandez and two others the night he was shot. He got into an argument with Hernandez and insulted him, and Bradley has said that Hernandez shot him between the eyes and dumped him in an industrial area.
Prosecutors this week asked Superior Court Judge Susan Garsh to revisit her earlier ruling. They said the shooting contradicts one of the key arguments by the defense, that Hernandez would not shoot a friend.
Hernandez lawyer James Sultan argued Wednesday that they were unproven and uncharged allegations and that prosecutors' sole purpose in trying to introduce the shooting was to show that "Mr. Hernandez has the propensity to shoot his friends. That's their argument.
"No doors have been opened. Nothing has changed," he added.
Garsh, ruling from the bench, agreed and said she will not allow it. She said the two shootings had different circumstances and noted that the Florida shooting had a clear motive because it came immediately after Hernandez was disparaged.
"The Florida shooting happened very shortly after the provocation," she said.
Prosecutors have not presented to the jury a motive in the Lloyd shooting.
March, 4, 2015
Mar 4
11:35
AM ET
While the
New England Patriots
' victory in Super Bowl XLIX happened more than a month ago, reactions from players are still notable. And with that in mind
we pass along this piece
by Dan Duggan of the NJ Advance Media, who caught up with safety
Duron Harmon
on the topic.
Duggan's interest in Harmon, who had jumped over Seahawks receiver
Jermaine Kearse
's after Kearse's remarkable on-his-back reception, stems from his time at Rutgers (2009-2012).
"
Oh my God, I was just upset to the point where watching it, I felt like I could have done something about the play," Harmon told Duggan
. "At that point, I felt like I let my team down. ...
"
To be honest, I thought the ball was down like everybody else. I thought the ball bounced off the ground. I was like, I can stop but I'm going to fall on him because I was moving too fast. So I just jumped over him and I took a peek around and he's up about to run and I saw Malcolm [Butler]. I was like, there's no way they're going to count that as a catch. But it was a catch. I have to give credit to Kearse for that catch. That was a great catch. But it broke my heart."
Then came Butler's interception.
"I
t was a tremendous play," Harmon told Duggan. "A whole bunch of depression just came off of me. All I could do was just run on the field and give him a hug. It was the best feeling I've ever had."
March, 4, 2015
Mar 4
10:00
AM ET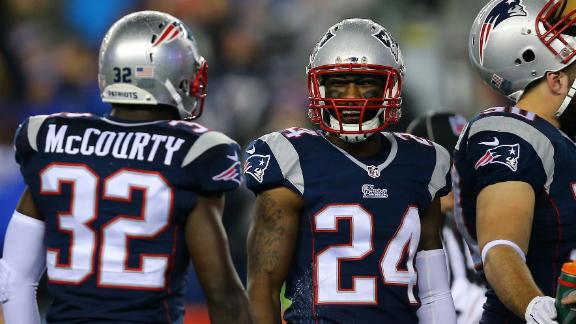 ESPN
New England Patriots
reporter Mike Reiss said the team would like to keep cornerback
Darrelle Revis
, kicker
Stephen Gostkowski
, safety
Devin McCourty
and running back
Shane Vereen
.
March, 4, 2015
Mar 4
8:30
AM ET
A few
New England Patriots
-based thoughts on the notable trade between the
Philadelphia Eagles
and
Buffalo Bills
, as
reported by ESPN NFL Insider Adam Schefter
, in which Philadelphia sends running back
LeSean McCoy
to Buffalo in exchange for linebacker
Kiko Alonso
:
Alonso
McCoy
1. Salary-cap space is always fluid, so this will be something to monitor, but the Bills are taking on a $10.25 million salary-cap charge for McCoy. That leaves them with
about $17 million of space
and could affect pursuit of big-ticket free-agents such as
Darrelle Revis
.
2. Both teams are on the Patriots' schedule for 2015.
As colleague Field Yates pointed out
, the addition of McCoy under first-year head coach Rex Ryan could make the Bills a top candidate to be New England's season-opening opponent.
3. The Bills don't have a sure-fire answer at quarterback, so in that sense, McCoy becomes the player they can build around. In theory, maybe that makes life easier on whoever plays quarterback and helps close the gap on the Patriots.
4.
McCoy might not be too happy about this trade
, so the Bills could be put into a position where they have to sweeten the pot a bit to entice him. Not an ideal spot, leverage-wise, for a team to be.
5. Part of the reason the Eagles made the deal was to clear salary-cap space; they didn't need the space but appear to have felt McCoy's cap charge wasn't in line with his value to them. The Patriots have some similar salary-cap clean-up to take care of over the next week (a video coming up at 10 a.m. ET will highlight that thought).
March, 4, 2015
Mar 4
5:00
AM ET
Third in a multipart series on free-agent fits at various positions leading into the start of free agency March 10.
Position:
Off-the-line linebacker
Players under contract for 2015:
Jerod Mayo
(2017);
Jamie Collins
(2016),
Dont'a Hightower
(2016),
Darius Fleming
(2015),
Cameron Gordon
(2016),
Deontae Skinner
(2015)
Level of need:
Moderate to high
Projected top targets:
Akeem Ayers
(Patriots),
Jonathan Casillas
(Patriots),
Dane Fletcher
(Buccaneers),
Colin McCarthy
(Titans),
Chris White
(Patriots)
Why Ayers fits:
He played well for the Patriots in multiple roles after he was acquired in a midseason trade from the Titans, serving mostly as a designated pass-rusher on the end of the line of scrimmage in sub (which the Patriots were in 73.5 percent of the time in 2014). In the base defense, he played off the line (12 snaps in the Super Bowl) as the third 'backer alongside Collins and Hightower.
As director of player personnel Nick Caserio said
, "We were fortunate that it worked out the way it did."
Why Casillas fits:
He was a productive special teams player upon being acquired from the Buccaneers in a midseason trade, totaling three tackles in his first game with the Patriots. He also filled in admirably on defense when injuries hit, displaying the intelligence and command to have the communication device in his helmet and lead the huddle if needed.
Why Fletcher fits:
Originally signed by the Patriots as an undrafted free agent in 2010, he carved out a niche as a top special teams player before signing a one-year deal with Tampa last offseason in hopes of having a chance to play more defensively. He did (4 starts), and now he finds himself set for free agency again. He's already a proven fit in the system.
Why McCarthy fits:
Bill Belichick was
complimentary of him in 2012
, noting his leadership, intelligence and overall skill set. McCarthy has had a tough run of injuries and projects as a low-cost, potential high-upside signing if he stays healthy. Maybe a change of scenery helps him get his career back on track after being derailed by injuries.
Why White fits:
Core special teams player who quietly goes about his job. Enters his fifth NFL season in 2015.
Other names of note:
Lance Briggs
(Bears),
Bruce Carter
(Cowboys),
Mason Foster
(Buccaneers),
A.J. Hawk
(Packers),
Mark Herzlich
(Giants),
David Harris
(Jets),
Malcolm Smith
(Seahawks),
Brandon Spikes
(Bills),
Sean Weatherspoon
(Falcons).
Market conditions:
Fairly deep in free agency, while the view of the draft varies depending on one's scheme.
Off-the-line linebacker-based questions:
Will Mayo's contract, long rumored to be a target for a reduction, be addressed? Can team effectively restock special teams units if Ayers, Casillas and White don't return?