September, 17, 2014
Sep 17
3:59
PM ET
By
Lee Schechter, Special to ESPNBoston.com
FOXBOROUGH, Mass. -- The Patriots are preaching balance on offense this week.
Most of the attention is on quarterback
Tom Brady
and the desire to spread the ball around to skill players other than wide receiver
Julian Edelman
and tight end
Rob Gronkowski
.
[+] Enlarge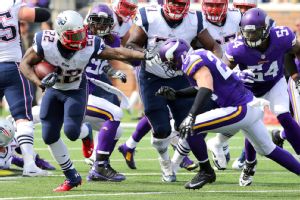 AP Photo/Jim MoneStevan Ridley had a team-high 101 yards on 25 carries against the Vikings as the Patriots made it a point to establish the running game.
But running back
Stevan Ridley
brought attention back to a balanced Patriots offense highlighted by a consistent ground attack.
"I just know that when we have a more balanced attack that we are a better offense and that's what we are striving for this season," Ridley said. "But, it's still early in the season. We don't have all the kinks worked out right now.
"We just have guys that are new in positions and guys that haven't played a lot. We are just trying to figure it out as a team, but I think it is a group effort and we are working together and I think that they have improved week to week. From Miami to Minnesota, I think they have made a drastic improvement."
Ridley understands the value of the run game, especially in its ability to chip away at a defense.
"It's not always going to be there early in a game, eventually a defense is going to wear down and the creases will come," Ridley said. "So, you can't really try to go for the home runs early, you have to keep grinding it between the tackles and finding the tough yardage -- giving [the offensive line] some time to figure out the defense that they are playing.
"If that's what you have to do is take the tough yardage, then eventually you will break it and get some big runs. But until then, be consistent. Be a smart player. And keep the ball out there. The offense will keep moving the chains and keep rolling."
Ridley, who carried the ball 25 times for 101 yards and a touchdown, credited his performance to the offensive line's ability to keep attacking the defense.
"It was good that they stuck with me late in the game," Ridley said. "Really that is the coach's call. However I get [carries], I just go out there are run hard.
"Over the course of a game you get [the defense] to wear down -- that [Minnesota] defense was tired. And that's why we have all the big boys up front that we have to see if they can sustain our offensive line over four quarters. And so we felt good about how we were attacking them toward the end and that's how we kept moving the ball.
"Some days it is going to be through the air. Some days it is going to be on the ground, but it is the defense's job to figure us out. But as an offense we have to do what we do and as a unit we are going to keep marching the ball down the field game in and game out -- that's the goal."
Ridley is looking forward to seeing the progress of the offensive line and the Patriots' balance on offense. He is also ready to play in front of New England fans in the home opener against his father's favorite team, the
Oakland Raiders
.
"It's going to be awesome," Ridley said. "Personally, my dad's old favorite team was the Raiders, but I of course became a Patriot. ... Family is going to be here. It's going to be an exciting atmosphere to come back to Foxborough and get in the home stadium."
Don't worry. Ridley said his father will be wearing a No.22 Patriots jersey on Sunday.