November, 25, 2014
Nov 25
4:56
PM ET
By
Lee Schechter, Special to ESPNBoston.com
Leftovers from Tuesday's conference calls with Patriots offensive coordinator Josh McDaniels and defensive coordinator Matt Patricia:
Matthews on the inside.
Packers linebacker
Clay Matthews
has shifted inside at times this season, putting him in a different role than his typical pass-rush off the edge. McDaniels sees Matthews as a major threat no matter where he lines up.
"Well [Matthews is] a versatile guy," McDaniels said. "There's no question about it. We need to know where he is on each snap. He's not just in one place, that's for certain. So, I think that no matter where he is at -- inside off the line, if he's on the line of scrimmage playing in a linebacker position or if he's in their sub package playing an end or in the pass-rush position -- he's a very good football player."
What makes Lacy so good?
Packers running back
Eddie Lacy
is a big back at 5-foot-11 and 230 pounds. His size makes him tough to stop, but the way he runs and uses his body makes it even tougher to take him down.
"You've seen the film on [Lacy] and see him run the ball with power," Patricia said. "He does a great job of running with his pads over the ball, where he is protecting the ball and taking contact on with his shoulders. He's very difficult to tackle a runner like that. So on first contact he is usually running through arm tackles or he does a great job of spinning out of difficult situations, constantly driving his legs. He has extremely good lower-strength to push a pile or drive through a tackler."
Branch's increased role.
Defensive lineman
Alan Branch
was signed midseason to bolster the run defense. Branch played in
29 of 81 defensive snaps
in Sunday's win over the Lions, showing his quick progression in helping the team.
"I think coming here later in the season, [Branch] is trying to adapt to the different techniques, different system that we run here," Patricia said. "He's a big guy. [He] has some power, some length. He's strong and has good quickness off the ball so he can present a problem for an offensive player."
Ayers and Casillas' contributions.
Two other midseason acquisitions, linebackers
Akeem Ayers
and
Jonathan Casillas
, have also made steady contributions this season. Ayers looks explosive in the pass-rush after hardly playing in Tennessee and Casillas' experience is on full display.
"I will say that those guys work extremely hard," Patricia said. "They are true professionals as far as ability to study, learn the game and understanding what we are doing from a system standpoint and have matriculated into what we are trying to do defensively fairly quickly from their study and their work ethic. So, they've really fallen right in line."
LaFell's commitment to success.
Wide receiver
Brandon LaFell
has become a consistent receiving threat for
Tom Brady
and the Patriots' offense. McDaniels touched on LaFell's work ethic as the reason for his success.
"Brandon came in here in the spring with a great attitude and was involved in the offseason program and out there every day, really works hard at his craft," McDaniels said. "He's a professional. He's available for us to work before or after practice whatever it may be. He wants to learn and get better and you can see that with his preparation each week. He's a tough guy that does a lot of things well at the position."
November, 25, 2014
Nov 25
4:25
PM ET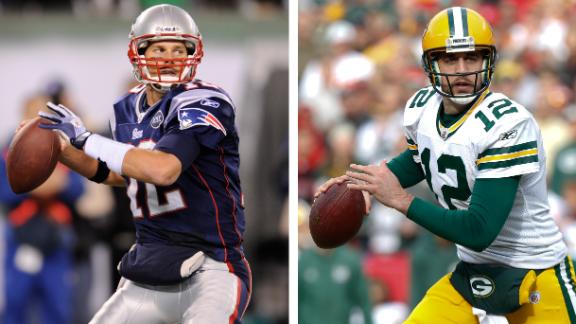 GREEN BAY, Wis. -- Aaron Rodgers doesn't view Sunday's game between the Green Bay Packers and New England Patriots as him against Tom Brady, but unless they meet in the Super Bowl, which is possible the way they are playing, it could be the one and only meeting between two of the game's top quarterbacks as starters.
Their teams have played twice since Rodgers was the Packers' first-round pick in 2005, but Rodgers played only in backup duty in the 2006 game and missed the 2010 meeting because of an injury.
As an NFC quarterback, Rodgers' chances to play against Brady and Peyton Manning are few and far between. He's played against Manning only once his career, in 2008.
"I don't have a void in my career for not playing them more times," Rodgers said Tuesday on his ESPN Milwaukee radio show. "I have a ton of respect for them in their careers, but again I don't ever look at it like it's one quarterback against another. It takes 11 every single play to be effective. We play against some great teams in the NFC all the time. They've spent their careers in the AFC and that's kind of the way it's gone.
"I'd like to think that at some point by the end of my career, I'll have a number of matchups against a quarterback in the NFC who they like, much in the way that they like Brady and Manning, and they can make some comparison there, but I won't have any void from not playing those guys. I'd rather not; they're great players."
November, 25, 2014
Nov 25
3:41
PM ET
Associated Press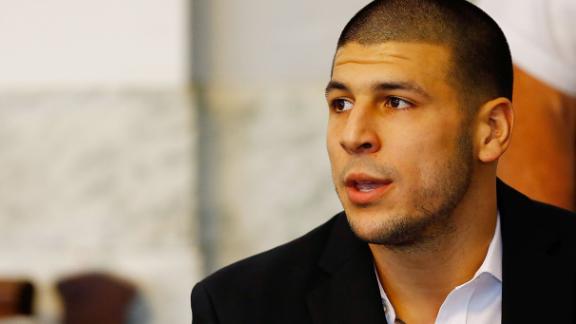 BOSTON -- A judge on Tuesday agreed to delay the trial of former New England Patriots player Aaron Hernandez in the 2012 slaying of two Boston men after his lawyer said Hernandez's defense team is busy trying to prepare for his trial in a 2013 killing.
In the 2012 case, Hernandez is charged with murder in the fatal shootings of Daniel de Abreu and Safiro Furtado after a chance encounter at a nightclub. His trial was scheduled to begin in May.
But during a hearing in Suffolk Superior Court, one of Hernandez's lawyers asked a judge to delay the trial by six months, saying his legal team cannot prepare effectively for that trial until Hernandez's trial in the 2013 killing of semi-professional football player Odin Lloyd is over. Jury selection in that case is scheduled to begin Jan. 9 in Fall River.
Attorney Charles Rankin said he and Hernandez's lawyers are busy reviewing more than 500,000 pages of evidence turned over by prosecutors in the Lloyd case. He said that if prosecutors end up calling all of the more than 300 people on their witness list, the trial could conceivably last two to three months.
Rankin also said the judge in the Lloyd case plans to call in approximately 1,500 potential jurors to pick a jury from, a number that is even higher than the 1,200 expected to be called for the federal trial of Boston Marathon bombing suspect Dzhokhar Tsarnaev.
Judge Jeffrey Locke agreed to delay Hernandez's Boston trial but did not set a new date, saying he wants to see how long the trial in Lloyd's murder takes before picking a firm date.
Hernandez, who is being held without bail, was not in court. His lawyers waived his right to be present for the hearing.
November, 25, 2014
Nov 25
3:37
PM ET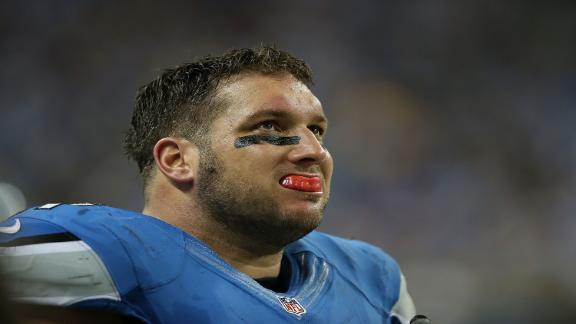 ALLEN PARK, Mich. -- Lions center Dominic Raiola said he was not fined by the NFL for his play at the end of Sunday's 34-9 loss to New England where he dived at the knees of Patriots defensive lineman Zach Moore.
"There's no fine. It was during the game," Raiola said Tuesday. "I don't know about regrets. I don't live life with regrets. I know I didn't intentionally try to hurt anybody.
"I didn't try to do anything out of the ordinary. I would have gotten a FedEx letter for that, so just play the game. I mean, I didn't make it a big deal. Everybody else did."
The NFL had decided to look into plays made by Raiola during Detroit's last offensive drive, including an attempted cut block on Moore's legs during the final play of the game -- a kneel-down -- and an attempted club of Moore after Moore got past him on a play earlier in the drive.
The incident led to New England defensive tackle Vince Wilfork calling Raiola's play "boneheaded." On Monday, Patriots coach Bill Belichick said Raiola and other Lions seemed frustrated at the end of the game and that Raiola hasn't beaten the Patriots in his career.
Raiola said Tuesday he did not care about Belichick's comments.
"Not a lot of people beat those guys," Raiola said. "I don't really care what he said. I didn't make it an issue. I just finished the game."
November, 25, 2014
Nov 25
2:45
PM ET
By
Lee Schechter, Special to ESPNBoston.com
Quick hits from Patriots head coach Bill Belichick's conference call on Tuesday:
Two rookie centers.
The Packers have rookie
Corey Linsley
at center, while the Patriots have their own rookie at the position in
Bryan Stork
. The Patriots had interest in Linsley (a fifth-round pick) before taking Stork in the fourth round. Now these two rookies are anchoring the interior of their offensive lines and learning on the fly.
"Linsley is a guy that we were all over too at Ohio State and after we took Stork in the fourth round, we didn't really plan on coming right back and taking the same position," Belichick said. "But, he was a guy we spent a lot of time on and had a lot of interest in too. He's done a good job for the Packers. [He's] started all year and is playing behind two very experienced players at guard similar to Bryan's situation here. There is a lot at that position -- a learning curve and being a rookie -- just on a lot of levels, especially with cadence."
Peppers still going strong.
Packers outside linebacker
Julius Peppers
may be 34-years-old and in his 13th NFL season, but he is still impressive with his athleticism and versatility as a pass-rusher and coverage linebacker.
"[Peppers] has seen everything, experienced it. I don't think there's too many things on the football field that would surprise him anymore," Belichick said. "He's a very disruptive guy and in the pass-rush more than he is in coverage, but when he is in coverage, you have to be aware of his length and size he presents. He's certainly a lot bigger than almost anyone else you would see in coverage."
Rodgers-Nelson back-shoulder threat.
Last week,
Tom Brady
discussed the
back-shoulder pass
with
Brandon LaFell
, and regarded
Aaron Rodgers
and
Jordy Nelson
as the best at executing the highly evolved play. Likewise, Belichick is tuned into the threat of back-shoulder throws to Nelson.
"Well the back-shoulder is tough because especially with a guy like [Jordy] Nelson who has such good height (6-3), length [and] speed; as a defensive back you never want guys to get on top of you or behind you," Belichick said. "At the same time, they are so good at that back-shoulder throw that if you are thinking about that and then Nelson runs by you, it's all over."
Don't forget about Cobb.
Even with Nelson having an impressive season,
Randall Cobb
is certainly not to be forgotten with his 10 receiving touchdowns.
"Cobb is a tough matchup, usually inside the slot," Belichick said. "Good speed, good quickness, good playing strength, good with hands, an excellent run after catch player, also a returner, so the problems with him are his separation and ability to get open but also getting him on the ground after he has the ball.
"Seems to have a really good rapport on the field with Rodgers."
Protecting the football.
Sunday's Patriots-Packers showdown features the NFL's top two teams in turnover differential with the Packers at plus-15 and the Patriots at plus-11.
"Not only do they not turn the ball over and get turnovers, but they are also the best in the league at converting turnovers into touchdowns," Belichick said. "They are a very opportunistic team. They play good complementary football. They are an explosive team, and they can get the ball away from you and pretty much score from anywhere and they are explosive in the kicking game and the return game."
The Packers' dominance at home.
The Packers are undefeated at home (5-0) and winning home games by a margin of 26.8 points.
"We have to find a way to be competitive in their home stadium where they have played exceptionally well in recent weeks -- just extraordinary," Belichick said. "So, it will be a huge challenge."
November, 25, 2014
Nov 25
2:16
PM ET
Every Tuesday on ESPNBoston.com, questions from
New England Patriots
followers are answered as part of a weekly mailbag.
Today's mailbag has been posted
and includes some of the following topics:
1. Looking ahead to the road game against the Packers, and how the Patriots might attempt to slow them down.
2. The decision to have running back
Jonas Gray
not play against the Lions, and what
LeGarrette Blount
's addition means for him.
3. Bill Belichick's personnel decisions and how they have bolstered the roster in 2014.
4. Cornerback
Darrelle Revis
and the Patriots' secondary -- the difference-maker from past years.
5. Defensive tackle
Vince Wilfork
and his playing time total.
6. Setting up a tweet-up for Green Bay.
November, 25, 2014
Nov 25
2:05
PM ET
[+] Enlarge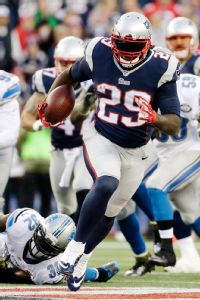 AP Photo/Steven SenneIt will be interesting to see how big a part of the game plan LeGarrette Blount will be in Green Bay on Sunday, and whether Jonas Gray will be back in the running back mix.
FOXBOROUGH, Mass. -- Happy Thanksgiving to all readers of the Patriots mailbag; it doesn't get much better than a combination of football, family and food. This week brings us to Lambeau Field, which remains one of the special NFL venues to watch a game.
On a personal note, it brings me back full circle as Lambeau was the first road game I covered in my first job out of college, at Patriots Football Weekly. It was the 1997 preseason opener, Pete Carroll's debut as coach, and the Patriots lost a 7-3 "thriller."
We were just figuring out the capabilities of having video on Patriots.com and my boss at the time, Fred Kirsch, told me to kneel down on the sideline and say something into the camera as the game was ending. I have no idea what I said, or if it even ended up on the Web, but I do remember what I was thinking at the time: "Are you kidding me? I'm at Lambeau Field, covering professional football. Somebody wake me up and tell me I'm not dreaming!"
So during a week in which we often reflect on what we have to be thankful for, that's a story I've been thinking about in recent days.
If you're up for hearing a few more, and chatting about the Patriots, come by the Lombardi statue on the east end of Lambeau Field around 11:30 a.m. local time on Sunday. That will be our informal "tweet-up" this week.
November, 25, 2014
Nov 25
1:00
PM ET
A quick observation of quarterback
Tom Brady
and how he played in the Patriots' 34-9 win over the Lions in Week 12:
Brady
If an opponent rushes the standard four defenders against Brady and plays mostly zone coverage behind it, that usually proves to be a tough formula to win unless the pass rush can get there quickly. The Lions' rush couldn't get there because Brady got the ball out so fast.
According to ESPN Stats & Information, Brady was 33-of-45 for 301 yards, two touchdowns and an interception against Detroit's four-man rush. The Lions' defense had entered the game with the best Total QBR allowed in the league when using four or fewer rushers (39.2).
Looking ahead, Brady now faces a Packers defense that has been vulnerable at times. It's a unit that has been protected, however, because Green Bay's offense has jumped out to quick leads at home in its past four games (opening a 66-0 lead in the first quarter of those games), quickly making it a one-dimensional game.
That's the first key for Brady and the Patriots' offense Sunday -- sustain drives and stay in the fight early.
November, 25, 2014
Nov 25
10:40
AM ET
A look at the 9-2
New England Patriots
in our weekly "stat check" while also bringing this week's opponent, the 8-3
Green Bay Packers
, into the discussion:
Points per game
This week:
First (32.4)

Last week:
Second (32.3)
Last season:
Third (27.75)
Packers in 2014:
Second (32.1)
Points allowed per game
This week:
12th (20.6)

Last week:
13th (21.8)
Last season:
10th (21.12)
Packers in 2014:
16th (22.3)
Third-down offense
This week:
Ninth (68 of 154, 44.2 percent)
Last week:
Ninth (62 of 141, 44.0 percent)
Last season:
16th (83 of 221, 37.6 percent)
Packers in 2014:
Fourth (58 of 128, 45.3 percent)
Third-down defense


This week:
13th (57 of 139, 41.0 percent)

Last week:
22nd (52 of 122, 42.6 percent)
Last season:
26th (98 of 232, 42.2 percent)
Packers in 2014:
25th (62 of 144, 43.1 percent)
Turnover differential
This week:
Second (plus-11, 20 takeaways, 9 giveaways)

Last week:
Tied-second (plus-11, 19 takeaways, 8 giveaways)
Last season:
Eighth (plus-9, 29 takeaways, 20 giveaways)
Packers in 2014:
First (plus-15, 23 takeaways, 8 giveaways)
Red zone offense (based on TD percentage)
This week:
Eighth (30 of 47)

Last week:
Sixth (26 of 41)
Last season:
15th (36 of 65)
Packers in 2014:
Ninth (28 of 44)
Red zone defense (based on TD percentage)
This week:
21st (19 of 33)

Last week:
Tied-20th (19 of 32)
Last season:
16th (28 of 50)
Packers in 2014:
Sixth (17 of 36)
November, 25, 2014
Nov 25
10:15
AM ET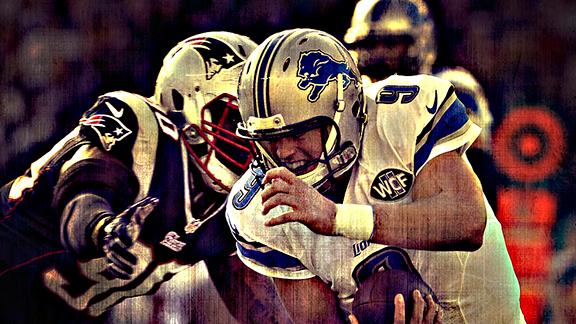 Let's take our weekly deep dive into the Sunday performance of five NFL quarterbacks, using data supplied by analyst Jacob Nitzberg of ESPN Stats & Information. After all, the numbers don't always speak for themselves. (For all Inside Slant posts, including the weekly QB Report,
follow this link
. For a full statistical breakdown of all NFL quarterbacks, see
ESPN.com's QBR page
.)
WEEK 12
CMP: 18
ATT: 46
YDS: 264
PCT: 39.1
TD: 0
INT: 1
WHAT YOU MISSED
Stafford completed just 18 of his 46 passes, giving him the lowest single-game completion percentage (39.1) in his career. How much of it was his fault? And how much of the blame falls on his receivers or pass protection? Here's what we found out: Of the 28 incompletions, 10 were judged to be over- or under-thrown in ESPN video review, tied for Stafford's second most in a game this season. Four of the incompletions were judged to be dropped and nine more were defended -- broken up, batted or intercepted -- by the Patriots. Both of those last two figures were season highs for Stafford. Seven of those defended passes were intended for receiver Calvin Johnson or Golden Tate. (Stafford targeted each of them with 10 passes and completed four apiece.) That provides a reliable explanation for most of the misses. Meanwhile, Stafford found himself under duress or hit on 10 of his dropbacks, third most for a quarterback in a game during Week 12.
FINAL ANALYSIS
When you throw 46 passes and complete only 18, there is plenty of blame to go around. Stafford's inconsistent accuracy was the biggest culprit, but the Patriots also played excellent defense. The drops, on the other hand, are best seen in context. Their total of 18 for the season is the sixth most in the NFL, but part of that is the result of 417 overall attempts, which ranks eighth in the NFL. The drop percentage, a more reliable measure, is 4.3 -- slightly higher than the NFL average of 4.0. Receiver drops shouldn't be disproportionately blamed.

WEEK 12
CMP: 38
ATT: 53
YDS: 349
PCT: 71.7
TD: 2
INT: 1
WHAT YOU MISSED
The Patriots used a pass-first approach against the Lions, but see if you can pick up on its true intent. Brady threw 11 screen passes and completed all of them, his highest total of both completions and attempts in at least five seasons. Of his 53 attempts, 29 traveled 5 yards or fewer past the line of scrimmage. Brady completed 25 of them, including 12 that were caught at or behind the line. Brady threw 21 passes on first down, tied for his most in a game this season, and converted eight first downs on those throws. He also completed 5 of 6 play-action throws on first down and 8 of 9 overall. The Lions backed off their blitz against him, sending an extra rusher on 15 percent of his dropbacks, and overall they pressured him on only 9.4 percent of his dropbacks, a season low for the Lions and for Brady. He was put under duress on five attempts, completing all five.
FINAL ANALYSIS
A week earlier, the Patriots defeated the Colts behind 201 rushing yards from power back Jonas Gray. They pivoted noticeably against the top rushing defense in the NFL, but they used their passing game often to simulate the run. The end result: The Patriots lit up the Lions for 34 points, more than twice their defensive scoring average entering the game.
WEEK 12
CMP: 17
ATT: 27
YDS: 130
PCT: 63.0
TD: 1
INT: 0
WHAT YOU MISSED
Cutler posted season lows in dropbacks, attempts, completions and passing yards for a game -- and it appeared by design. Playing against a defense that discourages downfield throws, Cutler attempted only three passes that traveled more than 10 yards past the line of scrimmage. His longest pass traveled 17 yards in the air past the line of scrimmage. The three attempts were Cutler's fewest in a game that he has finished since joining the Bears in 2009. His average air yards per throw was 3.85, by far his shortest this season and his second shortest in his Bears career. He attempted only five outside passes (passes thrown beyond the numbers). Entering the game, he had completed at least seven of those passes each week this season. He threw five play-action passes and three screens, completing all eight such throws. In eight red zone plays, the Bears threw only once -- the second time in as many weeks when they have run more often than passed in the red zone. The reverse had been the case the previous 10 weeks.
FINAL ANALYSIS
For at least one week, the Bears dialed it way back for a quarterback who entered the game with 17 turnovers. In the past two weeks, tailback Matt Forte has carried or caught a pass 60 times for a total of 287 yards. That makes sense, given Cutler's struggles and the arrival of December weather.
Cleveland Browns
WEEK 12 vs. ATL:
W, 26-24
WEEK 12
CMP: 23
ATT: 40
YDS: 322
PCT: 57.5
TD: 0
INT: 3
WHAT YOU MISSED
Hoyer's worst game of the season coincided with the return of downfield threat Josh Gordon from suspension. Hoyer targeted Gordon 17 times against the Falcons, completing eight but also throwing two of his interceptions on those throws. He threw downfield to Gordon -- at least 15 air yards -- eight times and completed two of them. Those 17 targets were tied for the most passes thrown to one player in an NFL game this season. Eight of his 17 incompletions were judged to be overthrows by ESPN video analysis, including two of his interceptions. In the red zone, Hoyer missed all six of his attempts, including one interception. His 0.0007 QBR in the red zone was the worst of his career. All three of his interceptions came against the Falcons' standard pressure, the same as his previous five this season. Hoyer had not previously thrown an interception against the blitz in 2014.
FINAL ANALYSIS
Did the Browns' eagerness to unleash Gordon knock Hoyer off his previously efficient game? It's difficult to dismiss that possibility as at least a partial explanation for his performance. Hoyer regained his composure to lead another game-winning drive in the fourth quarter, his fifth in 10 victories as a starter during his career, giving him a successful outcome with which to evaluate his approach.
WEEK 12
CMP: 17
ATT: 22
YDS: 211
PCT: 77.3
TD: 1
INT: 0
WHAT YOU MISSED
Wilson took seven sacks, tying his career high, and they came in a variety of ways. He spent an average of 2.56 seconds in the pocket per throw, his longest in a game this season, but three of the seven sacks came outside the pocket. The Cardinals blitzed him on 50 percent of his dropbacks, a season high for Wilson. They sacked him on three of those plays, but he also completed 11 of the 13 passes he got off against the blitz for 153 yards. When under duress, Wilson completed 5 of 6 passes for 70 yards and a touchdown. Wilson kept most of his passes short, attempting only three that traveled at least 15 yards downfield. Of his 211 passing yards, 138 came after the catch. He attempted a season-low seven passes to receivers and kept the ball on five of the Seahawks' 14 zone-read plays, accounting for 46 yards.
FINAL ANALYSIS
It's probably best to view the seven sacks as a byproduct of Wilson's ability to make plays against the blitz. When an opponent blitzes on half of your passing plays, you find any way you can to make it work. The Seahawks are more than happy to take the end result.
November, 25, 2014
Nov 25
9:00
AM ET
The
New England Patriots
visit the
Green Bay Packers
on Sunday and Jim Nantz (play-by-play), Phil Simms (analysis) and Tracy Wolfson (sideline) are on the call for CBS (4:25 p.m. ET). This is their third Patriots game of the season.
Patriots broadcast pairings


at Dolphins:
Greg Gumbel, Trent Green, Evan Washburn (CBS)
at Vikings:
Ian Eagle, Dan Fouts, Jenny Dell (CBS)
vs. Raiders:
Gumbel, Green, Washburn (CBS)
at Chiefs:
Mike Tirico, Jon Gruden, Lisa Salters (ESPN)
vs. Bengals:
Al Michaels, Cris Collinsworth, Michele Tafoya (NBC)
at Bills:
Kenny Albert, Daryl Johnston, Tony Siragusa (Fox)
vs. Jets:
Jim Nantz, Phil Simms, Tracy Wolfson (CBS)
vs. Bears:
Sam Rosen, John Lynch, Pam Oliver (Fox)
vs. Broncos:
Nantz, Simms, Wolfson (CBS)
at Colts:
Michaels, Collinsworth, Tafoya (NBC)
vs. Lions:
Joe Buck, Troy Aikman, Erin Andrews (Fox)
Leftover from Patriots-Lions broadcast, Part I (Aikman on
Tom Brady
): "He's one of the game's great competitors. When you think about the partnership that he and Bill Belichick have had, Tom Brady has benefited by having a head coach who wants to do nothing but coach football. But Bill Belichick probably has been more of the beneficiary of that relationship, having Tom Brady as his quarterback."
Leftover from Patriots-Lions broadcast, Part II (Aikman on
Jonas Gray
): "Can you imagine what's going through his head? Can you imagine what's going through his mind right now after the performance he had last week against the Colts, over 200 yards? He made a mistake and by all accounts, he's a terrific young man. Made a mistake and he paid for it. I thought he'd get in the game. I knew there would probably be some type of punishment but the way this game has gone, they haven't needed him. You kind of wonder, 'Are they going to need him the rest of the year?' I don't know. ... I really admire what Bill Belichick has done. Let me tell you, there are few teams in this league that would have him standing on the sidelines the entire game."
Leftover from Patriots-Lions broadcast, Part III (Aikman on Robert Kraft): "Our league is better because of Bob Kraft. You think about what he's done since he's taken over here as owner of the New England Patriots. This stadium we're broadcasting the game from -- no public money. One of the real gentlemen in the league. It's a real pleasure to come here. We don't get to come here often. We always get a chance to go by and visit with him, and it's one of the highlights to the trip here in Foxborough."
Leftover from Patriots-Lions broadcast, Part IV (Aikman on
Brandon LaFell
): "Tom Brady said he's never quite had a receiver like this guy. The ball is in his hands and he becomes almost like a power running back, just bouncing off guys."
November, 25, 2014
Nov 25
8:00
AM ET
Happy early Thanksgiving!
Join us today at 1 p.m. ET, 10 a.m. PT for ESPN NFL Nation TV's Spreecast as episode No. 33 gives a Turkey Day preview, revisits
Odell Beckham Jr
.'s insane three-fingered catch, and discusses several teams' futures given the varying quarterback situations they have inherited this season.
Host Coley Harvey (
Cincinnati Bengals
reporter) and co-host Mike Wells (
Indianapolis Colts
reporter) will be joined by Michael C. Wright (
Chicago Bears
reporter), John Keim (
Washington Redskins
reporter) and Phil Sheridan (
Philadelphia Eagles
reporter).
Plus, Rob Demovsky (
Green Bay Packers
reporter) and Mike Reiss (
New England Patriots
reporter) will debate in this week's "Main Event" about Sunday's big game at Lambeau Field that will feature MVP candidates
Aaron Rodgers
and
Tom Brady
.
Viewers are encouraged to log in and ask the panelists questions as well as contribute
in the chat feature
.