January, 30, 2015
Jan 30
3:45
PM ET
PHOENIX – NFL commissioner Roger Goodell held his annual Super Bowl news conference and here are the takeaways as it relates to the league's investigation into
New England Patriots
underinflated footballs used in the AFC Championship Game:
Kraft not present.
It caught my attention that Robert Kraft, one of the league's most influential owners, was not in attendance. Kraft was believed to have another obligation, but one follow-up question from this perspective is: What could be more important than the once-a-year "state of the NFL" news conference when you're already in town? Kraft had called out the NFL on Monday as the Patriots arrived at Super Bowl XLIX and it would be easy to connect the dots that perhaps his lack of attendance was tied to that. But for context, ESPN's Sal Paolantonio noted that there weren't many owners in attendance (maybe a half-dozen). Kraft, who hasn't always attended, is most often on hand for this address.
[+] Enlarge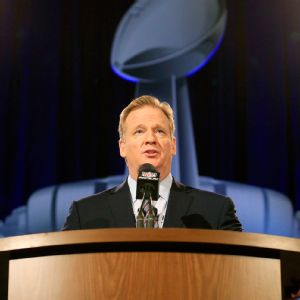 Cliff Hawkins/Getty ImagesRoger Goodell said he admires Robert Kraft but won't do anything to 'compromise the integrity of the league.'
No knowledge of past in-game testing.
Asked if the NFL has tested the air pressure in footballs during a game in the past, and how important that is as a frame of reference in the ongoing investigation, Goodell said he didn't know the answer and that attorney Ted Wells will look into that as part of the investigation. From our viewpoint, this answer warrants scrutiny based on the magnitude of the NFL's investigation and the media firestorm it has created. How could Goodell not know?
Response to Kraft's remarks.
When asked about Kraft's remarks requesting an apology from the NFL if it couldn't find conclusive evidence that footballs were tampered with, Goodell responded by saying he is simply doing his job. "This is my responsibility, to protect the integrity of the game, I represent 32 teams," he said. "All of us want to make sure that the rules are being followed and if we have any information that potentially those rules were violated, I have to pursue that; I have to pursue that aggressively."
Two areas in focus
. Goodell narrowed the focus of the investigation to two areas: 1) Why were some footballs used in the game that were not in compliance with the rules; 2) Was that a result of deliberate action? Later, Goodell said, "Whether a competitive advantage is actually gained or not is secondary, in my mind, to whether that rule was violated. That's the integrity of our game. When those rules are violated, we will take that seriously."
No judgments made
. Goodell said, "I want to emphasize, we have made no judgments on these points and we will not compromise the investigation by engaging in speculation." Goodell did not address leaks to reporters, nor was he asked by those selected by public relations staffers in the news conference.
Goodell's ties to Kraft
. Asked how he responds to remarks from Seahawks cornerback
Richard Sherman
about his close ties to Kraft and how Sherman
doesn't think the Patriots will face discipline
, Goodell explained how his presence at Kraft's home before the AFC Championship Game was tied to an event with sponsors and how it's something he does on a regular basis. He also pointed out that he works closely with most owners, pointing out that Kraft's involvement on the broadcast and finance committees naturally links them. "I also admire him, respect, and think very highly of him on a personal level," he said. "There's no hiding from that standpoint. He knows me and that I'm not going to do anything to compromise the integrity of the league. I think he has no doubt that I'll do the right thing for the NFL." We are left to wonder how much Kraft's confidence in Goodell, based on this investigation, has been affected.
January, 30, 2015
Jan 30
3:00
PM ET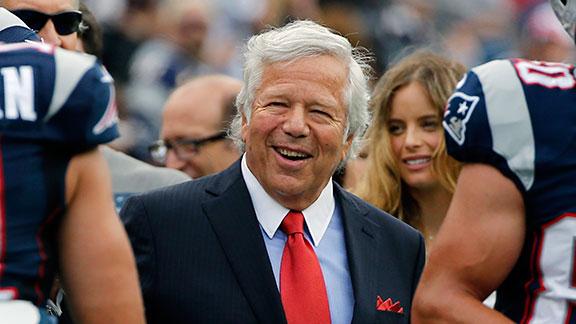 FOXBOROUGH, Mass. -- Robert Kraft is angry.
He strides across his spacious but sparsely appointed office in Gillette Stadium that overlooks snow-covered trees lining the edge of a land parcel he bought 30 years ago, pale blue eyes flashing fiercely, offering a range of highly uncomplimentary observations about the people telling him he can't do this thing he wants to do. Phone calls will be made. Heads, presumably, will roll.
"We need to do this," he says to his oldest son, Jonathan, shaking his head, "because it feels right."
He's wearing jeans, a light-blue Nike zipper top and a pair of custom-made black Nike Air Force 1 sneakers -- and it's impossible not to believe in his conviction.
Not surprisingly, Kraft gets his way in this particular matter of business, deftly removing any obstacles that defy his instincts.
That was late last week, a long one at the offices of The Kraft Group as the family grappled with the profound issues of underinflated footballs and tainted legacies. Kraft is 73, but he's still fully capable of getting his way, which of course he eventually did. He's built a handful of empires -- in paper, real estate, finance, media, oh, and a nifty little NFL franchise -- and is reported to be worth more than $4 billion.
When something feels right, he does it.
"There have been a lot of times when we're looking to do something, and the analysis of the data will say one thing and my father's gut will say something else," said Jonathan, president of The Kraft Group and the New England Patriots. "And I'm done from ever trying to persuade him otherwise. When his gut instinct is strong, you just defer to him because he's always right."
January, 30, 2015
Jan 30
2:30
PM ET
PHOENIX – Forget Deflategate. There was an actual rules violation during the AFC Championship Game.
NFL vice president of officiating Dean Blandino said the touchdown pass caught by New England tackle
Nate Solder
in the third quarter of the Patriots' 45-7 win should have been negated by an illegal substitution penalty,
according to the Boston Globe
.
The Patriots should have been penalized five yards because tackle
Cameron Fleming
did not leave the field nor was there a stoppage in play between the time Fleming reported as an eligible receiver and resumed his role as an ineligible lineman on the play that Solder scored, according to the Globe. NFL rules require a player to either leave the field or there to be a stoppage in play if that player switches from ineligible to eligible, or vice versa.
Fleming reported as an eligible receiver on a second-and-1 play from the Indianapolis 16 with 11:08 left in the third quarter. He didn't leave the field following
LeGarrette Blount
's run and played the next down as an ineligible offensive lineman when Solder caught a 16-yard touchdown from
Tom Brady
to go 24-7.
Had the Patriots been penalized, they would've been facing a third-and-6 from the Colts 21.
"We're going to be obviously looking for that, make sure we follow the proper mechanics to make sure that doesn't happen again," Blandino said.
January, 30, 2015
Jan 30
2:17
PM ET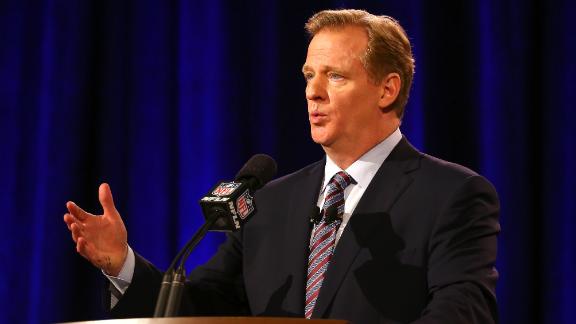 PHOENIX -- The NFL is conducting a "serious" and "thorough" investigation into the deflation of footballs in the AFC Championship Game, commissioner Roger Goodell said Friday, but there have been "no judgments made" against the New England Patriots or any of their employees.
The league previously announced that 11 of the Patriots' 12 game footballs were found at halftime to be below the league's mandate of 12.5 psi. Ted Wells, the NFL's outside investigator, is attempting to determine why the balls were used in the first half and if it was "the result of deliberate action," Goodell said.
"We don't know enough in this case to know who is responsible or if there was an infraction," he added.
Whether the Patriots gained a competitive advantage is "secondary," Goodell said, to whether a rule was broken.
Speaking at his annual state of the league news conference prior to Super Bowl XLIX, Goodell faced a series of questions about his job performance and the league's controversial year. He said he has not considered resigning, even as the league has faced intense scrutiny for its handling of the Ray Rice domestic abuse case among other issues, and does not think he will be fired.
"It has been a tough year," Goodell said. "It's been a tough year on me personally. It's been a year of what I would say is humility and learning. We obviously as an organization have gone through adversity, but more importantly, adversity for me. It's an opportunity for us to get better. ... We've all done a lot of soul searching starting with yours truly."
January, 30, 2015
Jan 30
12:25
PM ET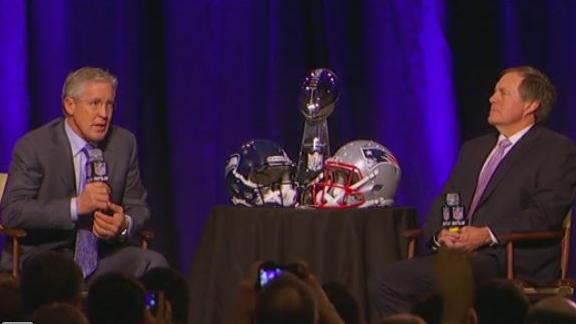 PHOENIX -- Friday morning's joint news conference with
New England Patriots
coach Bill Belichick and
Seattle Seahawks
coach Pete Carroll was enjoyable, mainly because of the give-and-take and friendly banter between the two.
Both dressed in suit and tie, they sat down for what was essentially a 30-minute discussion on Super Bowl XLIX, their teams and some personal anecdotes. The news conference began after both posed for pictures behind the Lombardi Trophy flanked by Patriots and Seahawks helmets.
[+] Enlarge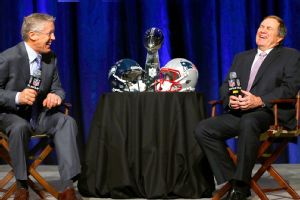 AP Photo/David J. PhillipPete Carroll and Bill Belichick shared a few laughs at Friday's news conference.
Some of the highlights:
Belichick on his mother
. When both coaches were asked about who from their immediate families will attend the game, Belichick detailed that he's expecting everyone except for his mother, Jeanette. "My 94-year-old mom won't be here. She's in Annapolis. I know she'll be yelling at the TV set the whole game, but I do miss that she won't be here."
Coaching free agents
. After Belichick answered a question by saying how he is indebted to Patriots owner Robert Kraft for giving up a first-round draft choice to bring him to New England, Carroll turned to him and said, "You got a first-rounder for you? I was barely a free agent. Maybe that's why Robert got me out of there after three years." To which Belichick replied, "I was a free agent after Cleveland." Laughter in the room.
Carroll on how he has evolved since being fired
. Reflecting on how he's a better coach since the time he was fired twice in the NFL (Jets, Patriots), Carroll cracked, "My therapist tells me I should always talk about it." That again drew laughter in the room, as Carroll showed a self-deprecating side as he recapped his coaching journey and what is important to him in building a program. Carroll described his New England tenure as the "testing" period for owner Robert Kraft, as he was hired at a time when Kraft wanted to build a relationship with a head coach, while referring to Belichick's time as the "proving" period. Carroll called the hiring of Belichick "one of the great moves in the history of the NFL."
Keeping it simple on strategy questions
. Asked what part of the game he thinks is critical to establish early in games, Belichick kept it simple. "What I'd like to establish," he said, "is the lead."
January, 30, 2015
Jan 30
12:03
PM ET
January, 30, 2015
Jan 30
11:41
AM ET
Associated Press
PITTSBURGH -- Prosecutors have dropped a marijuana charge against New England Patriots running back LeGarrette Blount that stemmed from an August arrest with former Pittsburgh Steelers teammate Le'Veon Bell.
West View District Judge Richard Opiela told Blount at a court appearance last month that the misdemeanor marijuana possession charge would go away if the player completed 50 hours of community service by Feb. 4.
Blount's Pittsburgh-based attorney, Casey White, notified the court Friday that Blount had satisfied the requirement by working with a group called Urban Achievers in Boston. The group's website says it works to improve "the academic and social outcomes of children living in under-served and under-resourced communities."
That means Blount won't have to appear in court near Pittsburgh next week and can concentrate on Sunday's Super Bowl against the Seattle Seahawks.
"He was happy to get this done in a timely fashion so he wouldn't have any distractions with the game at hand," White said.
Blount, 28, was playing for Pittsburgh when he and Bell were arrested Aug. 20 after police said they found about three-fourths of an ounce of marijuana in Bell's car during a traffic stop in Ross Township, a Pittsburgh suburb.
District attorney's spokesman Mike Manko declined comment Friday, but he said previously that plea agreements like Blount's "are common in cases involving small amounts of marijuana."
White said Blount could still face NFL discipline for his arrest now that the Pennsylvania case is resolved.