October, 23, 2014
Oct 23
9:50
AM ET
October, 23, 2014
Oct 23
5:00
AM ET
FOXBOROUGH, Mass. -- A look at the
New England Patriots
-
Chicago Bears
matchup through a stats-based lens (via ESPN's Stats and Information):
1. Brady's 100th career start at home
. Patriots quarterback
Tom Brady
makes his 100th career regular-season start at home on Sunday and is 86-13 in Foxborough. According to Elias Sports Bureau, no quarterback who debuted in the Super Bowl era has a higher home winning percentage (minimum 40 starts, all regular season).
Tom Brady -- 86-13 (.869)
Terry Bradshaw -- 67-12 (.848)
Roger Staubach -- 49-10 (.831)
Joe Flacco -- 42-10 (.808)
John Elway -- 95-23 (.805)
2. Brady's three-game turnaround
. The Patriots have won their last three games and Brady's improvement over that span is hard to miss.
Completion percentage
First 4 games: 59.1 percent
Last 3 games: 64.2 percent
Yards per attempt
First 4 games: 5.8
Last 3 games: 8.4
Touchdowns
First 4 games: 4
Last 3 games: 9
Interceptions
First 4 games: 2
Last 3 games: 0
Total QBR
First 4 games: 46.5
Last 3 games: 87.1
3. Downfield passing game on the rise
. In the first four games of the season, Brady was 7-of-32 on passes thrown at least 15 yards down the field. Since then, he has gone 17-of-25, completing at least five attempts in each game, with five touchdowns and no interceptions. Meanwhile, Bears quarterback
Jay Cutler
has struggled in the deep passing game, with a 31.3 completion percentage on throws 15 yards or more down the field. Only Miami's
Ryan Tannehill
(21.6) and the Jets'
Geno Smith
(28.1) are worse.
4. Third straight game without a Gronkowski spike
. Tight end
Rob Gronkowski
hasn't scored a touchdown in his last two games (one was called back due to penalty), but if the past is any indication, he'll be back in the end zone on Sunday. Gronkowski hasn't gone three straight games without a score since 2011 (Weeks 4-8, 4 games total).
5. Bears tough on the road
. With a 3-1 road record, the Bears are one of just two NFL teams to record three road victories through the first seven weeks of the season. The Cowboys are the other team.
6. Turnovers the key
. The Bears are 3-0 this season when they've won the turnovers battle and 0-4 when they've lost it. The Bears have committed one turnover and forced eight in their three wins, and have committed 12 while forcing four in their four losses. As for the Patriots, Brady noted Wednesday that the team is 5-0 this season in games in which it hasn't committed a turnover.
7. Forte on record pace
. Bears running back
Matt Forte
leads the NFL in receptions (52). No running back has ever had as many receptions through his team's first seven games.
October, 22, 2014
Oct 22
10:28
PM ET
October, 22, 2014
Oct 22
10:00
PM ET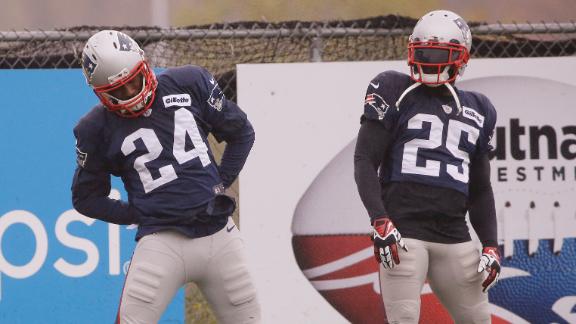 FOXBOROUGH, Mass. -- In following up on the story of cornerback
Darrelle Revis
being late to Tuesday's practice (as initially reported by the Boston Globe) because he overslept, the conclusion I came to after speaking with multiple sources is this: Revis made a mistake, can probably expect to be fined by the team, as is normally the case in situations like these, and was ultimately accountable for his actions by personally meeting with coach Bill Belichick later in the day to apologize.
The Patriots have a hard-line rule, and this goes back 15 years under Belichick, that if a player is late he doesn't practice. That is just standard operating procedure, and Revis is hardly the first player to break that rule (albeit unintentionally).
I don't think this was anything about message-sending to the rest of the players. It was just maintaining the integrity of a rule that has always applied to everyone on the roster and is communicated regularly.
If Belichick lets it slide once, for anyone, his word loses its meaning and his standing as the leader of the team is compromised.
Being late and having the story come out publicly doesn't reflect well on Revis, but at the same time, Belichick himself often says, "No one makes more mistakes than me." That's why I think Belichick, while certainly displeased with Revis' missing practice, probably feels the accountability Revis has taken is what was necessary to move on with limited repercussions other than a fine.
I had wondered if Belichick might sit Revis for the start of Sunday's game against the Bears as part of discipline for being late -- somewhat similar to what we've seen in the past in other situations (e.g.,
Wes Welker
) -- but I'd be a bit surprised if that happened at this point.
October, 22, 2014
Oct 22
6:41
PM ET
October, 22, 2014
Oct 22
5:35
PM ET
By
Lee Schechter
| Special to ESPNBoston.com
FOXBOROUGH, Mass. -- The
New England Patriots
' injury report confirmed that defensive end
Chandler Jones
has a hip injury. According to
earlier reports
, Jones will be out for a month.
Jones did not participate in practice Wednesday.
As Jones is expected to miss multiple games, the Patriots are preparing for the next man to step up. The team could turn to rookie defensive linemen
Dominique Easley
and
Zach Moore
to fill in for the injured Jones.
While the Patriots lost Jones to injury,
Tom Brady
(ankle), cornerback
Brandon Browner
(ankle), safety
Devin McCourty
(rib) and linebackers
Dont'a Hightower
(knee) and
Jamie Collins
(thigh) returned to full practice participation.
Offensive lineman
Dan Connolly
(concussion) and rookie center
Bryan Stork
(concussion) returned to practice after missing all of last week. Connolly missed the game against the Jets, and Stork missed two straight games. Both were limited participants Wednesday.
Core special-teamer
Nate Ebner
(finger) and rookie offensive lineman
Cameron Fleming
(finger) also returned to practice, though they were limited participants Wednesday. Both were spotted at Tuesday's practice wearing braces/casts on their right hands. Ebner's right thumb was protected by a cast.
Other limited participants include Easley (shoulder/knee) and core special-teamer
Matthew Slater
(shoulder).
October, 22, 2014
Oct 22
4:59
PM ET
ESPN.com news services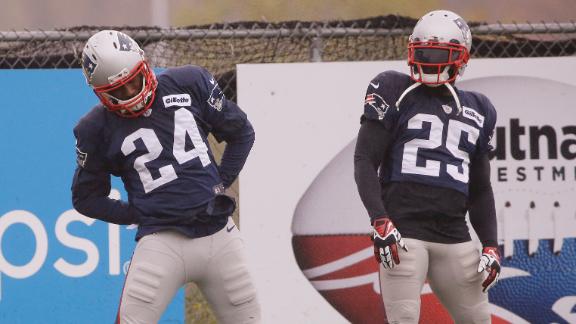 FOXBOROUGH, Mass. -- New England Patriots cornerback Darrelle Revis was barred from practice Tuesday by coach Bill Belichick for tardiness, two sources confirmed to ESPN's Mike Reiss.
After playing Thursday night against Revis' former team, the New York Jets, Patriots players were given the weekend off before returning to practice Tuesday. The players were to meet at 7:30 a.m. ET, and Revis was not present.
According to the sources, Revis was sent home by Belichick, an assertion previously reported by The Boston Globe.
The Boston Herald reported Revis missed practice after oversleeping but was told to stay home instead of showing up late. Revis appeared at Gillette Stadium later in the day after his teammates had left, when he met privately with Belichick and apologized, according to the Herald report.
Revis was asked about his absence from Tuesday's practice in the locker room Wednesday.
"Between me and Coach," Revis said. "Talk to him about it."
Belichick was not asked about Revis' absence during his Wednesday morning news conference.
The Globe report cited a source saying Revis accepted being sent home and understands that Belichick's rules apply to everyone. In the past, Belichick has sent players home, including former linebacker Adalius Thomas and star wide receiver Randy Moss.
The most recent player to be sent home for tardiness was linebacker Brandon Spikes
October, 22, 2014
Oct 22
4:58
PM ET
By
Lee Schechter, Special to ESPNBoston.com
FOXBOROUGH, Mass. -- The mantra in the
New England Patriots
' locker room is "next man up."
With defensive end
Chandler Jones
reportedly sidelined for one month with a hip injury, that "next man up" could be rookie
Zach Moore
.
[+] Enlarge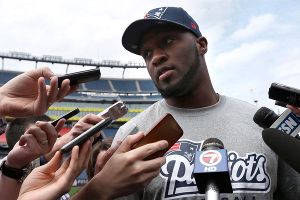 Steven Senne/AP PhotoPatriots rookie DE Zach Moore could see plenty more action on the field this season given the recent injury to Chandler Jones.
"Yeah, most definitely," Moore, a sixth-round pick, said when asked about his preparedness to step in. "But, it's kind of the philosophy out here, 'next man up.' Guys go down left and right.
"So you have to fit in where you can, take your opportunity because you never know when you could get another one. So just trying to stay prepared and go out to practice every day and show that I can step up and be there for the defense."
Moore said he doesn't put pressure on himself because he has great teammates around him, but he recognizes the magnitude of being a potential next man up.
"I do feel like I need to step up for my team so we can all strive toward the same goal," Moore said.
What makes this opportunity even more special for Moore is that he attended Simeon Academy in Chicago, and he and his family are Bears fans.
"Yeah they will be out here to cheer, definitely for the Patriots though," Moore said. "I was a big Bears fan growing up. Loved the defense. I still kind of am a Bears fan, I love the Bears. But, it's Pats Nation."
Moore grew up watching elite defensive players on the Bears, and now he has the chance to have a big role for the Patriots' defense in a game against his favorite childhood team.
"Growing up, definitely Brian Urlacher,
Lance Briggs
,
Julius Peppers
, when he was there -- that's my favorite player in the NFL -- and
Charles Tillman
, he's an excellent player," Moore said.
Moore, who is a humble player from Division II Concordia-St. Paul, talked about being awestruck and the realization that he is going to be playing on the same field as Briggs, a player he looked up to as a kid.
"It's crazy when I think about it," Moore said. "I was actually today at practice when I was walking off the field. I was thinking at this time last year I was playing at a Division II college stadium in front of no more than like 1,000 people, so it was kind of a reality check.
"It's a blessing, a great opportunity. I'm very thankful to be here. I'm proud to be a Patriot and will try to do the best I can to get a win for the team."
October, 22, 2014
Oct 22
4:00
PM ET
By
Lee Schecter, Special ESPNBoston.com
FOXBOROUGH, Mass. -- Quick hits from the
New England Patriots
' locker room on Wednesday:
Revis
Revis on his absence.
Cornerback
Darrelle Revis
missed practice on Tuesday and didn't offer any reason as to why he was absent. "Between me and Coach [Belichick]," Revis said.
Next man up.
With defensive end
Chandler Jones
reportedly out for a month with a hip injury, the Patriots are moving forward with the "next man up" mentality. "There's nothing you can do,"
Devin McCourty
said. "We've had to go through some things, losing
[Jerod] Mayo
and [running back
Stevan Ridley
]. It's a challenge but you can either sit there and make excuses why you lose or try to find a way to win. I think this team finds ways to win." Revis called Jones the team's best pass-rusher and echoed McCourty by saying the Patriots have to find ways to fill the void. "We all have to step up all across the board," Revis said. "We have to play consistent and do what we do best -- that's create turnovers and get the ball back to the offense."
McCourty
McCourty on challenges of facing Forte.
Bears running back
Matt Forte
is a threat on the ground, but he also leads the NFL with 52 receptions. McCourty praised Forte's balanced game. "He's probably going to be the most complete back we have seen all year," McCourty said. "It will be tough just to stop him in the run and pass game. I think we are aware of the challenge and we will be ready, but we definitely understand everything he does well on the field."
The big Bears' receivers.
The Patriots' secondary will have its hands full with the size of the Bears' receivers.
Brandon Marshall
is 6-foot-4;
Alshon Jeffery
is 6-foot-3. McCourty was asked if this is the toughest group they have faced this season. "Probably and when you include
[Martellus] Bennett
in there, it's just a huge group," McCourty said. "And the thing is that they can run. So it will be a tough challenge, probably one of our toughest challenges that we have had. We have played a lot of really good receivers so far, but this will definitely be another challenge."
Ayers spotted in the locker room.
Newly acquired linebacker
Akeem Ayers
, formerly of the
Tennessee Titans
, was spotted in the locker room, but would not talk to media. He said he will address reporters on Thursday. Since Ayers comes from the Titans, where McCourty's brother Jason plays, McCourty was asked if Jason provided him with a scouting report. "No, no scouting report, but [Jason] told me to take care of his guy that's coming out here," McCourty said.
The best brothers in the NFL?
Is a royal rumble brewing between the McCourtys, Vereens and Joneses to determine the NFL's best set of brothers? "I would first say that the McCourtys are the best brothers in football to start it off," McCourty said. "A lot of guys are close in age, too, and I think that helps when you are trying to do something and live out a dream that you have someone else to count on or some of those other guys have someone's steps to follow." McCourty was asked if a wrestling match would be the main event to determine the winner. "I mean we might have to watch out for the Joneses," McCourty said. "They might put Jon ["Bones" Jones] in there, so anybody else we welcome the challenge."
Siliga in the locker room.
Injured defensive lineman
Sealver Siliga
, who has been on the Patriots' injured reserve with a designation to return, was sitting with teammates in a portion of the locker room. He is eligible to return in Week 12 against the
Detroit Lions
on Nov. 23.
October, 22, 2014
Oct 22
2:30
PM ET
FOXBOROUGH, Mass. -- The
New England Patriots
will be without their best pass-rusher,
Chandler Jones
, for "about a month," according to the Boston Globe. With that news breaking Tuesday night and the
Dallas Cowboys
releasing defensive end
Michael Sam
off their practice squad
, some have asked on Twitter if the Patriots and Sam might be a match.
Sam
Sam is the first openly gay player to be drafted by an NFL team, and there is widespread interest in his next potential landing spot.
The Patriots lost a pass-rusher, and Sam's greatest football attribute is pass-rushing, so it makes sense that these dots have been connected. The Patriots also have openings on their practice squad.
So how about it?
If the Patriots didn't just trade for Titans linebacker
Akeem Ayers
and didn't have other end-of-the-line players on the practice squad in Jake Bequette and Darius Fleming, I'd feel stronger about the possibility of Sam landing on New England's practice squad. Even with Jones sidelined, the Patriots have a bit of a logjam at the position when factoring in their active roster (53 players) and practice squad (10 players).

Between rookie
Zach Moore
(sixth round, Concordia), Bequette and Fleming, those are three younger defensive end/outside linebackers that Sam would essentially duplicate when looking at the 63-player snapshot.
Practice-squad players are critical in that they fill out depth so the team can have a productive practice and top players won't be overworked, and that's why I think it's unlikely that the Patriots would bring Sam aboard instead of filling in other areas where they have more of a depth shortage.
October, 22, 2014
Oct 22
2:02
PM ET
By
Lee Schechter, Special to ESPNBoston.com
FOXBOROUGH, Mass. -- Leftovers from
Tom Brady
's news conference on Wednesday:
[+] Enlarge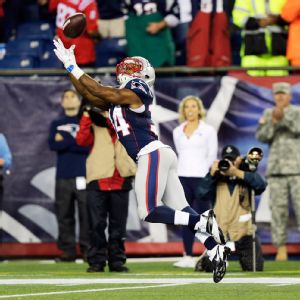 AP Photo/Charles KrupaWith the loss of Stevan Ridley for the season, Shane Vereen has had to take on a larger role in the backfield.
Faith in Vereen.
After the Patriots lost running back
Stevan Ridley
to a season-ending injury, the team needed someone to fill his role. While
Shane Vereen
doesn't bring the same power-running style as Ridley, Brady trusts Vereen and is confident in what he can do. "Yeah, he's done such a great job for us over the time that he's been here," Brady said. "I think dependability really sums it up, and he's really an explosive player for us, too. It's just trying to continue to find ways to get him the ball because he does a lot of great things when it's in his hands."
Taking the extra rest.
The Patriots played four games in 18 days before getting some extra rest this weekend. Brady made the most of a weekend off. "Yeah, hopefully everybody really took advantage of it," Brady said. "You're right, we played a lot of games in a short period of time, so it was good to kind of catch up on some things and also try to get ahead. We've had a lot of work on the Bears, a lot of preparation. Hopefully we can kind of stay out in front of it."
Higher trajectory on passes?
Brady was asked if the perception of him throwing passes with a higher trajectory is true. "I think we worked a lot on that, and there are mental and physical issues to that, too," Brady said. "Typically, when the ball is in the air longer, there's more of an opportunity for the defensive players to get to it. There are mental blocks that I've had about wanting the ball in the air for a long period of time. But yeah, that's definitely something we've worked on the last few years, and it seems to really be paying off also. The longer the ball is in the air your guy has a better opportunity to maybe track it and find it and make plays down the field. Sometimes you've got to squeeze it in; sometimes you've got to put a lot of air on it. I think, like I said, there's a balance to that, too."
Brady on field surfaces.
In recalling the last game between the Patriots and Bears at Gillette Stadium, which took place in 2004, Brady talked about it being the first game on turf at Gillette. "I remember before that game, we played the Jets in a rain storm, and the field really started off pretty crappy that year," Brady said. "I think there were a lot of concerts or something. The start of the year when we played Buffalo, it was like a sand pit. The players were pretty excited to get better footing. I'm sure all the players now are probably more excited to have grass again. That's kind of the way it goes. A lot of teams have gone to field turf over the years. Maybe it provides better footing, but I think everyone really prefers natural grass."
October, 22, 2014
Oct 22
12:55
PM ET
By
Lee Schechter
| Special to ESPNBoston.com
FOXBOROUGH, Mass. --
New England Patriots
cornerback
Darrelle Revis
returned to practice Wednesday after missing Tuesday's practice for an unknown reason.
Jones
Revis
The lone player missing from practice Wednesday was defensive end
Chandler Jones
. Jones, who also missed practice Tuesday, is
reportedly out for a month
with a hip injury.
Newly acquired linebacker
Akeem Ayers
, who was
brought to New England in a deal
with the
Tennessee Titans
Tuesday, was on the field for his first practice with the Patriots. For those keeping track of jersey numbers, Ayers will be wearing No. 52.
The Patriots also reportedly signed free agent defensive lineman Alan Branch Tuesday, though Branch was not seen on the practice fields.
The Patriots were practicing in full pads on a cold, rainy day in Foxborough.
The team will release its first injury report of the week later Wednesday.