October, 30, 2014
Oct 30
6:22
PM ET
By
Kyle Brasseur
| ESPNBoston.com
FOXBOROUGH, Mass. -- As a fifth-year defensive back,
Devin McCourty
knows better than to try to outsmart
Denver Broncos
quarterback
Peyton Manning
.
The fact of the matter is you simply can't.
"I would say the chess game is pretty one-sided," McCourty said. "It's like being a kid going against a father in chess. He's a very smart quarterback. He knows what he wants to do.
"Most the time he knows what the defense is in, so if what he had planned isn't going to work, he's going to get the offense in something else. I think that's what you see out there on the field and I think a lot of times people talk about trying to know what's in his head and know what he's trying to do, but he's really just going off us. We end up in something at the last minute, he knows and then he goes to something else."
That will be the challenge Sunday when the New England Patriots host Manning and the Broncos. McCourty is familiar with the challenge the Broncos present. He was on the field against them twice last season, when Denver set several NFL records for offense.
[+] Enlarge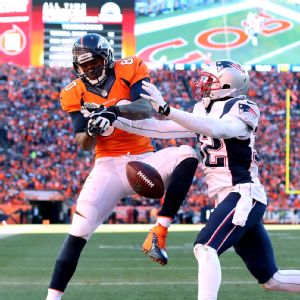 Matthew Emmons/USA TODAY SportsDevin McCourty, right, knows the Patriots will have the hands full in trying to contain Julius Thomas and the Broncos' receivers.
"It's probably the most prolific offense in the history of the NFL last year, and then you bring most of those weapons back this year and then add [wide receiver]
Emmanuel Sanders
," McCourty said. "I guess you can go back and forth and debate, but the offense is probably a little better than it was last year, and it was easily the best offense in the NFL last year."
Things don't figure to be easy. Manning looks like he has only gotten better with age. Tied for the league-lead in touchdown passes with 22, he'll surely present McCourty and the rest of the secondary with their toughest challenge of the season in terms of matching up against a quarterback.
"I feel like it's another year, same story going against Peyton," McCourty said. "He's getting the ball where it needs to be, either vertical or short. Whatever the defense gives him, he takes full advantage of it. There's not much you can do that he doesn't know."
And then there are Manning's receivers. Along with Sanders, enjoying a career season after four years with the Pittsburgh Steelers, the Broncos have another premier option in
Demaryius Thomas
at receiver. Add in a top touchdown target in tight end
Julius Thomas
and old friend
Wes Welker
, and the Patriots find themselves in similar territory as last week, when they faced the
Chicago Bears
' triumvirate of
Brandon Marshall
,
Alshon Jeffery
and
Martellus Bennett
.
"It's kind of like we talked about a little bit last week, where there's going to be times where we're just going to have to go cover the guys," McCourty said. "Same as last week, you can't double everybody. They have a lot of weapons [that] on other teams they'd be the star guy where you just double him and defend everybody else. You can go down the line with all those guys that are out there. You can't do that, even if you do choose to double one, [Manning is] going to find it and throw to somebody else.
"It's going to come down to a lot of matchups one-on-one where you've just got to try and make a play. Obviously you go by their numbers and their games -- they've made a fair share of those plays and the defense really hasn't. We're going to have to just go out there and compete. That' s the thing when you play in these type of games. It's just going to come down to competing. You go against great players, they're going to make some plays. But we've got to try to make ours, too."
Competing served the Patriots secondary well against the Bears, as they were able to hold their top three options to two touchdowns and less than 200 yards receiving combined. However, Manning isn't
Jay Cutler
, making this Sunday's test all the more difficult.
Like the kid going against the father in chess, the Patriots defense can only do their best to keep pace. From there, they can look for their best chance to check Manning.
After all, it's the checkmate that matters in the end.
"You've just got to go out there and play," McCourty said. "I don't think we can overthink and try to outsmart ourselves by trying to go move for move with him and check for check, because he does a lot of checking at the line of scrimmage.
"You don't really want to be out there guessing. We just want to go out there and try to play competitive throughout the down."
October, 30, 2014
Oct 30
5:52
PM ET
By
Lee Schechter, Special to ESPNBoston.com
October, 30, 2014
Oct 30
4:43
PM ET
By
Kyle Brasseur, Special to ESPNBoston.com
FOXBOROUGH, Mass. — You don't have to tell
New England Patriots
defensive captain
Vince Wilfork
how challenging Sunday's game against the
Denver Broncos
is going to be. He's fully aware of the task at hand.
"They're the best of the best," Wilfork said. "Do everything well. One of the best quarterbacks in history we've got to face. He doesn't make it easy. He wants to make sure that they're in the perfect play every snap. They're so tough to defend. We have to play our A-plus game to be successful. Anything other than that, we're going to have problems."
[+] Enlarge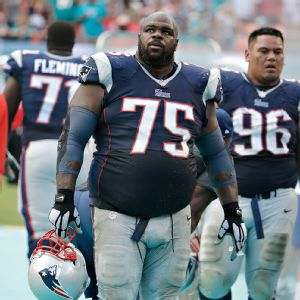 AP Photo/Lynne Sladky"We have to play our A-plus game to be successful," Vince Wilfork said of facing the Broncos. "Anything other than that, we're going to have problems."
The problems for the Patriots' defense only start with
Peyton Manning
. In addition to the future Hall of Famer at quarterback, the Broncos have explosive receivers in
Demaryius Thomas
and
Emmanuel Sanders
, a dangerous red zone threat at tight end in
Julius Thomas
, and a speedy running back on a recent tear in
Ronnie Hillman
. Combine that with an aggressive defense and solid special-teams play and you've got what Wilfork described as the most complete team in the NFL.
"When you draw up a perfect football team, you draw up the Denver Broncos all-around -- special-teams, offense and defense," Wilfork said. "They do a real good job of getting the ball back to their offense and they do a real good job putting the ball in the end zone. We have to play well everywhere, not just in certain areas. It's going to be the run game, it's going to be the pass game, it's going to be everything. We have to do a real good job because they're great at everything."
Such has been the prevailing sentiment among players this week as the Broncos figure to give the Patriots their toughest matchup of the season. With the defense still trying to find a consistent identity after the loss of both
Jerod Mayo
and
Chandler Jones
, Wilfork talked about the importance of new linebacker additions
Akeem Ayers
and
Jonathan Casillas
fitting in to help fill the void.
"Every week it's just one of those things you just have to get more comfortable in playing," Wilfork said. "Just continue to get better. Know the game plan, know the situation, know what we're trying to do and just execute to the highest level."
Set up on the defensive line, Wilfork figures to have his hands full both putting pressure on Manning and containing Hillman from getting into open space. To do that, Wilfork, as he does each week, discussed the importance of the defense making the tackles they need to make when the opportunity arises.
"They know where they want to run the ball, they know how they want to move the ball. So it's going to be a challenge for us to defend everywhere -- passing game, running game, outside, inside, you name it," Wilfork said. "Everybody is going to have to put in their tackles. There's really nothing you can do about it but just practice and prepare for it and try to execute your game plan. Hopefully you can slow them down just enough to where we can be successful."
Although the defense will be put to the test against the Broncos' top-scoring offense, Wilfork and the rest of the team understand that Denver is beatable.
"We're going to have to be a real good football team this week. It starts on the practice field with us and just make sure that we take care of what we need to take care of. And hopefully it's good enough," Wilfork said.
October, 30, 2014
Oct 30
4:23
PM ET
By
Lee Schechter
| Special to ESPNBoston.com
FOXBOROUGH, Mass. -- The
New England Patriots
announced Thursday that they re-signed offensive lineman Chris Barker to the practice squad. The team released defensive lineman Ben Bass to make room for Barker.
Barker was on the Patriots' practice squad until the team promoted him to the 53-man roster on Oct. 1 to provide depth on an offensive line that was dealing with injuries to
Dan Connolly
,
Bryan Stork
and
Cameron Fleming
. Barker did not play in the game against the Jets and was inactive against the Bears.
The 6-foot-2, 310-pound Barker is in his second NFL season and was released on Oct. 28 to make room for new linebacker
Jonathan Casillas
, who was acquired in a trade deadline deal with Tampa Bay.
Barker participated in the team's practice on Thursday.
While the Patriots have all 10 practice-squad spots currently filled, it is possible the team will bring back linebacker
Deontae Skinner
, which means they will need to release one player.
The 6-foot-2, 250-pound Skinner was released on Wednesday to open up a 53-man roster spot for veteran defensive lineman
Alan Branch
.
Skinner, a rookie free agent out of Mississippi State who started on the practice squad, was signed to the Patriots' 53-man roster on Sept. 13. He played in seven games, including one start, and notched 10 total tackles and three special-teams tackles.
Patriots practice squad
:
OL Chris Barker
DE Jake Bequette
WR Josh Boyce
LB Ja'Gared Davis
LB Darius Fleming
OL Caylin Hauptmann
WR Jonathan Krause
DL Kona Schwenke
DB Daxton Swanson
DL
Joe Vellano
October, 30, 2014
Oct 30
3:51
PM ET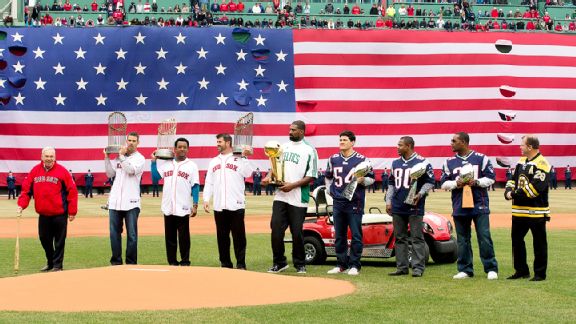 Winslow Townson/MLB Photos/Getty ImagesFormer Boston mayor Thomas Menino (left) will be missed by Boston's athletes and teams.
Boston's athletes, team owners and executives joined the rest of the community Thursday in mourning the death of Thomas Menino, the longest-tenured mayor in the city's history.
Menino understood sports' place in the fabric of Boston and was appreciated by all of the city's franchises.
What follows is a sampling of their remembrances and condolences:
October, 30, 2014
Oct 30
3:17
PM ET
By
Lee Schechter, Special to ESPNBoston.com
FOXBOROUGH, Mass. -- New Patriots linebacker
Jonathan Casillas
was used to winning when he spent four seasons with the
New Orleans Saints
and won a Super Bowl. When Casillas went to Tampa Bay, the Buccaneers struggled, as the team is sitting at 1-6 this season.
Casillas
Now with the
New England Patriots
, Casillas is humbled to be a part of a franchise that has sustained success for so many years and is doing it yet again in 2014.
"Everybody knows what the Patriots are doing, that's for sure," Casillas said. "They may not want to mimic exactly, but they know what Belichick is doing, that they set the standard -- we set the standard. I say 'they' because my first six years I've been looking at the Patriots. Now to be a part of it is pretty amazing."
Casillas was asked how it feels to go from the 1-6 Bucs to the 6-2 Patriots.
"Do I really have to answer that question?" Casillas said.
The Patriots traded a 2015 fifth-round pick to the Bucs for Casillas and a sixth-round pick on Tuesday at the trade deadline. He's working hard to make a quick transition to an entirely new defensive system, which is something he has had to do countless times throughout his NFL career.
"I feel like I'm cramming for a final in college," Casillas said. "I'm happy to be here and blessed to have this opportunity to play for a great organization.
"This is my fourth [defensive] coordinator in four years since Gregg [Williams], so five [defensive] coordinators in five years, and that's the tough part -- learning all of these different defensive schemes -- not really transitioning city to city because a city is a city. I can get acclimated to my surrounding place. My job learning the Xs and Os about what I'm going to do every day and the verbiage and the communication, that's the difficult part."
With the season-ending injury to linebacker
Jerod Mayo
, the Patriots have signed Casillas and
Akeem Ayers
to provide some depth and an impact at the position. Casillas acknowledges that he admires Mayo's play.
"I'm a big fan of Jerod [Mayo]," Casillas said. "I played against him when he was a junior and I was a senior at Wisconsin. He had like 15 tackles. I've always watched these guys. I'm a fan of the game. Definitely a fan of these guys. With
[Devin] McCourty
back deep, it's a great scheme for me to be in."
Casillas has been a part of many different defensive schemes, but he said none is as unique as the Patriots' scheme.
"I've never seen anything like this defense before, and that's just me being a 4-3 guy, 225 [pounds]," Casillas said. "I've always played outside linebacker, and now they have me doing some stuff inside.
"Basically saying I'm going to be playing on some sub packages, pass situations, nickel and dollar personnel and stuff like that, just adding some depth. I think our linebackers are good, watching
Jamie [Collins]
and
Dont'a [Hightower]
perform. [They are] big guys that can run and are very physical. I'm just hoping to add a little different element to that -- a little speed, a little quickness."
Casillas also expects to be a factor on special teams, even as soon as Sunday's game against the Broncos.
"All four [special-teams units]," Casillas said. "I'm a core guy. Whatever they want me to do, I'm going to do.
"[Scott] O'Brien, as soon as I got here he was meeting with me and I'm doing extra work with him just to get caught up to speed. Because they want me to go this weekend, and I want to go this weekend."
October, 30, 2014
Oct 30
2:52
PM ET
ESPN.com's
Kevin Seifert writes an interesting story Thursday
comparing how the
Denver Broncos
built around
Peyton Manning
to how the
New England Patriots
constructed their roster around
Tom Brady
.

The piece examines the perception that the Broncos are "all-in" for Manning, while the Patriots are seen as having a much more conservative approach and are sticking with their team-building blueprint without heeding Brady's advancing age.
Here are four takeaways from Seifert's piece:
The 2014 AFC race will serve as a referendum on both the Broncos' aggressiveness and the Patriots' patience (or stubbornness, depending upon your point of view). The most visible difference: The Broncos' $124 million cash payroll this season is 20 percent higher than the Patriots' league-low of $98 million, according to ESPN Stats ∓ Information resources.


The Patriots paid Brady a $30 million signing bonus in 2013 (that counted on the 2012 fiscal year) in exchange for low base salaries in subsequent seasons in order to create more cap space to surround him with talented players. However, they have not used the extra cash flow that deal created -- even after taking into account the 2014 free-agent signing of cornerback Darrelle Revis.


The Broncos' top 10 most expensive players take up 62 percent of their salary cap, a mark that is the fourth-highest in the NFL. The Patriots' top 10, meanwhile, make up 55 percent of the cap, the 25th-highest mark in the league. That's an indication that Denver's roster is more top heavy than New England's.


Seifert contends that Bill Belichick has given his team a lower ceiling with such a calculating approach, especially given the moderate success of his recent drafts. Even for the best coaches, talent trumps all in most cases. Belichick needs every piece of his roster to operate at peak efficiency to fulfill his plans.

Are those perceptions accurate? And which approach is better? Vote in our survey above.
October, 30, 2014
Oct 30
2:09
PM ET
Associated Press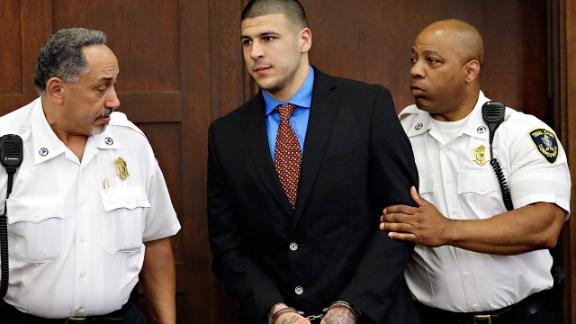 FALL RIVER, Mass. -- A Massachusetts judge has rejected a request from former New England Patriots player Aaron Hernandez to move his trial in the fatal shooting of a semi-professional football player to a different county.
Hernandez, a former tight end for the Patriots, is charged in the 2013 killing of Odin Lloyd, who was dating the sister of Hernandez's fiance. Lloyd's body was found in an industrial park about a mile from Hernandez's home in North Attleborough.
In court Thursday, Hernandez's lawyer, Michael Fee, urged a judge to move the trial out of Bristol County, citing what he called "sensational and inflammatory'' media coverage he said has prejudiced potential jurors against Hernandez. Fee said the press coverage of Hernandez has been "relentless'' and has often included references to other crimes, including separate charges against Hernandez in Suffolk County in the 2012 killings of two Boston men.
"This has poisoned the jury pool in Bristol County,'' Fee said.
He cited two telephone polls commissioned by the defense in which more than half the respondents said they believe Hernandez is definitely or probably guilty in Lloyd's killing.
Prosecutors, however, challenged the methodology reliability of the poll. The judge said Hernandez's lawyers have not shown that the Bristol County community's prejudgment of the case is so substantial that picking impartial jurors would be impossible.
Superior Court Judge E. Susan Garsh denied the motion to change venue, finding that Hernandez's lawyers had not shown that the Bristol County community's prejudgment of the case is so substantial that picking impartial jurors would be impossible.
Hernandez's trial in Lloyd's killing is scheduled to begin Jan. 9. Garsh said she plans to summon more than 1,000 people to pick a jury.