December, 29, 2014
Dec 29
7:15
AM ET
FOXBOROUGH, Mass. -- Snaps played by
New England Patriots
defenders in Sunday's loss to the Bills:
DEFENSIVE TACKLE
Sealver Siliga
-- 43 of 59
Vince Wilfork
-- 38 of 59
Chris Jones
-- 26 of 59
Alan Branch
-- 25 of 59
Quick-hit thoughts:
Wilfork finished the season playing 73.9 percent of the defensive snaps by our count,
which qualifies him to earn a $2 million incentive in his contract
for hitting the 70-percent mark. When Wilfork signed his contract, the ability to come back from a torn Achilles created some question as to how much of a workload he might be able to handle. He aced that test in 2014.
DEFENSIVE END
Rob Ninkovich
-- 42 of 59
Chandler Jones
-- 41 of 59
Akeem Ayers
-- 23 of 59
Zach Moore
-- 18 of 59
Quick-hit thoughts:
Ninkovich finished the season at 93.9 percent of the snaps played, as he didn't miss a game and was one of the team's most consistent players from an availability standpoint. He and Jones started and played into the second half before giving way to Ayers and Moore in the base defense. Ayers had a few additional snaps as a nickel rusher and made his presence felt.
LINEBACKER
Jonathan Casillas
-- 52 of 59
Darius Fleming
-- 34 of 59
Jamie Collins
-- 32 of 59
Quick-hit thoughts:
Collins started and led the huddle throughout the first half before he was part of a group including quarterback
Tom Brady
, cornerback
Darrelle Revis
and safety
Devin McCourty
that sat for the entire second half. That reflects how he is viewed by the coaching staff, as fellow top linebacker
Dont'a Hightower
was inactive to rest his shoulder. Casillas led the huddle in the second half, and Fleming's 34 snaps represented his most extended playing time in the NFL. The only other game in which he played was at San Diego (2 snaps in base defense).
CORNERBACK
Logan Ryan
-- 58 of 59
Malcolm Butler
-- 46 of 59
Revis
-- 31 of 59
Quick-hit thoughts:
Revis started and played throughout the first half before Butler took his spot. The Patriots were managing injuries at this spot to
Brandon Browner
(inactive, groin) and
Kyle Arrington
(active, hamstring, but did not play).
SAFETY
Patrick Chung
-- 39 of 59
Tavon Wilson
-- 37 of 59
McCourty
-- 32 of 59
Duron Harmon
-- 31 of 59
Nate Ebner
-- 1 of 59
Quick-hit thoughts:
Wilson's 37 snaps were a season high as he finished the year at a 16.6-percent clip. He is playing as well as we've seen him over his three-year career, showing some explosion as a blitzer when called upon. He played in both sub and base packages, sometimes rotating with Chung in the base defense. McCourty played the first half before he was part of a small top group that sat in the second half. Ebner's one snap came in the dime package on a third-and-7 play early in the third quarter when Ayers sacked quarterback
Kyle Orton
.
December, 29, 2014
Dec 29
7:00
AM ET
FOXBOROUGH, Mass. -- The Pittsburgh Steelers' Sunday night win finalized the last spot of the New England Patriots' 2015 opponents list as determined by the NFL's rotating scheduling format:

Home
Jaguars
Titans
Eagles
Redskins
Bills
Dolphins
Jets
Steelers (AFC North team that finishes in same spot in '14 standings)

Away
Texans
Colts
Cowboys
Giants
Bills
Dolphins
Jets
Broncos (AFC West team that finishes in same spot in '14 standings)
December, 29, 2014
Dec 29
5:00
AM ET
FOXBOROUGH, Mass. -- Snaps played by Patriots skill-position players in Sunday's loss to the Bills (penalties included):
WIDE RECEIVER
Brandon LaFell
-- 55 of 67
Brian Tyms
-- 54 of 67
Danny Amendola
-- 54 of 67
Josh Boyce
-- 10 of 67
Quick-hit thoughts:
Tyms had played 72 snaps all season entering the game, but as the Patriots ran more three-receiver packages than they have in recent weeks he was the No. 2 outside option along with LaFell. ... Amendola's 54 snaps were his second highest total of the year. ... LaFell missed 11 snaps on the Patriots' second-to-last drive after hobbling off, before returning for the final drive.
QUARTERBACK
Jimmy Garoppolo
-- 35 of 67
Tom Brady
-- 32 of 67
Quick-hit thoughts:
This was Garoppolo's most extended action of the season, as he had played 12 snaps against Kansas City (Sept. 29), six against the Bears (Oct. 26) and five against the Colts (Nov. 16). Garoppolo played the entire second half Sunday.
TIGHT END
Michael Hoomanawanui
-- 31 of 67
Tim Wright
-- 30 of 67
Steve Maneri
-- 22 of 67
Cameron Fleming
-- 1 of 67
Quick-hit thoughts:
With
Rob Gronkowski
a healthy scratch, the Patriots didn't lean as heavily on this position. This was Maneri's debut and it makes one wonder if his signing two weeks ago was done with this in mind -- to have another option to give Gronkowski a break.
RUNNING BACK
Shane Vereen
-- 28 of 67
LeGarrette Blount
-- 22 of 67
Brandon Bolden
-- 16 of 67
James White
-- 4 of 67
Quick-hit thoughts:
The Patriots ran three plays with two running backs on the field at the same time. ... Blount's return from a shoulder injury that sidelined him Dec. 21 against the Jets reflected how the injury isn't a major concern. ... Bolden's 16 snaps are a season high as he continues to show up a bit more on offense.
FULLBACK
James Develin
-- 8 of 67
Quick-hit thoughts:
The Patriots haven't used the fullback much over the last six weeks. Since Develin played a season-high 30 snaps against the Colts on Nov. 16, he's played just 21 snaps overall.
December, 29, 2014
Dec 29
4:30
AM ET
Every Monday after the
New England Patriots
play, Tedy Bruschi hosts a Patriots chat. Monday's chat is scheduled for 11 a.m. ET and
questions can be asked in advance
.
Catch up with Tedy then.
December, 29, 2014
Dec 29
3:51
AM ET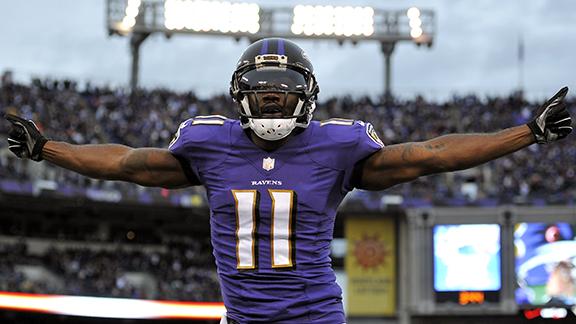 There are plenty of things to like about this year's AFC playoff field, especially if you love quarterback play. In a league driven more than ever by the pass, the AFC offers more compelling storylines than ever. The most obvious involves New England's Tom Brady and Denver's Peyton Manning. Their clashes have been must-see TV in the NFL over the past 14 seasons, and there will likely be another meeting before this postseason ends.
Along with Brady and Manning, Baltimore's Joe Flacco returns to the postseason -- he missed last year after winning MVP honors in Super Bowl XLVII. Pittsburgh's Ben Roethlisberger, who already has two Super Bowl rings, is back following a two-year absence by the Steelers. Indianapolis' Andrew Luck and Cincinnati's Andy Dalton both have made the playoffs every year since entering the NFL. They're also both trying to find a way to reach the AFC Championship Game.
But this year's AFC postseason won't be entirely about the quarterbacks. There are too many well-rounded teams for them to dominate the spotlight. Instead, it will be about who gets hot at the right time and, just as importantly, who can answer the questions that arise at this time of year.
Here are 10 of the most pressing issues worth discussing as the playoffs begin.
1. How worried should the Broncos be about Manning? Extremely. Despite his typically gaudy numbers -- 4,727 yards, 39 touchdowns, a 66.2 completion percentage -- Manning has been far from himself over the last month. He has thrown just three touchdown passes with six interceptions in his past four games. He threw for more than 300 yards only once in the past six games. Manning also saw his 51-game streak of tossing at least one touchdown pass end in a 24-17 win over Buffalo. The easy spin on this story is that Denver has become more balanced as running back C.J. Anderson
December, 28, 2014
Dec 28
10:15
PM ET
FOXBOROUGH, Mass. -- The New England Patriots will host their divisional-round playoff game
on Saturday, Jan. 10
, the NFL announced. Kickoff will be at 4:35 p.m. ET.
The game will be broadcast on NBC.
The Patriots will face either the Colts, Bengals or Ravens -- the Bengals play at the Colts, and the Ravens are at the Steelers in the wild-card round.
If the Patriots advance to the AFC Championship Game, it will be played Jan. 18 at 6:40 p.m. ET at Gillette Stadium.
December, 28, 2014
Dec 28
9:00
PM ET
FOXBOROUGH, Mass. -- The
New England Patriots
' offense hasn't been clicking on all cylinders in recent weeks, but quarterback
Tom Brady
doesn't seem overly concerned.
Brady
"We're confident. We have a lot of confidence as an offense," he said, when asked if there should be any level of concern after Sunday's 17-9 loss to the Buffalo Bills in the season finale.
"We've been able to score points against a lot of good teams, a lot of good defenses. Nothing that we've done this past season is going to help in two weeks from now. What's going to matter is how well we prepare this week and how well we prepare next week and how ready we are to go whenever we play. We'll have a lot of confidence. I'm not worried about us lacking confidence going out there and executing. We've got a lot of good players."
Brady, who played through the first half Sunday before being replaced by rookie
Jimmy Garoppolo
, talked about the team "looking forward" to the playoffs and not behind them. He paused briefly when asked if the Patriots' offense has sputtered lately because of its own execution, or a result of opponents dialing in on them.
"That's a good question," he responded. "I think it ultimately comes down to how well we execute. I think we've played some pretty good defenses and defenses that really challenge you. We'll be challenged in a couple weeks. Hopefully we're ready to meet the challenge. I'd expect us to be at our best. That's what this time of year requires. We'll be playing a great football team, whoever it is. I think we've got a pretty good team. We'll see where we're at."
Brady pointed out that getting receiver
Julian Edelman
and tight end
Rob Gronkowski
on the field will help. Summing up Sunday, he said: "I think we tried to go out there and give a great effort. They're a good team. They make it tough on you. They made it tough on us down there when we played them and they made it tough today. They've got a good team, but we're looking forward. It's tough -- we always hate losing, absolutely. We didn't make enough plays to win, but hopefully we make them in a couple weeks."
December, 28, 2014
Dec 28
8:25
PM ET
By
Lee Schechter
| ESPNBoston.com
FOXBOROUGH, Mass. -- Here are the grades from the New England Patriots' lackadaisical 17-9 loss to the
Buffalo Bills
on a day where the backups saw significant action.
Quarterback:
Tom Brady
played for one half and didn't look comfortable. He played without
Julian Edelman
, Dan Connolly and, most importantly,
Rob Gronkowski
. Rookie backup
Jimmy Garoppolo
showed signs of poise and the skills needed to be a successful quarterback in the NFL. But with a tough Bills defensive front breathing down his neck and an offensive line that looked like Swiss cheese, Garoppolo was unable to make any standout plays.
Grade: C
Running back:
It looked like this would be a chance to take a look at rookie
James White
, but he didn't get a carry and was only involved in the two-minute drill to close out the game. It was an underwhelming effort from the backfield other than
LeGarrette Blount
, who found a seam and made a nice shimmy move to shake off Da'Norris Searcy on a 34-yard run in the third quarter.
Grade: B-
[+] Enlarge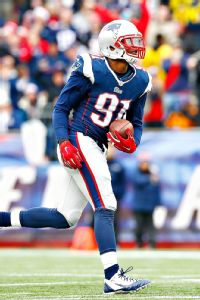 Jared Wickerham/Getty ImagesJamie Collins celebrates after recovering the ball on his strip sack, one of the Patriots' few highlights.
Wide receiver:
Brandon LaFell
displayed an impressive burst of speed on a crossing route in the first quarter, turning on the jets for 27 yards. He was the Patriots' most consistent receiver, as was expected on a day without Edelman.
Brian Tyms
showed some solid route running early on and his offensive pass-interference call was suspect.
Grade: C+
Tight end:
It's tough to put a grade on the tight ends considering the Patriots didn't have their MVP, Gronkowski, on the field.
Michael Hoomanawanui
and
James Develin
(fullback/tight end) made key blocks to spring Blount free on his 34-yard run.
Tim Wright
and
Steve Maneri
each had bad drops.
Grade: D+
Offensive line:
The Patriots didn't have Connolly or right tackle
Sebastian Vollmer
. The substitutes couldn't swing it in the trenches with the Bills.
Josh Kline
was manhandled on an early sack of Brady as he just staggered backward before falling to the field.
Marcus Cannon
picked up a holding call and also managed to tackle
Danny Amendola
on a screen pass as he looked lost on the play. This has been the Patriots' weakest link. They really need Connolly healthy because the backups are not capable of protecting the quarterback, especially on the interior of the line.
Grade: F
Defensive line/linebacker:
The play of the game for the Patriots came on a strip-sack and fumble recovery by linebacker
Jamie Collins
. Collins showed a great second effort as he tossed Bills running back C.J. Spiller around on the big play. Collins' athleticism is something to marvel at. While used sparingly,
Akeem Ayers
planted
Kyle Orton
for a sack with some help from inside pressure forced by
Vince Wilfork
.
Jonathan Casillas
had a rough day with a crucial roughing-the-passer penalty as he went in too high and also missed a few tackles on the day.
Grade: B
Defensive back:
Darrelle Revis
couldn't land the pass breakup on Sammy Watkins' 43-yard catch and run on the Bills' opening drive. He redeemed himself later with a textbook breakup on Watkins toward the end of the second quarter on a deep route to the end zone.
Malcolm Butler
showed strong awareness on a run stop early in the first quarter as he ran along the line from one side of the field to the other.
Grade: A-
Special teams:
Stephen Gostkowski
is as solid a kicker as they come as he went 3-for-3 on field goals. He also bailed out his team with a force-out tackle on a big kick return by
Marcus Thigpen
. Danny Amendola continues to show consistency in the return game as he had a nice 26-yard punt return.
Grade: B+
Coaching:
The best coaching decision of the day was sitting Gronkowski. Don't risk it. He is essential to this offense's success. Brady probably played a little too long considering the holes on the offensive line with Vollmer and Connolly out.
Grade: A-
December, 28, 2014
Dec 28
7:15
PM ET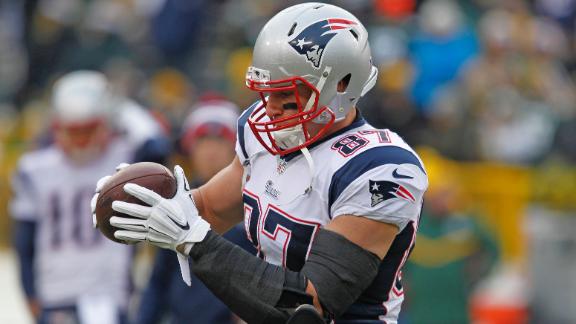 FOXBOROUGH, Mass. -- The
New England Patriots
' 17-9 loss to the
Buffalo Bills
in the regular-season finale is one of those games in which it's dangerous to read too much into what unfolded.
Having locked up the No. 1 seed in the AFC playoffs, the Patriots played it safe with some of their injured players, most of whom would have been in action if this was the playoffs. They also made it a half-day's work for other top personnel, a group including quarterback
Tom Brady
, cornerback
Darrelle Revis
, linebacker
Jamie Collins
and safety
Devin McCourty
.
Then there was the decision that stood out above all else -- to make tight end
Rob Gronkowski
inactive despite his healthy status, the only player not on the team's lengthy injury report to sit out.
That one spoke volumes.
[+] Enlarge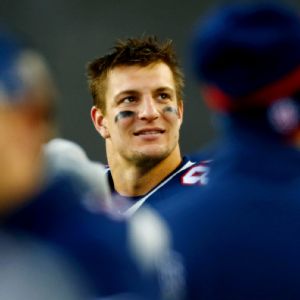 Jared Wickerham/Getty ImagesBill Belichick's decision to sit Rob Gronkowski in the regular-season finale against the Bills served to validate the tight end's worth as a league MVP candidate.
We've touted Gronkowski's value to the Patriots all season, pointing to him not just as the team's MVP, but also as a player worthy of league-wide MVP consideration. It goes well beyond his 82 catches for 1,124 yards and 12 touchdowns; more so it is how his sheer presence has consistently opened opportunities for others to make plays, such as four defenders gravitating toward him in the end zone to create favorable matchups elsewhere.
Now we know that Belichick sees it very much the same way, because in some ways sitting Gronkowski was an un-Belichickian-type move by putting one player above the rest of the team.
Gronkowski, of course, is worthy of such consideration and no one in the Patriots' locker room seemed offended.
"He's obviously very valuable, one of the biggest parts that makes the offense go," fellow tight end
Steve Maneri
said. "I think the tight ends looked at it on the whole as an opportunity to see what we could do, because when 87 is in there, he's 'The Guy.'"
We might propose expanding that to "The Guy Who Changes Everything."

This is obvious by now when considering what has unfolded the past three years in the playoffs. In the 2011 season, a hobbled Gronkowski gutted through a serious ankle injury in the Super Bowl, but he wasn't himself and the offense sputtered. Without Gronkowski the past two postseasons -- first because of a broken forearm in 2012 and the second due to a torn ACL in 2013 -- the Patriots again faltered.
So one could understand why Belichick didn't want to take any chances in Sunday's regular-season finale, and why Brady seemed to go out of his way to point out that the return of Gronkowski and fellow receiver
Julian Edelman
(out the past two games with a concussion)
would alter the outlook
compared to what we saw Sunday.
Nine-year Bills defensive tackle
Kyle Williams
, who knows as well as anyone what it's like to face the Patriots, essentially said the same thing himself.
"I think any time you have a player that is probably the best player at his position in the league, that obviously opens up a lot of avenues for them offensively. He's a great weapon for them and Tom to have," Williams said after Sunday's game, the first time he has been part of a team that defeated the Patriots on the road.
"He can catch the underneath balls but also take it up the field. He blocks well. They move him around quite a bit. They do a lot of things well with him, schematics wise, where you really have to be on top of it."
The Bills didn't have to deal with that Sunday, yet when Williams was informed that some in New England might have concern with the team's offense based on struggles in recent weeks, he didn't share the sentiment.
"What they do, and their scheme, they're really hard to defend with Edelman and Gronkowski and what they bring to the table, and the way Tom controls everything at the line of scrimmage," he said. "He can get them in and out of good plays and where they can be successful. As long as they have those guys, especially No. 12 at the helm, I think they're going to be OK."
As for Gronkowski, perhaps the statistic that reflects his value more than any other is the team's won-loss record based on his presence.
When he was still working himself into top form coming back from the ACL injury through the first four games of the season, averaging just shy of 35 snaps per game, the Patriots were 2-2 and in search of an offensive identity.
When Gronkowski upped his workload considerably in Week 5 and averaged 63 snaps per game between that point and Week 16, the Patriots were 10-1 and defenses seemed to devote more attention to him with each passing week.
So it wasn't any great shock that the Patriots' offense once again looked out of sorts in the first half Sunday when Brady was still leading the charge. Without Gronkowski, everything looks different, and that's why Belichick took the extreme step of making sure he'd be there when it counts, in the playoffs.
"He's a huge part of their offense, obviously their go-to guy, their playmaker," agreed Bills linebacker
Nigel Bradham
. "He and Brady have chemistry and what he's done in the league so far, he's changed the game with tight ends."
December, 28, 2014
Dec 28
6:50
PM ET
By
Kyle Brasseur
| ESPNBoston.com
FOXBOROUGH, Mass. -- With home-field advantage in the AFC already wrapped up, it was only a matter of time until
New England Patriots
backup quarterback
Jimmy Garoppolo
would spell
Tom Brady
Sunday against the
Buffalo Bills
for some valuable, on-the-job learning experience.
Unfortunately for Garoppolo, that learning came via the school of hard knockdowns.
Playing every offensive snap from the start of the second half onward, Garoppolo was tackled a total of seven times -- three times on sacks -- in the Patriots'
16-9 loss to the Bills
. The rookie quarterback finished with 90 passing yards, successfully completing 10 of his 17 attempted passes, while rushing for 16 yards on four carries.
[+] Enlarge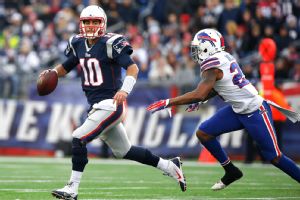 AP Photo/Elise AmendolaJimmy Garoppolo's day was complicated by a Bills pass rush that kept the pressure on.
"It was a good experience getting out there in an actual game, not a preseason game," Garoppolo said. "Getting some live reps will only help going forward."
As one can expect playing behind Brady, Garoppolo's playing time has been limited this season. Sunday marked the sixth game in which he's appeared, with by far more playing time than any of the others. As a result, the 23-year-old got a good dose of what the quarterback position requires, including the less-than-glamorous parts that playing under pressure brings.
"I don't get hit in practice, so that was a little different," Garoppolo said. "It's good and bad. It's been a while. It's always nice to get that first hit out of the way. But the less the better."
Likely the result of using an injury-depleted offensive line, the Patriots could do little to contain the Bills' strong defensive front. In several cases -- notably twice on his fourth drive -- Garoppolo was forced to scramble out of the way of the pass rush in order to avoid being sacked.
"If I have to do it, [I] have to do it," Garoppolo said of his rush attempts. "It's one of those things, you never know on a play if you're going to have to or not, so you just have to be ready for either one."
A critical example came on fourth down during his second drive. Needing a yard to keep the drive alive in Buffalo's red zone, Garoppolo faced some quick pressure from the Bills. Instead of taking the time to read the defense, Garoppolo sprinted to his left, looking to convert on the run, only to be brought down for a 1-yard loss.
"I saw a good opening and thought I could get it," he said. "Came up a little short. You learn from that stuff."
Of course there's great value in Garoppolo being able to endure such an experience. In addition to the playing time adding to his learning curve, it also gave the Patriots a chance to see the player many believe to be the eventual successor to Brady in action.
"I thought he did a great job," offensive lineman
Ryan Wendell
said. "In the huddle I thought his demeanor was excellent. I thought he had command of the huddle. I thought he had command of the plays."
"I thought Jimmy competed well," coach Bill Belichick said. "He was under some pressure. Some things were good; other things could have been better. But I thought he competed well. Some of the opportunities where he had to make plays, he made them. There are definitely some positive things there. There are also things to learn from and build on."
Garoppolo concurred. Although he didn't lead the team to a late comeback, he held his own under tough circumstances and learned more about being a quarterback than any practice could teach him. The Patriots are sure to be happier to have that than a virtually meaningless win.
"There's plenty of room for improvement," Garoppolo said. "There was some good things, bad things, things I learned from. It will only help me going forward."
December, 28, 2014
Dec 28
6:00
PM ET
By
Lee Schechter
| ESPNBoston.com
FOXBOROUGH, Mass. --
New England Patriots
cornerback
Darrelle Revis
' message after Sunday's 17-9 loss to the Bills: Don't panic.
While Revis didn't think the team played well in any phase of the game, he asserted that this was not a full Patriots team.
"It's just a game where we let it slip by, but most of us weren't out there," Revis said. "There were so many things and so many variables of today's game -- guys not dressing and guys not playing."
The Patriots already had the AFC's No. 1 seed locked up, so coach Bill Belichick opted to rest multiple players, including tight end
Rob Gronkowski
(healthy scratch).
Revis was asked if the playoff situation factored into the team's lackadaisical showing.
"I don't know," Revis said. "I can't think for everybody or what everybody is thinking about."
In addition to Gronkowski, the Patriots played without left guard
Dan Connolly
, wide receiver
Julian Edelman
and running back
Jonas Gray
. On the defensive side, the Patriots sat cornerback
Brandon Browner
, linebacker Dont'a Hightower and slot cornerback
Kyle Arrington
.
The Patriots came out of the gate lacking energy and never seemed to find a rhythm without their regular players.
"It wasn't good -- all three phases -- it wasn't good," Revis said. "Buffalo had a lot of energy out when they started the game and we just didn't play to our standard at all."
Revis isn't going to put this week in the past and forget about it, but he said it's not an indication that the Patriots are hobbling into the postseason.
"No, I don't think that's our mindset," Revis said. "Our mindset is to go out there and win every game. That's how we look at it. Like I said, with so many situations in this game -- guys not dressing, guys getting pulled -- you have to account for that and go from there."
Revis is looking forward to a little rest before the team's next game at Gillette Stadium in the divisional round of the AFC playoffs.
"It's been a long year. It really has," Revis said. "Guys get banged up here and there, but you just have to take care of your body. That's what we've been trying to do and it's good that we got a first-round bye so guys can get rest for our next game coming up."
December, 28, 2014
Dec 28
5:35
PM ET
FOXBOROUGH, Mass. --
New England Patriots
coach Bill Belichick didn't hold his usual postgame news conference because he was visiting with the team's athletic trainers and medical staff, and later downplayed his absence as "nothing serious" and "just a little thing to look at."

Belichick
"It's no big deal, I don't want to get into it," Belichick said as reporters gathered around a speakerphone for the call about 75 minutes after the Patriots' 17-9 loss to the Bills in the season finale.
Asked if the athletic trainers said he is OK, Belichick responded: "I'll be all right."
Belichick acknowledged that his visit to athletic trainers was specific to his own health, not related to anything with players. He apologized to media members for the delay before answering questions about the game.
On a related note, Belichick said it is his understanding that the Patriots will learn the date and time of their divisional-round playoff game later Sunday.