March, 8, 2014
Mar 8
5:00
AM ET
Sixth installment in a multipart series on free-agent fits at various positions leading into the start of free agency March 11.
Position:
Quarterback
Players under contract for 2014:
Tom Brady
,
Ryan Mallett
Level of need:
Moderate-to-low
Projected top targets:
Colt McCoy
(49ers),
Brady Quinn
(Rams),
Rusty Smith
(Titans)
Why McCoy fits:
He previously played under current Patriots assistant Brian Daboll in Cleveland (2010), and thus has a background in a Patriots-type offense. He would add an experienced third option (21 career starts) behind the two signal-callers entrenched in the top spots on the depth chart.
Why Quinn fits:
Similar to McCoy, he has experience in a Patriots-type system from having been on a Brian Daboll-coordinated unit in Cleveland (2009) and Kansas City (2012), and a Josh McDaniels-coached team in Denver (2010). If the Patriots are considering the addition of a third quarterback, it makes sense to look toward a player coaches are familiar with.
Why Smith fits:
More of a developmental option, Smith (1 career start) spent the last four years with the Titans, who selected him in the sixth round of the 2010 draft. At 6-foot-5 and 226 pounds, he has a solid physical makeup and was looked at closely in the pre-draft process by the Patriots.
Other names of note:
Derek Anderson
(Panthers),
Jimmy Clausen
(Panthers),
Kellen Clemens
(Rams),
Matt Flynn
(Packers),
Josh Freeman
(Vikings),
Rex Grossman
(Redskins),
Shaun Hill
(Lions),
Tarvaris Jackson
(Seahawks),
Josh McCown
(Bears),
Luke McCown
(Saints),
Dan Orlovsky
(Buccaneers),
Curtis Painter
(Giants),
Michael Vick
(Eagles),
Seneca Wallace
(Packers),
Charlie Whitehurst
(Chargers)
Franchise tag:
none
Market conditions:
A top backup quarterback is commanding about $4 million per season, as reflected by the agreement between the
Jacksonville Jaguars
and
Chad Henne
. That is also around the range that Matt Cassel landed in his two-year deal with the Vikings. The Patriots would be looking at more of a cheaper, No. 3 alternative.
Questions to answer at the position:
Will Brady show any signs of decline? Might there be any type of trade market for Mallett, who enters the final year of his contract? Will the Patriots draft a prospect, similar to what they did with Mallett in 2011?
March, 7, 2014
Mar 7
5:58
PM ET
[+] Enlarge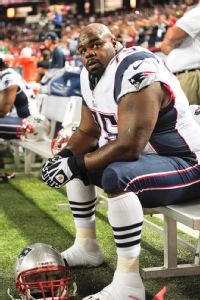 AP Photo / Jim MahoneyVince Wilfork faces some uncertainty entering his 11th season with the Patriots.
The New England Patriots have had recent discussions with representatives for defensive tackle Vince Wilfork about altering Wilfork's contract, according to sources familiar with the talks.
Left hanging in the balance is one mammoth question: If an agreement can't be reached, would the Patriots really consider cutting Wilfork?
It's hard to believe the Patriots would do so given everything Wilfork has meant to the franchise on and off the field, but the simple fact they've approached him about the contract puts the possibility in play -- unless it's just one 325-pound-sized bluff.
Wilfork is due to earn $7.5 million in base salary in 2014, the final year of his deal. His salary-cap charge is a hefty $11.6 million. He turns 33 in November and is coming off a torn Achilles injury that ended his 2013 season after four games.
March, 7, 2014
Mar 7
4:00
PM ET
Free agency technically begins at 4 p.m. ET on Tuesday, but that won't be the first chance NFL clubs have to begin conversations with the agents of players they covet.
Effective at 12 p.m. Saturday, the NFL opens what has become commonly known as a "legal tampering window." While teams cannot execute a contract with a free agent (other than their own free agents) until Tuesday at 4 p.m., they can contact the agents of pending unrestricted free agents of other teams.
This allows teams to begin their pursuit of players that they believe could add value to their roster, while it allows the agents for players to assess the market that they are expected to have come the start of the new league year.
To be clear, teams cannot speak directly with players from other teams (so while the Patriots could speak with
Julian Edelman
, they would not be able to, for example, speak directly to
Eric Decker
). Linebacker
Jon Beason
has opted to represent himself this offseason, meaning he will be unable to participate in the legal tampering window.
This nearly four-day period was first implemented last offseason. It gives players a glimpse into their market before the market can technically take shape, while also giving teams a head start on their potential signings.
A year ago,
Wes Welker
used this window to see what else was out there for the Patriots. It was believed that he and his agent were looking for a deal longer than two years and with more guaranteed money than he wound up receiving. As it turned out, Welker's market was not nearly as robust as his representation supposed it would be, as his deal with Denver maxes out at $12 million over two years.
For players like Edelman and cornerback
Aqib Talib
, this is an opportunity to weigh any potential offers they have received from the Patriots against offers other teams are willing to make on the open market.
March, 7, 2014
Mar 7
2:00
PM ET
A few leftover questions from the
weekly Sportsnation Patriots chat
we didn't get to:
Chris P (Toledo)
:
I'm happy with our offensive line, but feel a quality center is really the boost Tom Brady would need. Less pressure = more time for receivers to get open. I don't know if a starter could be had in the draft this year. Any thoughts on a FA center?
Chris, outside of
Cleveland Browns
center
Alex Mack
(transition tag), one free-agent of note is
Evan Dietrich-Smith
of the
Green Bay Packers
. One question to ask would be, "How much of an upgrade would Dietrich-Smith be over moving
Dan Connolly
back to center, and possibly inserting
Marcus Cannon
/
Josh Kline
at right guard. Sometimes the solutions are in-house. Connolly has played a solid center position in the past.
Daniel (Fresno, CA):
I'd rather have Dominique Rodgers-Cromartie at this point. He may not be as good as Aqib Talib (when healthy), but he's on the field when needed. Also sounds like he'd come cheaper. Your thoughts?
Daniel, all things being equal contract-wise, I'd lean heavier toward Talib. Just think he's a better player. But if the terms for Talib reach a level that doesn't work for the Patriots, I don't think Rodgers-Cromartie is a bad fallback option at a cheaper rate/shorter term if that's what the market dictates. One concern I'd have about going long-term/big-money with Rodgers-Cromartie is that as a team you don't have any background/much certainty with him on how he approaches his craft, how he'd fit in the locker room etc. It's a little riskier to me in that regard.
Daniel (Fresno, CA):
Do you see Julian Edelman staying? I think he has to... can't take Wes Welker away one year and then Edelman the next. Brady needs his go-to guy to stick around for once.
Daniel, I do believe the Patriots will make a bid to retain Edelman. They want him back, but like most every negotiation, it comes down to "at what cost?" As I understand it, Edelman wanted the opportunity to see what offers were out there, which he can do in the three days leading up to the start of free agency. Then he can compare those offers to what the Patriots have in mind. That's where we are right now.
Dominic (Broomfield, CO)
:
Mike, I love Vince Wilfork, I do. But your logic is odd. You say don't release him because he's everything the team embodies. Then you say 2009 lacked leadership because Wilfork (who was supposed to be a leader) wasn't and it showed his frustration openly by having the sign in his locker ...
Dominic, I understand the confusion as I didn't go deep enough into the discussion as it relates to 2009. This was a hot-button topic in our chats and mailbags in '09/'10 as I shared my opinion that part of the reason the '09 locker room wasn't in a great place was because the person who was supposed to be leading (Wilfork) wasn't put in the best position to do so because he was at odds with management over his contract. Some might counter and say, "A real leader would put that to the side and lead anyway." Fair enough, but that's easier for some people to do than others and Wilfork, in my opinion, isn't wired that way. Thus, when factoring in that human element, I thought the team miscalculated in that area that year. As we spin it forward, if you take Wilfork out of the locker room this year or he's not happy about a reworked contract, I have wondered if the Patriots might be creating the same type of '09 situation. But as I think it through, they have more established leaders in the room in 2014 (Mayo, McCourty) than they probably did in 2009, so maybe it wouldn't be as much of an issue. I hope that clears it up.
March, 7, 2014
Mar 7
12:20
PM ET
New England Patriots
long snapper
Danny Aiken
, who was scheduled to become a restricted free agent, has agreed to terms with the team on a one-year contract, according to a source.
Aiken
Aiken has snapped in every game for the Patriots over the last three seasons after being claimed on waivers from the
Buffalo Bills
on Sept. 4, 2011. The contract agreement puts the Patriots in position to return all three specialists (Aiken, kicker
Stephen Gostkowski
, punter/holder
Ryan Allen
) for the second straight year, which is often the continuity that most clubs desire.
As the Patriots' lone restricted free agent this offseason, Aiken could have been tendered at three different levels -- $1.43 million for a right of first refusal, $2.18 million at the second-round level, and $3.11 million at the first-round level.
There was also the option that the Patriots wouldn't tender Aiken at all, making him an unrestricted free agent; Aiken earned a base salary of $550,000 last season and it was hard to envision a scenario where the Patriots would, at the least, triple those earnings in 2014.
So the new one-year deal strikes a compromise of sorts for the team and Aiken, who adds value to special teams units with his coverage skills (5 special teams tackles in 2013).
March, 7, 2014
Mar 7
11:25
AM ET
[+] Enlarge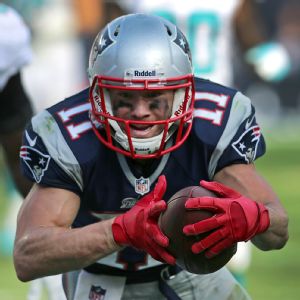 Barry Chin/The Boston Globe/Getty ImagesEdelman's breakout year should lead to a big payday, but it could also lead to a new uniform.
By now, the story of Julian Edelman's 2013 rise to prominence is well-known.
From longtime reserve to 105-catch star, he far exceeded expectations during his fifth NFL season.
And while Edelman's breakout year can in some ways be used to argue against ponying up big dough to retain the free-agent wide receiver -- after all, he was paid just over $1 million last season -- the Patriots must look long and hard at bringing him back.
A quarterback in college, Edelman has excellent quickness, short-area burst, toughness and many of the other requisite traits to man the slot in the NFL. But he isn't limited to the slot, as we saw throughout last season.
He has the precise route running and downfield speed to play the "Z" -- or flanker -- position, a critical one in the Patriots' pass attack.
He brings an abundance of special-teams value as one of the better punt returners in the league, consistently setting up the Patriots' offense with good field position while also wisely judging and handling punts.
He's indefatigable in his approach (he's routinely the first player to enter the practice facility during the season) and just 27 years old.
In other words, there's a lot to like.
March, 7, 2014
Mar 7
11:00
AM ET
»
AFC Free-Agency Primer
:
East
|
West
|
North
|
South
»
NFC
:
East
|
West
|
North
|
South
Key free agents:
CB
Aqib Talib
, WR
Julian Edelman
, RB
LeGarrette Blount
, LB
Brandon Spikes
, C
Ryan Wendell

Where they stand:
The Patriots would like Talib back, and
Brent Grimes
' four-year, $32 million contract with $16 million guaranteed in Miami provides a ballpark for the marketplace. Is that too rich for the Patriots? The club would also like Edelman back, but after investing in a receiver with a similar skill set last offseason (
Danny Amendola
), it will be interesting to see how far the Patriots are willing to extend to do so. Talib is the key piece, and similar to
Wes Welker
last year, it makes sense to think the team will quickly move to Plan B if a deal isn't struck by the start of free agency.
What to expect:
The Patriots aren't flush with cap space, and Bill Belichick often says that free agency is one slice of the team-building process, along with the draft and trades. A focus on retaining their own, with a few complementary pieces from other teams added in free agency, would be our best guess as to how the Patriots approach things in 2014. Key spots in addition to retaining Talib and Edelman are adding a more dynamic presence at tight end, more pass-rush help and depth at defensive tackle.
March, 7, 2014
Mar 7
10:47
AM ET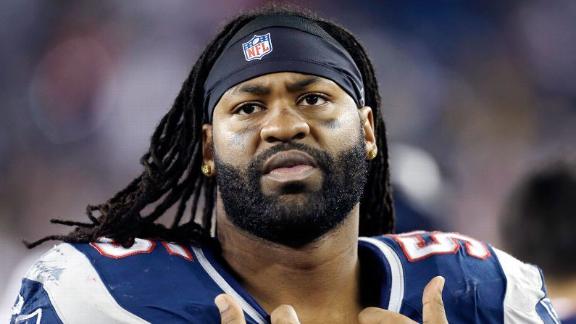 New England Patriots linebacker Brandon Spikes, who is set to become a free agent at the start of the new league year on Tuesday, said Friday morning during an appearance on NFL Network's "NFL AM" that "both sides could benefit from a fresh start."
"I would never say never," Spikes said of a return to New England before adding, "you know, everybody [says] you never want to burn a bridge, but I just feel like both sides could benefit from a fresh start.
"That being said, in free agency, I just feel like I'm out here, I'm available, I'm 100 percent. Any team that is willing to take a chance on me, they're going to get a playmaker, a guy that's very aggressive on the field, looking to be a difference-maker."
Spikes, who had 86 tackles in 2013, was placed on injured reserve in advance of the AFC divisional round in part because he missed a team meeting, ESPN NFL Insider Chris Mortensen reported. He also dealt with a knee issue the latter part of the year.
"I think that was a coach's decision," Spikes said of being placed on injured reserve. "And I'm just an employee, you know, what Adam Sandler said, 'Just go with it.' I had no choice, but I think, you know, they put me on IR because of my injury. I was definitely devastated to not be able to compete. You know, you fight all season to get to the playoffs and it really hurt me not to be out there with my teammates."
Spikes conceded that he wishes he had handled some things differently.
"I think, you know, overall, you know, if I could do some things differently I would, but it is what it is in the past and I think it's just time to move on," he said.
With free agency around the corner, Spikes said he is fully healed from his injury.
March, 7, 2014
Mar 7
9:45
AM ET
A few Patriots-based links from around the Web:
Polian's free-agent tracker
. Former Colts president Bill Polian, now working as a football analyst at ESPN, provides his "free-agent tracker" for all available players. When looking at his
grades for Patriots free agents
, he doesn't hand out any A's.
Belichick and scouting talk
. Nick Klopsis, as part of Neil Best's Newsday blog, writes on how the movie "Draft Day" tapped one of
Bill Belichick's unique scouting methods
.
Three Patriots among 'top players to get overpaid' list
. NFL.com's
"Around the League" bloggers
put together a list of the top 10 players who are likely to be overpaid in free agency, and there are three Patriots who make the cut. Not a very flattering view of the three players widely seen as the Patriots' top free agents.
Talib lands in 'risky' category
. In another NFL.com piece about risky free agents, this one from
columnist Adam Schein
, cornerback Aqib Talib lands among the list of riskiest free agents.
March, 7, 2014
Mar 7
5:00
AM ET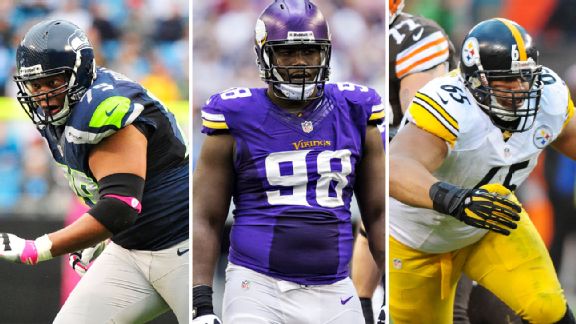 Getty ImagesWe spotlight free agents Red Bryant, Letroy Guion and Al Woods as potential options for the Patriots.
Fifth installment in a multipart series on free-agent fits at various positions leading into the start of free agency March 11.
Position:
Defensive tackle
Players under contract for 2013:
Vince Wilfork
,
Tommy Kelly
,
Armond Armstead
,
Chris Jones
,
Sealver Siliga
,
Joe Vellano
,
Isaac Sopoaga
,
Marcus Forston
,
Cory Grissom
Level of need:
Moderate
Projected top targets:
Red Bryant
(Seahawks),
Letroy Guion
(Vikings),
Al Woods
(Steelers)

Bryant
Why Bryant fits:
The Patriots pursued him aggressively two years ago before he re-signed with the Seahawks. He's a big and powerful presence up front, with former Patriots defensive lineman
Ty Warren
one of his big influences. He wouldn't count against the compensatory pick formula because he was released by Seattle.
Why Guion fits:
More of an under-the-radar free-agent who struggled at times in 2013 with performance and injuries, the seven-year veteran from Florida State has spent his entire career with the Vikings, most recently playing nose tackle. The last two years, when he broke through as a starter, he came under the watch of defensive line coach Brendan Daly, who is now with the Patriots. Guion wouldn't count against the compensatory pick formula, wouldn't be a pure nose tackle in the Patriots' scheme and could add depth while competing against a younger player for a roster spot.
Woods
Why Woods fits:
Although he hasn't broken through since entering the NFL as a fourth-round draft choice in 2010, Woods has shown flashes that make him an intriguing lower-budget option for a team that might not be looking to spend big at the position. He has good size (6-4, 307) and some scheme versatility that could appeal to a team like the Patriots which runs multiple fronts.
Other names of note:
Adam Carriker
(Rams),
Terrence Cody
(Ravens),
Brandon Deaderick
(Jaguars),
Fred Evans
(Vikings),
Aubrayo Franklin
(Colts),
Jason Hatcher
(Cowboys),
Ziggy Hood
(Steelers),
Lamarr Houston
(Raiders),
Arthur Jones
(Ravens),
Linval Joseph
(Giants),
Kyle Love
(Jaguars),
Henry Melton
(Bears),
Earl Mitchell
(Texans),
Paul Soliai
(Dolphins),
Randy Starks
(Dolphins),
Cam Thomas
(Chargers),
Kevin Williams
(Vikings).
Franchise tag:
None
Market conditions:
This is a strong class that is likely to have some players signing early and for significant money, with Red Bryant, Jason Hatcher, Arthur Jones, Linval Joseph, Lamarr Houston and Earl Mitchell some of the top tackles available. Between free agency and the draft, there are some appealing options.
Questions to answer at the position:
Is Wilfork's $7.5 million salary a concern for the team if an agreement can't be reached to lower his salary cap charge? How is Tommy Kelly's injured knee recovering and is he still a big part of the plans? Will Armond Armstead be healthy and primed to contribute? Is Isaac Sopoaga cut because of a $3.5 million salary or does he come back at a reduced rate?
March, 6, 2014
Mar 6
5:55
PM ET
The Patriots on Thursday had contract discussions with receiver
Julian Edelman
, according to ESPN NFL Insider Adam Schefter.
Edelman, coming off a career season in 2013, is set to become an unrestricted free agent at the start of the new league year, which begins March 11.
The 27-year old led the team with 105 receptions last season, his fifth in the NFL. After playing on a one-year deal worth just over $1 million in 2013, Edelman figures to earn a raise in his new deal.
He's one of the team's two highest-profile free agents along with cornerback
Aqib Talib
, and the talks with Edelman bear monitoring as we lead up to free agency.
March, 6, 2014
Mar 6
8:13
PM ET
Associated Press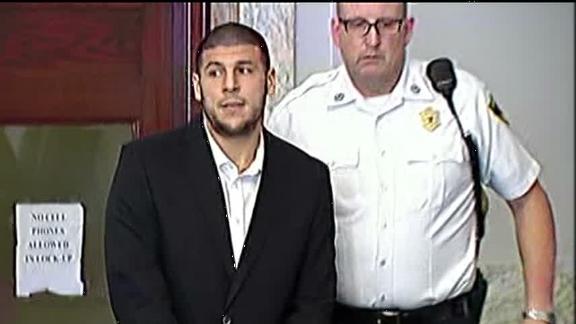 DARTMOUTH, Mass. -- A Massachusetts sheriff is seeking a criminal complaint against former NFL star Aaron Hernandez after a recent jail scuffle with another inmate.
Bristol County Sheriff Thomas Hodgson told Boston's WHDH-TV on Thursday the paperwork has been filed in district court. A clerk magistrate will review it.
Hodgson said last week neither inmate required medical attention after the Feb. 25 fight in the Bristol House of Correction. Hernandez is held there without bail after pleading not guilty to murder in the 2013 death of 27-year-old Odin Lloyd, a Boston man dating Hernandez's fiancee's sister.
Bristol County district attorney's spokesman Gregg Miliote said his office was aware a complaint was filed against the former New England Patriots tight end by the sheriff's department, but had no further comment.
Hodgson's spokesman and Hernandez's attorney didn't return messages Thursday night.
March, 6, 2014
Mar 6
4:25
PM ET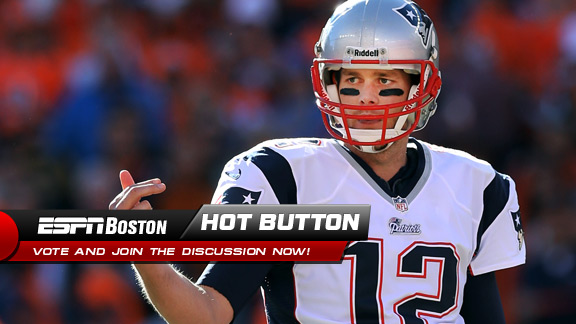 Mark J. Rebilas/USA TODAY Sports
With free agency around the corner, ESPNBoston.com's Mike Reiss and Field Yates debate the Patriots' greatest need on offense. Read their arguments and vote in our poll to have your say.
* Reiss: Tight end is biggest need.
The Patriots currently have two tight ends under contract for 2014 --
Rob Gronkowski
and
D.J. Williams
. It's a certainty that they will be adding more.

So this is a slam dunk when it comes to the team's most
obvious
need on offense. But is it the greatest need? I think it is.
Word is that Gronkowski is doing well in his recovery from a torn ACL, but there remains a question as to when he will return to the field. And when he does return, how long will he remain there? With this in mind, layering the position with depth is critical.
* Yates: Receiver is biggest need.
When declaring wide receiver as the Patriots' biggest offensive need this offseason, it comes with a caveat:
Julian Edelman
is a big part of the equation.
If Edelman returns, the need doesn't go entirely out the door, but it certainly carries a lower priority. The Patriots invested in three players last offseason --
Danny Amendola
,
Aaron Dobson
and
Josh Boyce
-- that they believe can be productive within their offense.
Add Edelman back in the mix, and the team has a four-man band that has experience within the offense.
If Edelman departs in free agency, the need grows exponentially.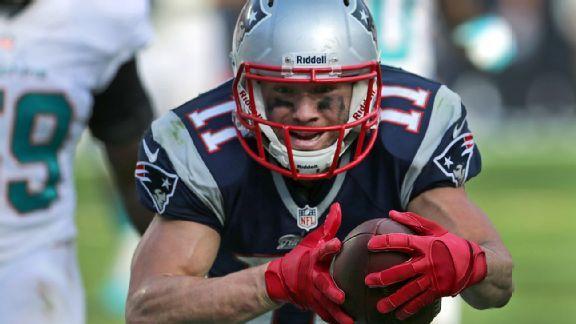 March, 6, 2014
Mar 6
2:00
PM ET
ESPN NFL draft analyst Todd McShay has posted his latest mock draft, and he slots Minnesota defensive tackle
Ra'Shede Hageman
to the Patriots at No. 29.
In his first mock, McShay picked Michigan State cornerback
Darqueze Dennard
for the Patriots (he's now considered an earlier pick).
In his second mock, McShay had tabbed Notre Dame defensive end
Stephon Tuitt
to New England (he's now out of the first round).
So it's always interesting to monitor how things shift over time, and how when one domino falls earlier in a mock draft, it can have a significant trickle-down effect on other teams.
McShay, who was the first analyst we noticed making the connection between the Patriots and
Chandler Jones
in 2012 mock drafts, notes that Hageman would be a good value pick at No. 29. On Twitter recently, McShay said this of Hageman:
Minn DT Hageman has more "wow" moments than any DT in class. Pads rise way too often, motor runs hot-cold. But he's a rare talent.

— Todd McShay (@McShay13) March 5, 2014
When Hageman converts speed-to-power, it's a nightmare for OL. If he learns better leverage + stays focussed on/off field, he can be special

— Todd McShay (@McShay13) March 5, 2014
One thing that caught my eye in McShay's most recent mock draft was that Notre Dame nose tackle
Louis Nix III
is still available when the Patriots were on the board at No. 29. Nix sliding to that spot almost has a similar feel to when Vince Wilfork was unexpectedly available at No. 21 in the 2004 draft, and I'd think the Patriots might lean in that direction if that's the way it unfolds.
What teams seem to be attempting to determine on Nix (6-foot-2 3/8, 331 pounds) is whether he'll ever be more than a two-down run-stuffer. Similar questions had been asked of Wilfork entering the draft, and into the early years of his career.
It's a fun scenario to consider.