December, 21, 2014
Dec 21
8:15
PM ET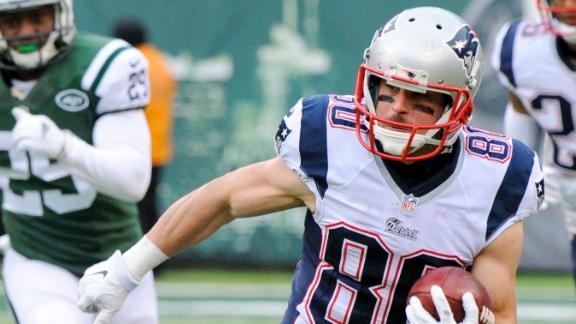 FOXBOROUGH, Mass. -- There are a couple of different ways to view the
New England Patriots
'
17-16 escape
over the
New York Jets
on Sunday at MetLife Stadium, depending on your preference to sway more to the pessimistic or optimistic sides of things.
Things not to feel so good about? The Patriots' offensive line struggled mightily in pass protection as this game resembled a few of the franchise's most painful defeats in recent memory, most notably two Super Bowls against the
New York Giants
. If this is the way it's going to be going forward, it won't be good enough. An up-and-down pass rush and receivers struggling to get open consistently are also on the list.

Things to feel good about? This team continues to find ways to win by rising up in critical situations. It overcame the absences of key starters in left guard
Dan Connolly
(knee) and receiver
Julian Edelman
(concussion) on Sunday. They are one win away (or a Broncos loss Monday night against Cincinnati) from having the AFC playoffs run through their home stadium where they're especially tough to beat. Oh, and even though it might be easy to forget at times, it's hard to win in the NFL.
Take your pick, but before you do, let's briefly pause to give due to one much-maligned player who delivered a performance that was critical in the Patriots' too-close-for-comfort victory over the Jets. If the Patriots didn't have receiver
Danny Amendola
, this probably would have been a loss.
How many times have we said that?
By our count, it has been exactly three times since Amendola signed a
five-year, $28.5 million contract
in March of 2013. He was immense in the season opener against Buffalo that year before hurting his groin. He came up with a clutch touchdown grab on third-and-19 in the Patriots' 27-25 win over the Jets on
Oct. 16 earlier this season
. This Sunday, he finished with a team-high eight catches for 63 yards to go along with a 39-yard punt return that set up the team's first touchdown.
If there was one play that perfectly summed up Amendola's contributions Sunday, and the Patriots' overall performance, it was on the final drive to run out the clock while clinging to the 17-16 lead. Facing third-and-7 with 4:38 remaining from the Patriots' own 45-yard line, Amendola caught a quick receiver screen on the left side and ran seven yards for the first down.
It was close. Real close, as Jets coach Rex Ryan unsuccessfully challenged the spot and the Patriots ultimately gained two more first downs to expertly close out the game in the four-minute offense.
"A quick screen-and-run and I knew we had a chance when I saw the opening," Amendola recalled. "Huge block outside by BT [
Brian Tyms
]; that set it up. Then the tackle pulls out and cleans out anything that's there, and we ended up squeezing out enough yards. We got it by just enough."
They got it by just enough -- both on that play and the game itself.
Up to this point, "just enough" also could have applied to Amendola's role in the offense. He has been locked in to the No. 3 receiver spot, but with the Patriots going away from three-receiver packages in recent weeks in favor of more multiple tight-end packages, he has hardly played. Last Sunday against Miami, for example, he was on the field for a season-low 12 offensive snaps.
But things change quickly in the NFL and when Edelman was concussed over the past week and unavailable for action, it required the Patriots to call Amendola's number to the tune of 44 offensive snaps Sunday, his third highest total of the season.
"He did a great job and he's been really looking for this opportunity," quarterback
Tom Brady
said of Amendola, who played in both two- and three-receiver packages, and was on the field for a key in-game adjustment in the third quarter when the Patriots went to an up-tempo approach with tight ends
Rob Gronkowski
and
Tim Wright
that helped them establish their best rhythm of the day.
Make no mistake, the Patriots still missed Edelman, who is Brady's go-to option, especially when pressure is bearing down on him. Edelman's absence was probably why Rex Ryan said, "I thought we could match up on the outside, which really allows us to play defense the way we want to."
So the Jets had the
upper hand for most of the day
, but when the Patriots needed it most, they had the answers. Amendola, whose contributions to this point of the season were more on special teams (15 catches, 113 yards entering the game), was a big part of that being the case.
"That's why we work so hard, so we can get out there and play," Amendola said. "We work really hard together and the good thing about this team is that there are no selfish players out here. I wasn't out there counting snaps, just trying to get my job done."
He did it well. His 44 offensive snaps were well more than his average of 26 per game entering this week.
No Amendola, no victory -- on a day the Patriots weren't at their best, this was the hard-to-miss storyline.
December, 21, 2014
Dec 21
7:15
PM ET
By
Lee Schechter
| ESPNBoston.com
EAST RUTHERFORD, N.J. -- Here are the grades from the New England Patriots' narrow 17-16 win over their AFC East rival
New York Jets
, which clinched a first-round bye for the Patriots:
Quarterback:
It was definitely a rough day for quarterback
Tom Brady
as he was under pressure for most of the game. His one interception came while under distress as he rushed a pass to wide receiver
Brandon LaFell
, who had yet to come out of his route. A lot of Brady's issues were from feeling uncomfortable with the protection from his offensive line. His best moments were an 11-yard run to set up Jonas Gray's touchdown run, and when he thread the needle to
Rob Gronkowski
into a ridiculously small passing window on a second-quarter throw.
Grade: B-
Running back:
The Jets are one of the NFL's toughest teams to run on, so the Patriots didn't even try it for most of the game. Shane Vereen's 15-yard run when the Patriots increased the tempo was a bright point with the game on the line.
Brandon Bolden
provided grade-boosting plays with an impressive hurdle and a 17-yard outside run as he showed speed to hit the edge. Gray had just five yards on six carries.
Grade: C+
[+] Enlarge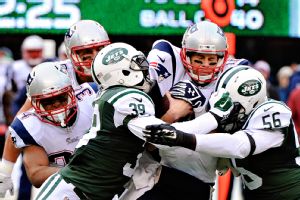 AP Photo/Bill KostrounTom Brady was under pressure much of the game, resulting in poorer-than-usual grades for the QB and the offensive line.
Wide receiver:
Brady didn't have
Julian Edelman
as his reliable receiver, so
Danny Amendola
was asked to fill the void. While Amendola was no Edelman, he finished with eight catches for 63 yards. He deserves credit for being dependable when Brady and his team needed him. LaFell (seven catches, 64 yards) pitched in with the steady dose of involvement that he brings to the offense each week.
Grade: B
Tight end:
The Jets did a top-notch job of covering Gronkowski as he finished with six receptions for a measly 31 yards. But he did find the end zone, as everyone expects him to do each week. It was a tough day for Gronk and
Tim Wright
, but give credit where it is due to the Jets.
Grade: C+
Offensive line:
While
Dan Connolly
has received flak for not playing up to snuff the past few weeks, the team clearly missed him against the Jets.
Josh Kline
started in place of Connolly at left guard, and the Patriots gave up four sacks, leading to Kline's second-half benching. The offensive line rebounded a bit in the second half against the tough Jets defensive front, but Brady never looked comfortable with his line.
Grade: D+
Defensive line/linebacker:
In the first meeting between the teams, the Jets gashed the Patriots' defensive front for 218 yards on 43 carries. The Patriots shored up the front and went heavy with 1,000 pounds of defensive lineman in
Vince Wilfork
,
Alan Branch
and
Sealver Siliga
. Linebackers
Jamie Collins
and Dont'a Hightower continue to be elite. Collins made a key interception -- with excellent pressure created by
Chandler Jones
-- and seemed like he was covering every inch of the field. Hightower landed a crucial sack to push the Jets back on the field goal attempt, which Wilfork tipped. The down side for the defense was the lack of a pass rush for a good chunk of the game.
Grade: A-
Defensive back:
Darrelle Revis
is known for his coverage, but early in the game he stepped up into the run defense to make a great stop on
Chris Ivory
. With the lack of a pass rush,
Geno Smith
had a lot of time to throw. But it didn't matter as the secondary only had a few slip-ups -- mainly in the direction of
Logan Ryan
. Safety
Patrick Chung
was fooled by a play-action fake on Jets tight end Jeff Cumberland's 20-yard touchdown catch.
Grade: B
Special teams:
Special teams is winning the Patriots games as Wilfork came through with the
play of the game
-- a tipped 52-yard field goal attempt by Jets kicker
Nick Folk
.
Ryan Allen
had some big punts. Amendola looked solid in the return game.
Matthew Slater
and
Akeem Ayers
each had strong special teams tackles. The only red ink on special teams was a boneheaded unnecessary roughness penalty on
Malcolm Butler
for running into Jets punt returner
Jeremy Kerley
on a fair catch in the third quarter.
Grade: A-
Coaching:
On paper, starting Kline seemed like the right call. The halftime adjustment to pull Kline made a difference as Brady was not sacked in the second half. The offensive play-calling was questionable at times, with a third-and-14 play-action pass and a shotgun formation on third-and-2. The decision to load up the defensive front limited the Jets' rushing attack. Utilizing tempo in the second half put the Jets off balance on a key touchdown drive.
Grade: B-
December, 21, 2014
Dec 21
6:45
PM ET
EAST RUTHERFORD, N.J. --
New York Jets
coach Rex Ryan boldly declared that no team gives
New England Patriots
quarterback
Tom Brady
as difficult of a challenge as his team, whether Brady "admits it or not."
Brady
It was certainly a struggle for the Patriots in Sunday's
17-16 victory
, and it goes without saying that if New England's pass protection doesn't improve, it could be the biggest factor that stops the team short of its ultimate goal.
Here are some key statistical notes, based on tracking by ESPN's Stats & Information:
1. Bottom-line results
. The Jets held Tom Brady to 23-of-35 passing for 182 yards and tied his season high with four sacks for 36 yards. Brady's 3.9 yards-per-dropback average was his lowest in a game since Week 1 and only his third game under 4.0 in the last five seasons.
2. Mixing pressure calls.
The Jets' mixed pressure well against Brady, sending three or fewer rushers after Brady at a similar percentage to their blitz. Brady's season average is 6.9 yards per dropback, but he was well short of that regardless of how many rushers the Jets sent.
Three rushers -- 10 times (3.9 yards per dropback)
Four rushers -- 23 times (3.9 yards per dropback)
Five rushers -- 8 times (3.8 yards per dropback)
3. Tying season-high sack total
. Brady was sacked four times on 41 dropbacks (9.8 percent of dropbacks), his highest sack percentage in a game since Week 8 of 2013 (11.5 percent against Dolphins).
4. Not much happening down the field
. Brady's average throw distance was 5.2 yards downfield, his lowest this season. Brady did not attempt a single pass at least 15 yards downfield for the first time since Week 4 of 2010. Part of it was that he didn't have time.
5. Not afraid to rush just three, dropping eight into coverage
. The Jets sent three rushers after Brady on 26 percent of his drop-backs in Week 7, the only other game this season Brady faced three pass rushers on at least 20 percent of dropbacks.
December, 21, 2014
Dec 21
6:35
PM ET
EAST RUTHERFORD, N.J. -- Observed and heard in the locker room and news conference room after the
New England Patriots
'
17-16 victory
over the
New York Jets
:
Ryan

Brady

A chance encounter for Brady and Ryan. Patriots quarterback Tom Brady was walking across the hallway from the team's locker room to the area where news conferences are held, answering questions from a reporter, when he coincidentally crossed paths with Jets coach Rex Ryan as Ryan was exiting the stadium. Brady extended his hand and Ryan extended his, the two sharing an ever-so-quick exchange as they went their opposite directions. For those who saw the behind-the-scenes encounter, it had the look of mutual respect. Minutes earlier in his news conference, Ryan said, "We're the team that always gives him the biggest challenge, whether he admits it or not."
Brady's Christmas isn't ruined. Brady lamented the team's inability to put together a 60-minute game, but he was still smiling at game's end. "I'm glad it came out the way that it did; it makes for a better Christmas," he said. "Sometimes you have to grind them out."
Offensive line struggles. This wasn't a great game for the Patriots' offensive line. While players said it was hard to judge the struggles without reviewing the video, right tackle Sebastian Vollmer offered this: "From the past, I feel like they always have good schemes against us. They know us well. And those are good players on that side. They are hard to block." Along those lines, Ryan, the Jets' coach, said: "We thought our defensive line was a huge advantage for us going into the game."
Different look on third-down sack. One of the critical defensive plays of the game came on Dont'a Hightower's sack on third-and-4 with 6:08 remaining, which was the play right before Vince Wilfork tipped Nick Folk's 52-yard field-goal attempt. The sack cost the Jets 10 yards, and Bill Belichick credited defensive coordinator Matt Patricia. "That was a look we hadn't run all game; I thought Matt made a great call in that situation," Belichick said. "The sack made it a much tougher field goal. It looked like they were going to punt it there with the timeout. It looked like they [then] changed their mind and kicked it, but I think those yards had a lot to do with their strategy and the changes there in the end helped us a little bit -- forced a bit of a lower [kick], lower trajectory. That was a big play."
December, 21, 2014
Dec 21
6:10
PM ET
By
Lee Schechter
| ESPNBoston.com
EAST RUTHERFORD, N.J. --
New England Patriots
cornerback
Darrelle Revis
has nothing but the utmost respect for former coach Rex Ryan of the Jets.
"I just told him after the game, good luck, good to see him and that was it," Revis said. "And that's just what it was. I was just showing him my respects for him coaching me in the past."
Revis
Revis has played against Ryan at MetLife Stadium in another jersey before (Week 1 in 2013 with Tampa Bay), but this meeting was a little different. With Ryan on the hot seat, this could have been his last home game as the Jets' coach.
"That's not my focus or my concern," Revis said when asked about Ryan's job status. "I have to continue to focus on what we are doing here in New England, and that's just how I see it."
Revis, who spent his first six seasons in the league as a member of the Jets -- four of those with Ryan, doesn't think the weirdness of playing against the Jets will go away.
"Yeah, it's always weird because I used to be a part of that organization," said Revis, who was booed at one point when his name was announced for making a tackle. "It's always going to be weird. But at the same time, I have to put those feelings aside and do my job."
Another tough moment in Revis' return to MetLife Stadium came when former teammate
Nick Mangold
went down with an injury and was carted off the field.
"It was very tough. I'm sure you saw the crowd of players on both teams crowding around him," Revis said. "I think that's just because both teams have a lot of respect for Nick and what he's done in this league. [He's] one of the best centers in this league. We were former teammates and it was devastating to see him go down like that.
"No one wants to see that happen to a guy like that. He has great character and I know him personally. My heart goes out to his family."
December, 21, 2014
Dec 21
5:45
PM ET
By
Lee Schechter
| Special to ESPNBoston.com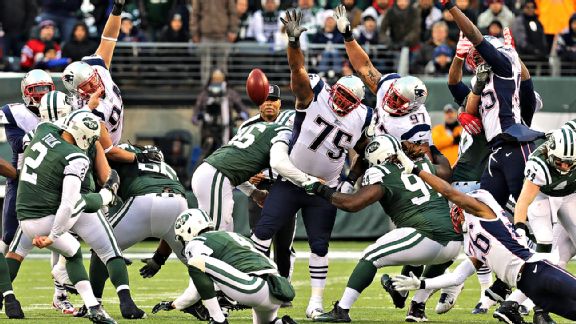 Barry Chin/The Boston Globe/Getty ImagesVince Wilfork earned the nickname "Air Vince" after his tip of Nick Folk's field goal attempt late in the fourth quarter.
EAST RUTHERFORD, N.J. --
New England Patriots
defensive tackle
Vince Wilfork
made the play of the game in Sunday's
17-16 win
over the Jets.
With the Jets poised to take a lead with 5:21 remaining in the fourth quarter, Wilfork tipped Jets kicker
Nick Folk
's 52-yard field goal attempt, causing the ball to fall well short of the uprights.
"I just felt a soft A-gap," Wilfork said. "[I was] making sure I was legal, not covering up the center, but at the same time getting vertical. I felt that I had a good shot of getting some penetration. It worked out well.
"Glad I helped our team win a ballgame. That's what it's all about -- the wins. And we walk away with another one."
Wilfork liked the gaps when the two teams lined up for the first attempt, but the Jets called a timeout. When they lined up for the second time, Wilfork still saw an opportunity to change the game.
"It came down to one play really to win this ballgame," Wilfork said. "And that one play happened to be a block and the offense taking over and just getting one first down to seal it for us."
Wilfork, typically known as "Big Vince," might have a new nickname. After the game, safety
Devin McCourty
referred to Wilfork as "Air Vince" for his vertical leap on the tipped field goal.
The Patriots have three blocked field goals and now have one tipped field goal this season as the block unit has become a disruptive force.
"[Special teams] is something we put pride into," Wilfork said. "We put a lot of dedication into it. We can definitely pat ourselves on the back with the way we go about playing those spots."
Wilfork knew the team would need a crucial play against a Jets team that always gives the Patriots a run for their money.
"It's always tough to go on the road and win, especially in the division against a Jets football team that, I said earlier this week, records mean nothing coming into this game," Wilfork said. "We knew they were going to fight like hell."
Wilfork's big play delivered a message to his teammates. It's also one that he has preached throughout the season.
"Take it one play at a time; don't worry about what's going on," Wilfork said. "Win every play. Eventually, someone is going to make a play that will give us a spark.
"It just feels good to walk away with a 'W.'"
December, 21, 2014
Dec 21
4:10
PM ET
EAST RUTHERFORD, N.J. -- At an initial glance, and without the benefit of film review, a look at which
New England Patriots
were "up" and which were at the opposite end of the spectrum in Sunday's
17-16 win
over the
New York Jets
:
Up
Amendola
Danny Amendola
-- Receiver saw the most notable increase in playing time in the absence of
Julian Edelman
(concussion) and provided a spark at times on offense and also in the return game (39-yard return early in the second quarter set up the Patriots' first touchdown drive).
Brandon Bolden
-- A 17-yard run around the right end sealed the win.
Tom Brady's legs
-- For the third week in a row, he made plays with his feet that set up touchdowns.
Jamie Collins
-- Linebacker's ability to pursue from sideline to sideline showed up at times, and he also had a third-quarter interception on an underthrown
Geno Smith
pass.
Chandler Jones against the run
-- While the Patriots needed more of a pass-rush boost across the board, Jones seemed especially solid setting the edge and showing patience at key times in the running game. He also provided the most consistent pass rush of the group.
Vince Wilfork
-- Defensive tackle played strong in the middle and appeared to get his hand on a 52-yard field goal attempt by the Jets in the fourth quarter.
Down
Malcolm Butler
-- Rookie cornerback was penalized for unnecessary roughness for running into punt returner
Jeremy Kerley
, who had called for a fair catch early in the third quarter. A boneheaded play.
Patrick Chung
-- Safety bit on a play-action fake and was a step behind on Jets tight end
Jeff Cumberland
's 20-yard touchdown catch in the second quarter. Chung looked like he was hurt at times in the game.
Josh Kline
-- Second-year left guard, who started in place of injured
Dan Connolly
, was benched at halftime. He wasn't the only player who struggled up front, but the coaching staff obviously felt like he was a significant part of the problem.
Logan Ryan
-- Cornerback had a few plays made on him in coverage, specifically by Kerley, and also had a costly illegal contact penalty in the second quarter.
December, 21, 2014
Dec 21
4:00
PM ET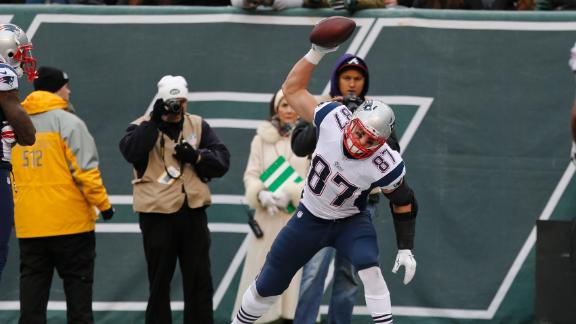 EAST RUTHERFORD, N.J. -- Thoughts on the
New England Patriots
' 17-16
win Sunday
over the
New York Jets
at MetLife Stadium:
What it means:
The Patriots had to grind this one out. It wasn't their best game, and the Jets deserve credit for that. The Patriots improve to 12-3 on the season, clinch a first-round playoff bye and still control their playoff seeding; if they win their regular-season finale against the
Buffalo Bills
, they will have home-field advantage throughout the AFC playoffs.
Game ball:
Danny Amendola
. The Patriots were without leading receiver
Julian Edelman
because of a concussion, and Amendola saw a notable increase in playing time on offense. He was charted on the field for 44 offensive snaps and finished with eight catches for 63 yards on 11 targets. He was also a key contributor in the return game.
Offensive line struggles:
One reason the game was so close was protection struggles. This was not the finest day for the Patriots' offensive line, as the Jets made life challenging for them. One in-game adjustment of note was the benching of left guard
Josh Kline
at halftime. Kline was starting in place of injured
Dan Connolly
, but in the second half the Patriots inserted rookie
Cameron Fleming
at right guard and switched
Ryan Wendell
from right to left guard.
Wilfork gets piece of field goal:
The Jets had a chance to go ahead 19-17 with five minutes remaining, but
Nick Folk
's 52-yard field goal attempt was short, as it appeared
Vince Wilfork
got his hand on the low attempt. The Patriots' field goal rush team has had big plays this year (three blocks), and this was another reminder of how the Patriots are getting key contributions in that phase of the game. Momentum had swung before that after a
Tom Brady
interception.
In-game X's and O's adjustments on offense:
The Patriots were struggling on offense, but the key in-game adjustment came in the third quarter when they went to an up-tempo approach with two receivers (
Brandon LaFell
, Amendola), two tight ends (
Rob Gronkowski
,
Tim Wright
) and one running back (
Shane Vereen
). The Jets matched in their base defense initially, and that was the matchup the Patriots finally found success against, so they stuck with it. It took them a while to find it, but they did it in time.
Defense doing its part when it counts:
Similar to the offense, this wasn't the best game for the Patriots' defense. But when they needed the stop, they came up with it. Wilfork and linebacker
Jamie Collins
were two players who stood out as top performers.
Injuries to monitor:
No Patriots players left the game with injury.
What's next:
The Patriots play their final regular-season game, hosting the Bills, on Sunday (currently scheduled for 1 p.m. ET).
December, 21, 2014
Dec 21
2:50
PM ET
[+] Enlarge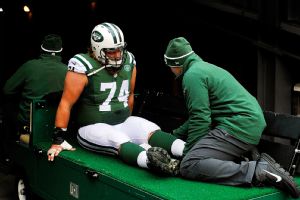 Alex Goodlett/Getty ImagesNick Mangold, who has played in 141 of 143 games in his NFL career, was carted off the field Sunday with a potentially serious ankle injury.
EAST RUTHERFORD, N.J. -- Jets center Nick Mangold, a five-time Pro Bowl selection, was carted off with a potentially serious ankle injury in the second quarter Sunday against the Patriots.
Mangold didn't return to the game, which the Patriots won, 17-16. Jets coach Rex Ryan said X-rays on Sunday night revealed no fracture in his ankle.
Mangold was wearing a walking boot on his left foot after the game. He will have further tests Monday, but said he thinks he could play in next week's season finale in Miami.
"We'll find out. I wouldn't see why not," Mangold said. "I've dealt with issues like this before. I should be out there."
Mangold has played in 141 of 143 games in his career, so it was a shock to see him on the ground in pain. Longtime nemesis Vince Wilfork was blocked into Mangold, collapsing his lower left leg.
December, 21, 2014
Dec 21
2:27
PM ET
EAST RUTHERFORD, N.J. -- Some thoughts at halftime as the
New England Patriots
trail the
New York Jets
10-7:
Uninspiring opening half as protection issues mount.
The Patriots played down to the level of competition. Protection struggles, both from a physical and mental perspective, have hurt them in the opening 30 minutes. The offense has little rhythm, its one touchdown drive coming when the coaching staff seemed to make an in-game adjustment to get the ball out of
Tom Brady
's hands quicker because of the protection issues. If the protection doesn't improve, however, the Patriots are in trouble.
Just 24 snaps on offense.
After totaling just 28 snaps on offense in the first half against the Dolphins last week, the Patriots have just 24 in this game (final kneel down not included). While Bill Belichick often stresses playing a 60-minute game, the Patriots need a good 30 to win this one. They are fortunate, in a sense, that the Jets are offensively challenged.
Need more from the pass rush.
While part of the plan might be to keep Jets quarterback
Geno Smith
in the pocket, the Patriots aren't consistently generating pressure out of the standard four-man rush. In coverage, safety
Patrick Chung
bit on play-action on tight end
Jeff Cumberland
's touchdown catch. Overall, the Patriots are playing the run well enough out of their base defense. They're using a lot of a heavy package that included three big defensive tackles in
Vince Wilfork
,
Alan Branch
and
Sealver Siliga
.
Amendola sees increase in playing time.
With
Julian Edelman
out with a concussion,
Danny Amendola
has seen his playing time rise. After playing just 12 offensive snaps last week against Miami, he played 16 of 24 snaps in the first half Sunday.
Running back snaps.
Almost an even workload as
Jonas Gray
has 12 snaps, followed by
Shane Vereen
's 11.
Brandon Bolden
had one.
Jets playing hard.
As one would expect, the Jets are playing hard for coach Rex Ryan. That hasn't been an issue. At 3-11, they don't have anything to play for postseason-wise, but a win over the Patriots would make their season. They're playing like it.
Patriots get the ball.
After winning the opening toss and deferring, the Patriots get the ball to open the third quarter.
December, 21, 2014
Dec 21
1:20
PM ET