December, 9, 2013
Dec 9
2:30
PM ET
FOXBOROUGH, Mass. -- Picked-up pieces from first-quarter review of the
New England Patriots
' 27-26 win against the Browns:
1. The player I was most interested to watch was nose tackle
Sealver Siliga
, a surprise starter over
Joe Vellano
and
Isaac Sopoaga
. He has a
Kyle Love
-type build at 6-foot-2 and 325 pounds, and he two-gapped effectively, which showed up multiple times. One play, in particular, came on
Fozzy Whittaker
's 1-yard run on third-and-8 with 10:01 remaining. Siliga aligned over right guard
Shawn Lauvao
, and when Lauvao blocked down to account for blitzing linebacker Dane Fltecher, that created a one-on-one matchup between Siliga and right tackle
Mitchell Schwartz
. Siliga was initially knocked off balance before recovering with a pretty strong anchor, getting his arms outstretched to lock out Schwartz before locating the ball and shedding to make the tackle. Nice play. Siliga has us intrigued, because we haven't seen that type of effective two-gapping from a Patriots defensive tackle since
Vince Wilfork
's season-ending injury.
2. When considering the slow start for the Patriots' offense, it was more execution than anything -- and by two of their best players. The opening throw to tight end
Rob Gronkowski
looked like a solid read by
Tom Brady
against man coverage up the left side, but he just overshot it slightly. And on second down, Gronkowski simply dropped a short pass on the right side as Brady felt the blitz from his backside and got rid of it quickly. The first three plays on the opening three-and-out involved Brady, Gronkowski and
Shane Vereen
-- arguably their three best skill-position players. Just called for better execution.
3. One Patriots positive from an otherwise poor quarter of offensive football -- running back
LeGarrette Blount
had 16 of his 17 rushing yards after initial contact. He's a tough tackle.
4. Maybe a bit harsh, but we'd put the Brady long incomplete pass on a right-to-left crossing route to
Julian Edelman
(3:51 remaining) more in the category of a "tough drop" than an "overthrow."
5. On the ensuing play, it looked like Brady's decisive argument with referee Jerome Boger to pick up an intentional grounding flag, because of Blount being in the area, swayed the decision. From this perspective, it looked like the penalty should have been called, as the ball didn't get past the line of scrimmage.
6. This was a game where each offensive lineman had one or two plays that were noticeable struggles. For example, on Brady's interception (3:41 remaining), right tackle
Will Svitek
hauled down
Paul Kruger
and could have been called for holding as he got knocked out of his stance. It looked like Svitek let Kruger get his hands on him before his initial punch, and that led to the breakdown. Overall, we like the Browns' defensive front -- big and physical, sort of like the old Patriots' teams with
Ty Warren
, Vince Wilfork and Co.
7. On the 12-men-on-the-field penalty, it is unclear where the breakdown occurred, but the Browns had their three-receiver package on the field and the Patriots had been countering that with a nickel grouping. Linebacker
Brandon Spikes
was the extra playe,r and either he was sent into the game as part of a coaching breakdown or he came on to the field mistakenly.
8. One of the wrinkles in the 3-4 base defense at times had
Chandler Jones
playing more as a down lineman than at outside linebacker, with rookie
Jamie Collins
instead playing the outside linebacker role. The Patriots give up some size in that exchange, as Jones has more length but less bulk than a more traditional defensive end, but they held up well against the run regardless. In theory, Collins would give the Patriots some coverage help, although he seemed to have some challenges with tight end
Jordan Cameron
(16-yard catch, 7:12 remaining when the Patriots rushed just three).
9. Rookie defensive end
Michael Buchanan
felt like he could have played the opening kickoff better against the
Houston Texans
(50-yard return by
Keshawn Martin
), specifically doing a better job playing off
Matthew Slater
when attacking the wedge, so it caught the eye that Buchanan made the initial hit on the game's first kickoff against the Browns. That's the improvement any young player wants to achieve.
10. Seemed like a quick whistle on the short pass to Browns receiver
Greg Little
as linebacker
Dont'a Hightower
ripped Little to the ground and the ball came free (10:47 remaining). Bill Belichick was upset after the play, and that's probably why -- it easily could have been a fumble. Overall, it seemed Hightower was playing faster in this game.
December, 9, 2013
Dec 9
1:52
PM ET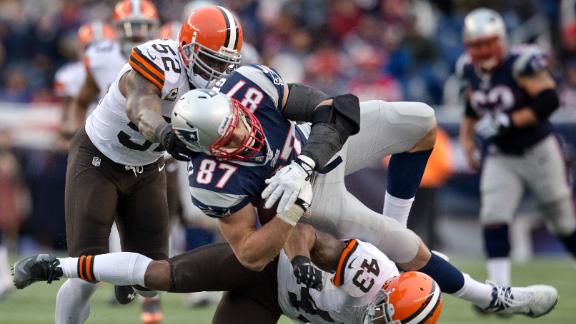 Join my weekly chat every Monday to have your question considered for the weekly Bruschi on Tap Q&A.
Q. Now what? With Rob Gronkowski out does Josh McDaniels scrap the playbook and dust off ones from pre-2010, when the Pats didn't have such talents at tight end? I can't recall what formations the Pats used during the first six games of the season but I imagine they were still TE-centric knowing Gronk would return. Now it's clear he's not so does the offense evolve? If you were the offensive coordinator what would you do? -- Tron (Waltham, Mass.)
A. The thing about not having Rob Gronkowski earlier in the season is that you also didn't have Shane Vereen (broken wrist in the season opener). I think this offense becomes "little-man" heavy now. The little men are going to have to pick up the slack -- Vereen, Julian Edelman, Danny Amendola. Even when they were developing the younger receivers on the outside, that's not really who they want to be. From here on out, it's all going to be about the little guys stepping up.
Q. It seems like we are back to the offense needing to carry the day in order to win based on the defensive struggles. These slow starts really put the offense in a hole. It seems like McDaniels could be doing a better job to get the offense going. Why not get back to the "dink-and-dunk" approach that has worked so well in the past? It seems like Tom Brady is best when he strings together the short pass plays to start drives. -- Blake (Boston)
December, 9, 2013
Dec 9
11:42
AM ET
In a season that's been defined by resiliency in the face of season-ending injuries to key players, the Patriots might be up against their most difficult challenge yet after losing
Rob Gronkowski
.

The Patriots have lost captains
Vince Wilfork
and
Jerod Mayo
, starting right tackle
Sebastian Vollmer
and defensive tackle
Tommy Kelly
to season-ending injuries. Beyond playing without those four (soon to be five when Gronk gets placed on injured reserve), the Patriots have had to work in extensive new personnel in the receiving corps (including three rookie wideouts) and manage through a number of ailments in the secondary. Despite all of that, the Patriots stand at 10-3, just one win away from their fifth straight AFC East title and in control of their own fate for a top-two seed in the conference.
On Monday, Patriots head coach Bill Belichick echoed the obvious: This group of players is a particularly resilient bunch.
"No question about it," he said. "Very tough minded and determined group that even though as you said at times the deck has been stacked against us or it's been things that we've had to overcome, they haven't ever made any excuses or tried to back down from the challenge.

"They just try to meet it head-on with the best effort they can. Sometimes it's been good enough, sometimes it hasn't," he continued. "The attitude, the ability to go out there and fight and persevere and deal with whatever the circumstances are and not really get too fazed by it, but just try to deal with it, has been very impressive by the entire team this year, especially with some young guys and newer faces on the team."
There's no telling precisely what the final three games of this season and postseason will have in store for the Patriots, but if they've taught us anything through 13 games, it's to never count them out.
"Overall, they've all embraced whatever the opportunity is, even though it may not look too bright," Belichick said. "They embrace the opportunity, try to go out there and make the best of it."
December, 9, 2013
Dec 9
10:44
AM ET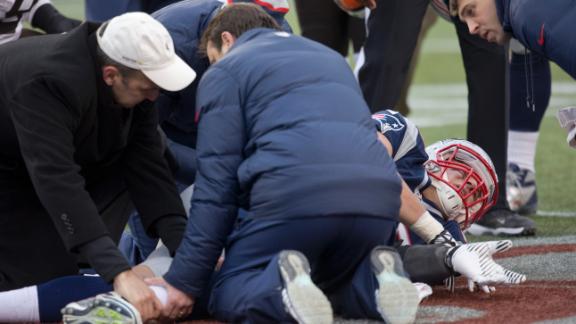 Here are some sound bites from Patriots coach Bill Belichick's conference call with the media Monday morning:
On how offensive coordinator Josh McDaniels did in adjusting on the fly without Rob Gronkowski:
"You have to go into every game with some type of backup plan for everybody. Certainly as it relates to your personnel groups, like at the tight end position, you use more wide receivers, or the wide receiver position, if that were to get thin, more backs or more tight ends. You have to be ready to handle all that. But I thought that the offensive coaches and the players did a good job adjusting to that; they went into some different personnel groupings, but those are things that we've practiced and we've prepared for."
On the fill-in tight ends, Matthew Mulligan and James Develin:
"I think both of those guys, kind of like we talked about last week with James, but put Matt in that category, too -- they're both role players in our offense. Sometimes their roles are a little bit bigger or a little bit smaller from game to game; it depends on the game plan and the situation. But when they're called on, they've been very dependable. [They're] both smart guys that are tough and really compete well and aren't afraid to get their hands dirty and do some of the tougher jobs that need to be done on the football field."
Is this the type of thing where you can have one player replace Rob Gronkowski, or will it take multiple people?
"I think Rob, similar to the conversations we had with [linebacker] Jerod [Mayo] and [nose tackle] Vince [Wilfork], I don't think too many teams have players of that caliber at any position to put in another Rob or another
Vince Wilfork
or another
Jerod Mayo
. Whoever is in there is going to have to fulfill some of those duties, but it may expand to more people like we ended up having to do yesterday offensively. More four-receiver sets, three receivers and a tight end, or something like that. Or it might result in the tight ends getting more plays or some combination thereof. However that may be, it may change from game to game. Obviously, we -- unfortunately -- had to play without Rob for games at the beginning of the season. ... We dealt with that already this year."
Are you able to draw on what you guys did without Rob during the first six weeks?
"I'd like to think there's going to be some carryover there. Not only is it the first six weeks of the season, but the entire training camp, as well. I think that's the way we practiced and played most of the year, including the preseason -- that's 10 games. It was great to have him back and he was obviously a big contributor for us, because he's an outstanding player. I hope that his situation isn't as serious as what it might be, but if it is, then I'm sure it'll be some combination of what we've already done this year. Or maybe because we have a few different players and we're at a different point of the season, it may be some different things, too."
December, 9, 2013
Dec 9
10:10
AM ET
December, 9, 2013
Dec 9
10:07
AM ET
ESPN.com news services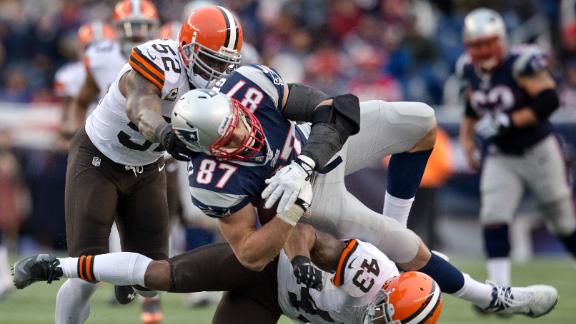 Tight end Rob Gronkowski tore the ACL and MCL in his right knee during the New England Patriots' 27-26 comeback victory Sunday over the Cleveland Browns, a league source told ESPN NFL Insider Adam Schefter on Monday.
Patriots coach Bill Belichick said Monday that he didn't expect to receive positive news on Gronkowski's injury.
"Rob's going to have some more tests today, but that situation doesn't look too good," he said. "We'll wait until we have a final evaluation to confirm or do anything."
Gronkowski suffered the injuries in the third quarter after hauling in a pass up the seam from Tom Brady. The two-time Pro Bowler took a direct hit to his right knee from Browns safety T.J. Ward and fell to the ground, clearly in pain.
Brady said Monday the Patriots' formula at tight end must shift without Gronkowski.
"You just have to find a different formula," Brady told the "Dennis & Callahan Show" on WEEI sports radio in Boston, when asked whether the team's other tight ends are capable of doing what Gronkowski does. "I think that's the important part. And Gronk provides a certain margin of error because of how talented a player he is, and the other guys play different roles for us."
December, 9, 2013
Dec 9
10:00
AM ET
FOXBOROUGH, Mass. -- A review of four hot issues following the
New England Patriots
' 27-26 win over the
Cleveland Browns
:
Life without tight end Rob Gronkowski:
Players seemed to be coming to grips with the fact they would be without Rob Gronkowski for the remainder of the season after he tore the ACL and MCL in his right knee Sunday. So the question becomes: "What next?" The Patriots have tight ends
Matthew Mulligan
and
Michael Hoomanawanui
on the roster, and could re-sign
D.J. Williams
, who was released last week. Hoomanawanui has been out since sustaining a knee injury Nov. 18 in Carolina, but appears closer to a return. Regardless, the Patriots won't be the same without Gronkowski, who has unique talents, so offensive coordinator Josh McDaniels will likely have to recalibrate the attack.
Slow starts remain a problem:
The Patriots have talked at length about getting off to better starts, but they haven't been able to do so. That should continue to be a point of emphasis as the Patriots are vying to clinch the AFC East championship. As defensive end
Rob Ninkovich
said after Sunday's comeback, "Not the way you want to win, but we'll take it."
Ridley eased back into the mix:
Lead running back
Stevan Ridley
was charted on the field for 17 snaps (including penalties) in his return to action after he was a healthy scratch Dec. 1 in Houston after multiple fumbles. While
Shane Vereen
figures to continue to take the majority of snaps at the position, Ridley is now officially back in the rotation along with
LeGarrette Blount
and possibly
Brandon Bolden
(inactive Sunday versus Cleveland).
Defense giving up points:
Since the bye weekend on Nov. 10, the Patriots have given up 24, 31, 31 and 26 points, with the defense showing vulnerability in multiple areas. Against Cleveland, the big play hurt them as they failed to create a turnover, which is their trademark. Next up are road games at Miami and Baltimore, and they need those turnovers to return to form.
December, 9, 2013
Dec 9
9:58
AM ET
With starting tight end
Rob Gronkowski
suffering what the Patriots fear is a torn ACL according to ESPN NFL Insider Adam Schefter, the team will bring back tight end
D.J. Williams
, a league source confirms. Williams is en route to the team on Monday and must pass a physical to officially sign.
The Boston Globe first reported the news.
Williams, who was released last Wednesday after one week with the team, played three offensive snaps in a Week 13 win over the
Houston Texans
. A former fifth-round pick of the Packers out of Arkansas in 2010, he has also spent time with the Jaguars.
Without Gronkowski, the Patriots' depth at tight end will be tested.
Michael Hoomanawanui
has missed three straight games while nursing a knee injury, while fullback
James Develin
has also taken some reps at the position.
Veteran
Matthew Mulligan
played a season-high 39 snaps on Sunday in the team's 27-26 win over the Browns.
A corresponding roster move will need to be made to officially sign Williams.