December, 6, 2013
Dec 6
5:00
AM ET
Each week, we use this space to highlight members of the Patriots' upcoming opponent's organization that have ties to the Patriots from previous stops during their NFL career.
This week, we examine not only current Browns with Patriots ties, but also the strong ties between the Patriots coaching staff and the Browns.
BROWNS TIES TO THE PATRIOTS
Quarterback Brian Hoyer.
Now on injured reserve, the former undrafted free agent turned backup to
Tom Brady
earned his chance to be a starter for the Browns earlier this season, playing well in leading the team to three wins in three starts. Hoyer suffered a torn ACL, however, shelving him for the balance of 2013.
Senior pro scout Frank Edgerly.
Edgerly broke into the NFL with the Patriots from 2009-12 after spending 10 years as the head coach at Red Bank Catholic high school in New Jersey. He started off as a pro scout for the 2009 season before transitioning to an area scout role for his final three years with the Patriots.
PATRIOTS TIES TO THE BROWNS
Head coach Bill Belichick.
Belichick, who called his time with the Browns "important years" of his life, was the head coach from 1991-95, his first head coaching experience. Belichick took the team to the playoffs one time during those five seasons, advancing to the divisional round.
Director of football research Ernie Adams.
Adams, among Belichick's most trusted assistants, was a member of the Browns staff from 1991-95 as an offensive assistant. He rejoined Belichick when he took the Patriots job after working on Wall Street in an investment business.
Linebackers coach Pepper Johnson.
A former player under Belichick, Johnson spent four seasons with the Browns from 1993-96. A popular and respected linebacker, Johnson has developed into one of the more respected assistant coaches in football.
Special-teams coach Scotty O'Brien.
O'Brien, like Adams, served on Belichick's staff from 1991-95 as the special-teams coach. After stints with the Panthers, Dolphins and Broncos, he reunited with Belichick in New England.
Assistant coach Brian Daboll.
When the Browns hired former Patriots defensive coordinator Eric Mangini as their head coach in 2009 (after a stint as the Jets head coach), Daboll was hired as the offensive coordinator, a role he filled for two seasons. Daboll later served as the offensive coordinator for both Miami and Kansas City before returning to New England in January.
December, 5, 2013
Dec 5
9:54
PM ET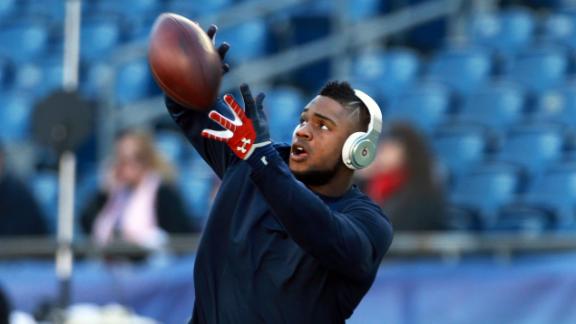 Every week leading into the New England Patriots' next game, ESPN NFL analyst Tedy Bruschi and ESPNBoston.com Patriots reporter Mike Reiss preview the matchup. This week, it's a Sunday home game against the Cleveland Browns (CBS, 1 p.m. ET):
Mike: The Patriots are heavy favorites in this game, as they should be when playing at home against a four-win team. Then again, few probably thought last week's road game with the Texans would be close.
Tedy: That is a great learning experience for this team not to take anyone lightly. You don't want to get in an early hole anymore. I think that's one message to be sent this week -- you got down 17-7 to a team that had lost nine in a row at the time, and had to rally to win the game. This week, it helps to be at home. I'm sure that's a major emphasis point this week -- you want to dominate at home and I think that will prevent them from having a letdown.
Mike: And it's not like they don't have areas to improve and reasons to keep the focus sharpened.
December, 5, 2013
Dec 5
7:45
PM ET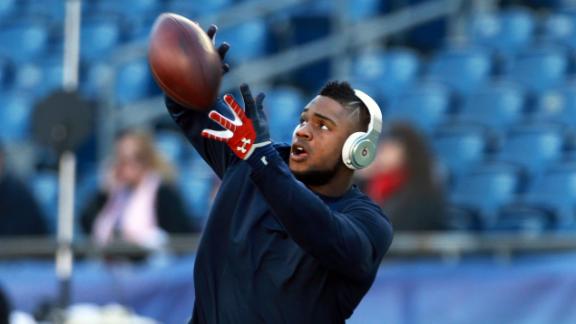 In this week's P.A.T., Mike Reiss talks to
New England Patriots
defensive tackle
Sealver Siliga
, who was recently promoted from the practice squad, and looks at
Stevan Ridley
's status for the game against the Browns in Week 14.
December, 5, 2013
Dec 5
5:19
PM ET
FOXBOROUGH, Mass. --
New England Patriots
cornerback
Alfonzo Dennard
, who attended a hearing in Nebraska on Thursday during which he was
sentenced to 30 additional days in jail
for violating his probation, was one of three players to miss practice on Thursday as the team continues it preparation for the Browns.
Rookie wide receiver
Aaron Dobson
(foot) and starting right tackle
Marcus Cannon
(ankle) were also missing, the second straight day they have been out. Neither has practiced since suffering injuries in Week 12 against the Broncos.
Rookie wide receiver
Kenbrell Thompkins
(hip) was among those players listed as limited, and with Dobson missing time, the Patriots added insurance in the form of veteran
Austin Collie
, who was re-signed Thursday morning and on the practice field.
Linebacker
Brandon Spikes
, who missed practice on Wednesday due to a non-injury issue, returned to practice Thursday, though he was limited as he continues to deal with a knee injury.
As was the case on Wednesday, cornerbacks
Aqib Talib
(hip),
Kyle Arrington
(groin) and
Marquice Cole
(shin) were limited.
December, 5, 2013
Dec 5
3:42
PM ET
NFL coaches can usually find a kind word, or a thousand, about an upcoming opponent.
Brady
Even a bad team becomes disciplined and well coached when they're the upcoming opponent.
So perhaps Ray Horton's adoration of Patriots quarterback
Tom Brady
should be taken with a grain of salt.
Or perhaps it shouldn't.
"I believe he's the greatest draft pick in the history of football," Horton, the
Cleveland Browns
defensive coordinator, said. "I might go so far as to say he may be the greatest player that's ever played. That's not just because we're playing him.
"That's my belief."
He continued.
"The things he's overcome, his will, his heart, his preparation for the game, I don't know if there's a better player in the history of the game than Tom Brady," Horton said.
Brady was a sixth-round draft pick, someone every team in the league passed on several times before New England chose him in 2000 -- after the Browns had taken
Spergon Wynn
.
Horton's challenge now is drawing up a way to defend Brady.
"You've got to give him different looks," Horton said. "You've got to pressure him. You have to play at your best because I'm pretty sure he's going to prepare; he won't take any game, an opponent lightly.
"It's an ultimate test for me as a coordinator, this one player. I think he's everything you want in a franchise quarterback."
December, 5, 2013
Dec 5
3:33
PM ET
New England Patriots cornerback Alfonzo Dennard was given another year of probation and 30 additional days in jail Thursday as a result of a drinking-and-driving incident in Nebraska this past summer.
Dennard's jail sentence is set to begin March 1. He had requested a continuance of the sentencing until after the season but was denied. He also had 100 hours of community service and a no-alcohol provision added by Lancaster County District Court Judge Stephanie Stacy.
Stacy could have revoked Dennard's probation and sent him to jail.
"This is your last chance," Stacy told him.
During the hearing, Stacy referenced received letters she'd received from Massachusetts authorities praising Dennard's positive attitude about community service.
"He's learned a tremendous amount from the process," said Alan Stoler, Dennard's lawyer. "As the judge read from the letters, this wasn't something Alfonzo took lightly. It's affected him in a positive way, things that he's been able to do."
Prosecutor Bruce Prenda requested that Dennard's probation be revoked but said the state would be agreeable to a modified probation term if it included the no-alcohol provision.
Stacy noted that Dennard had not come up positive in tests initiated in August for alcohol and other controlled substances.
In April, Dennard was sentenced to 30 days in jail (starting March 1), two years of probation and 100 hours of community service for assaulting a Lincoln, Neb., police officer on April 21, 2012. The incident came one week before the former Nebraska player was selected by the Patriots in the seventh round of the NFL draft.
December, 5, 2013
Dec 5
3:10
PM ET
December, 5, 2013
Dec 5
3:00
PM ET
FOXBOROUGH, Mass. -- Rookie Patriots cornerback
Justin Green
, who played eight snaps in the team's overtime win over the Broncos on Nov. 24 before being waived and re-signed to the practice squad, has earned himself a pay raise.
Green is now earning more than the practice squad minimum as part of an overall salary of $170,000.
The practice squad minimum salary is $102.000, which is what the other seven players on the Patriots' practice squad are being paid.
Green, an undrafted free agent out of Illinois, first joined the team in July prior to training camp. He was waived at the final roster cutdown Aug. 31 and re-signed to the team's practice squad the next day, where he spent all season prior to his promotion for the Nov. 24 Broncos game. The Patriots called on Green for depth as their top cornerbacks were all limited by injuries, and he filled in competitively in limited action against the Broncos.
The Patriots obviously see something they like in Green (5-foot-11, 195 pounds) to give him a pay raise, which is something the team has done in the past with its practice squad players.
December, 5, 2013
Dec 5
2:11
PM ET
FOXBOROUGH, Mass. -- Since returning to the lineup in Week 11 after missing eight games due to a wrist injury, Patriots running back
Shane Vereen
has reasserted himself as an integral part of the offense, catching 21 passes in just three outings.
Ridley
During a time when fellow third-year back
Stevan Ridley
finds himself pushed down the depth chart due to fumbling woes, Vereen is ascending into a more prominent role than he has previously played. He said on Thursday that, despite still wearing a wrist brace for games, he feels good and the injury is no longer an issue.
"I haven't had any problems with it, haven't had any issues with it," he said. "Really, there's not too much thought about it at all."
With Vereen now manning prominent running back duties and Ridley playing a more uncertain role, it's a change from 2012, when Ridley was the workhorse and Vereen played a less consistent role within the offense.
The former second-round pick noted that he and his fellow running backs are providing support for Ridley as he works on ball-security issues.
"Everybody goes through their ups and downs, and when you're down, you need teammates, you need friends to help bring you back to where you should be and start playing with confidence again," Vereen said.
He and the fellow running backs remain confident in Ridley, who politely declined to speak with reporters on Thursday.
"Stevan is a great player," Vereen said. "We're there when he needs us. But he knows what he has to do and we fully expect him to do that."
The Patriots running backs have had another productive season, chipping in to the league's 12th best ground attack, but Vereen said improvement is key as the season continues.
"We've definitely got work to do, but we've put ourselves in a pretty good situation, but there's room to improve," he said. "We need to improve if we want to continue playing."
December, 5, 2013
Dec 5
12:30
PM ET
Every Thursday on ESPNBoston.com, there is a weekly Patriots chat. Today's chat kicked off at 11 a.m. ET,
can be recapped here
, and included some of the following topics:
1.
Julian Edelman
's future with the Patriots as it relates to the big investment the team made with
Danny Amendola
in 2013.
2. Early thoughts on the matchup against the Browns and why the Patriots should take care of business handily.
3. Cornerback
Kyle Arrington
's struggles on the outside compared to his solid work in the slot.
4. Looking at
Stevan Ridley
's fumbling and future with the Patriots from all angles.
5. Uncertainty surrounding
Alfonzo Dennard
as he's in court today.
6.
Vince Wilfork
's presence around the team and his future with the team.
December, 5, 2013
Dec 5
11:15
AM ET
FOXBOROUGH, Mass. -- Patriots linebacker
Brandon Spikes
returned to practice on Thursday after missing Wednesday's practice due to a non-injury related situation. The starting linebacker, who has also been dealing with a knee injury in recent weeks, leads the team with 74 tackles.
Cornerback
Alfonzo Dennard
was absent from the start of Thursday's practice, though this was expected as he is due to appear in court in Lincoln, Nebraska later today for sentencing in relation to violating his probation when he was arrested for drinking and driving in July.
On Wednesday, the Lincoln Journal Star reported that Dennard has requested a delay on his sentencing until after the season. Dennard is also due in court for a previously scheduled hearing on Friday.
Wide receiver
Aaron Dobson
(foot) and offensive tackle
Marcus Cannon
(ankle) were once again absent on Thursday. Each left the team's Week 12 game against the Broncos due to injury and has not practiced since that time.
Wide receiver
Austin Collie
, who was re-signed this morning, was on the field wearing No. 10.
The Patriots practiced in shells and helmets on Thursday.