January, 31, 2015
Jan 31
11:33
PM ET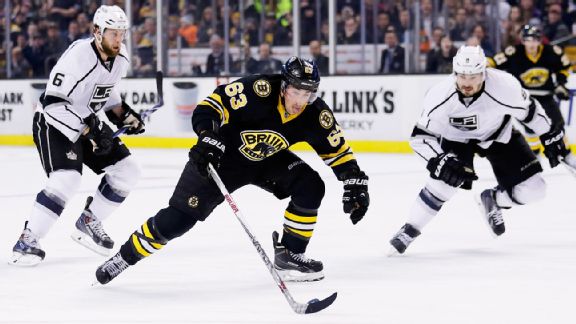 AP Photo/Charles Krupa"We're not where we want to be," Brad Marchand said despite a successful Saturday.
BOSTON -- Many had written off the
Boston Bruins
earlier this season, and it appeared the team was spiraling out of control.
When they were struggling, the storylines were the same after each game: They were inconsistent, sloppy, had too many defensive mistakes, the mental breakdowns were mind-blowing and their goaltending wasn't sharp. Oh, and they had too many injuries.
Boston has done a complete 180.
With their 3-1 victory over the
Los Angeles Kings
on Saturday night at TD Garden, the Bruins have earned points in 13 of their past 14 games, with a 9-1-4 record in that span. In fact, Boston is 8-1-1 in its past 10 games and playing its best hockey of the season.
"We knew that it would be a tough game," Bruins captain
Zdeno Chara
said of facing the defending champs. "They played really hard all over the ice. It was a really tight game, a lot of battles. I think the fans enjoyed it, too. It started really physical and it was just really two hard-working teams battling for the win."
Now, the Bruins are healthy and consistent, and coach Claude Julien is able to roll four solid lines at opponents. It also helps that
Tuukka Rask
is playing extremely well between the pipes. Overall, the Bruins have rediscovered their winning identity -- and it's evident on a nightly basis.
"We knew how important this month was to get ourselves back into the playoff picture and we did just that, winning eight out of 12 games and getting much-needed points and moving up the standings," said Bruins forward
Milan Lucic
. "It's a great January and we're happy with the way we played. The mindset has to be that we need to carry this on to February."
From the opening puck-drop Saturday, the game had a playoff-like feel to it. It was a physical contest from both teams, but in the end the Bruins were able to grind out the victory.
"It's nice to see our team compete for that whole 60 minutes and stay on top of our game," Julien said. "These are the kind of games everybody gets up for, including the coaches. Those are fun games to coach, fun games to play in and I'm sure the fans enjoyed watching it as well."
The Bruins received a pair of goals (one empty-netter) from
Brad Marchand
, while
Chris Kelly
produced the winner, redirecting a shot in the slot at 14 minutes, 33 seconds of the third period. Rask finished with 30 saves and is 7-1-1 in his past nine games, 10-1-4 in his past 15. He made a season-high 43 saves during Thursday's 5-2 victory over the
New York Islanders
, and there's no doubt he's been locked in for the last month.
"He definitely was our best player in January, the last game and here tonight he definitely stepped his game up to the level that he's capable of playing," Lucic said. "He's a huge part of our team, probably the most important part of our team. With his ability and his competitiveness, we're grateful to have a guy like that between the pipes.
"He's starting to get into the groove that we need him to be in."
Marchand also produced one of his better games of the season. He was involved in every aspect and was chirping as usual. Julien described Marchand's game as "tenacious" and admitted it was a solid outing.
"He seemed real focused," Julien said.
Since it's the eve of Super Bowl XLIX, the Bruins showed their support for their brethren, the
New England Patriots
, by wearing "Do Your Job" winter hats during pregame warmups and again afterward in the locker room.
The Bruins were in a good mood after their victory over the Kings and the focus turned to Sunday's big game. Of course, the Bruins were picking the Patriots to beat the
Seattle Seahawks
. Lucic has New England winning 28-21, with
Rob Gronkowski
the MVP.
If this string of success continues for the Bruins, it's likely they will earn a postseason berth and could still end up as a strong Stanley Cup contender. Maybe then the Patriots will reciprocate.
"We're definitely happy with the push we've put on," Marchand said, "but we're not where we want to be and we've got to play better."