ESPN Patriots reporter Mike Reiss discusses Nate Solder's revelation that he was treated for testicular cancer in 2014.
Join us today for NFL Nation TV's Spreecast 53 as USC defensive lineman and pending first-round draft pick Leonard Williams visits the show.
Patriots LT Nate Solder often avoids speaking about himself. He's making an exception on the topic of cancer with the hope he might help others.
Patriots left tackle Nate Solder revealed he was diagnosed and treated for testicular cancer prior to the 2014 season.
Setting the stage for New England Patriots media coverage over the next three days.
Shane Vereen is excited to start workouts with his new team, but he may be just as excited to go visit the White House with his old team
Kevin Seifert discusses the pending release of the NFL game schedule and who would make for an interesting opponent to face the Patriots in the NFL Kickoff game.
The NFL will announce its 2015 schedule at 8 p.m. ET Tuesday. Here's a look at the home and away opponents for all 32 teams.
The NFL will announce its 2015 game schedule Tuesday night at 8 p.m. ET.
New England Patriots quarterback shows he is eager to get started on 2015 season.
Winning his first Super Bowl championship and getting married has made this quite the stretch for Patriots veteran right tackle Sebastian Vollmer.
CLEVELAND -- New England Patriots quarterback Tom Brady, who has proved to be as good at Facebook as he is at football, utilized social media to offer support for the Boston Celtics before Sunday's Game 1 of their first-round playoff series against the Cleveland Cavaliers.
Patriots second-year offensive tackle Cameron Fleming (6-foot-6, 325 pounds) has devoted more time in his offseason training to the guard position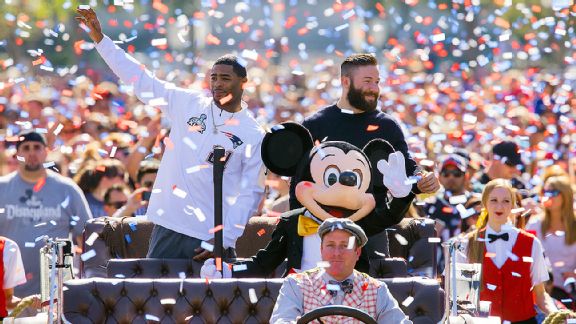 May the force be with the defending Super Bowl champs.
Team will have options in middle rounds should it choose to add a kicker or depth at quarterback.
Apr 21, 2015

,

11:22 AM ET
Solder shares cancer story to help others