January, 30, 2015
Jan 30
8:55
AM ET
Had enough of Deflategate and in need of a good laugh?
Check out this clip from "Jimmy Kimmel Live," which features A-list celebrities with Boston roots -- Matt Damon, Ben Affleck, John Krasinski, Chris Evans and more -- giving their totally plausible explanations (some of them heroic) as for why the
New England Patriots
' balls were deflated in the AFC title game.
January, 30, 2015
Jan 30
8:36
AM ET
Because it's the Super Bowl, we've expanded our Patriots picks to include the entire ESPNBoston.com crew. Here's how we see Super Bowl XLIX playing out between the Patriots and Seahawks (6:30 p.m., on NBC). What is your prediction? Leave your pick in the comments section. (For the first four prognosticators, their season record is in parentheses).


January, 30, 2015
Jan 30
8:00
AM ET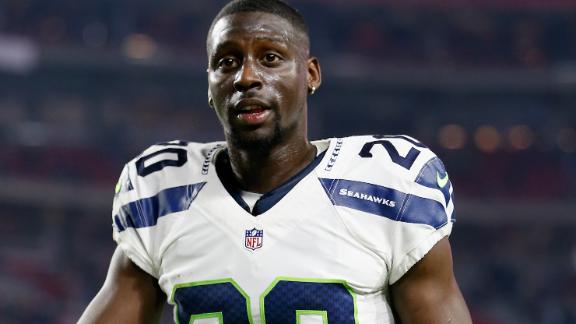 PHOENIX -- Five months ago, when the NFL season started, this is the Super Bowl matchup many people expected.
How the
New England Patriots
and the
Seattle Seahawks
got here was a bumpy journey. The Patriots started the season 2-2 and the Seahawks were 3-3. Seattle has won eight consecutive game and the Patriots have won five of the past six, with the only loss coming in the season finale to Buffalo when nothing was on the line.
Now they meet with a shot at history. The Seahawks hope to become the first team to win back-to-back Super Bowls since the Patriots did it 10 years ago. The Patriots hope to become only the sixth team to win it four times (San Francisco 49ers, Pittsburgh Steelers, Dallas Cowboys, New York Giants, Green Bay Packers).
Patriots reporter Mike Reiss and Seahawks reporter Terry Blount take an in-depth look at how these teams made it here and how they stack up in Super Bowl XLIX:
Mike, the last time these teams faced each other is remembered by many for
Richard Sherman
's "You mad, bro?" comment to
Tom Brady
after Seattle 24-23 victory. Brady threw 58 passes that day. Do you see the Patriots throwing that much this time or will they balance it out a little more with
LeGarrette Blount
running the ball?
Reiss:
I'd be surprised if we see 58 pass attempts again. The unusual part about
that game
was that the Patriots ran 85 offensive plays compared to the Seahawks' 55. I'd be shocked if we see that great of a discrepancy in the Super Bowl. The Seahawks, who were still creating their identity in that 2012 game, have a little bit of a Giants-like feel to them. Their pass rush is able to create disruption with the standard four rushers, and Patriots followers need no reminder of how that has given New England problems in past Super Bowls. One way to settle things down is to get the running game going, whether it's Blount or
Shane Vereen
, I'd expect the Patriots to be committed to that part of the game early. The quick, short passing game – which is often an extension of the running game -- is part of that, too.
Terry, Bill Belichick said watching
Russell Wilson
reminds him of his youth and watching Roger Staubach with some of his Houdini-type plays. What stands out to you about Wilson's third NFL season compared to the first two?
Blount:
That's certainly a good way to describe his ability to make something out of nothing, along with his incredible ability to elude pass rushers. But two things stand out for me now. First, his knowledge about when to run and when not to. It's always his last option, but he'll take off if he knows they are yards to be had. Second is his growing knowledge of what a defense is showing him and trying to do against him. He often checks off into a better play based on the defensive alignment. That's what happened with the winning 35-yard TD pass to
Jermaine Kearse
in the NFC Championship Game when he saw the Packers were in a cover zero, meaning no safety would be deep to help and Kearse would be one-on-one with a cornerback.
Mike, a lot has been said and written this week about Pete Carroll's three years as the head coach for New England. After being fired there, his career blossomed at USC and now with the Seahawks. What's the general feeling about Carroll's time there from inside the organization and from the Patriots' fans?
Reiss:
Owner Robert Kraft was unfiltered and honest this week at the Super Bowl when he said, "I think I probably handicapped Pete from doing as good a job as he could have done." That was the case, because Kraft was coming off a situation in which Bill Parcells wanted the control to "shop for the groceries" and Kraft said he reacted to that by setting up a three-headed structure with Carroll as head coach, Bobby Grier leading the personnel staff and Andy Wasynczuk managing the salary cap. Kraft also said at the Super Bowl that it was part of his "evolution as an owner" and it ultimately led him to hire Bill Belichick to succeed Carroll. So to sum it up, it was tough timing for Carroll in New England, succeeding such a strong personality in Parcells and having a relatively new owner still finding his way; for fans, my sense is many of them didn't fully get Carroll and unfairly labeled him as a laid-back, California guy.
Keying on
Marshawn Lynch
seems like an obvious place for the Patriots to start. How often have teams been able to limit Lynch this season, and when that happens, how have the Seahawks responded?
Blount:
In three of the four games the Seahawks lost, Lynch rushed for 61 yards or fewer. If a team can stop him, it does improve its chances. However, two of those three losses came before the
Percy Harvin
trade, when Harvin was a big focus of the offense. After the trade, the Seahawks got back to doing what they do best as power-running team that uses the read-option to keep defenses off balance. Focus on Lynch, and Wilson is the master at taking off and running, but what makes him so effective is his ability to throw downfield accurately while on the run.
One year ago,
Brandon Browner
didn't get to play in the Super Bowl with his Seattle teammates. Now he gets to play in the Super Bowl against them. Browner even said he wants his teammates to target the injuries of
Earl Thomas
and Sherman. Do you sense this is a special moment for him? And do you think Browner and former Seahawks defensive tackle
Alan Branch
know things about the Seattle offense that can help the Patriots?
Reiss:
Great question, Terry, as this has been one of my big takeaways from the early part of the Super Bowl week. I sat in on the first 20 minutes of Browner's session at media day and the passion was oozing; it was clear how much this means to him. As Chad Finn of Boston.com wrote, Browner "talks like a professional wrestling heel trying to rile up a crowd; his cadence and booming voice makes everything sound like a declaration, a boast or a threat." I also thought it was interesting that Tom Brady said the team is tapping Browner's knowledge. "Pete [Carroll] has run the same defense for a long time, and we've had a little insight from Brandon, who has talked to us about how he coaches," Brady said.
The turning point for the Patriots' season was a loss to the Chiefs. How fair would it be to say that a loss to the Chiefs was a turning point for the Seahawks?
Blount:
Without question, it was a big turning point because the Seahawks haven't lost since.
Kam Chancellor
and Thomas led a meeting with the team after that game to say, "This isn't who we are, and we need to start playing for each other and trusting each other again." Another factor after the K.C. game was the return of middle linebacker
Bobby Wagner
, who missed five games with a nasty turf-toe injury. His presence in the middle, along with Chancellor finally getting healthy, solidified a defense that went on a historic run in the final six regular-season games. But I believe the real turning point for this team was trading Harvin. It's taken a few weeks to get back to who they were, but shipping out Harvin brought back a feeling of trust and support among the players.
Mike, I don't think anyone will be accused of deflating any footballs Sunday, but why do these wild accusations keep happening under Belichick's watch? Does it all stem from the Spygate mess years ago? Is some of it just petty jealousy of all the team's success?
Reiss:
The past obviously doesn't help them as it relates to this current issue. While I personally think the impact of the illegal videotaping was minimal, and the coaches they were filming were in plain sight of everyone else in the stadium, the fact they still did it after the NFL sent out a memo prohibiting the action doesn't earn them much benefit of the doubt. I mean, we had a team
heating footballs on the sideline of a Vikings-Panthers game this year
-- which is clear manipulation of the football -- and it was hardly a blip on the radar. So from this view, there is a different level of scrutiny with the Patriots, and some of that has been brought on by the team itself from the past, while some of it is generated from the league, which probably views the Patriots as a team that pushes the envelope harder than most. And as for jealousy, as they say, it's lonely at the top, and there are quite a few who would like to see the Patriots knocked down a few pegs. The Colts, who, based on owner Jim Irsay's tweets, sparked the investigation of the underinflated footballs, are the latest to join the hit party.
What have been the keys for the Seahawks' defensively?
Blount:
The biggest factor was Wagner coming back. That enabled
K.J. Wright
to go back to his best position at Will linebacker, which improved both spots. But the Seahawks also had some players step up in the interior of the defensive line and make an impact after nose tackle
Brandon Mebane
went down with a torn hamstring. Veteran defensive tackle
Kevin Williams
, a six-time Pro Bowl pick who signed with the Seahawks back in training camp, took over as the starter and played like the Williams of old. He made the most of his chance to finally reach the Super Bowl in his 12th NFL season at age 34. And the Seahawks received a huge boost from second-year defensive tackle
Jordan Hill
out of Penn State. Hill was sensational down the stretch with 5½ sacks in the final six games before a knee injury ended his season in the playoff game against Carolina.
Mike, in light of nickelback
Jeremy Lane
's comments last week, saying he didn't think
Rob Gronkowski
was that good, all eyes will be on Gronk on Sunday to see if he make Lane eat his words. Lane isn't likely to line up much against Gronk, but I can't wait to see Gronk go toe-to-toe with Chancellor and Seattle outside linebackers. How do you see that playing out?
Reiss:
I thought Browner's remarks summed it up best: "That's going to be one for the ages. Gronk is a beast and Kam is a beast." I see them both making plays, so it might be a one-on-one matchup that is ultimately decided by which player rises up and makes the one final play in the critical situation that could decide the game. Just thinking about it fires me up for the game itself.
The Super Bowl often produces an unlikely hero. Any thoughts on some good candidates for the Seahawks in that regard?
Blount:
Last year is a prime example with linebacker
Malcolm Smith
earning MVP honors after his 69-yard interception return for a touchdown in the first half. I'll pick a couple on each side of the ball who could come up big this time. First is tight end
Luke Willson
, who has taken a major step forward in his second season. Willson is one of the fastest tight ends in the league. With Browner and
Darrelle Revis
on the outside for New England, Russell Wilson might look to make some big throws over the middle to the big Canadian. Also, wide receiver
Ricardo Lockette
is a blazer with good size who could get a shot at a big catch in a matchup with Browner. On defense, don't be surprised to see linebacker
Bruce Irvin
make a game-changing play. He had two interception returns for touchdowns this season and has really blossomed after moving to the Sam linebacker spot last season. A real shocker as a hero could be rush end
O'Brien Schofield
, who has been a force off the edge in the second half of the season. It wouldn't surprise me to see him force a fumble and come up with a big sack at a key moment.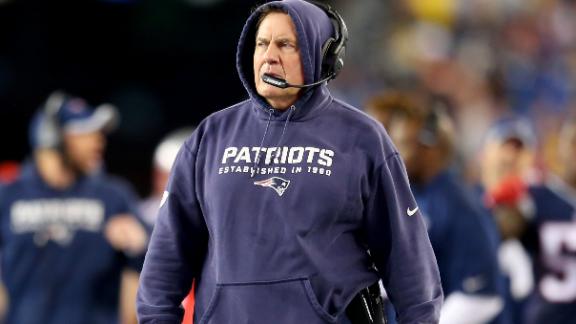 January, 30, 2015
Jan 30
5:00
AM ET
PHOENIX -- A look at what's ahead for the
New England Patriots
on Friday at Super Bowl XLIX:
10:30 a.m. ET --
Joint news conference with Bill Belichick and Pete Carroll
1:30 p.m. ET --
Roger Goodell's annual Super Bowl news conference
The Patriots will also hold their third practice since arriving Monday in Arizona, as they continue to work outside at the
Cardinals' home facility
.
This ends an overloaded three days of media access, as every player on the team, plus coaches, had been available for interviews from Tuesday-Thursday.
Meanwhile, we'll be present at Goodell's address, closely monitoring any issues relating to the Patriots. For those in town at the Super Bowl, a tweet-up is scheduled for 1:30 p.m. MT (local time for those in Phoenix).
Super Bowl tweet-up scheduled for Friday @MajerlesGrill (24 North 2nd Street, Phoenix), from 1:30-3 p.m. MT. Thanks to @47Brand 4 sponsoring

— Mike Reiss (@MikeReiss) January 28, 2015
January, 29, 2015
Jan 29
10:15
PM ET
TEMPE, Ariz. -- The following is the pool report from
New England Patriots
practice on Wednesday, as filed by Jarrett Bell of USA Today:
You might expect to see Bill Belichick in his signature hoodie at any given practice.
On Thursday, as the New England Patriots conducted their second practice of the week since arriving in Arizona for Super Bowl XLIX, it was team owner Robert Kraft sporting a hoodie on the sideline.
Kraft donned a sweatshirt during the latter half of the 1-hour, 56-minute session as sprinkles fell.
The entire practice, held on an outdoor field at the
Arizona Cardinals
training facility amid temperatures in the mid-60s, came against the backdrop of gray clouds that threatened rain.
Belichick wasn't worried about the weather. Although he could have moved drills inside a practice bubble adjacent to the fields if needed, the coach laughed when asked whether they would have finished practice outdoors in a downpour.
"We're like the U.S. Mail," Belichick contended.
After practicing in full pads during their most intense session of the week on Wednesday, the Patriots were outfitted in shorts and shells as Belichick scaled back the contact.
"Less contact, but still a lot of mental alertness and timing," Belichick said. "They're working hard. Good tempo. We're getting there."
As was the case on Wednesday, every player on the active roster practiced, although a handful of players nursing injuries --
Bryan Stork
,
Chris Jones
,
Sealver Siliga
, Dont'a Hightower and
Akeem Ayers
-- were officially classified as having limited participation. Ayers was the only new addition to the injury report on Thursday, because of a knee injury.
Tom Brady
remains on the report (ankle) as a full participant, having taken all of his projected snap.
Belichick built in blocks of practice time to work on all four phases of the special teams return game -- kickoff coverage game, kickoff returns, punt coverage and punt returns. It constituted more special teams work than Wednesday. Practice concluded with field goal work.
The Patriots also worked on their two-minute offense and two-minute defense against scout teams, and spent more time working on red zone offense plays. There were more situational packages, including a sequence that began with Brady and the offense backed up on their 2-yard line.
That situation also prompted the Patriots to blast loud music. The first selection of the day: Ima Boss, a rap song by Meek Mill, featuring Rick Ross.
The Patriots welcomed a special visitor, Arizona State football coach Todd Graham. Belichick chatted with Graham after practice.
"They have a great program," Belichick said. "He's done a good job."
Another coach, Seattle's Pete Carroll, said during his morning press conference on Thursday that he was informed that officials in the Super Bowl will use pronounced hand signals to identify eligible and ineligible players at the line of scrimmage.
"I haven't heard anything about that, so we'll see what happens," Belichick said. "I'll check it out."
January, 29, 2015
Jan 29
9:00
PM ET
CHANDLER, Ariz. -- After just one practice at the
Arizona Cardinals
' practice facility in Tempe, the
New England Patriots
couldn't stop raving about the practice fields.
The weather, in the 70s Wednesday for their first Super Bowl practice in Arizona, didn't hurt their initial impression either, but a handful of Patriots said the fields were some of the best they've played on.
"The grass is like perfect," Patriots running back
James White
said. "Almost looks like turf from a distance."
[+] Enlarge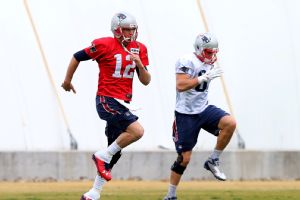 Elsa/Getty ImagesTo a man, the New England Patriots raved about the grass and the amenities of the Arizona Cardinals' practice facility.
New England was also pleased with the design of the Cardinals' practice facility, which has three practice fields -- two outdoor and one in a bubble -- located directly outside the locker room, weight room and cafeteria.
By comparison, the Patriots' practice fields are about "a couple hundred yards" away, cornerback
Logan Ryan
said, which made him appreciate having everything in one central area even more. The Patriots recently renovated their facilities and Ryan said the Cardinals' stack up.
"Here is just as good, but I feel like other than the meeting rooms, the weight room's right next to the cafeteria, it's all so close," he said. "So for what we're here for, to get in and get out, it's pretty effective."
Tackle
Nate Solder
felt the locker room was "spacious." White said he liked the brick inside the building.
Running back
Jonas Gray
said the design of the Cardinals' facilities fit in with its geographical location in the country.
"I thought they were cool," he said. "They're different. I think a lot of the West Coast facilities are similar to that. They got that kinda outdoor feel to it. All the structures are low. Kinda reminds me a little bit of how San Diego was. We didn't see their facilities but how their visitor's locker room was built and I like how everything's close to each other. It's all convenient in terms of walking and getting to a place."
But it was the fields that really caught the Patriots' attention.
They haven't played on soft grass in months because their fields in Foxboro have been frozen.
"Fields were awesome," Gray said. "And grass … beautiful grass, man. We were flying around on it, too. Hopefully we didn't scuff it up too much."
Tight end
Michael Hoomanawanui
seconded Gray's opinion that the fields were "awesome."
For most of the Patriots, their preference is to play on grass, even if the game is slowed down a bit, Ryan said. It's also easier on the legs and joints, as Hoomanawanui has experienced.
"In the beginning of my career I couldn't really tell," he said. "In my fifth year, you can definitely tell the days you've been on the grass fields compared to the turf."
Like the Cardinals' practice fields, the University of Phoenix Stadium turf, site of Super Bowl XLVI, is also grass. The Patriots will experiment with which cleats work best for Sunday during the three practices leading up to the Super Bowl.
"There's not as much pounding when you're changing direction," Ryan said. "And when you practice at the tempo we practice at you're always running around."
January, 29, 2015
Jan 29
7:44
PM ET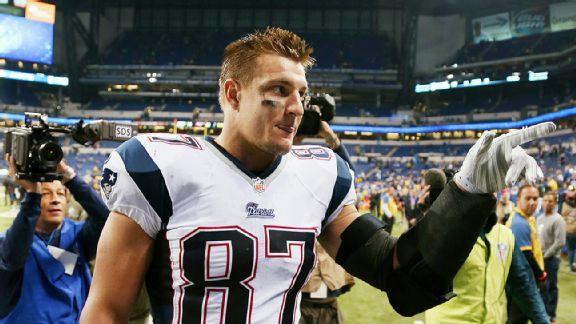 PHOENIX -- Rob Gronkowski crushed the numbers during his breakout second season in 2011 with the New England Patriots, setting NFL records for receiving yards by a tight end (1,327) and total touchdowns by a tight end (18).
At the age of 22, he was like a playful St. Bernard puppy, all paws and ears and smiles, a jovial kid whose freewheeling personality belied the strength and tenacity with which he played the game.
His joie de vivre was appealing to a fan base accustomed to the all-business approach of a veteran Patriots team that displayed little patience for gaiety or frivolity. Gronk's enthusiasm proved to be contagious, even among his more staid counterparts. He was a shooting star, the Next Great Thing in New England's football landscape.
In the days leading up to the 2012 season opener, I was able to steal a rare moment alone with quarterback Tom Brady. We chuckled about the Gronkification of the Patriots, and Brady looked at me with a bemused smile and said, "Everyone keeps asking me what Gronk can do for an encore. How about winning something?"
The quarterback implicitly understood what his young tight end hadn't yet grasped: Trips to the Super Bowl are precious commodities that must be seized upon, because they are elusive, fleeting.
In Brady's mind, one had slipped from the Patriots' grasp on February 5, 2012, when New England lost Super Bowl XLVI to the New York Giants, in part because Gronkowski was severely limited by an ankle injury that would later require surgery. He caught just two passes for 26 yards and was a nonfactor in the game, but promised his teammates, "I'm looking forward to getting back here.''
Gronk recovered completely from his ankle operation, but that was only the beginning of an abysmal run of injuries that were unfathomable both in nature and in quantity.
The litany of setbacks included a broken left forearm that led to four surgeries (with a recurring infection a major culprit), a herniated disk that led to another operation in June 2013, and then, in Week 14 of the 2013 season, a torn anterior cruciate ligament in his knee that led to his sixth operation since the winter of 2012.
The massive, seemingly indestructible tight end had turned into Samuel L. Jackson's character in "Unbreakable."
"With every injury, it just takes that much more out of you mentally,'' said his mother, Diane. "It becomes so tough ... when he went down with the knee injury, I said, 'You've got to be kidding me.' I'm pretty good at holding it together but that was just too much.''
Diane was in the stadium when Rob was carted off, so she left her seat and joined him in the locker room.
"When I walked in, he looked at me and said, 'What are you doing here, mom?''' Diane recalled. "At that point I realized, 'This is bad.' No one realized that in addition to his knee, he also had a concussion.
"I had spent six hours with him the day before. I said, 'Well, Rob, you don't remember right now but we were together yesterday.' I didn't want to say too much because all of sudden I could see it in his face. He was like, 'Wow, I don't remember.'''
It was yet another setback, and, according to his mother, it was taking its toll on her son.
It wasn't outrageous to wonder if Rob Gronkowski would ever be the same, if his best days of football were already behind him before he had turned 26 years old.
The Gronkowski family, which included a confluence of football boys who played in the NFL with reckless abandon, knew all too well how quickly the football rug could be pulled out from under them.
Brother Dan's NFL career ended with a torn pectoral muscle, while brother Chris was felled by a torn hamstring.
Neither had as much at stake as Rob, the Pro Bowler in the family with the $54 million contract who worked tirelessly to rehab one injury, only to be sidelined again by another.
"They were some really dark days in there,'' Gronk conceded.
He wasn't very adept at being a recluse, so he toiled through 2-3 hours of painful rehab in the morning, then tried to amble out and enjoy friends and family later in the day. Naturally, that led to snapshots of Gronk in a bar, at a restaurant, with a pretty blonde (or two). The insinuations on social media started him on a slow burn. He knew how hard he was working to get back, yet detractors continued to suggest he wasn't working hard enough to regain his football prowess.
"Where do we even start with that?" Diane said with a sigh. "I don't look up articles on him, because they're all either overexaggerated or underexaggerated. They're always wrong. It's surprising how many people believe everything they read. I've even sat behind people while they're talking about my boys, and they've got no clue. They don't know who I am, and there they are talking about my kids and they've got the whole thing wrong.
"Luckily Rob doesn't listen to any of that. If he did, he would have been even worse off mentally.''
Gronkowski approached this season by quietly marking off "Play all 16 games" on his bucket list. Underneath, he wrote, "Be patient.'' He was in on just 44 percent of the team's snaps in Week 1, but the numbers increased on a slow, steady trajectory, a premeditated plan that he and the Patriots formulated together.
By Week 8, he was slamming into defenders just because he could. Each time his body remained whole, his mental health improved another tick. He could feel his confidence blossoming.
For weeks now, Gronk has been playing at his peak, his previous maladies an unpleasant, fading memory.
"When anyone goes through adversity it all depends on how they react to it,'' he said. "I feel like everything I've been through has made me a stronger person.''
Gronkowski has re-established himself as the best tight end in the game. But, he knows, if he truly wants to make history, then he needs to find his place in the circle of champions.
Super Bowl winners are a dime a dozen around Foxboro because so many former players have remained in the area to capitalize on their success. And yet, each receives a hero's welcome each time they come out, having carved out a special place in the fabric of the New England sports community.
Former wide receiver Deion Branch won't wind up with a bust in Canton, but he will be forever immortalized in Patriots lore for his electric performance in Super Bowl XXXIX, when he took home MVP honors after catching 11 passes for 133 yards against the Philadelphia Eagles
January, 29, 2015
Jan 29
7:03
PM ET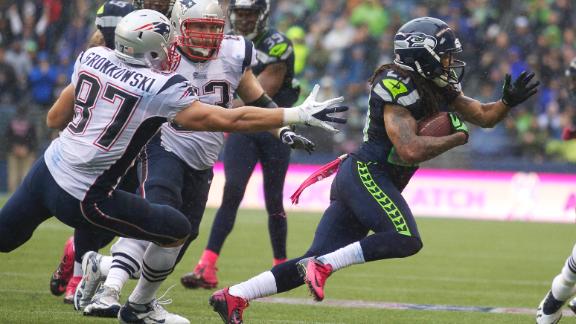 PHOENIX -- Super Bowls are sometimes random meetings.
Take the New York Giants' two Super Bowl victories over the New England Patriots. The Giants peaked late in the season, got into the playoffs as wild cards and beat the Patriots in close games. No one expected that. Super Bowl surprise teams such as the 2008 Arizona Cardinals and 2003 Carolina Panthers didn't figure into the preseason prognostications.
Super Bowl XLIX is different. From the beginning of the offseason, it was easy to predict the Seattle Seahawks could be back. According to Elias, they were the fifth-youngest team (averaging 26.9 years old) to win a Super Bowl. The Denver Broncos and New England were the preseason favorites from the AFC.
The Patriots are the most recent NFL dynasty. A victory over Seattle would give them their fourth championship and extend one of history's greatest stretches of Super Bowl excellence. For the Seahawks, who remain young, a win sets them up to be the next dynasty.
Here are five key trends for Super Bowl XLIX.
1. Let the head coach do the shopping: After the 1996 season, Bill Parcells pushed the idea of giving head coaches say over personnel decisions. "If they want you to cook the meal, they ought to let you buy the groceries," Parcells said. Super Bowl XLIX features head coaches who are shoppers. Could their success open the door for future coaches to get more say in personnel? Chip Kelly got more say in Philadelphia after two 10-6 seasons. Lovie Smith has the shopping card in Tampa Bay.
January, 29, 2015
Jan 29
5:38
PM ET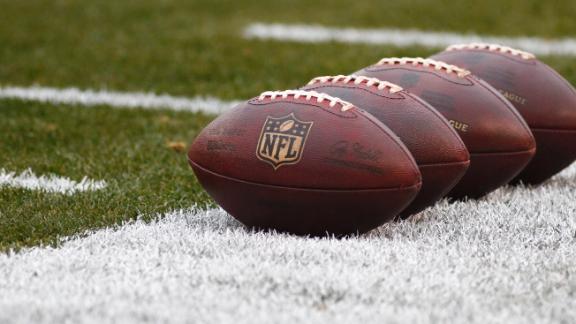 PHOENIX -- The 108 official Super Bowl XLIX footballs will receive additional security this weekend amid an ongoing NFL investigation into the inflation of game balls in the AFC Championship Game, vice president of officiating Dean Blandino said Thursday.
"There will be some added security just because of the environment we're in for this game," Blandino said during a football operations news conference at the Phoenix Convention Center.
ESPN.com reported last week that, per longstanding NFL policy, an independent set of equipment managers and ball attendants will handle pregame preparation of game balls. This year, Chicago Bears equipment manager Tony Medlin was chosen to supervise the group.
The New England Patriots and Seattle Seahawks will prepare 54 balls apiece to be used in Sunday's game; Blandino said the high number is due to charity commitments for game-used balls. Each team will hand over its footballs to Medlin and the NFL on Friday afternoon, where they will remain -- with the additional security -- until about three hours prior to the game. At that point, referee Bill Vinovich will test each ball to ensure it is within the NFL's allowable range of 12.5-13.5 PSI.
The NFL has hired attorney Ted Wells to investigate how 11 of the Patriots' 12 footballs were found to be underinflated at halftime of the AFC Championship Game. In the meantime, the league has already said it plans a full review of its policy regarding pregame football preparations this offseason. One possibility could be to discuss the legal range with Wilson, the league's official manufacturer. The 12.5-13.5 range has been in the NFL's rulebook for at least 75 years, Blandino said.
Blandino did say Thursday that the inspection of the footballs by referee Walt Anderson before the AFC Championship Game was handled properly.
"My major concern is did we follow proper protocol?" Blandino said. "Everything was properly tested and marked before the game. Walt gauged the footballs himself; it is something he has done throughout his career.
"Officiating is not part of the investigation."
Some other highlights of Blandino's news conference:
• Blandino clarified the protocol for referees if and when the Patriots' offense attempts to declare ineligible a player with an eligible number. Vinovich will point at the player, wave his arms in a manner similar to the signal for an incomplete pass, and then point at the player again when announcing he is ineligible. Blandino said the referee will not tell the defense not to cover the ineligible player, as Vinovich did when the scheme first surfaced during the AFC divisional playoff round.
• The NFL's competition committee has already received proposals from teams to expand instant replay, and Blandino said there is a growing movement in the league to capitalize in whatever way possible on emerging technology to correct more mistakes. The "process rule" that disallowed a key postseason catch by the Dallas Cowboys