New England Patriots:

Jacksonville Jaguars
December, 24, 2012
12/24/12
7:00
AM ET
After re-watching the first half of the Patriots' Week 16 victory over the Jaguars, passing along picked-up notes and observations.
1.
The Patriots' defense got off to a slow start, allowing a Jacksonville touchdown on the opening drive. A couple of notes from the series: The Patriots appeared to play a decent amount of man coverage with various forms of safety help over the top. Man coverage sometimes means a defense is daring an opposing quarterback to beat it by making throws into tight windows, which Jaguars quarterback
Chad Henne
did. Of note, Jacksonville worked the middle of the field with horizontal crossing patterns, which work well against man coverage to create natural picks and confusion in the secondary. On one such crossing route,
Cecil Shorts III
took in a pass for a first down, and linebacker
Dont'a Hightower
appeared to pull up before the play was over. That was an odd lapse in effort. One more component to man coverage defense: It often allows an offense to single up on its blocking schemes, which is exactly what happened on a couple of chunk runs. The Jaguars were able to put a hat-on-a-hat and create space for
Montell Owens
. Overall, the drive was about Jacksonville executing in a deliberate manner -- there wasn't a big play, coverage bust, or costly penalty. It was just good offensive football, which has been a rarity for the Jaguars this season, and not very good defense from the Patriots.
2.
The offense didn't start any better than the defense, as quarterback
Tom Brady
threw an interception on just the third play from scrimmage for the offense. Brady came out in a shotgun formation with running back
Stevan Ridley
on his left side. Ridley delayed for just one step before entering the passing route combination on a wheel route. He got a step on linebacker
Russell Allen
working down the sideline, and Brady had a window to throw to Ridley in between Allen and safety
Chris Prosinski
, who was patrolling the deep portion of the field. Brady simply missed his target, and the float of his ball allowed Allen to catch up to Ridley in enough time to get a hand on the pass, tip it into the air, and allow Prosinski to make the play. If placed accurately, Ridley could have had a shot to score.
3.
A week ago in this space, we overviewed the effective use of a defensive end/defensive tackle rush game by the 49ers, in which the defensive tackle takes an outward path at the snap and the defensive end loops inside to fill his lane. On first and 10 with 6:50 to go in the first quarter, the Patriots came within inches of sacking Henne on a well-executed play by
Vince Wilfork
and
Rob Ninkovich
. Wilfork worked outside at the snap, taking both the right guard and right tackle with him, freeing up space for Ninkovich to close in on Henne. Ninkovich showed good burst to nearly bring Henne down before his throw, but he was off-target anyway. End-tackle games are a staple for any NFL defense.
4.
Blitzes are designed to generate quarterback pressure, but they often serve well to stop the run too. On the very next play following the Wilfork/Ninkovich play, slot cornerback
Marquice Cole
was on a designed blitz after showing man-coverage opposite of slot receiver
Jordan Shipley
. Cole timed Henne's snap count and came crashing down the line to make a tackle for a loss on a run. Though the defensive play call likely derived from a desire to pressure Henne, it worked out perfectly to defend the power run. Good timing, good execution.
5.
Without tight end
Rob Gronkowski
, the Patriots are down one of their best red zone/goal line targets (and one of their best players overall), and a sequence of two straight goal line throws did not go as planned after a nice drive toward the end of the first quarter. On second and goal from the seven, Brady tried to hook up with tight end
Aaron Hernandez
, who was running a corner route against Prosinski in man coverage. Hernandez wasn't able to generate separation at the top of his route, and Prosinski ran underneath the throw, which sailed past both players. On the following play, Brady was locked in on
Brandon Lloyd
, who worked inward on his stem, pressed vertical, and then tried to break his route back out against press man coverage by
Derek Cox
. Lloyd couldn't separate, and the throw had no chance. The Patriots are going to face man coverage in the red zone -- Brady is too sharp for opponents to play zone against him -- and being able to beat man coverage is essential. The Patriots struggled some with that in Week 13 against Miami, and again Sunday versus Jacksonville.
6.
He later sealed the game with his second of two interceptions, but safety
Patrick Chung
had some difficult moments in the first half. On the first play of a drive with just over two minutes to play in the first quarter, Henne used play action to set up another deep crossing pattern to Shipley. Chung was completely frozen by the play fake, eventually retreating into his zone, where Shipley ran right across his face and into Patriots territory. Tough to dissect exactly what responsibility Chung had on the play, but based on his retreat, he was clearly out of position and may have been part of the reason why Shipley went for big yardage.
7.
Brady threw two interceptions in the first half, the second of which came on a throw that was a 50-50 play between Lloyd and defensive back Cox. Brady set the play up with a nice play fake, and the Patriots deployed three receivers on the route (Hernandez looked to be wide open on the play). Lloyd was able to get Cox to turn his hips on an outside stem before eventually breaking his route off inside and coming across the middle. Cox made a nice play to turn his hips back around and get in a position to make a play on the ball, and he went up for the throw with more authority than Lloyd.
8.
On the following play, the Patriots' defense was burned for a massive gain on a screen pass to Owens that was both tremendous design and substandard defense. The Jaguars built a three wide receiver set with motion to the left side of the formation, and on the snap,
Justin Blackmon
ran underneath the offensive line, Shipley faked a reverse, and Shorts ran a crossing pattern to clear out the left side of the field. The Patriots were in man coverage, so cornerback
Aqib Talib
followed Shorts across the field, leaving basically one coverage player, linebacker
Jerod Mayo
, in the area of the screen. Defensive end
Justin Francis
got drawn in by the fake and caught way up field, and Mayo was unable to get off a block by center
Brad Meester
. The Jaguars spaced the screen out beautifully, caught the Patriots in man coverage, and executed to near perfection.
9.
While we're talking about play design, here are a couple of standout snapshots from the Patriots' lone touchdown drive of the first half: On a third and 1 from their own 43-yard line, Brady was once again flanked by Ridley in a shotgun formation. Ridley took a direct snap from center
Ryan Wendell
and swept around the right side of the line. The Patriots motioned tight end
Michael Hoomanawanui
across the formation to build an adjusted trips set to the right, using "Hooman,"
Daniel Fells
and
Wes Welker
to block down and seal the edge, with Wendell and right tackle
Sebastian Vollmer
pulling around to lead Ridley's path. This play brings up memories of
Kevin Faulk
running a similar play in years past. On the touchdown, running back
Danny Woodhead
was left virtually uncovered on the play. It looked as though defensive end
Jason Babin
had some responsibility on Woodhead -- be it man coverage or to try to jam him from the backfield -- but Woodhead gained width and ran free for the score. On the play, the Patriots had routes from both Hernandez and Lloyd that influenced the coverage toward the middle of the field, further clearing space for Woodhead to run and score.
10.
Some general thoughts: The Jaguars didn't look afraid to unleash their defensive ends off the edge to try to disrupt Brady with speed pressure, and they also seemed to mix in a number of linebacker pressures up the middle (sometimes on delayed stunts) to complement the edge rushes. ... Talib was clearly dealing with pain to his hip throughout the first half, and if the game had not been as tight, it might have been that he didn't see much of the field. ... Hoomanawanui has emerged as a pivotal piece on offense, giving the Patriots their best option as insurance for both Gronkowski and Hernandez. ... A lack of pressure on Henne stood out in the first half. ... Ridley ran hard, convincingly, and securely. The coaching staff showed confidence in Ridley in sticking with him after recent fumbling issues.
December, 21, 2012
12/21/12
4:11
PM ET
FOXBOROUGH, Mass. -- It's been a rare occurrence this season due to injuries to both players, but
New England Patriots
tight ends
Aaron Hernandez
and
Rob Gronkowski
were both in the locker room on Friday afternoon, as the team packed their bags for Jacksonville.
Gronkowski participated in practice all three days this week, and his official status for Sunday's game against the Jaguars is questionable, as is Hernandez. Both were listed as questionable last week as well. Hernandez played while Gronkowski missed his fourth consecutive game with a broken forearm.
In total, 19 Patriots were listed as questionable for Sunday's game (full list below).
When asked if he was willing to talk to reporters on Friday, Gronkowski responded that he would speak next week, when the Patriots prepare for their regular season finale against the
Miami Dolphins
. Could that be an indication he'll return for next week's season finale? The Boston Globe reported Friday afternoon that Gronkowski would not play in Sunday's game against the Jaguars.
Earlier this week, the question of whether the Patriots should give key players extra rest in the final two games was posed in this space. On Friday, coach Bill Belichick noted that the team has dialed back practices late in the season, trimming down some players' workloads.
Asked Friday if he has benefited from the reduced intensity of recent practices, Hernandez pointed out that only playing in eight games this season because of an ankle injury has kept his body fresh.
"I wasn't fortunate enough to play as much as a lot of my teammates, so I'm pretty good," Hernandez said. "But I'm sure it helps a lot of my teammates, because they're sore from playing a lot of games."
December, 21, 2012
12/21/12
1:55
PM ET
FOXBOROUGH, Mass. -- The
Jacksonville Jaguars
on Friday ruled out running back
Maurice Jones-Drew
for Week 16 against the Patriots due to a foot injury.
This Sunday will mark the ninth straight game that Jones-Drew, the NFL's leading rusher in 2011, has missed, and it opens up the door to one of a number of reserve running backs taking on a starting role.
The Patriots have been preparing to face Jones-Drew this week, and have made it abundantly clear how much they respect what he brings to the field as a player.
Said head coach Bill Belichick of Jones-Drew, "He brings everything. He has great balance, vision, power for his size. He's a thick guy, hard to put on the ground. [He] sees the holes well, runs with good power, has good speed, catches the ball well out of the backfield, he's dangerous on the check-downs and flare routes, screens, things like that. He's very good in the line of scrimmage on the inside runs, very good on the outside runs. He's a tough guy to handle in space. He does everything well."
Montell Owens
, a seventh-year player out of Maine, started for the Jaguars in Week 15.
Rashad Jennings
and
Jalen Parmele
have also started in Jones-Drew's absence.
December, 21, 2012
12/21/12
12:02
PM ET
FOXBOROUGH, Mass. -- The
New England Patriots
had perfect attendance for their Friday practice, held indoors due to inclement weather.
Linebacker
Mike Rivera
, who had missed the previous two practices with an ankle injury, returned to practice on Friday.
Tight end
Rob Gronkowski
was on the practice field for a third straight day. His official status for Sunday's game in Jacksonville will be announced when the injury report is released later Friday.
December, 21, 2012
12/21/12
12:01
PM ET
FOXBOROUGH, Mass. -- Just two games remain in the 2012 NFL regular season, which means the Patriots and every other team have had their fair share of practices to this point.

The usual on-field session includes staples such as stretching, individual position drills, and team drills, but not all practices are built the same way, according to head coach Bill Belichick, who was asked about his team's approach to working players back from injury at this point of the season.

As is the case in many sports, the Patriots have implemented some tapering of workloads for players who are dealing with injury issues.

"That's part of it," he said. "Of course the rules: The number of padded practices you can have has been trimmed back in the past six weeks. And (the players' workloads) probably would be trimmed back anyway, because we've had so many practices.

"We've had whatever it is, ninety some. Where are we at here?" Belichick asked before pulling out his practice schedule for the day and confirming the number. "Eighty-eight practices. We haven't had 88 practices for Jacksonville, but we've been on the field 88 times. Do you need to do everything now as much as we did in practices six, seven, and eight? Probably not. But you still need to stay sharp on it. I think there's still things you want to stay on, but the intensity of training camp or those type of practices? No, I don't think there's that type of level. There's that level of Sunday and above, but a little less than that during the week, sure."

Though the Patriots' playoff seed remains up in the air, the idea of resting starters or key players dealing with injuries if his team takes a sizable lead in either of their final two regular season contests was posed to Belichick.

"I would do the same thing that I always do in every game, and that's to try to do what's best for the football team," he replied.
December, 21, 2012
12/21/12
11:12
AM ET


These Patriots are not an easy bunch to figure out. One week they'll try to ram the ball down an opponent's throat with the run, the next they'll spread it out and attack through the air, and they'll follow that with an ultra hurry-up approach to rattle a defense and open up holes. What'll it be Sunday against the 2-12 Jaguars without much at stake? Our three Patriots reporters try to get into the mind of Bill Belichick and guess the game plan.
Share your thoughts on how the Pats should attack or defend the Jaguars in the comments section.
Mike Reiss: Good time to add Bolden, play 'clean' football
[+] Enlarge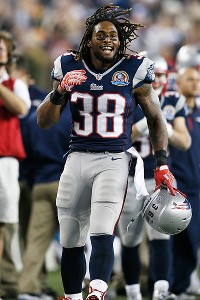 AP Photo/Damian StrohmeyerThe Patriots should use this week as an opportunity to get running back Brandon Bolden back into the rotation.
The Patriots' offensive game-plan will be to start faster than they did against the 49ers, and they figure to do so through the air, first and foremost. Quarterback
Tom Brady
traditionally has had success against the Jaguars (5-0), as he's completed almost 75 percent of his passes, with 13 touchdowns and no interceptions against them. He usually feasts on this type of defense, one that isn't exotic in its scheme.
That doesn't mean the Patriots will abandon the run, and it seems like a good time to be integrating rookie
Brandon Bolden
into the mix. When the Patriots' running game was at its best earlier in the season, it was when
Stevan Ridley
and Bolden provided the power presence, with
Danny Woodhead
and
Shane Vereen
complementing with the change-of-pace stuff and presence in the passing game. Following fumbles by Ridley and Vereen against the 49ers, getting Bolden some reps would add another capable option back into the mix.
Finally, the offense must work to get its turnover edge back. After turning the ball over a season-high four times against the 49ers, getting back to playing "clean" football should be a top priority.
Mike Rodak: Pats should focus on red zone execution
The Jaguars' defense allows a lot of yards and a lot of points per game, and it ranks among the bottom of the league in generating sacks and interceptions. But one area in which the Jaguars perform better than the league median is in red zone defense. They allow opponents to score touchdowns just 52.5 percent of the time, which ranks 13th-best in the NFL.
The focus for the Patriots, then, should be on finishing drives. The Jaguars don't allow many long plays, or touchdowns in general, so if the Patriots are going to score, it will probably be on long, sustained possessions. If an offensive series ends in a field goal, it's a morale boost for Jacksonville in front of their home crowd that will keep them in the game.
It's still unclear if the Patriots will have their red zone aficionado, tight end
Rob Gronkowski
, back for Sunday's game. If he's playing, then getting the ball to him inside the 20-yard line would be a great way of getting him back into the mix. But he's not the only offensive player who will cause problems for an overmatched Jaguars defense. Unlike last week against San Francisco, the offensive line can play a bigger role in moving the ball, so Stevan Ridley (if his recent fumbles don't limit his playing time) could also be a big factor in the red zone.
Field Yates: Minimize turnovers and big plays
[+] Enlarge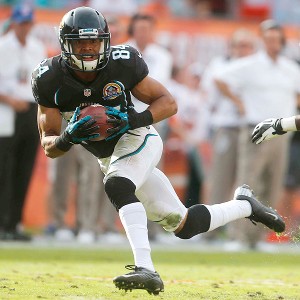 AP Photo/John BazemoreJaguars receiver Cecil Shorts III has a reception of 50 yards or more in each of his last three games.
There are two ways to keep a game close between teams with a marked difference in talent: turnovers and big plays.
Channel back to 2004, when the 12-1 Patriots went south to take on the 2-11 Dolphins on Monday Night Football and found themselves on the wrong end of a 29-28 decision. The downfall that night: four turnovers (the Dolphins committed just one).
This weekend, the Patriots must avoid what they did on that night and also this past Sunday, which was give the ball away on offense. It sounds simple, and it's been a strength of the offense all season, but this week it will come under magnified focus.
Jacksonville's offense has been stuck in the mud for much of 2012, but giving it additional opportunities on a short field is one way to push the wheels into motion.
Though the Jaguars have really struggled to score this season, they do have a player capable of making big plays down the field: wide receiver
Cecil Shorts
III. He has a reception of 50 yards or more in three of his past five games, and his 18.9 average yards per reception ranks second in the NFL.
The Patriots cannot let Shorts find open space that will allow him to exploit his very good athleticism, and they must patch up the holes in the secondary that accounted for three one-play scoring drives against San Francisco in Week 15.
Minimizing turnovers and big plays have been a prevailing theme for the Patriots throughout the 2012 season (and every season for that matter), and count them amongst the keys this weekend.
December, 21, 2012
12/21/12
10:24
AM ET


Here's how ESPNBoston.com's experts see Sunday's Patriots-Jaguars game (1 p.m. ET, on CBS) playing out. Our pundits see the Patriots winning this game by an average of 22 points. What's your prediction? Leave your pick in the comments section.


December, 21, 2012
12/21/12
5:00
AM ET
The Patriots don't often play the Jaguars (the NFL's rotating schedule is set up in such a way that a head-to-head meeting is guaranteed only once every three years), but that doesn't mean they are entirely unfamiliar with the franchise, as there's no shortage of connections between the Jaguars and the Patriots/New England area.
[+] Enlarge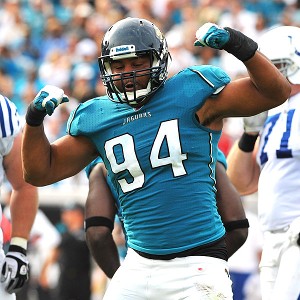 Al Messerschmidt/Getty ImagesJeremy Mincey never established himself in New England but is now thriving with the Jaguars.
Defensive end Jeremy Mincey.
The former sixth-round pick of the Patriots never found his way in New England, as he was waived by the team before ever playing a game. He has landed on his feet in Jacksonville and developed into a nice defensive piece for the Jaguars, totaling eight sacks in 2011 and earning a lucrative new contract this past offseason.
Wide receiver Taylor Price.
Another Patriots draft pick who has since found a new home, Price was a 2010 third-round pick who struggled to find the field. He played in just one game with the team, catching three passes for 41 yards. He's currently on injured reserve with Jacksonville.
Tight end Isaiah Stanback.
The former Patriots practice squadder was promoted on Tuesday by Jacksonville from their own taxi squad, and he's also switched positions since leaving New England -- he's now a tight end.
Cornerback Antwaun Molden.
A member of the Patriots in 2011, Molden latched on with the Giants this past offseason, but was later let go by the team. He has one tackle in three games played with Jacksonville.
Running back Jordan Todman.
The former UConn star is a native of Massachusetts who was among the top players in the state during his career at Dartmouth High School. He was added to the Jaguars' active roster from the Vikings practice squad just less than a month ago.
Running back Montell Owens.
A special teams standout who has become an offensive factor for Jacksonville, Owens played collegiately at the University of Maine.
Defensive tackle Terrance Knighton.
The man they call "Pot Roast" hails from Hartford, Conn., and was a standout player at Windsor High School. He was taken in the third round of the 2009 draft out of Temple.
Director of player personnel Terry McDonough.
The Hingham, Mass., native has risen through the NFL ranks to his current position. He actually worked for Bill Belichick with the Browns back in 1992, as he served as an area scout in the personnel department.
Equipment manager John Hillebrand.
Hillebrand joined the Jaguars earlier in 2012 after 18 seasons serving as an assistant equipment manager with the Patriots. Talk to Patriots players and they will be quick to tell you how much they value the assistance provided by equipment managers like Hillebrand.
Linebackers coach Mark Duffner.
Duffner enjoyed an incredibly successful run as the head coach of Holy Cross from 1986-1991, finishing 60-5-1 and winning the Patriot League on five occasions.
Defensive line coach Joe Cullen.
Cullen, a standout player at UMass, graduated from the school in 1990 before serving as a graduate assistant and then an assistant coach with the program after that.
Chris Prescott, regional scout.
A native of Bridgeport, Conn., Prescott attended Western New England College in Springfield, Mass., earning four letters on the football team as a safety.
December, 20, 2012
12/20/12
7:31
PM ET
In the video above, Prim Siripipat goes inside the numbers to see how Sunday's Patriots-Jaguars game (1 p.m., CBS) plays out in AccuScore game simulations.
Among the findings:
* The Patriots won 84 percent of more than 10,000 AccuScore simulations
by an average score of 31-17
.
* Tom Brady last week had more interceptions (2) than touchdown passes (1). The chance of him repeating that this week, according to simulations, is 7 percent. Even if it does happen, the Patriots are still 56 percent favorites over the Jaguars.
December, 20, 2012
12/20/12
4:14
PM ET
New England Patriots
quarterback
Tom Brady
was taken off the injury report Thursday after returning to practice.
Brady missed Wednesday's practice report with what the Patriots called a right shoulder injury, but it's more likely the team was giving Brady rest after attempting a career-high 65 passes on Sunday night.
With Brady back in the fold, only linebacker
Mike Rivera
(ankle) missed Thursday's practice.
The team listed 18 players as limited, including tight end
Rob Gronkowski
(forearm/hip) for the second straight day.
For the Jaguars, running back
Maurice Jones-Drew
(foot) did not practice Thursday. The running back hasn't played since Oct. 21.
Here are the full practice participation reports for Sunday's game between the Patriots and Jaguars: