New England Patriots:

Pittsburgh Steelers
November, 2, 2013
11/02/13
3:30
PM ET
We're just 48 hours past Halloween, but it's too soon to lose sight of trickeration.
When the Patriots host the 2-5 Steelers on Sunday, the defense must be ready for anything. Pittsburgh's offense has worked through offensive line struggles this season, averaging less than 18 points per game.
Before quarterback
Ben Roethlisberger
takes the snap each play, the Steelers may motion and shift from one offensive look to another. Offensive coordinator Todd Haley has previously run systems that incorporated pre-snap shifts and motions, which, in part, can cause an opposing defense to be unsettled before the snap. (This is something the Patriots have done with great success over the years as well).
So the Patriots must be ready to move before the snap if they want to alter their defensive alignment based on the strength of the formation (i.e. to the side of the tight end), or make sure that all of their signals are easily communicated so that responsibilities can be transferred based on motion.
Additionally, any time a struggling offense takes the field, the defense must be ready for the unexpected. This includes trick plays, something that helped the Steelers get their first win of the season back in Week 6 against the Jets.
Wide receiver
Antonio Brown
not only leads the NFL in catches, but he also has four rushes in seven games and even attempted a pass (against the Jets). The Patriots need to have their eyes open for any sort of gimmick plays, as Brown or another non-quarterback could be counted upon to throw a pass again this weekend (note: Brown is a left-handed passer).
How does a defense account for the potential of trick plays? Well, it can't just sit around and wait for one to come, but it starts with assignment integrity. Ends can't come crashing down, safeties can't take the bait on play action passes, etc. Discipline is the key, and the Patriots will need it on Sunday against the Steelers.
November, 1, 2013
11/01/13
12:00
PM ET
By
Scott Brown & Mike Reiss
| ESPNBoston.com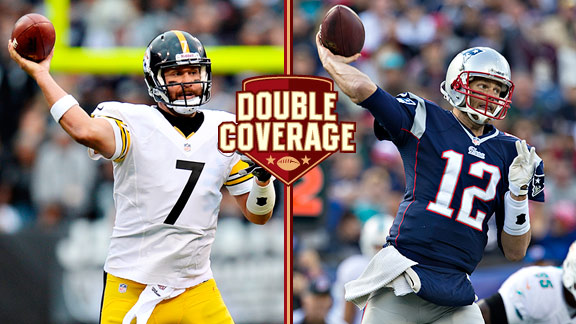 Getty ImagesBen Roethlisberger leads the struggling Steelers against Tom Brady and the injury-plagued Pats.
When the NFL schedule was released six months ago, an early November game between the visiting
Pittsburgh Steelers
and
New England Patriots
looked like it would be a clash between two of the top contenders in the AFC.
Yet as is often the case in the ever-changing NFL, it hasn't unfolded that way.
The Steelers (2-5) are starting games slow, and in turn, their season got off to slow start. Meanwhile, the Patriots are 6-2 but have looked like a 2-6 team at times.
Can the Steelers turn it around? Will the Patriots ultimately play more consistently and have the look of a contender?
ESPN NFL Nation reporters Scott Brown (Steelers) and Mike Reiss (Patriots) help us break it down.
Reiss:
Scott, take us inside the Steelers locker room for a feel on where things have gone wrong this season.
Brown:
I think the players are truly perplexed at how they have gotten to this point. Effort hasn't been an issue, and the Steelers have gone into the fourth quarter of every loss this season with a chance to win. Injuries have been a problem, but they can't be an excuse since most if not all teams have to overcome them during the course of the season.
The biggest problem has been the different units not playing well off one another for the most part this season. The offense couldn't do anything in the first two weeks of the season, but the defense kept the Steelers in both games. Two weeks later in London, the offense finally broke out but the defense couldn't stop
Matt Cassel
of all quarterbacks in a loss to the one-win Vikings.
The Steelers' 21-18 loss at Oakland offers a perfect summation of the kind of season they have endured. The defense played lights out in the second half after a shaky start.
Ben Roethlisberger
brought the Steelers back in the fourth quarter as he has done so many times throughout his career. In the end, the Steelers fell agonizingly short in large part because kicker
Shaun Suisham
, who had been automatic this season, missed a pair of field goals inside of 35 yards.
It seems like the Patriots have been just the opposite of the Steelers this season in that they find ways to win. I'm not sure many outside of New England can name the Patriots' wide receivers and the defense has had to overcome the losses of nose tackle
Vince Wilfork
and inside linebacker
Jerod Mayo
.
Mike, how are the Patriots doing it?
Reiss:
It's a question that even
Tom Brady
recently acknowledged was a good one, because it has looked ugly at times. If I had to sum it up, the answer would be that their depth players (e.g. rookie defensive tackles
Joe Vellano
and
Chris Jones
) have answered the challenge when pressed into bigger roles and the team has made the few critical plays in the crucial situations that often determine the outcome of games. Furthermore, their turnover differential is solid, as it usually is with this team. That's one of the big differences I noticed between the Patriots and Steelers -- the Patriots are plus-7 and the Steelers minus-9.
I know it's probably an unusual question, as punters aren't often a hot topic of conversation, but I'm sure Patriots followers are interested to hear about what unfolded with
Zoltan Mesko
, who punted in New England from 2010-2012. Also, maybe a little bit on receiver
Emmanuel Sanders
, whom the Patriots tried to sign to an offer sheet in the offseason as a restricted free agent that the Steelers matched.
Brown:
You knew Mesko had been served notice when Mike Tomlin said last week that the former Patriot needed to eliminate the one "junior varsity" punt he seemed to have a game. You knew he was in trouble when Tomlin gave him an earful as Mesko walked to the Steelers' bench after a 30-yard punt last Sunday in Oakland.
Some might argue he took the fall for the Steelers' third consecutive loss in Oakland since punters are so expendable, but Mesko didn't help himself with the inconsistent punting that ultimately earned him a pink slip.
Sanders has had his moments, but he has too frequently been what Tomlin would call just another guy. The fourth-year veteran is still without a 100-yard receiving game this season -- and his career. The Steelers should be getting more production from Sanders (31 catches for 396 yards), particularly with
Antonio Brown
drawing so much attention from opposing defensive backs. I'm guessing the Steelers now wish they hadn't matched the Patriots' offer to Sanders and taken a third-round draft pick for him.
Speaking of receivers, Mike, can you provide an update on
Danny Amendola
and how much of an impact he might make Sunday? Count me among those who just assumed that New England would be able to plug Amendola into
Wes Welker
's spot with little to no drop-off at slot receiver because of Brady's greatness.
Reiss:
Interesting thoughts on Mesko and Sanders. Mesko was a very popular player in New England and many were disappointed to see him lose a training camp competition to rookie
Ryan Allen
. The Patriots took some heat for that, as they did for not being more aggressive with their offer sheet to Sanders, who could be a Patriots target in free agency again this offseason.
As for Amendola, the big issue has been health, which is a knock against him that he's fought over his NFL career. He was sensational in the season-opener against the Bills, but injured his groin and was knocked out for the next three games. Then he came back for two games, but in the second contest suffered a concussion which knocked him out for another game. So he's only played four games this season, and the groin is probably something that's going to have to be managed throughout the season. In his first game back from the concussion this past Sunday, Amendola had three catches for 15 yards and played 39 of 65 snaps (including penalties). That number is likely to rise in the coming weeks, so he should be a bigger factor.
I'm thinking big-picture here, because one of the big questions here in New England has been when the Patriots' run of success might end. It seems like it's been talked about, on and off, since 2006. What are your thoughts about the Steelers along these lines? Are they positioned for success, or are we witnessing a franchise primed for a little slide?
Brown:
Rebuilding is a blasphemous term around a facility that displays six Lombardi Trophies in its library. The Steelers won't even use the word transition when talking about where they are as a team. That said, all signs point to the Steelers being in decline. They need to win six of their last nine games just to go 8-8, a record they deemed unacceptable after posting it last season.
Their defense isn't getting any younger and it's still too early to tell if youngsters such as outside linebacker
Jarvis Jones
and cornerback
Cortez Allen
will be difference-makers. I do think the Steelers have the most important piece in place as far as turning it around -- whether it is this season or in 2013. Roethlisberger is still in his prime, and if you have a quarterback in the NFL, you have a chance.
The Patriots have been masterful this season in finding ways to win, something the Steelers used to do with regularity. But are they legitimate Super Bowl contenders, and what do you need to see from them to believe that they are?
Reiss:
I wouldn't count them out, Scott. Bill Belichick and his staff have been coaching their tails off, and in the end, you have to give credit to the players for stepping up in the critical moments. It hasn't always looked pretty, but I see enough in the key areas -- such as turnover differential, adapting to elements, situational defense and the like -- to think this team will be a factor coming down the stretch. That's the thing about the NFL. It's not necessarily what you look like right now, it's what the picture will look like as we get to Thanksgiving and beyond, assuming you're still in the hunt. They've positioned themselves well at this point.
October, 29, 2013
10/29/13
5:00
AM ET
The
Pittsburgh Steelers
find themselves in unfamiliar territory entering Week 9: toiling well under .500 at 2-5. It wasn't long ago that they boarded a transcontinental flight from London back across the pond at 0-4, going winless in September and sitting in the basement of the AFC North. Despite a pair of wins in the past three weeks, they remain buried in the basement.
A year after posting consecutive 12-4 seasons, the Steelers finished 8-8 last season, leading some to wonder exactly what the direction of the roster should be. The team still has a franchise quarterback playing and some unique skill players on offense, but an aging defense and questions along the offensive line were among the chief concerns entering this season.
After Sunday's most recent loss (at the hands of the Raiders), there are some who are wondering if it's too late for the Steelers to turn this season around.
In the thick of it or not, they'd like nothing more than to come into Gillette Stadium and take down a familiar foe in the Patriots.
For more on the Steelers, here's our weekly introduction.
Record:
2-5
Head coach:
Mike Tomlin (7th season)
Offensive coordinator:
Todd Haley (second season)
Defensive coordinator:
Dick LeBeau (10th season)
[+] Enlarge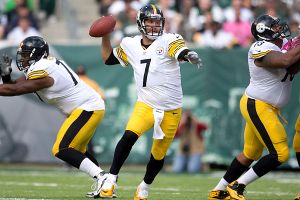 Mitchell Leff/Getty ImagesAs the Patriots know, Steelers quarterback Ben Roethlisberger doesn't go down easy and would love to pull off a win at Gillette Stadium.
THREE PLAYERS TO KNOW, OFFENSE
1. QB Ben Roethlisberger.
Roethlisberger is part of an exclusive club of current NFL quarterbacks with two Super Bowl rings, along with
Tom Brady
and
Eli Manning
. Big Ben has been one of the league's best since his rookie season back in 2004, twice being named to the Pro Bowl. He stands at 6-foot-5 and some 240 pounds, making him at his best when he can move around in the pocket and extend plays. Though not an electric athlete, Roethlisberger is a load to bring down and can make something out of nothing. That, along with a strong arm, make him a tough challenge for any defense.
2. WR Antonio Brown.
He doesn't fit the mold of most of today's elite receivers, but Brown is a superb talent nonetheless. At just 5-10, 185 pounds -- tiny in comparison to many of the tight end-like wideouts who dominate the league -- Brown is a terrific run-after-catch player with
Wes Welker
-esque quickness. He's the NFL's leader in catches, and the Steelers will find any way under the sun to get him the football. He can catch it deep and also near the line of scrimmage. Once he has the ball in his hands, he's slippery in the open field.
3. RB Le'Veon Bell.
The Steelers drafted Bell in the second round with a specific role in mind: to be their starter and the workhorse from the backfield. A foot injury shelved him for the early portion of the regular season, but Bell has been sufficient of late, combining for 117 yards and a touchdown over his past two games. The Michigan State product has helped stabilize the running back position after a roulette of veterans struggled in his absence.
THREE PLAYERS TO KNOW, DEFENSE
1. LB Lawrence Timmons.
Facing the Steelers, you can be assured that the defense will be fortified by strong linebacker play. Timmons is no exception, as the team leader in tackles with 59. A terrific athlete who can cover ground in pass defense, Timmons is currently dealing with a broken hand that forced him to wear a cast in Week 8. The injury didn't appear to bother him too much, as he still racked up eight tackles.
2. LB LaMarr Woodley.
After a quiet 2012 campaign, Woodley has bounced back this season to lead the Steelers with five sacks through just seven games. A product of Michigan, Woodley has plenty of in-line power to bull rush through an opposing offensive tackle, and the ability to bend and turn the corner as well. The Steelers love to run LeBeau's patented fire zones (zone blitzes that confuse a quarterback), and Woodley routinely finds himself causing havoc in an opposing backfield.
3. S Troy Polamalu.
Polamalu isn't the same player he was in seasons past, but he still remains one of the more enjoyable safeties to watch in all of football. He's impossible to miss as he flies around the field, often creeping right to the line of scrimmage (he loves to time up snap counts) and making an impact as an in-the-box run defender. His production in the passing game has slipped of late, but he has uncommon instincts and the confidence to jump routes that can lead to costly turnovers for an offense.
OTHER NOTES:
Perhaps no stat is more startling for the Steelers than the fact that they were the last team to force a turnover this season and that they have forced just five in seven games. ... Offensive line woes have plagued the Steelers, and their best lineman,
Maurkice Pouncey
, is on injured reserve. ... After testing out a couple of players at left tackle, the Steelers traded for
Levi Brown
from the Cardinals. In pre-game warmups of his debut, he suffered a triceps injury that landed him on injured reserve.
Kelvin Beachum
, a seventh-round draft pick in 2012, is now the starter. ... They are currently 30th in team rushing yards per game.
May, 17, 2013
5/17/13
5:00
AM ET
It's difficult to describe the Steelers as a lesser-known opponent for the Patriots given the recent history between the two teams, although they didn't play each other during the 2012 season (it almost feels like they are in the same division given how often the two teams square off).
Like the Patriots, the Steelers have been among the more consistent NFL franchises over the past decade, but there are some who are wondering if an 8-8 2012 campaign (which followed a first-round playoff exit the year before) is a sign that this team is trending downward. The roster still has talent and an elite quarterback, but salary-cap restrictions prevented Pittsburgh from being a major player on the open market this year in free agency.
The Patriots nearly nabbed a starting wide receiver from the Steelers this offseason, as they signed
Emmanuel Sanders
to a restricted free agency offer sheet that Pittsburgh ultimately matched. The pick that would have been shipped to Pittsburgh if Sanders became a Patriot was the 91st overall, which the Patriots used on safety
Duron Harmon
.
While many Patriots followers are familiar with the challenges the Steelers present, let's examine one from each side of the ball that the Patriots will have to work through leading up to a Week 9 matchup at Gillette Stadium.
Offense:
The Patriots have not yet faced the Steelers with Todd Haley as the offensive coordinator (he took that post prior to the 2012 season), and one of the staples of Haley-run offenses is extensive pre-snap shifts and motions. Those can serve multiple purposes, including stressing a defense into having to make several adjustments on the fly or perhaps catching a player aligned in a position that he's uncomfortable with. The Steelers use multiple tight end sets as well, which can create favorable run/pass matchups (as we see with the Patriots and
Rob Gronkowski
/
Aaron Hernandez
). The Patriots' ability to deal with pre-snap adjustments and get properly lined up will be key to slowing down an offense that looks to feature much different personnel entering the 2013 season. While the Steelers no longer have the explosive
Mike Wallace
to stretch the field vertically, Roethlisberger's ability to extend plays is always a difficult chore to handle.
Defense:
Few defensive minds are as well-respected in the NFL as Steelers coordinator Dick LeBeau, a member of the Pro Football Hall of Fame. Among the many ingredients behind LeBeau's prolonged success has been his successful implementation of zone blitzes, which are designed to cause confusion for an opposing quarterback by disguising where the pressure is coming from. If a linebacker is sent off the edge as a blitzer, a defensive lineman may be asked to drop into underneath coverage -- or any other wrinkle involving two or more players. Quite simply, LeBeau is one of the most innovative coaches in the game, and he always develops impressive game plans that present a challenge to square off against. On Wednesday we highlighted the chess match that will take place between Saints defensive coordinator Rob Ryan and
Tom Brady
on the field when the Patriots travel to New Orleans. A similar chess match will take place between Brady and LeBeau.
March, 15, 2013
3/15/13
5:26
PM ET
Following up with some thoughts on
Emmanuel Sanders
' visit to the Patriots today, which was reported earlier by ESPN's NFL Insider Adam Schefter.
Sanders is a former third-round pick with three years of NFL experience, and recently received an original round tender by the Steelers, meaning the Patriots would have to ship a third-round draft choice in 2013 to Pittsburgh if they signed Sanders to a deal that Pittsburgh did not match.
One of the reasons that Pittsburgh had to give Sanders a low tender (in comparison to a first- or second-round tender) is because of a tight salary-cap situation, as the higher tenders include a richer salary for the player.
I can recall scouting Sanders leading up to the 2010 draft while working for the Chiefs, and my impressions of him as a player were that he was an excellent change-of-direction athlete who was a productive slot player for a high-octane offense at SMU.
Shortly after news broke that the Patriots were hosting Sanders on a visit, I heard from my former boss at the Chiefs, Scott Pioli, who now is doing work with Sirius XM NFL radio as well as NFL Network.
Pioli opined that landing Sanders in a fair-market-value deal would be a coup for the Patriots, as he views him as an underrated talent on the free agent market and superior to any receiver the Patriots could acquire in the third round of this year's draft.
Asked whether Sanders is exclusively a slot receiver, Pioli said he has the skills to play both inside and outside, something the Patriots could use as they rebuild their receiving core.
The wide-receiver market has been up and down in free agency, with
Mike Wallace
landing a deal that far exceeds any other signed as of this juncture. That stands in contrast to the market that was set for
Wes Welker
, who ultimately took a two-year, $12 million deal with the Broncos.
So what would it take to sign Sanders away from Pittsburgh? It's tough to say, but given the Steelers' cap constraints, it's possible that the Patriots could construct the deal in such a way that Pittsburgh would struggle to match it. The team is down to just five draft choices this year, so it may also ultimately decide to hold off from offering Sanders to preserve the pick.
We'll continue to monitor this situation as it develops.
November, 13, 2012
11/13/12
11:10
AM ET
There are five NFL teams currently at 6-3 on the season, including the two squaring off in Foxborough on Sunday: the
New England Patriots
and
Indianapolis Colts
. The others are the
Denver Broncos
,
Pittsburgh Steelers
and
Green Bay Packers
. Where do the Patriots fall among these six?
Rank them HERE.

•
Broncos:
Peyton's bunch has won four in a row and five of six after starting 1-2. The offense seems to be hitting on all cylinders, having scored 31 or more points in each of the last four games. The only tough game remaining on their schedule is a Dec. 16 game at Baltimore.

•
Colts:
Led by a rookie quarterback and inspired by a coach battling Leukemia, the Colts are the feel-good story of the NFL. They too have won four in a row and five of their last six (including an impressive win over Green Bay). This week's matchup against the Patriots could show us whether they're true contenders. Indy still has two games remaining against the division-leading Texans.

•
Packers:
Winners of four straight and five of six, the Packers' most impressive victory of the season is a Week 6 trouncing of Houston. Their remaining schedule is a tough one: two games against the Lions, plus road games versus the Giants and Bears.

•
Patriots:
Despite lingering questions about a porous pass defense, the Patriots have won five of their last six games. The road ahead includes key matchups against Indy on Sunday and Houston and San Francisco in December.

•
Steelers:
Perhaps the biggest question mark of the bunch, thanks to a shoulder injury to
Ben Roethlisberger
suffered in Monday's close-call win over the hapless Chiefs. The Steelers, too, are a team on a roll, having won four in a row and five of six (are you sensing a trend here?). They still have two key matchups remaining against the Ravens.
•
Your turn:
Use the
ranker tool
to do your own mini power rankings of these five teams and leave your thoughts in the comments section of this blog entry.
Editor's note: ESPN.com's latest Power Rankings are out, with the Packers at No. 6, the Broncos at No. 7, the Patriots at No. 8, the Steelers ninth and the Colts at No. 11.
October, 30, 2011
10/30/11
11:00
AM ET
Join Mike Reiss, Chris Forsberg, Mike Rodak and our ESPN.com NFL experts as they break down the AFC grudge match between the New England Patriots and the Pittsburgh Steelers. Contribute your thoughts and questions beginning at 4:15 p.m. ET. See you there.