New England Patriots:

Pro Bowl
January, 21, 2013
1/21/13
7:29
PM ET
Quarterback
Tom Brady
is the latest Patriot to withdraw from the Pro Bowl due to injury, as he joined wide receiver
Wes Welker
, guard
Logan Mankins
and nose tackle
Vince Wilfork
among those who will not play in this Sunday's game.
The nature of Brady's injury is unclear, and he was not listed on the injury report prior to the AFC Championship Game.
This was the eighth Pro Bowl selection of Brady's career, and he was scheduled to join
Peyton Manning
and
Matt Schaub
as the quarterbacks for the AFC.
In his place, Colts quarterback
Andrew Luck
will make his first Pro Bowl appearance.
Welker and Mankins both struggled with injury issues throughout the season, but neither was listed on the team's final injury report leading into the AFC Championship Game. Welker was limited by a knee injury for several weeks, while Mankins dealt with both a calf and hip injury, which cost him a total of six games missed. Wilfork's injury was not specified and he also was not listed on last week's injury report.
Mankins was voted as a starter in the game, and earned his fifth Pro Bowl selection, while Welker also was named to his fifth Pro Bowl. Mankins has long been considered among the top interior offensive lineman in the NFL, while Welker became the first player in NFL history with 110 receptions in five separate seasons in 2012. Wilfork, a five-time Pro Bowl pick, was the Patriots' only member of the NFL's All-Pro first team.
With tight end
Rob Gronkowski
out with a broken forearm, quarterback Tom Brady, linebacker
Jerod Mayo
and special teamer
Matthew Slater
are the only Patriots left on the roster for Sunday's game.
January, 30, 2011
1/30/11
11:38
PM ET
By
Jason Kaneshiro
| ESPNBoston.com
HONOLULU -- Assuming the Pro Bowl stays in its current time slot a year from now, the Patriots' goal for next season is clear -- don't be in it.
A selection to the Pro Bowl remains a distinction to put on the bio, and the Patriots who made the trip soaked up the warmth and relaxation during their week in Hawaii.
Playing in the actual game, however, amounts to a consolation prize for a fine individual season that came up short of the Super Bowl.
A week before the Steelers and Packers -- two teams the Patriots beat this season -- meet in the Super Bowl, New England's seven representatives and coaching staff closed out the year in a 55-41 AFC loss at Aloha Stadium.
[+] Enlarge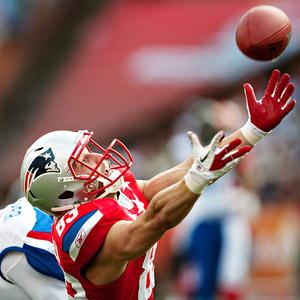 Kent Nishimura/Getty ImagesWes Welker caught five balls for 34 yards, but also was also stripped by DeAngelo Hall, who picked up the fumbled and returned it 34 yards for a touchdown.
"Everybody's goal is to get to the Super Bowl," receiver
Wes Welker
said after catching five passes for 34 yards. "We'll play hard and get better this offseason and get ready to try and do that."
The preparation for the players won't start just yet, though. Welker said he plans to take some time off to decompress and recharge from the just-completed season.
"We're going to take some time off, some relaxing time, hang out, be with the family and in a month or so get back at it," Welker said.
The Patriots coaching staff, which guided the AFC in the game, won't have much of a break at all. Bill Belichick won't linger too long in the islands before heading back across the country to begin the task of looking ahead to next season.
"We're rolling because we have the draft coming up, the Indianapolis combine and stuff like that," Belichick said.
Then there's free agency, assuming the league's labor issues are resolved in time for the new season.
Guard
Logan Mankins
is among those who might he headed for free agency, perhaps making Sunday's game his last in a Patriots helmet.
"We'll know down the road," Mankins said. "Once the CBA is done I'll let you know what I'm doing."
The laid-back nature of the practices carried over into the game as hitting was generally mild and five AFC turnovers in the first half led the NFC taking a 42-0 lead in the second quarter.
Despite the outcome, rookie cornerback
Devin McCourty
will likely remember his Pro Bowl debut.
McCourty moved into the AFC's starting unit when Oakland's Nnamdi Asomaugh pulled out of the game earlier in the week.
The NFC tested McCourty on the game's first play from scrimmage when
Michael Vick
went deep down the middle to
Calvin Johnson
. McCourty closed quickly to tip the pass away, nearly coming up with the interception.
McCourty was able to secure the ball on another deep pass to open the second quarter, intercepting Matt Ryan's throw intended for
Miles Austin
.
He was on the wrong end of a big play when
Larry Fitzgerald
beat him on a fade for a 25-yard touchdown reception.
Things didn't start as well for Welker. Welker caught a quick out from
Peyton Manning
and had the ball stripped away as he tangled with Washington's
DeAngelo Hall
. Hall scooped up the loose ball and returned it 34 yards and the NFC took a 28-0 lead.
"He made a good play on it," Welker said. "I thought I was getting held up trying to get down and waiting for a whistle. He made a good play."
Patriots linebacker
Jerod Mayo
finished with seven tackles in his Pro Bowl debut and McCourty and safety
Brandon Meriweather
finished with three. Defensive tackle
Vince Wilfork
had one stop in the middle of the line as did Mankins, who tackled Hall on an interception.
"I don't do that very often," Mankins said. "I just hoped he'd run into me."
The Honolulu Star-Advertiser's Jason Kaneshiro covered the Pro Bowl for ESPNBoston.com.
January, 29, 2011
1/29/11
9:23
PM ET
By
Jason Kaneshiro
| ESPNBoston.com
HONOLULU -- In gauging Pro Bowl coaching staffs,
Peyton Manning
probably has more insight than most.
In his previous 10 appearances, the
Indianapolis Colts
quarterback said he's worked with 10 different coaching staffs. Having the New England staff here this year, as in 2007, marks the first time he's seeing a coach for the second time.
"Over here, with a short week, I'm not sure you can learn everything about a coaching staff, but I do think you can see why coaches are successful," Manning said in the AFC locker room at Aloha Stadium.
Manning described the task of bringing in players from around the conference and putting together a game plan in four relatively light practices as a "rush job" for the
New England Patriots
' staff.
"But you see why they're efficient coaches and excellent coaches," Manning said. "And they can make do with the time they're allotted and, of course, when you have great players, it helps.
"I feel like we'll be ready to play tomorrow. Everybody knows what to do; we're all on the same page."
Manning was largely responsible for Bill Belichick and crew coming to Hawaii in 2007, when he led the Colts to a win over the Patriots in the AFC championship game following the 2006 regular season.
That was part of a series of high-stakes duels between the teams in recent years. But in the relaxed setting of the Pro Bowl, Manning and Belichick chatted on their way to the practice field during the week and will work to try to tip the all-time series, now tied 20-20, in the AFC's favor on Sunday.
"Like last time, he makes it an enjoyable week for the players at the same time, getting us ready for the game," Manning said.
While Belichick has worked against Manning far more often than with him, he certainly has some familiarity with the trio of quarterbacks in the Pro Bowl game. Former Patriot and current
Kansas City Chiefs
quarterback
Matt Cassel
was added to the roster in place of an injured
Tom Brady
. San Diego's
Philip Rivers
will get the start.
"Coach Belichick said he's 2-0 in this game and wants to be 3-0," Manning said. "He wants to win. I think all the players want to win."
The Honolulu Star-Advertiser's Jason Kaneshiro is covering the Pro Bowl for ESPNBoston.com all week.
January, 29, 2011
1/29/11
9:16
PM ET
By
Jason Kaneshiro
| ESPNBoston.com
HONOLULU -- Miami is closer to home for
Brandon Meriweather
. But Hawaii isn't so bad either.
The Pro Bowl's move back to the islands makes for a longer trip for the former Miami Hurricane. And in some ways, perhaps Meriweather had to go a little farther this season to earn a spot with the AFC all-stars.
The fourth-year free safety's numbers dropped some compared to the previous two years, and he was coming off the bench for the Patriots early in the season. Yet here is, back on the AFC roster and slated to start in the secondary on Sunday along with Patriots cornerback
Devin McCourty
.
"It's an indicator that my peers think I'm one of the better players at my position in the league," Meriweather said after the AFC's walk-through at Aloha Stadium on Saturday morning. "So with all the ups and downs I had to go through and our team went through, it's kind of refreshing to know that.
"It means a lot, even to be an alternate in this game."
Meriweather was fifth on the team with 68 total tackles and finished the season with three interceptions. After starting all 16 regular-season games in his breakout 2009 campaign (83 tackles with five picks) that culminated in his first Pro Bowl berth, he played a reserve role in three games this season.
That span included a win against Buffalo in which he broke up a pass and intercepted a pass late in the fourth quarter after coming in off the bench.
While he regained a starting role, Meriweather didn't point to the missed starts as a motivating factor in his Pro Bowl push.
"Just playing football motivates me," Meriweather said.
As for his stay in Hawaii, Meriweather said the Patriots have been "chilling with their families and doing all the little things that we don't get to do during the season."
And he's got a definite plan once tomorrow's game finally punctuates the season.
"Go home and have fun with my daughter."
The Honolulu Star-Advertiser's Jason Kaneshiro is covering the Pro Bowl for ESPNBoston.com all week.
January, 29, 2011
1/29/11
1:00
PM ET
NFL Network put a camera on Wes Welker's helmet at the Pro Bowl, and also had a microphone on his jersey. A clip is now posted on
NFL.com
and
Patriots.com
.
There was a good laugh at the start, as Welker got hit with some water, with Colts quarterback Peyton Manning loosening the top of his water bottle.
"I forgot about that trick," Welker says. "I've been out of college for seven years now and haven't seen that one in a while. I'm going to have to have to get him on something."
There is also some mutual respect that Welker shares with a Jets Pro Bowl teammate, as he works his way through having the "heavy" camera on his helmet.
Neat clip.
January, 29, 2011
1/29/11
1:00
AM ET
By
Jason Kaneshiro
| ESPNBoston.com
KAPOLEI, Hawaii -- Amid the greenery around the lush grounds at the JW Marriott Ihilani Resort, there's an orange tint to
Jerod Mayo
's first Pro Bowl trip.
The
New England Patriots
linebacker walked onto the practice field Friday alongside
Houston Texans
running back
Arian Foster
, a college teammate at the University of Tennessee.
The chance to meet up with some fellow Volunteers is part of the fun of the Pro Bowl for Mayo. He also played college ball with Chiefs safety
Eric Berry
and, of course, there's Pro Bowl mainstay
Peyton Manning
.
"It's good having all these Vols out there," Mayo said. "A little orange flavor."
In his third year out of Tennessee, Mayo led the Patriots and NFL with a career-high 193 total tackles (credited by Patriots coaches), including two sacks, and will back up
Ray Lewis
at inside linebacker in Sunday's Pro Bowl game.
Mayo said he's enjoying "getting out of that snow in Boston." But a trip to Hawaii isn't quite what the Patriots had in mind when they completed the regular season at 14-2. Mayo said he's already looking toward next season as the Patriots aim to improve a defense at ranked 25th in the league in yards allowed. Meanwhile, the Steelers and Packers, two of the league's top five defenses in fewest yards allowed, are preparing for the Super Bowl a week from Sunday.
"We played both teams and they're both talented teams and they earned their way into the Super Bowl," Mayo said. "It's no secret defense wins championships, and both of those teams obviously have great defenses. We have to continue to get better, and I think we're headed in the right direction."
NOTE
It hasn't been all beach time and lounging by the pool in the player's down time. Several Patriots players were involved in community events around Oahu on Thursday. Cornerback
Devin McCourty
took part in the NFL Play 60 Community Blitz event at the Kaneohe Marine Base, helping at a clinic that emphasized fitness to the youngster on the base.
"I wish I would have been able to be in a camp like that with a bunch of guys I looked up to," McCourty said. "It was just fun seeing them out there and the kids having fun being able to do a little drill with you. … It's important to go out there and be role models and be positive."
The Honolulu Star-Advertiser's Jason Kaneshiro is covering the Pro Bowl for ESPNBoston.com all week.
January, 28, 2011
1/28/11
11:08
PM ET
By
Jason Kaneshiro
| ESPNBoston.com
KAPOLEI, Hawaii -- With
Tom Brady
back on the mainland,
Wes Welker
plans to keep his quarterback up to date with what he's missing in Hawaii.
"A little bit," Welker said with a grin. "I'm going to let him know how good of a time we're having and we wished he was here."
Brady was selected as the AFC's starting quarterback but pulled out of the game when it was revealed he would have surgery to repair a stress fracture in his right foot.
Despite the injury, Brady remained his usual stellar self as the league's top rated passer this season, throwing for 3,900 yards and 36 touchdowns against four interceptions in the regular season.
"I always knew he was having problems but I didn't know to what extent," Welker said. "He never really tells anybody that he's hurting or anything like that. He just always plays through it and does a great job."
Welker caught 86 passes, tying for sixth in the NFL, for 848 yards to earn his third Pro Bowl berth. He closed the season with seven receptions for 57 yards in a playoff loss to the
New York Jets
in which he was benched for the first series. Welker said he understood the stand Patriots coach Bill Belichick took on the matter and "we've moved past it."
Welker is entering the final year of his contract with the Patriots and would like to stick around beyond the 2011 season.
"I'm content with where I'm at and just happy to be a Patriot and looking forward to the next year," he said.
Along with hanging out with Patriots teammates and getting to know players from around the league, Welker has connected with one of the coaches from his past while in Hawaii. University of Hawaii head coach Greg McMackin was the defensive coordinator at Texas Tech when Welker was a star receiver for the Red Raiders. McMackin stopped by practice on Wednesday.
"It was good to see him and the success he's had here," Welker said. "He's such a great guy and it was good catching up with him."
McMackin, who just completed his third season at Hawaii, recalled that Welker had been lightly recruited coming out of high school and was again overlooked after finishing a record-breaking college career largely because of his relative lack of size. McMackin was working for the
San Francisco 49ers
at that time and said he tried to convince team officials to pick up Welker.
"I told them about his heart and how smart a player he is," McMackin said.
But Welker ended up signing with the
San Diego Chargers
and broke loose for a big return in a preseason game against the 49ers.
"Then they asked me, 'Did we know about this guy?'" McMackin said.
The Honolulu Star-Advertiser's Jason Kaneshiro is covering the Pro Bowl for ESPNBoston.com all week.
January, 28, 2011
1/28/11
8:01
PM ET
By
Jason Kaneshiro
| ESPNBoston.com
KAPOLEI, Hawaii -- One thing is abundantly clear during Pro Bowl week: These aren't your typical Bill Belichick-type practices.
"No doubt, man," Patriots offensive tackle
Matt Light
said. "Not even close."
The laid-back nature of the practices was evidenced by the end of Friday's workout at the JW Marriott Ihilani Resort. Light closed the session by breaking off the line of scrimmage, flaring out to the left and catching a pass from Oakland punter
Shane Lechler
for a touchdown during a field goal period.
"It came down to skilled route running and at the end of the day, a well-delivered ball," said Light, whose name reflects the general mood of the day.
[+] Enlarge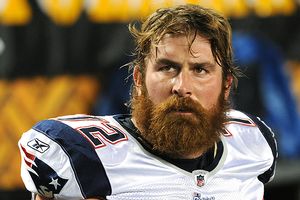 George Gojkovich/Getty ImagesMatt Light is enjoying his time in Hawaii, playing in a relaxed atmosphere with his Patriots teammates and coaches.
Light is in Hawaii for his third Pro Bowl and,
like Patriots guard
Logan Mankins
, is unsure of where he'll land next season as he enters free agency.
When asked if he can see himself back with New England, he was quick to answer.
"Definitely."
The trip to Hawaii takes the Patriots far from the chill in the Northeast and, perhaps, can put some distance between a disappointing end to an otherwise fine season.
"You have to be able to shut the door on those kinds of things," Light said of the playoff loss to the Jets. "Obviously, not the way we wanted to end it. We still had a hell of a year, but didn't get it done."
And although they spend much of the fall around each other, the Pro Bowl offers a chance for the Patriots players and staff members who made the trip to bond in a more relaxed atmosphere.
"We don't get to spend that much time off the field, so to be here in a setting like this and playing a game like this is great," Light said. "We hang out down by the pool every day and get dinner and see each other's families."
Of course, there is some work to be done before Sunday's game.
Friday's practice followed team picture-taking, and the players took the 50-yard field at Ihilani in their game uniforms -- though without pads or helmets -- to walk through the plays implemented by the Patriots staff as the players try to get on the same page by kickoff.
So while the practices might not by all that rigorous, "at the same time it's still long," Patriots linebacker
Jerod Mayo
said. "So these other guys are like, 'Hey talk to your coach and tell him to shorten this thing up.' [Belichick is] a competitor and always trying to get a win."
The Honolulu Star-Advertiser's Jason Kaneshiro is covering the Pro Bowl for ESPNBoston.com all week.
January, 27, 2011
1/27/11
8:03
PM ET
By
Jason Kaneshiro
| ESPNBoston.com
KAPOLEI, Hawaii -- Few events can match the Pro Bowl for unlikely alliances and awkward timing.
Less than two weeks after meeting in a contentious AFC playoff game, Patriots and Jets players now line up next to each other on the practice field in preparation for a finale that will come one week earlier than they had hoped.
While there may have been hits and barbs traded during the season, the rivalries tend to cool upon arriving in the islands -- at least for a while.
"I think there's just a lot of mutual respect for all the other coaches, players," Patriots coach Bill Belichick said after the AFC's practice Thursday at Kapolei High School. "Even though we compete against them every week, this is a time where really it's fun to be able coach them and have them on your side and not have to game plan against them but to actually be able to work with them and have them help you win."
The staffs of the highest-seeded teams to lose in the divisional round of the playoffs are assigned to the Pro Bowl, which sent Belichick and the Patriots coaching staff to Honolulu for Sunday's game at Aloha Stadium.
"We'd rather be playing in a different game than this," said Belichick, who is serving as a Pro Bowl head coach for the second time. "But it's a great game and it's great to be a part of it."
Belichick said the staff will review what worked and what didn't in the just-completed season that included an AFC East title but fell short of the trip to Dallas for the Super Bowl with the 28-21 playoff loss to the Jets on Jan. 16. The coach said they're still working on some end-of-year "inventory" during their stay on Oahu.
Even so, "it's less work and more pleasure," Belichick said.
When not running the generally laid-back practices leading up to the Pro Bowl, Belichick has already spent some time touring the island and golfing. With seven players and the entire staff in town, the Patriots' plans include getting together for a season-ending reception during their stay.
"It'll be nice to just do it away from home and in a great spotlight like the island," Belichick said.
As for playing beside a rival, guard
Logan Mankins
shrugged off the irony in starting next to Jets tackle
D'Brickashaw Ferguson
on the AFC's offensive line.
From the other perspective, Jets cornerback
Darrelle Revis
-- who shared practice time with
Devin McCourty
on Thursday -- concurred that the rivalry doesn't come into play this week.
"On and off the field we're cool, it's nothing personal," Revis said. "I'm not into the 'I hate the Patriots' type thing. It's all good."
The Honolulu Star-Advertiser's Jason Kaneshiro is covering the Pro Bowl for ESPNBoston.com all week.
January, 26, 2011
1/26/11
7:55
PM ET
By
Jason Kaneshiro
| ESPNBoston.com
KAPOLEI, Hawaii --
Devin McCourty
shook his head slightly as he reflected on his journey over the past 12 months.
"Being out here as a rookie is a crazy experience," McCourty said after his first workout with the Pro Bowl's AFC squad on Wednesday at Kapolei High School.
Around this time a year ago, simply making an NFL roster was foremost on McCourty's mind coming out of Rutgers. So ending his rookie season with the
New England Patriots
with a Pro Bowl selection is what he calls "a big turnaround."
"I was thinking about how to get into the NFL and get drafted to now being out here with some of the best," McCourty said. "I'm loving it."
With
Darrelle Revis
of the Jets scheduled to arrive for Thursday's practice, McCourty and Oakland's
Nnamdi Asomugha
were the only cornerbacks on the field for the AFC.
McCourty is one of three rookies on the AFC roster (Kansas City safety
Eric Berry
and Tennessee kick returner
Marc Mariani
are the others), earning a spot with a season highlighted by seven interceptions and 82 total tackles.
"One thing that helped me out a lot was when you came out the first day, you had
Tom Brady
, we had Randy [Moss] at that point,
Wes Welker
-- you gain confidence just being on the field," McCourty said. "You're getting better because they're beating you at first, and then as you start making plays, that helped my confidence."
As for his first trip to Hawaii, McCourty said he's taking sightseeing tips from Patriots teammate
Vince Wilfork
, who is making his third Pro Bowl appearance, while perhaps further honing his game during the week.
"I'm trying to pick up as much as I can from everybody -- AFC, NFC, corners, linebackers," McCourty said. "Just trying to see how they look at the game."
The Honolulu Star-Advertiser's Jason Kaneshiro is covering the Pro Bowl for ESPNBoston.com all week.
January, 26, 2011
1/26/11
7:35
PM ET
By
Jason Kaneshiro
| ESPNBoston.com
KAPOLEI, Hawaii -- Even under the Oahu sun,
Logan Mankins
' future remains somewhat clouded.
[+] Enlarge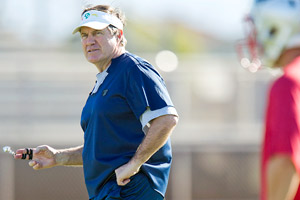 AP Photo/Eugene TannerBill Belichick and his staff are at the helm for the AFC squad in Hawaii this week.
The
New England Patriots
guard went through his first practice with the AFC team Wednesday morning in advance of Sunday's Pro Bowl and insisted after the workout that his impending free agency isn't weighing on him during his stay in Hawaii.
"It's a vacation, I'm not too worried about it," Mankins said.
Mankins, who was elected a starter on the AFC offensive line despite missing the first seven games of the regular season due to a contract dispute, didn't rule out a return to the Patriots next season ... assuming there is a next season, that is.
"We don't even have a CBA [collective bargaining agreement]," Mankins said. "So I'm not too concerned with it right now."
As far as the possibility of the Patriots placing the franchise tag on him, "anything is possible," he said. "You know as much as I do right now."
For now, Mankins is preparing for his second Pro Bowl appearance, joined on the AFC roster by six other New England players and members of the Patriots coaching staff.
"It's still an honor to come over here and see a lot of friends I have from other teams and have a good time," Mankins said.
There is, of course, one place he'd prefer over Hawaii.
"I'd much rather be in Dallas," he said. "That's what we play for."
The Honolulu Star-Advertiser's Jason Kaneshiro is covering the Pro Bowl for ESPNBoston.com all week.