New England Patriots:

Scouting report
May, 7, 2013
5/07/13
5:00
AM ET
We continue our series of scouting reports for the Patriots 2013 draft choices with a look at wide receiver
Aaron Dobson
.
Alignment:
Dobson was used primarily as a perimeter receiver in Marshall's offense, often aligning to the quarterback's left side.
[+] Enlarge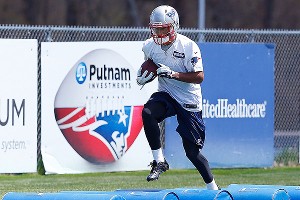 Jim Rogash/Getty ImagesAaron Dobson seems to be in line to contend for the No. 2 receiver spot.
Build/athleticism:
As we saw up close and personal during interviews at rookie minicamp, Dobson is a long, big-framed wide receiver standing at 6-foot-3 and 211 pounds. Dobson has very good straight-line speed and acceleration, and is able to pick up his pace in tight spaces and break free in the open field. He has good lateral agility, but is better moving north-south. He has fluid strides down the field and has excellent body control to torque and adjust to the football when it is in the air. The Patriots have not had a receiver with his sort of size and speed combination during either of the past two seasons.
Skills/traits:
Dobson is a smooth, high-cut receiver who can run an extensive route tree from the perimeter of the offensive formation. He was used in the underneath passing game on both in- and out-breaking routes and showed good discipline in his double-move routes to stretch the field vertically. He shows very good speed and an excellent catch frame, although he did have a few concentration drops during his final college season (there was some talk of Dobson not having any drops in 2012, but that was not the case). What makes Dobson intriguing is the ability to be a factor on the perimeter and after the catch. The Patriots relied on
Brandon Lloyd
as a perimeter target in 2012, but Lloyd's limited run-after-catch ability limited the offensive explosiveness. While Dobson is just a sufficient make-you-miss runner, he has the acceleration, straight-line speed and contact strength to explode up the field vertically. He has a tendency to be a push/pop blocker, going for forearm shivers to a defensive back rather than latching on and walling off.
Projection:
On paper, it would appear that Dobson has landed in a role conducive to early playing time and production. The Patriots have long needed a perimeter target, and with Brandon Lloyd gone, the No. 2 receiver job looks to be available for the taking. If Dobson can hone what made him successful in college and master the intricacies of the Patriots' passing game, he could assume that role and become a dependable target for Brady. He has the speed to be used in bubble screens and could become a major factor in the red zone because of his size and ability to play with excellent body control with the ball in the air in man coverage. He flashed excellent catching skills on occasion in college, and despite his average-sized hands (nine inches), he has very good ability to pluck and snatch the football. The Patriots may lean on Dobson in the red zone as a fade target toward the back pylon.
March, 13, 2013
3/13/13
10:28
PM ET
It didn't take long for the Patriots to find their replacement for
Wes Welker
in the slot, as the team added
Danny Amendola
on a five-year deal that pays him $10 million in guaranteed money.
[+] Enlarge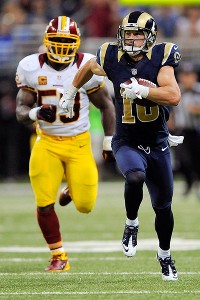 Jeff Curry/USA TODAY Sports Danny Amendola has very good hands, exceptional balance and is an effective run-after-catch receiver.
We don't know specifically how Amendola will be used in the offense, although the sense here is that his role will mirror Welker's in some elements. In St. Louis, Amendola was both a "Z" receiver (aligned as the outside receiver to the tight end side of the formation, one yard back from the line of scrimmage) and slot receiver, much like Welker was in New England.
What we do know about Amendola is what we've seen off of his tape study from previous seasons, highlighted below.
Positives.
Amendola has terrific short area burst and quickness and is an exceptional route runner. He is light on his feet at the top of his routes and in his breaks, and is an elusive player who can slide through crevices between defenders. He is comparable to Welker in many of those ways. He has better long range speed than Welker, though he lacks the leaping ability and length to leverage defenders down the field. He has very good hands and vision, and is an effective run-after-catch player. He has exceptional balance and can torque his body near the sideline to make tough catches.
Limitations.
The biggest concern with Amendola is his ability to stay on the field. He's missed 20 games in the past two seasons due to two major injuries, both to his upper body. He doesn't lack toughness, however, as he played through extensive pain in 2012. He's not an elite vertical threat. In New England, he'll need to establish a rapport with Brady, something the quarterback had with Welker.
Assessment.
It's easy to see the allure of signing Amendola. His skill set aligns with what Welker brought to the table, with the biggest difference being Welker's ability to stay healthy. The Patriots are banking on Amendola bringing a similar consistency. If he can stay healthy (something that is unpredictable), Amendola has the necessary traits to be extremely productive in the Patriots system (a 100-catch receiver). The Patriots are going out on a limb by letting Welker walk to a conference rival, but the upside of Amendola is extremely high.
September, 8, 2012
9/08/12
5:00
PM ET
Concluding our scouting reports of the Patriots' 53-man roster with a look at the safeties:
Patrick Chung
(5-11, 210)
Strengths:
Very physical player who loves contact. Is effective as a run-stuffer, a reliable tackler and very good athlete for the position. Can handle tight ends and some slot receivers as a coverage player. Has good ball skills, a leader in the secondary and a confident communicator. Important, versatile piece that makes the secondary click.
Limitations:
Not a real big guy, and looks lighter than he is listed (210 pounds). A guy who delivers a lot of big hits but also takes a few of his own. Durability has been a concern, as he needs to prove he can stay on the field for a full season (he's done so once in three pro seasons).
Steve Gregory
(5-11, 200)
Strengths:
Fluid player in space who reads the quarterback well and can roam in the deep half of the field. Has ability to cover in the seam and also as an occasional slot player over flexed tight ends. Smart, dependable and can also contribute on special teams. Consistently productive in his role.
Limitations:
Not very physical. Doesn't play with a hammerhead mentality. Not a real big guy and one who can struggle against sizable receivers in man-to-man coverage. A good athlete, but not elite speed or quickness.
Tavon Wilson
(6-0, 210)
Strengths:
Plays with good force, and a good proactive athlete and run-stuffer. Has good speed and can be a key contributor on special teams. Has improved already through just training camp. Looks to be a sufficient player in coverage who can play in the middle of the field.
Limitations:
Better moving forward that in his reactive movements. Not dynamic in coverage, and looks to be still learning the position in his rookie campaign. Seems like a player best served as a sub-defense safety and a linchpin on special teams, rather than a full-time starter.
Nate Ebner
(6-0, 210)
Strengths:
Underrated athlete who has good speed, quickness, agility, toughness and fluidity. Has shown good-to-very-good ball skills and instincts. Can be a free-range coverage player over the middle. Not afraid to be a run-and-hit defender against the run. Has unique special-teams value because of his skill set. Looks like a very quick learner who has improved rapidly.
Limitations:
Has very limited playing time in his career. Learning the nuances of the game. Has just a sufficient frame for the position. Can struggle in sticking with tight ends in man-to-man coverage in the red zone. A player who could end up being the latest diamond-in-the-rough find by Bill Belichick.
September, 7, 2012
9/07/12
3:30
PM ET
Continuing along with our scouting reports of the Patriots' 53-man roster with a look at the cornerbacks.
Kyle Arrington

(5-10, 195)
Strengths:
Confident, very good reactive athlete. Has very good quickness, agility and good straight line speed. Loose hips, can turn and run and break on the football. Had excellent production in 2011, making a ton of plays on the ball. A sound blitzer off the edge, a tough, reliable tackler and edge-setter on run support. Improving year-to-year. Can play in the slot and on the perimeter.
Limitations:
Smaller cornerback (listed at just 5-foot-10). Not afraid to get physical, but can be out-leveraged at the point of catch and will overextend at-times in his jams. Will play with bigger bulls-eye on back in 2012 after standout 2011 season.
Devin McCourty

(5-10, 195)
Strengths:
Very good athlete, with excellent straight line speed and overall movement skills. Tough, durable and a solid tackler. Was excellent on the ball as a rookie in 2010. Can hang with bigger receivers and hold his own against smaller, quicker players. Not afraid to play physical. Extremely hard worker and leader by example.
Limitations:
McCourty struggled in 2011 in what looked like a season devoid of confidence. He gave up a ton of yards, although he wasn't always in bad position. It seemed as though McCourty's ball skills went dull last season, as he failed to make plays at the point of catch. Needs to play better in competitive situations and regain confidence entering 2012 season.
Ras-I Dowling

(6-1, 210)
Strengths:
Unique frame and length for his size. Can leverage receivers and re-route at the line of scrimmage. A very good straight line athlete overall. Difficult to throw over in the red zone.
Limitations:
Durability. Needs to prove that he can stay on the field and log substantial playing time. Had just an average camp from this vantage point, not making a ton of plays on the ball and not showing a ton of aggression as a run defender. A player who has ability, but needs to harness it and produce on the field.
Marquice Cole

(5-10, 195)
Strengths:
Excellent proactive athlete. Has very good speed and quickness. A good reactive player who can be physical in the slot. A player who can be a reserve in both the slot and on the perimeter. Got his hands on some balls in camp, but did not always come up with the interception.
Limitations:
Average size for the position. Not a dynamic playmaker. Needs to refine on-ball production. Does a lot of things sufficiently, but does not myriad of stand out traits. A player who has proven to be a good, low-cost veteran addition.
Sterling Moore

(5-10, 200)
Strengths:
Versatile player who can platoon to safety, and also one that plays with a lot of confidence on the field. Not a top flight athlete, but one who can keep up with receivers of different body types. Has very good ball skills -- times break ups well, rips through receivers' grasps, and plays through the whistle. Can tackle and contribute in the kicking game.
Limitations:
Not an elite change of direction athlete. Better going up and down the field than left to right. Had a quiet camp, earning fewer reps than were anticipated.
Alfonzo Dennard

(5-10, 200)
Strengths:
Physical slot player who has good change of direction and ability to work in short areas. Good quick-twitch movements and plays with self-confidence. Limited exposure to his game during preseason, but was a reliable tackler.
Limitations:
Built well through the mid-section, but not a very big guy. Average speed for the position, which could limit his ability to play on special teams. Limited production during final season in college. Still much to learn about his game.
September, 7, 2012
9/07/12
5:00
AM ET
Continuing our scouting reports of the Patriots' 53-man roster with a look at linebackers.
Jerod Mayo
(6-1, 250)
Strengths:
A quarterback on the field. Excellent communicator. Excels in taking on blocks and shedding. Plays well going downhill and with a lot of thump. Reliable tackler, can move sideline-to-sideline, and can play any of the three linebacking roles. Has shown an improved ability to defend the pass. A player with very few holes in his game.
Limitations:
Not many, as he has worked hard and improved as a pass defender. Has piled up tackles, but forced a surprisingly low number of turnovers in four seasons (just 6). Nonetheless, a key cog in the Patriots defense and a do-everything linebacker and leader.
Brandon Spikes
(6-2, 255)
Strengths:
Plays fearless. Loves contact. A hard-nosed downhill player who takes on blocks relentlessly. Good force tackler, and a guy who sets a tone on defense. A high-energy guy who seems to have infectious personality on the field.
Limitations:
Needs to stay on the field. Has dealt with various injuries throughout early part of career, and served a suspension as well. Not the rangiest player, and is a work in progress at defending the pass. Lacks the reactive athleticism to consistently stay with and cover tight ends up the seam and backs creeping out of the backfield.
Dont'a Hightower
(6-3, 270)
Strengths:
Big-bodied linebacker who can align all over the field on defense. Very smart and a natural learner. Can play inside and outside, and can rush the passer as an end in sub defense. Has extremely good instincts and will sniff out screens. Forceful tackler and very good re-router. Advanced understanding of the game for his experience level.
Limitations:
A little tight in his movements, and a good but not great athlete overall. Not a top coverage linebacker, but has lateral quickness and agility overall. Can improve his ability to open his hips and get depth in his drops.
Mike Rivera
(6-2, 255)
Strengths:
Strong, physical player who had a very productive training camp. Not afraid to take on blocks and has good bulk in his frame to absorb a blow and shed. Tough, reliable tackler who has good nose for the ball.
Limitations:
Not a very fluid athlete or one you want covering receivers in space. Has sufficient speed to move sideline-to-sideline. Best suited to play inside. Mechanical in his movements and limited on special teams as well. A depth-level linebacker.
Tracy White
(6-0, 235)
Strengths:
Good move-in-space athlete who can cover good ground. A very good special-teams player. Can cover in the passing game, and has range, good instincts and toughness.
Limitations:
Has a slight build (just 6-feet, 235 pounds). Not a run-stuffing linebacker and is best suited on the weak side. Not going to stack and shed and fight off blocks consistently. Can be bottled up by linemen. Best-suited as a core special-teamer and reserve 'backer.
September, 6, 2012
9/06/12
6:00
AM ET
Continuing our scouting reports of the Patriots' 53-man roster with a look at defensive tackles.
Vince Wilfork
(6-2, 325)
Strengths:
Massive, technical, strong, aggressive, versatile and sound player. Nearly immovable along the defensive front. An overwhelming mismatch against most interior offensive linemen. Very good endurance, very good ability against the run. Great with his hands, base, and very good lateral agility down the line of scrimmage. A complete player who does it all along the defensive line. Was sensational in 2011.
Limitations:
Very few. Not a dominant pass rush in terms of sacks, but consistently disrupts the integrity of a pocket.
Kyle Love
(6-1, 315)
Strengths:
Big, strong-bodied interior presence. Not a real-long-armed player, but can take on blockers and control at the point of attack. Productive against the run in 2011, and has been quite good in that area again this preseason. Good placement of his hands, and good overall quickness for his size.
Limitations:
Not a big threat as a pass-rusher. More of a heavy-handed pusher than a quickness/explosive burst rusher. Continues to develop his overall game and technique.
Ron Brace
(6-3, 330)
Strengths:
His strength. Can be overwhelmingly powerful at times. Has a massive frame with good bulk throughout, and does not need to be square to knock an opponent back. Has the skills and athleticism needed to be a two-gapper, although likely won't be called upon to do so very much this season.
Limitations:
Consistency and performance. A player whose career production has not yet matched up with his physical abilities. Relies heavily on power push as an interior rusher.
Brandon Deaderick
(6-4, 305)
Strengths:
A versatile player who can do a number of different things along the defensive live. Has the quickness to work on the edge as an end, and the girth to hold up inside. Can rush the passer. Has good arsenal of moves to create pressure.
Limitations:
For Deaderick, his game is about staying consistent. Has shown that he can be a factor as an NFL player, but must piece it together on an every-down basis. Although he can flex inside as an interior player, is a little undersized in doing so, and a little heavy for the defensive end spot.
Marcus Forston
(6-1, 301)
Strengths:
Good, quick first step off the football and good linear power. Can bull-rush in the passing game to generate a little bit of pressure, and has some stoutness to his game as a run stopping presence. A young player who should continue to grow and improve.
Limitations:
Not overly athletic for the position. Has room to grow on his frame, but right now a relatively lighter player at just 301 pounds (at combine). Didn't flash a ton of moves in getting to the passer in 1-on-1 drills. Still some limited exposure to his game after just one training camp.
September, 5, 2012
9/05/12
9:10
AM ET
Continuing our scouting reports of the Patriots 53-man roster, we turn our attention to the defensive side of the ball at defensive end:
Chandler Jones
(6-5, 260)
Strengths:
Unique length and athleticism. Good initial burst, speed and strength through lower half. Effective edge rusher with arsenal of pass moves that is more advanced than his billing as a draft prospect with development needed. Looks to be solid against the run. Has hip flexibility and body control to generate depth in drops when needed. Has a very high ceiling.
Limitations:
Experience. Will get better with more reps. Can get locked up versus power players. Will fine-tune his pass-rushing technique and grow into his frame, on both upper and lower halves.
Rob Ninkovich
(6-2, 260)
Strengths:
An edge-setter with very good toughness, accountability and versatility. Can stand up and play from a two-point stance and can drop into coverage and handle zone duties. Tough against the run, with good functional strength. Dependable tackler, has special teams value as well.
Limitations:
Not overly athletic. Has a number of good pass-rush techniques, but not a dominant one. Longer tackles can latch on to him. Overall, very sturdy and reliable as an end-of-the-line player.
Jermaine Cunningham
(6-3, 255)
Strengths:
Very quick off the ball. Can turn the corner with a vengeance. Explosive in short areas. Although he was not seen there much this preseason, has special teams ability.
Limitations:
Consistency. Flashes one day, but is less of a factor on others. Has to improve against power players and in his ability to anchor and take on blocks. Must show that he is more the player of 2010, when he was very good, than 2011, when he struggled to see the field much. Developing against the run.
Justin Francis
(6-2, 268)
Strengths:
Has a nonstop motor. Practices hard on every rep and plays to the whistle on the field. Can flash very good burst off the ball, both as an edge and interior rusher. Will drive his hands inside of a tackle and jolt him back. Good/borderline very good athlete for the position overall. Aligned on the kickoff coverage unit in preseason and may end up as a core special teams player.
Limitations:
Has room to fill out in his upper half. Can continue to improve as a three-down defensive end who can be reliable to both rush the passer and defend the run. High motor is a good trait, but must continue to play under control.
Trevor Scott
(6-5, 250)
Strengths:
Brings good experience and some quickness off the line of scrimmage. Likes to use his spin move on one-on-one chances and has good ability to torque his body in tight spaces. Brings special teams value because of movement skills and dependable tackling.
Limitations:
Plays light in the trunk. Disappeared for a stretch of training camp. Looked totally indecisive rushing the passer but bounced back strong. Will struggle versus bigger tackles in the power running game, with inability to consistently anchor and lock out. Has had durability concerns in recent seasons.
Jake Bequette
(6-5, 274)
Strengths:
Although he had a largely quiet training camp, Bequette flashed some quickness off the edge as a rusher and showed the versatility to reduce down to a tackle alignment. Has good bulk for the position.
Limitations:
Just a sufficient athlete. Can be indecisive as a rusher. Has not shown an ability to be a power player at the point of attack. Has a ways to go in most areas of development and could end up as a game-day inactive.
September, 4, 2012
9/04/12
4:12
PM ET
After some moving and shaking, the Patriots' active roster currently stands at the 53-man limit.
Using training camp practices and preseason games, we'll have a brief scouting report of every player on the Patriots' active roster, highlighting their strengths and limitations. We continue with the offensive line:
Logan Mankins (guard)
Strengths:
Dominant strength, power, toughness and nasty. A hard-nosed guy who sets the tempo on the interior of the line. A good athlete with sound footwork, ability to mirror and the anchor to catch and hold up against on-coming rushers. Can move into space and get to defenders at the second level. A leader, workhorse and one of the top guards in all of football. Although he hasn't in New England, can flex to tackle when needed.
Limitations:
Not very many holes in his game, although his 2011 year was down compared to the standards set in previous seasons. As season begins, focus will be paid to a surgically-repaired ACL, although has shown few signs of ill effects in camp.
Nate Solder (tackle)
Strengths:
Towering left tackle with supreme wing span, length and ability to bend. Has very good athleticism overall. Showed in 2011 he has the anchor to hold up against edge rushers from either side, but needs to be more consistent in his getting his feet in the ground and planting his weight. Has many of the tools needed, but consistency and execution are the keys. Can flex to the right side when needed.
Limitations:
Still developing into his own frame. Can add weight and strength to counter bigger defensive linemen. Can slip up on his technique in his sets, leading to his inconsistencies. Overall, important year for Solder to show he can handle the left tackle job full-time.
Dan Connolly (center/guard)
Strengths:
Came on in 2011 in relief duty for
Dan Koppen
, absorbing full time responsibilities at center and performing very well. Has very good athleticism, good power and ability to latch on to defenders. Can play three positions and also brings special teams value on kickoff return and field goal protection team.
Limitations:
Not an overly powerful guy and had some moments of underwhelming play in preseason. Can get walked-back by powerful interior players on the bull rush. Not a lot of cracks in his game, solid overall.
Sebastian Vollmer (tackle)
Strengths:
Massive right tackle who returned to camp late after dealing with ankle and back problems this offseason. Has good edge and power to his game and is reliable to pass protect as well. Likes contact and is not afraid to mix it up. Can get on defenders and ride them into space. A potential swing tackle if needed.
Limitations:
Can play too high and straight in his stance. Has dealt with back issues of late, which can be concerning for any player, especially one of his size. Sufficient ability to move side-to-side. Missed 10 games last season.
Ryan Wendell (center/guard)
Strengths:
A pesky technician who makes up for his lack of size. Has good, quick strikes with his hands and placement. Good foot quickness and ability to leverage underneath defenders. Tough. Can play three positions.
Limitiations:
The question with Wendell will relate to his ability to hold up in the middle against bigger defenders. Can struggle against power players and in getting into his base and anchoring.
Nick McDonald (center/guard/tackle)
Strengths:
Versatility. Has played all five positions along the offensive line. A good athlete, with some power and pop to his game. Light on his feet, can move laterally and has good ability to get to the second level.
Limitations:
Not sure that he has one position where he is best-suited, although guard would be likely top candidate. Can struggle with taking on power rushers in his pass sets, getting overwhelmed at times in 1-on-1's. Can continue to improve.
Donald Thomas (guard)
Strengths:
A sturdy, solid, good short-area player at the guard position. Has good power, can counter interior rushers and can anchor in pass sets. Also can flex over to center and has developed nicely since joining New England.
Limitations:
Not an elite athlete and not dominant at the point of attack. Can be a little tight-hipped in his movements and can be caught when having to move laterally.
Marcus Cannon (tackle)
Strengths:
If he gets his hands on you, has very good pop. Good going forward in his driving movements. Has very good frame and can continue to bulk up and grow into his own body.
Limitations:
Really struggled in getting out of stance. Played too high in preseason. Can be beaten off the edge by speed and quickness rushers. A player who may end up being better suited as a guard because of his difficulties in mirroring edge rushers. For now, the Patriots' reserve at right tackle.
Matt Tennant (center)
Strengths:
Digging back into the archives from my preparation for the 2010 NFL draft, Tennant was seen as a cerebral, technical and dependable center who could move his feet and leverage underneath defenders.
Limitations:
A smaller guy who can be overpowered up the middle. Does not have positional versatility, limited to just the center position.
September, 4, 2012
9/04/12
9:30
AM ET
After some moving and shaking, the Patriots' active roster currently stands at the 53-man limit.

Using training camp practices and preseason games, here is a brief scouting report of every offensive player on the Patriots' active roster, highlighting their strengths and limitations, continuing with the tight ends:

Rob Gronkowski

Strengths: Phenomenal combination of size, strength, speed, and athleticism. Machine-like in his build. Tough as rocks. Very good hands, good ability to dig into his routes, physical at the point of contact and can create separation. A top blocking tight end, with ability to set the edge. Very good hand placement, power, and willingness as a blocker. Nearly impossible to bring down in the open field. Record-setting production in 2011.

Limitations: Not a major quick-twitch athlete, and not the kind of guy who is going to - or needs to - elude defenders laterally. Can continue to improve in subtelties of the game as year three begins.

Aaron Hernandez

Strengths: Elite athlete for the position. Can line up all over the offensive formation, including as an end of the line tight end, split out receiver, fullback and half back from the backfield. Has rare make-you-miss ability, and is extremely quick to cut back and forth. Has very good hands, speed, route running ability. A weapon on the field. Although not overpowering, gives a good effort as a blocker.

Limitations: Not an overpowering blocker, not the type of player to be used to neutralize an end or outside linebacker in pass protection. Can at times make too many cuts in open space. Doesn't have a history of major injuries, but has dealt with nicks and bruises during first two seasons.

Daniel Fells

Strengths: Good athlete and pass catcher. Has very soft hands, and can corral the football in tight space. Has good ability to run the short-to-medium distance route tree, and can be the move-guy within an offense. Has good size, and is a developing blocker.

Limitations: Not an overpowering blocker. Can be knocked back in his base, but had a good showing overall in limited snaps as a blocker this preseason. Durability is an area to monitor as the season begins, as he missed much of training camp and the offseason.

Visanthe Shiancoe

Strengths: Productive pass catcher with a good long frame. Effective in the red zone, and understands zone defenses to find space. Has reliable hands, and although not the athlete of season's past, still has enough to do some damage in the passing game. Has been extremely durable (played every game in his career).

Limitations: Similar to Fells and Hernandez in not being a dominant run blocker. Until he is healthy and back on the field, the story on Shiancoe is not fully-told.
September, 3, 2012
9/03/12
3:30
PM ET
Continuing our scouting report of every player on the Patriots' roster, focusing on wide receivers:

Wes Welker (5-9, 185)

Strengths: Expert route runner. Excellent change of direction, agility, ability to keep feet and body underneath himself. A very difficult player to oppose 1-on-1. Has good catching skills within his radius. Can effectively control the slot for an offense, and has deep understanding of zone coverage. A guy that finds space. Can serve as a punt returner. Incredible production, fearless as a blocker, and a physically tough player.

Limitations: Not much of a downfield threat, and can struggle at times with catches outside of his body radius. Limited in some capacities by his height, but doesn't have a role in the offense in which that makes much of a difference.

Brandon Lloyd (6-0, 200)

Strengths: A downfield threat with very good functional speed. Sharp and crisp in his routes, with good ability to sink into his hips, always keeping his center of gravity. Has ability to make rare catches, and has excellent ball skills overall. An efficient strider down the field, and understands the nuances of route-running.

Limitations: Not the kind of guy who takes the football in open space and eludes a bunch of defenders. Won't likely be featured as a tear/bubble screen player. Production can be tied to the ability of offensive line to protect and quarterback to release the football.

Julian Edelman (5-10, 200)

Strengths: Very good wiggle and shake to avoid defenders. Can move laterally in short areas and make defender miss. Quick in and out of his cuts, and a developing option at both the slot receiver and outside receiver position. Has excellent versatility to play on both sides of the football and on special teams, both as a coverage player and as a returner. Continues to develop each season.

Limitations: Still a bit on an unfinished product at receiver, and has had issues with catching the football throughout the preseason. Will not hurt a defense as a downfield threat.

Matthew Slater (6-0, 210)

Strengths: Ace special teams player. Can fly down the field, plays with good instincts, leverage, toughness and is a sound tackler. Has ability to serve as a kick returner, with improving ball skills to field kicks. Showed improvement as a receiver this camp. Very good blocker.

Limitations: Although improving, still not a major threat as a wide receiver. Can be robotic in route-running, and more of a straight-line than change of direction player. Has sufficient ball skills, but not a snatch/pluck catcher.

Greg Salas (6-0, 209)

Note: The Patriots acquired Salas on Saturday afternoon via trade, and we have yet to see him beyond a brief stretching period during Sunday's practice. For now, our insight to his game is limited.
September, 3, 2012
9/03/12
10:30
AM ET
Continuing our scouting report of every player on the Patriots' roster, focusing on running backs:

Stevan Ridley (5-11, 220)

Strengths: Quick to the hole. Ridley can make defenders miss and is not an easy pushover with the football in his hands. Good in space and as a screen receiver, can stretch run to the perimeter and also chunk up yards between the tackles. Does a lot of things well, and can be effective in the short passing game.

Limitations: Main crutch as a rookie was inability to hold onto the football. Fumbled twice down the stretch. Did not fumble in training camp and has adopted high-and-tight methodology for carrying the football. Can improve as pass blocker and in blitz recognition.

Shane Vereen (5-9, 205)

Strengths: A dynamic athlete with very good speed and ability to avoid defenders laterally. Can run a broad route tree and align from a receiver set. Has shown improved decisiveness as a runner, and is also patient. Soft hands and reliable with the football.

Limitations: Consistency and staying on the field (at least so far). Vereen's slow start derived, in part, from an indecisive approach on the field. Seemed too hesitant to trust one skill or the other. Not a power back and not a bruiser. Can be better in protection.

Danny Woodhead (5-8, 200)

Strengths: Elusive. Can make defenders miss in the hole and is a good change-of-direction player. Very intelligent, and can align all over the line of scrimmage in no-huddle offense. A natural hands catcher who can do damage in short passing tree and screens. Understands blitz pick-up and pass protection responsibilities very well. Can also handle kickoff return duties.

Limitations: Size deficient. Not a power player and can be taken down easily on contact. Best utilized on draws and perimeter run plays, not between the tackles. Good speed, but not a home-run hitter. Is a role-player type back, but not a featured back.

Brandon Bolden (5-11, 220)

Strengths: Solid one-cut runner who understands the development of the play in front of him. Does not try to get too much, and has good ability to jump-cut into space. Can catch the football as well, and is tough near the goal line to be a touchdown maker. Has enough bulk to be used in hybrid fullback alignment, and showed some ability to take on blitzers as a pass protector. Very good core special teams value.

Weaknesses: Based on both his punt returns and running, Bolden has shown some struggles with holding onto the football. Not a break-away-into-space athlete, and not a big make-you-miss player. More of a chunk yardage player than a big play threat.
September, 3, 2012
9/03/12
6:00
AM ET
After some moving and shaking, the Patriots' active roster currently stands at the 53-man limit.

Using training camp practices and preseason games, here is a brief scouting report of every offensive player on the Patriots' active roster, highlighting their strengths and limitations, beginning with the quarterbacks:

Tom Brady

Strengths: Pinpoint accuracy, dependable decision-making, poise under duress and mechanics highlight Brady's strengths. A mastermind in the huddle and technician at the line of scrimmage, Brady has developed extreme comfort within the Patriots system. He has strong accuracy to throws all over the field, and within pocket mobility to elude rushes. Does not rush decisions, and unafraid to throw the football away when needed. A leader by example and by spoken word.

Limitations: Not a threat with his feet outside of the pocket. Brady operates almost exclusively inside the pocket and is not often rolled or sprinted out to work away from pressure. Although he maintains a high-level of play, age is not on his side. Minimal limitations overall.

Ryan Mallett

Strengths: Cannon arm. Extremely tall and enough mobility to elude and throw on the run. Will make a throw every practice that turns heads. Has played in spread-style offenses. Improving mechanics and grasp of the offense. Wants to be very good. Mallett has many of the tools, and has room for growth.

Limitations: Consistency, touch and feel. Will thread the needle on one play and overthrow a swing pass on the next. Needs to be in stride to deliver accurately. Long throwing motion. Decision-making leaves room for improvement. Just average in throwing bubble screens, tear screens and touch passes in the red zone.