New England Patriots:

Super Bowl
February, 6, 2012
2/06/12
5:33
PM ET
By
Steven Krasner
| ESPNBoston.com
FOXBOROUGH, Mass. -- The Patriots' locker room was quiet about 17 hours after New England's 21-17 loss to the
New York Giants
in Super Bowl XLVI in Indianapolis on Sunday.
The Patriots' buses that came from the airport Monday afternoon emptied with most of the players and families heading to their respective vehicles, the players electing to pick up their luggage in the next day or so rather than gather them right then and there at Gillette Stadium.
The only players in the locker room were defensive backs
Antwaun Molden
and
James Ihedigbo
and tight end
Aaron Hernandez
.
Hernandez, who was wearing a knit Super Bowl toque and headphones, grabbed items out of his locker and tossed them into a large black trash bag. Once Hernandez, who declined to chat with the media, collected what he wanted, he dragged the weighted-down trash bag across the carpeted locker room and disappeared out a door.
Molden and Ihedigbo talked briefly with reporters, reflecting on the loss, which was delivered by Giants quarterback Eli Manning's late-game heroics for the second Super Bowl and third New England-New York meeting in a row.
"It was a good game," Molden said. "I take my hat off to the Giants. It was a hard-fought game. I think we played well. We just came up a bit short. I have a [bad] taste in my mouth that won't go away until next year. Super Bowls come down to the minute adjustments. A small minute mistake can make a difference."
"It was a tough loss," Ihedigbo said. "They played hard. We played hard. We wanted it just as bad as they did. They made more key plays. We fought right to the end. We competed our butts off. It's what you ask for in a championship game. You learn from the experience. You have a desire to go back.
"I'm not one for moral victories," Ihedigbo said. "We had a very productive season. It hurts, tough to swallow."
Ihedigbo was asked about the comments of Gisele Bundchen, quarterback Tom Brady's superstar model wife, who had some disparaging things to say about the Patriots dropping her husband's passes, likely referring to a much-discussed fourth-quarter plan in which
Wes Welker
failed to come up with a catch.
"You can't point fingers," Ihedigbo said. "Wes made amazing plays all year long. The whole team made huge plays to put us in position. You win as a team, you lose as a team."
February, 7, 2011
2/07/11
2:05
PM ET
The Patriots' 2010 season ended with a disappointing playoff loss to the Jets, but that didn't stop Bodog.com from giving the team 8/1 odds to win Super Bowl XLVI in Indianapolis.

Only the Packers, at 7/1, have better odds.

Meanwhile, the Jets are 16/1, while the Dolphins (45/1) and Bills (100/1) round out the AFC East.
February, 6, 2011
2/06/11
10:45
PM ET
The Green Bay Packers and Pittsburgh Steelers put an exclamation point on the NFL's 2010 season with a thoroughly enjoyable Super Bowl XLV.
The Packers won it, 31-25, and Patriots followers might have seen this coming Dec. 19. That's when the Aaron Rodgers-less Packers came in to Gillette Stadium -- one of the toughest places to win in the regular season -- and controlled the action (40:48-19:12 time of possession edge) in a 31-27 loss to the Patriots.
That turned out to be the Packers' last loss this season.
"The New England game was a big game for us," Rodgers said on ESPN. "We lost that game, a game we were double-digit underdogs. That was a game where it was like 'we have a pretty good team, let's not lose this opportunity.'"
A few final thoughts with a Patriots twist:
1. I think this puts Rodgers in the elite class of quarterbacks, the group that starts with names like Brady and Manning. He was remarkable, especially with the Packers being so one-dimensional and his receivers not helping him with drops. He showed championship-caliber mental toughness on the big stage.
2. The Packers' trade-up with the Patriots in 2009 - to select outside linebacker Clay Matthews 26th overall -- has been a big hit for them. Matthews added another chapter to that story, with his forced fumble on Rashard Mendenhall in the fourth quarter one of the crucial plays in the game. The Steelers looked like they were about to wrestle control of the game away from the Packers before that turnover.
3. We can hold off on the comparisons between
Ben Roethlisberger and Tom Brady
...
4. ... As well as comparisons between the Steelers and Patriots and their recent runs of Super success.
5. If the Steelers won, it would have put the Patriots in play to be their season-opening opponent next September in the NFL opener. But the Packers will now open the 2011 season as the defending champion, and the Patriots aren't on their schedule.
February, 3, 2011
2/03/11
1:35
PM ET
DALLAS -- Patriots offensive linemen Dan Koppen, Dan Connolly and Mark LeVoir are here at the Super Bowl media center as part of the second annual "
Madden Most Valuable Protectors
" promotion.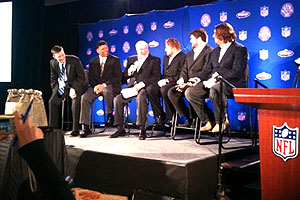 Courtesy of New England PatriotsPatriots offensive linemen Dan Koppen, Dan Connolly and Mark LeVoir received the award.
The way it worked is that five clubs were eligible based on John Madden's choice -- the Patriots, Chiefs, Giants, Saints and Falcons -- and fans voted on NFL.com for the winner of the promotion, which is presented by Prilosec.
The fan vote went to the Patriots, so Koppen, Connolly and LeVoir punched their ticket to the Super Bowl.
It wasn't their preferred reason for being in Dallas, especially after the offensive line struggled in the playoff loss to the Jets, but it gives them a chance to experience Super Bowl hype from a different perspective.
Reports that Connolly was assisting the Packers on the finer points of kickoff returns could not be confirmed.
February, 2, 2011
2/02/11
3:38
PM ET
DALLAS -- Veteran receiver
Torry Holt
, who was with the Patriots in training camp before being released with an injury settlement because of a knee ailment, believes the team is one receiver short.
Holt felt the weakness showed up in the Patriots' playoff loss to the Jets.
"That was me, and I strongly feel that way, but unfortunately my wheels gave out," said Holt, who is working as an analyst for NFL Network here at the Super Bowl.
"When I watched that game, and looked at how the Jets attacked their receivers, they were missing someone else who could get open and possess the football, keep things rolling offensively. I feel like they need a couple more guys, outside of Wes [Welker] and Deion [Branch], that can constantly get open, put pressure on defenses, and give Tom another option."
Holt predicts that the Patriots will address the need in free agency or the draft.
He was asked if the Patriots might have that option on the roster in
Brandon Tate
,
Julian Edelman
or
Taylor Price
-- the 3, 4, and 5 receivers who could potentially emerge with another year of growth.
"I think Price has the ability, the physical attributes, to help them. Mentally he has to continue to come along in terms of learning the system and believing that he can win, in terms of believing that he belongs in the National Football League.
"Brandon Tate, I think he is a speed guy. We all saw that he can stretch the field. More playing experience will help him in terms of slowing down and understanding the game and knowing where to be, being that much more reliable for Tom. I think that will come.
"Julian, the same thing. He is a tough, feisty guy who you can put in the slot and he will block and make the tough grab and run reverses. He is kind of a guy you can do multiple things with.
"But in terms of a true, true receiver, I think they need one more."
February, 1, 2011
2/01/11
3:17
PM ET
ARLINGTON, Texas --
Pittsburgh Steelers
center
Maurkice Pouncey
thought there was a good chance the
New England Patriots
would select him in the first round of the 2010 NFL Draft.
He had visited with Bill Belichick three times and also taken a visit to Gillette Stadium. Few teams had shown such intense interest in the pre-draft process.
But the Patriots didn't have a chance to select Pouncey because the Steelers pounced with the 18th overall pick. While the Patriots didn't get Maurkice -- one of the NFL's top rookie performers in 2010 -- they could now target his identical twin brother Mike, who is a top-rated interior lineman in this year's draft.
"He is a heck of a player," Maurkice Pouncey said this afternoon at Super Bowl Media Day. "If teams don't see that on film, then I don't know what they are looking at."
One of the knocks on Mike Pouncey is that he struggled with the shotgun snap in 2010 as he moved from guard to center to replace Maurkice at Florida. But Maurkice believes those were standard type issues for any first-year center.
Maurkice Pouncey has been a big story here at the Super Bowl after he sustained a high ankle sprain in the AFC Championship against the Jets. He is not expected to play in the Super Bowl but is holding out hope that he has a chance.
As for his pre-draft meetings with Belichick last year, Pouncey smiled.
"He was a joking-around kind of dude," he said. "I don't know why everybody takes him so seriously."
February, 1, 2011
2/01/11
1:03
PM ET
ARLINGTON, Texas -- At one point during Green Bay Packers "Media Day" this morning, defensive coordinator Dom Capers was facing a Boston-based blitz.

Reporters from the Boston Globe, Boston Herald and ESPN Boston surrounded him, asking him about his experience as a Patriots assistant in 2008.

Capers, who in 25 years coaching in the NFL has made it to his first Super Bowl, had only good things to say.

"I enjoyed it," he said. "My feeling going there was nobody in the league had done it better than Bill Belichick and the Patriots over 10 years. It was a real positive experience to go in and work for Bill and watch the way he does things."

Capers had been Steelers defensive coordinator when Bill Belichick was Browns head coach in the early 1990s, and the two had mutual respect from those years.

Capers is a popular story here at the Super Bowl, especially when it comes to his connection to the Steelers and defensive coordinator Dick LeBeau (they were old roommates).

But for those from Boston, the primary interest was Patriots-related.

What did he learn most about Belichick from his one year in New England?

"He's very bright and he has a vision of what he wants it to look like, and he has the control to implement that vision," Capers said. "I just think he is an outstanding football coach.

"You look at their team and the way they've transitioned their team. They are actually a young team now and they have a whole bunch of draft picks coming into this draft. That's all part of the plan."