FOXBOROUGH -- One of the key plays from the Patriots' dramatic 25-24 win over the Bills was Pierre Woods forcing a fumble on Leodis McKelvin's kickoff return with 2:10 remaining, and kicker Stephen Gostkowski recovering.
Here is how it unfolded from the perspective of those involved in the play:
[+] Enlarge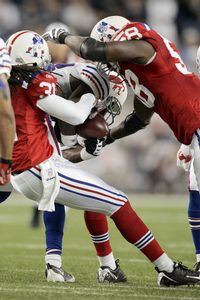 AP Photo/Steven Senne
Brandon Meriweather and Pierre Woods combined to strips the ball from Bills kick returner Leodis McKelvin.
The scenario. The Patriots had just scored to slice the Bills' lead to 24-19 with 2:06 remaining. The coaching staff was deciding whether to kick it off or attempt an onside kick. "We had three timeouts and might have hit the 2-minute warning," coach Bill Belichick explained. "It could have gone either way."
Kickoff. Stephen Gostkowski booted the kickoff 2 yards deep into the end zone and McKelvin elected to take it out. That was a mistake. "I didn't think the guy was going to bring it out," said linebacker Pierre Woods. "I was like 'Wow.'"
McKelvin's mindset. Looking back, McKelvin said he has no regrets on his decision. "If I ever had another chance, I would probably do the same thing. Next time I get the opportunity, I am going to hold on and make a better decision. ... When I caught the ball, I didn't know if I had two feet inbounds or if my momentum took me into the end zone. If I downed it, it may have been a safety, so I decided to bring it out."
Initial hit. Safety Brandon Meriweather surged down the middle of the field and made the first hit on McKelvin, stunting his momentum. McKelvin still had possession of the ball and attempted to gain more yardage after the hit. "Everybody filled their lanes and I was just up the middle," Meriweather said. "The rest of the team did the rest."
Stripping the ball. After Meriweather's initial blow, Woods jarred the ball free at the 31-yard line. "We do a drill in practice like that -- we double-teamed him and poked the ball out," Woods said.
Recovery. Kicker Stephen Gostkowski was at the bottom of the pile and gained possession. "I can't say more about the kicker," Woods said. "He was all awkwardly bent up, like a pretzel, and wouldn't let the guy from Buffalo get it. I tried to pull that guy off him and the ref was going crazy. It was chaos."