LONDON -- What type of tailgating do fans do here?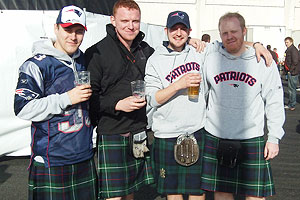 Mike Reiss/ESPNBoston
Stuart McCraith-Smith, left, and three of his friends before Sunday's Pats-Bucs game.
I ventured outside Wembley Stadium and bumped into Stuart McCraith-Smith of Edinburgh, Scotland to ask the question. He was wearing a faded Richard Seymour No. 93 Patriots jersey and a kilt, joined by three friends.
He mentioned that one reason there is not a lot of tailgating is that locals don't have big cars to transport grills. Also, there is little parking around the stadium, so most fans take trains and buses. The weather is also not particularly reliable, although today is a gem.
McCraith-Smith was asked how he became a Patriots fan.
"When I got into the NFL back in 2003-2004, I picked up a copy of Madden and they were one of the better teams," he said. "I started playing with the Miami Dolphins and they were rubbish. So I chose the Patriots because they were the best team and have been following them since."
The NFL set up a large tailgating section for fans, and I thought it was tastefully done.
A big part of the tailgating section was for merchandise sales, so there was certainly a money-making aspect to it. The lines for merchandise were hundreds of people deep.
But it wasn't just about money.
[+] Enlarge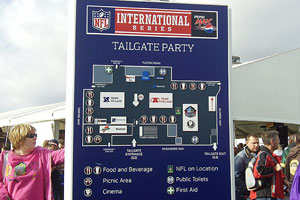 Mike Reiss/ESPNBoston
A sign outside Wembley Stadium for the AFC and NFC pavilions.
There are pavilions set up, AFC and NFC, and each team has its own large plaque that explains who they are and a bit about their history. So there was an education element to it as well.
Unlike most road games, where you usually see fans with jerseys of the teams involved, one thing that stood out to me was how fans wore jerseys of many NFL teams.
Food vendors had a little bit of everything, with fish and chips the hot spot for most.