LONDON -- ESPNBoston.com almost had an unexpected opening for a Patriots reporter this morning.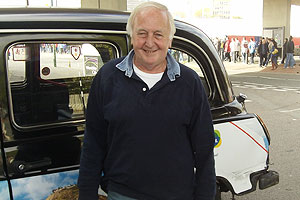 Mike Reiss/ESPNBoston
Driver Barry Jacobson in front of his taxi.
OK, that might be exaggerating a bit, but en route to today's game between the Patriots and Buccaneers, the taxi I was riding in with photographers Jim Davis (Boston Globe) and Stephan Savoia (Associated Press) was involved in a rather scary accident.
Another taxi ran a yield sign, crashing into the back left side of our taxi. One second earlier and the impact would have come closer to where we were sitting.
The humorous part of the story was what happened when our driver confronted the other taxi.
"He offered to buy me a drink and we'd call it even," said our driver, Barry Jacobson.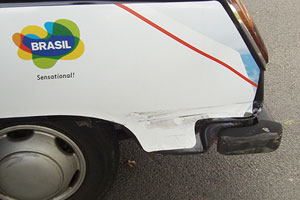 Mike Reiss/ESPNBoston
Damage to the back end of the taxi.
Only in London.
Our curiosity piqued, we asked Jacobson -- a native of New Zealand -- how a situation like that would work. He said he'd report the accident to his governor, the person who owns the cab, and the governor would take care of the insurance claim.
When the other driver's offer of a drink to call it even wasn't accepted, the other driver acknowledged liability.
The taxi was scheduled to be brought to the shop Monday to be repaired. And we had an unforgettable story to tell for years to come.