Football journey: LB Tracy White
September, 18, 2010
9/18/10
7:00
AM ET
FOXBOROUGH, Mass. -- As he often does on the football field while covering kicks, veteran linebacker Tracy White arrived on the scene suddenly.
On Sept. 5, the Patriots acquired the 29-year-old White from the Philadelphia Eagles for 2012 draft considerations. Now in his eighth NFL season, the speedy White made his impact felt immediately by assisting on a hard-hitting tackle on the season-opening kickoff.
[+] Enlarge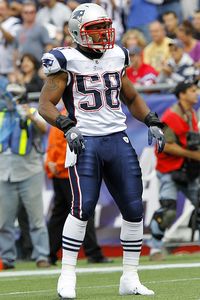 AP Photo/Robert E. KleinOn the field and with recruiting, Tracy White has had a way of suddenly making himself known.
White, a native of St. Stephen, S.C, recapped his football journey with ESPNBoston.com:
When he first played football:
"My ninth grade year in high school. I started on JV and went on from there. I was an offensive guard and linebacker."
Top memories from high school:
"Setting records in track and field. I also wrestled and played football."
On being fast:
"My dad was very athletic before he had surgery. My mom is pretty fast too. So I guess it is natural ability."
How his father Emmanuel has been an inspiration in his life:
"My dad got a brain tumor when I was in first grade. After surgery, it left him disabled. He can't see very well or walk very well. He's in church a lot and he has one of the greatest memories I've ever seen. I admire that. He can remember things like no other. His life expectancy wasn't even supposed to be that long, probably seven years after he had surgery, so he's outlived that. I go sit with him and play cards. He has different ways of doing things. He teaches me [about] things he went through and not to make the same mistakes he did."
Attending Howard to play football:
"It kind of fell in my lap by luck. I wasn't one of the guys getting recruited by big schools. A lot of small schools were offering me partial scholarships. I was going into the military until my mom found out; she called me in to the kitchen and told to wait until my senior year and something would happen. I played in a playoff game and the Howard coaches were talking to one of the guys from the other team and they saw me. It was one of my best games, with 20 or something tackles and a couple sacks. That's how they found out about me."
Top memories at Howard
: "I was just trying to be the best, knowing that someone was out there working harder. I just wanted to be the best on the field and a leader out there. I wasn't focused on getting to the NFL. I'm not a big talker. I lead by example. The things I did, with all the tackles, I got the awards for it [Black College Defensive Player of the Year in 2001] and people in the NFL started seeing me. Everything fell into place from there."
Entering the NFL as a rookie free agent with Seattle:
"I was hoping to get drafted after my senior year. It didn't happen and Seattle called. I wasn't that accustomed to going that far away from home. It was culture shock. For half the year, I had to get accustomed to it – the time difference and everything. I just wanted to play hard and show the coaches my speed and everything I had."
After two years in Seattle, landing in Jacksonville for one year:
"It was a good transition going closer to home. That's when I started to know how the business goes in the NFL. I had to get used to my role, they recognized me as a pretty good special teams player. Everyone in the NFL wants to start on defense or offense, but my role was special teams. So I was trying to be the best at what I do."
After one year in Jacksonville, playing two-plus seasons in Green Bay
: "From warm to cold, a big difference. It was a small town with a big, big team in the middle of the town. It's kind of different, but very relaxed out there. I had fun playing out there. I was a special teams captain and basically did what I was asked to do."
Landing with the Eagles during the 2008 season and sticking through 2009
: "I was just playing my role. Teams signed me to play special teams and that's what I went to do. They said they'd give me a shot on defense. Every team had told me the same thing, but I wasn't believing it, but they actually gave me a shot my second year once I got the defense down."
Being traded to New England this year and his first impressions
: "The area is very relaxed, somewhat similar to Green Bay. Team-wise, everybody is held accountable. I like the aggressive style. It's all about winning here. Special teams-wise, it's very fast and aggressive, one of the best special teams I've ever been on."
How he's stuck in the NFL for nine seasons:
"It's playing hard and showing the coaches you're a hard worker, and believing in the scheme they give you, and doing what they ask you to do. With hard work and studying, you'll live in this league."