Tedy's target: Pack's dynamic duo
December, 17, 2010
12/17/10
10:05
AM ET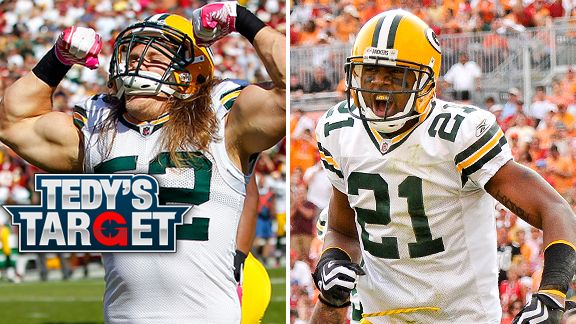 US Presswire
Leading into each Patriots game, ESPN analyst Tedy Bruschi will pick his top target for the Patriots to stop. This week, it's Packers linebacker Clay Matthews (pictured, at left) along with cornerback Charles Woodson (right):
"This is the Packers' dynamic duo on defense. Clay Matthews is a guy you always have to get a body on because he can wreck a game in one play. Patriots tackles Matt Light and Sebastian Vollmer have a big challenge and they will have to be given help at times. Matthews has that type of big-play ability. Then there's Charles Woodson. When Tom Brady drops back to pass, if he can, he should be throwing away from Woodson. This Patriots coaching staff has a lot of respect for Woodson and rightfully so -- he does it all. He forces fumbles, he gets interceptions, he's a turnover machine."
MORE FROM ESPN BOSTON

Want to submit a question for Mike Reiss' weekly Patriots mailbag? Click here and come back every Tuesday around noon for the 'bag.
Latest headlines on ESPNBoston.com:
WEEK 16 - SUNDAY 12/21 - FINAL
UPCOMING GAMES
| | W-L | PF | PA | HM | AW | STK | L10 |
| --- | --- | --- | --- | --- | --- | --- | --- |
| NWE | 12-3 | 30.6 | 19.7 | 7-0 | 5-3 | W3 | |
| MIA | 8-7 | 24.3 | 22.4 | 4-3 | 4-4 | W1 | |
| | W-L | PF | PA | HM | AW | STK | L10 |
| --- | --- | --- | --- | --- | --- | --- | --- |
| NWE | 12-3 | 30.6 | 19.7 | 7-0 | 5-3 | W3 | |
| MIN | 6-9 | 20.8 | 22.3 | 4-3 | 2-6 | L2 | |
| | W-L | PF | PA | HM | AW | STK | L10 |
| --- | --- | --- | --- | --- | --- | --- | --- |
| OAK | 3-12 | 15.9 | 27.0 | 3-5 | 0-7 | W1 | |
| NWE | 12-3 | 30.6 | 19.7 | 7-0 | 5-3 | W3 | |
BLOG ARCHIVE:
CATEGORIES:
LATEST ON THE NEW ENGLAND PATRIOTS