Which title has meant most to you?
June, 16, 2011
6/16/11
2:52
AM ET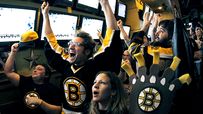 Unbelievably, the Bruins winning the Stanley Cup on Wednesday night means Tom Brady's Patriots are now the Boston team with the longest title drought, having gone a whopping six years since winning it all.
Boston teams have won seven titles since 2002. We want to know which one meant the most to you ...
CLICK HERE to rank them
and share your thoughts in the comments section below.

MORE FROM ESPN BOSTON

Want to submit a question for Mike Reiss' weekly Patriots mailbag? Click here and come back every Tuesday around noon for the 'bag.
Latest headlines on ESPNBoston.com:
UPCOMING GAMES
| | W-L | PF | PA | HM | AW | STK | L10 |
| --- | --- | --- | --- | --- | --- | --- | --- |
| OAK | 0-2 | 14.0 | 24.5 | 0-1 | 0-1 | L2 | |
| NWE | 1-1 | 25.0 | 20.0 | 0-0 | 1-1 | W1 | |
| | W-L | PF | PA | HM | AW | STK | L10 |
| --- | --- | --- | --- | --- | --- | --- | --- |
| NWE | 1-1 | 25.0 | 20.0 | 0-0 | 1-1 | W1 | |
| KAN | 0-2 | 13.5 | 25.0 | 0-1 | 0-1 | L2 | |
| | W-L | PF | PA | HM | AW | STK | L10 |
| --- | --- | --- | --- | --- | --- | --- | --- |
| CIN | 2-0 | 23.5 | 13.0 | 1-0 | 1-0 | W2 | |
| NWE | 1-1 | 25.0 | 20.0 | 0-0 | 1-1 | W1 | |
BLOG ARCHIVE:
CATEGORIES:
LATEST ON THE NEW ENGLAND PATRIOTS