FOXBOROUGH, Mass. -- Despite his familiarity with the system after being re-acquired by the Patriots last season, wide receiver Deion Branch expressed excitement about having a full camp to start the 2011 season:
On the start of training camp: "I feel good. I feel real good. I feel good, I'm excited, glad to be back, glad to have a full training camp with the team, instead of coming in in October. I'm excited for the opportunity and what we have going this year... [Being here from the start will] help a lot. There's a couple things I'm looking at now in the playbook, like, 'Man.' Stuff that we didn't go over because I came in during the season. I get an opportunity to do that now."
On Albert Haynesworth potentially joining the team: "We hear the rumors. It's not solid until it's done. I was supposed to get traded three years ago, it didn't happen."
On the Patriots culture: "It all starts with Coach Belichick, Mr. Kraft. They laid the foundation. It's a first class organization. Guys that come here have to be willing to learn, be respectable, be accountable, respect your teammates. Just top notch, everything. And I think everyone that we have in the building understands their roles. They go out and they're Patriots on the field and off the field."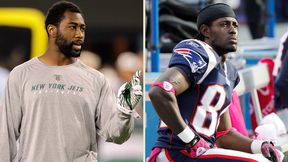 AP Photos
Deion Branch is excited for a full camp and even a potentially beefed up Jets secondary.
Thoughts on a potential Jets secondary featuring Darrelle Revis and Nnamdi Asomugha: "Yeah, that will be good if that happens for them. I don't know. Like I said, until it happens, it's just a bunch of rumors... I love it. I love the competition. I enjoy the game, I love the competition. I love to compete each and every day. Once I lose that, then I'll stop playing."
On if he's tired of hearing about Pats lacking a deep threat: "No. I can't remember what the stats were. I think we did OK last year. Now we've just got to continue to improve. But [whoever] Coach Belichick brings in or if we're going to roll with the guys we have, we're going to make the best of it."