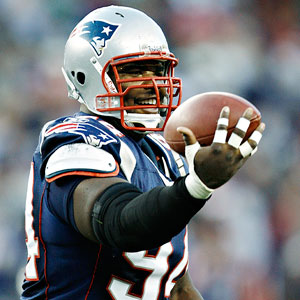 AP Photo/Winslow Townson
Ty Warren is happy to be healthy again.
FOXBOROUGH, Mass. -- Patriots defensive lineman Ty Warren is excited about being healthy for the start of camp and the potential of adding Albert Haynesworth to his position group. Here's a sampling of his Q&A with reporters:
On his health at the start of camp: "It's about as fresh as I've been. Yeah, it's about as fresh as I've been in a long while... It's just good to be fresh. The guys that played last year that were there over the offseason, I'm sure those guys are fresh as well."
On the whole team signing autographs Thursday: "Again, I think that system that's in place, that structure that's in place -- a system and structure that I think that was really influenced by the late Myra Kraft, who's not here with us today [but was] a big part of what you saw out here today. I don't think it's a propaganda thing at all. I think it's just a straight up, genuine thing, that I know that Myra would probably be rubbing her knuckles through Kraft's head, if what was displayed today didn't happen today."
Reaction to fan support: "It's huge. It's huge because I think the fans and the people who support this sport, that's the fuel to this whole deal. [They] definitely missed a lot over the offseason for what the league has built up to this point. All the NFL networks, all the things, the networks, the programs, the stuff that's in place, and the things that kind of ran out, to where people didn't have much to talk about, people didn't know the whereabouts of some of their favorite players, their organizations, whatever the case may be. New coaches that were acquired on different teams and stuff like that. So I think the owners and the players through negotiations kind of put the fans in a rough spot."
On bringing in players with checkered pasts: "I think a lot of the stuff that you see on TV, sometimes it's only half the truth. I think there's two sides to each story, and I don't think that Albert [Haynesworth] -- I think that's who you're referring to -- is a bad guy. Corey Dillon wasn't a bad guy, Rodney [Harrison] wasn't a bad guy. A lot of guys right on down the line weren't bad guys when they came in here. I think sometimes guys get a bad rap and I think that's the structure that's in place of guys that are in the locker room, making an easy transition for them when they come in."
On potentially adding Haynesworth to the defensive line: "It's huge. I mean, he's got some freakish ability. I wasn't able to see him last year, playing against opposing offenses, but I've seen him on film, and he's the real deal... Everything looks good on paper right now. But we've still got to come out here on the field and put that work in, repetition, and stuff like that. I think with that coming together, stringing some good things along, I think anything is possible."
On being injured last season: "I think that was really the first big injury I've ever had, period, and so it just presented a different challenge for me, as far as just trying to get back onto the field. I never doubted myself. I feel confident enough to know if I'm out there doing what I need to do, everything will fall in line."