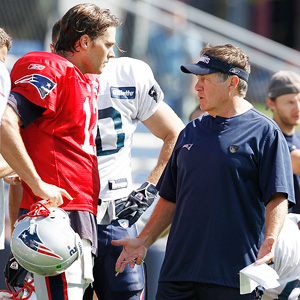 AP Photo/Winslow Townson
Patriots coach Bill Belichick offered thoughts on the "tough" release of James Sanders.
After the Patriots trimmed down their roster with eyes towards being in compliance with Tuesday's 80-player maximum, Patriots coach Bill Belichick held a conference call with the local media Monday and talked about a "tough" release in James Sanders, the potential to add another long snapper to the roster, Deion Branch's quiet preseason, and more.
Belichick said he had no update on injured players, including right guard Dan Connolly (ankle) and Wes Welker (neck), both of whom left Saturday's game in Detroit after being shaken up in the first half. Belichick did hint that more players that haven't been on the practice field recently, could return to action this week.
"[A] tough release there with James Sanders," said Belichick. "James has been a really good guy to have on this team, a hard-working kid. He developed form the time he came through to us as a [fourth-round] draft choice out of Fresno [State in 2005]. He was a solid team player for us. It's just part of the moves. We needed to release some people and he was a tough one. So, we'll have a couple other moves before we reach the limit, but we're close to it."
Coming back to Sanders later in the call, Belichick noted there's "not a lot of negatives with James, but we have to select the players that are best for our team."
A few other highlights from the call:
On the release of cornerback Jonathan Wilhite: "Jonathan's been with us three years, going on his fourth year. He primarily played in the slot -- played very capably -- we just felt like there were other players ahead of him. If we could keep more, we would. Unfortunately, we have to reduce the roster and not everyone can be here."
On adding a long snapper to the roster: "I think we'll have a snapper on our roster at some point and time, certainly soon. Rob [Ninkovich] snapped in the game [Thursday], snapped in practice, and if it comes to it, we'll be confident in that. But we expect a snapper on the roster by Thursday."
On Deion Branch's quiet preseason: "I think Deion had a good training camp. He's running well, running good routes, [and] catching the ball well in practice. I'm sure his opportunities and production will come. He had a good training camp."
On moving offsite due to power outages: "We shuffled down the road a little bit. We're working out outside of the stadium, but we should be back there in a little while... We've been on the road before, been away for weeks, a week at a time, partial weeks at a time -- our West Coast trips a couple years ago, or the London trip, whatever it happened to be. So we're managing, we're OK.... We weathered the storm, hopefully we get back into the normal flow [Tuesday]."