The Patriots made three players available for afternoon conference calls in linebacker Jerod Mayo, wide receiver Deion Branch, and defensive lineman Andre Carter. Here are some quick highlights from the calls: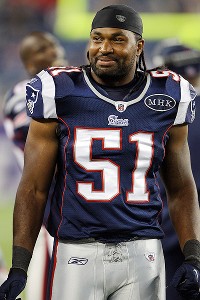 Elsa/Getty Images
Jerod Mayo said the team learned a lot from watching film.
Jerod Mayo
The Patriots watched film of Saturday's 34-10 thrashing in Detroit and Mayo said the team is trying to learn from the mistakes they made.
"It was a bad game and we didn't execute the game plan," said Mayo. "We learned a lot from the film. Hopefully we can continue forward in a positive direction."
Asked about James Sanders, a familiar presence on the field with Mayo, the linebacker offered praise for a player released as part of Monday's cutdown.
"James is a great player," said Mayo. "It's not really my job to evaluate guys and how they do on the field. Coach [Bill] Belichick made the decision and I guess he felt that was best for the team. I have all the respect in the world for James Sanders."
Mayo, a native of Hampton, Va., said both he and his family were affected the same way by Hurricane Irene: Loss of power. Mayo said his family is fine and laughed while noting his power remains out.
Deion Branch
Despite a quiet exhibition slate in which he hasn't made a reception yet, Branch reaffirmed that he's not concerned about the lack of preseason production.
"My job is to go out there and execute the plays that the coaches call," said Branch. "Definitely, as a receiver, you want the ball, but I understand what we're trying to do as far as working the things that we're trying to do, working the kinks out in our offense. Trust me, I have all the confidence in the world that [quarterback] Tom [Brady] will find me when he needs me, and when the coaches make the playcall. I'm not stressing over the fact that I haven't caught the ball in the preseason."
Branch said he felt like he's had a good training camp, but said he'd leave that up to coach Bill Belichick and his staff to evaluate (in a previous conference call, Belichick offered praise for Branch's camp).
Branch said the tropical storm that forced the Patriots offsite Monday didn't cause too much havoc at his home in the region.
"It's beautiful today, so hopefully we can get out there and clean up some of the mess Irene left behind," said Branch.
Andre Carter
Like Mayo, Carter stressed that film session was healthy for a Patriots team and the players are eager to learn from their errors in Detroit.
"It was just one of those games that, unfortunately, we didn't play to the best of our ability," said Carter. "We didn't play on a level that we expect to play on. It was just one of those games that you learn from it and just move on. That's something that we've done... From a player or a coaches' perspective, all you can really do is say, 'OK, these are the things we need to work on and continue to grow, and these are the things we should never do again.' And that's the best way to put it."
Also like Mayo, Carter said his power remains out. He talked about trekking with some teammates to get food Sunday, but said that power outages at the stadium didn't affect the team too badly on Monday.
"What we always do," said Carter. "There was no other difference after the game or after a day of rest. We came in, we worked out, [we] did stretching, got the muscle fatigue out. What we did was we analyzed the game film, critiqued ourselves, and tomorrow is another day. Just the usual routine."