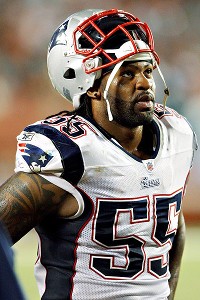 Douglas Jones/US Presswire
Linebacker Brandon Spikes returned to practice Tuesday.FOXBOROUGH, Mass. -- The Patriots' defense received a boost on Tuesday afternoon when defensive lineman Mike Wright and linebackers Dane Fletcher and Brandon Spikes returned to practice. It was the first time Wright and Spikes had practiced since Aug. 4, and the first time Fletcher had been in action since leaving with a thumb injury early in the second game of the preseason in Tampa.
Meanwhile, wide receiver Wes Welker was not spotted at the media access portion of Tuesday's practice. He left Saturday's preseason game against the Lions with a neck injury, but spoke to reporters in the locker room on Tuesday. While Welker appeared to dodge any serious injury, the team is likely taking a cautious route with him as it prepares for the preseason finale.
Guard Dan Connolly, who left Saturday's game in Detroit with an ankle injury, was not spotted at the workout, which was held in shorts and light shoulder pads. Also out of practice was wide receiver Taylor Price, who played on Saturday; his injury status is unclear. In addition, cornerback Leigh Bodden and running back Stevan Ridley remain out of action.
Running back Kevin Faulk, who is on active/PUP, took part in full-team stretching and jogging at the beginning of practice, wearing shorts and a t-shirt. Other players not in action were running back Eric Kettani, offensive linemen Marcus Cannon (active/NFI) and Ryan Wendell, defensive linemen Ron Brace (active/PUP), Jermaine Cunningham, and Brandon Deaderick (active/PUP), and linebacker Jeff Tarpinian.