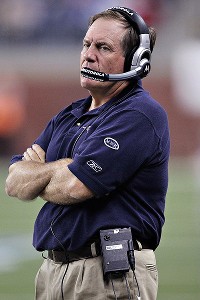 Leon Halip/Getty Images
Patriots coach Bill Belichick said cuts don't get any easier.The New England Patriots watched film of Thursday's exhibition finale against the Giants on Friday morning and coach Bill Belichick and his staff began the process of trimming down their roster by releasing eight players with eyes toward meeting the league-mandated 53-man limit on Saturday.
Linebacker Ricky Brown; offensive linemen Jonathan Compas, Mike Berry, and Corey Woods; running back Richard Medlin; defensive lineman Darryl Richard; tight end Carson Butler; and wide receiver Buddy Farnham, all longshots to make the final roster, were those released.
The Patriots' roster now stands at 72 players.
Belichick called this week's cutdowns the "worst part of the job," noting the team had to essentially shed 37 players from the 90-man roster that existed heading into the final week of the preseason.
"Guys work hard, they give you everything they've got, go out and compete, but not everyone can make it," said Belichick. "It's always a tough time of year for myself and the other position coaches as well. Those guys have spent a lot of time with those guys in meetings, watching film, in practice in smaller groups, and they've developed a good working relationship with those players. It's hard to see it end. Unfortunately, we all understand that's part of the process, part of the business. That doesn't make it easier. I wouldn't say you get used to it, but it's something you have to deal with every year. It never gets easier. You're affecting their lives, their families, and their careers. You try to do what's best for your team, but it can still be tough -- it is tough."
Asked how health factors into decisions, Belichick said only long-term injuries affect the process.
"Each player and each injury situation is different from the next, how that relates to that particular individual player, how that player relates to the group at his position or the groups that are in are interrelated to that position, each one is unique," said Belichick. "It's certainly part of the discussion. It's a much bigger part of the discussion when you're talking about long-term injuries, guys that are out for a couple months or that type of thing. When it's a week or two weeks or a shorter amount of time, and you're talking about making a decision that impacts a team for 16 weeks, I think it goes without saying that it would have less of an impact there, even though we'd be concerned about that injury or that situation for the first game. I think we try to take a little longer view than that and figure out what's best over the long haul."
Belichick offered praise for both rookie offensive lineman Nate Solder ("A lot has been thrown at him, but he's handled it well and very maturely," said Belichick) and wide receiver/special teamer Matthew Slater ("He's a hard-working player, nobody outworks him... His versatility helps him.")
Asked about safety Brandon Meriweather and playing into the fourth quarter Thursday with backup units, Belichick noted that Meriweather, "was on the field in the beginning of the game last week, so we mixed our rotations up like we usually do."
Asked about Meriweather's preseason, Belichick said, "he's worked hard. He's been able to do everything and I think he's gotten better, worked a lot on his man-to-man coverage. He's out there practicing like everybody else is."