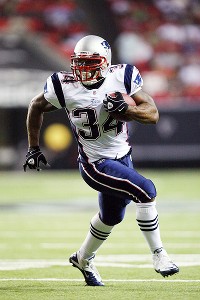 Marvin Gentry/US Presswire
Sammy Morris has been released by the Patriots.Veteran running back/fullback Sammy Morris has been informed of his release today, his agent Mark Slough announced on Twitter.
Morris was a bubble player, which was reflected in ESPNBoston.com's final 53-man roster projections, which had Morris on one of the two projections. He joins defensive end Eric Moore as the most notable Patriots cuts today.
The Patriots have BenJarvus Green-Ellis and Danny Woodhead atop the depth chart, and then selected Shane Vereen (2nd round) and Stevan Ridley (3rd round) high in the draft, so the question all along has been whether the club will keep five backs.
Morris' release, for now, signifies that the number will be four. With the Patriots poised to keep three quarterbacks on the roster for the first time in a few years, another position has to be trimmed, and running back -- where the Patriots have kept five in the past -- looks like the choice.
Richard Medlin, who was with the team in training camp, could possibly join the practice squad to add another layer of depth.
As for how the Patriots handle two-back sets, a tight end could serve as a lead blocker -- something that unfolded in preseason games -- as well as an offensive lineman (particularly near the goal-line).