FOXBOROUGH, Mass. -- A handful of nuggets from Patriots coach Bill Belichick's morning press conference on Wednesday at Gillette Stadium: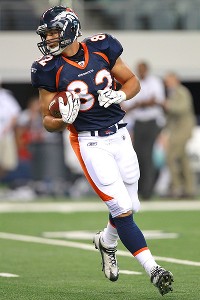 Ronald Martinez/Getty Images
Bill Belichick said Dan Gronkowski will have some familiarity after playing under Josh McDaniels.1. The book on Edds: Belichick gave a quick scouting report on linebacker A.J. Edds, claimed off waivers from the Miami Dolphins on Tuesday. "[Edds] played outside linebacker at Iowa, went down to Miami last year and played inside linebacker. [He] looked like he was having a pretty good training camp, pretty good preseason, injured his knee, missed the year and then came back this year and played inside linebacker down there, so I think he has a little bit of inside-outside flexibility, kicking game, [and] has long snapped."
2. Moving on with moving parts: Belichick noted that, even with all the moving parts in recent days, he expects every member of the team ready to play when the season kicks off Monday night in Miami. "Once a player is on your team, whether he's on your practice squad or your 53-man roster, he needs to be ready to play," said Belichick. "We could play any of those players potentially on Monday night. The idea is to get them ready. In some cases, it might not be for every single thing. It might not be 100 percent of the information or the game plan. It might be a fraction of that or it might be certain roles in certain personnel groups or certain special teams units, however it turns out. I think you give them all the information and then as the week goes by you determine what, if any, you feel comfortable with them doing and playing in the game and then you go from there. We all know there's circumstances where if you're at the game, there's no telling what could happen on the first play of the game or the first quarter or whenever. If they're at the game, they have to play."
3. Parting ways with Butler: Asked about cornerback Darius Butler, a second-round draft pick in the 2009 draft, Belichick reaffirmed a desire to do what's best for the football team. "[We] try to put together the most competitive team we can," he said. "Obviously, there are players that aren't on this team that are good players and they were good players for us and I'm sure they'll play for somebody else. But we have to make the decisions we feel are best for our football team so that's what we do."
4. Belichick on adding another Gronkowski: Asked if tight end meetings will be a little louder now after the Patriots added tight end Dan Gronkowski, Belichick quipped, "There will probably be a little more conversation now. Hopefully we can keep it on football." As for the scouting report, Belichick added, "Dan has done a good job in Detroit and last year out in Denver in [former Patriots offensive coordinator] Josh's [McDaniels] offense. So it's easy to see him doing some of the things that are similar to what we do. I feel like he's a good addition to our team at that position, both offensively and he's also had some playing time in the kicking game so hopefully he can help us there too."