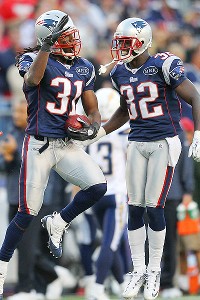 Jim Rogash/Getty Images
Sergio Brown celebrates his third-quarter interception with teammate Devin McCourty.FOXBOROUGH, Mass. -- Forgive New England Patriots safety Sergio Brown if he was a little over-emphatic after his third-quarter interception in a 35-21 triumph over the San Diego Chargers Sunday at Gillette Stadium.
It was his first interception since high school. Yes, high school.
"I know, wow, I was ecstatic," said Brown. "That was my first interception since high school. Really -- high school. I was so in the moment that I really don't remember what I did after the interception."
All that matters is that Brown knows what he did to make the key play. Matched up on all-world tight end Antonio Gates, particularly after fellow safety Patrick Chung departed early in the second half with a hand injury, Brown made a nice break to pick off a pass after the Chargers had marched to the New England 17 late in the third quarter.
Brown made the swipe at the New England 9, preventing San Diego from biting into New England's 20-7 lead.
"I was man-to-man on Antonio Gates, he was running an out route and I was sticking him all the way to keep him off balance, so I ran as fast as I could to keep up with him," explained Brown. "When I turned and looked up the ball was there and I picked it."
Gates finished with no receptions, intercepted on his only target of the game.
"We hit him as much as we could because we knew we couldn't let him get started on his routes because as he builds up on his speed, he runs better routes as he gets up the field," said Brown. "So we try to get him as close to the line of scrimmage as possible."
Brown, an undrafted safety out of Notre Dame who appeared in 11 games as a rookie last season, earned his first career start Sunday. He finished with seven tackles, second on the team only to Jerod Mayo (11). More importantly, he helped New England cause four turnovers (two fumbles, two interceptions).
"We worked really hard this week on getting more turnovers," said Brown. "[Patriots safeties] coach Matt Patricia reminded us all week -- turnovers, turnovers, turnovers -- with extra drills all week and it really paid off."