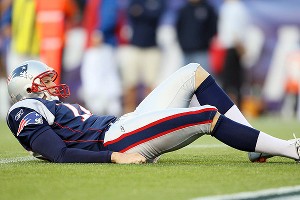 Elsa/Getty Images
Patriots punter Zoltan Mesko injured his left knee in the second half Sunday.FOXBOROUGH, Mass. -- What was he thinking this time?
The Patriots were faced with a fourth-and-4 at the Chargers' 49-yard line with 11:45 remaining in the fourth quarter and New England clinging to a 20-14 lead Sunday at Gillette Stadium.
Generally, there is no debate about the play call in that situation. Punt. That's the play. A punt.
But Patriots coach Bill Belichick opted to have quarterback Tom Brady and the offense go for it. They failed. Brady's pass to Deion Branch fell incomplete, giving San Diego's high-powered offense excellent field position.
So why did Belichick decide to go for it there? Did it have anything to do with punter Zoltan Mesko being helped off the field, favoring his left leg after having been knocked down during a third-quarter punt?
"Yes," said Belichick succinctly.
The decision did not hurt the Patriots.
Three plays later, the Chargers' Mike Tolbert fumbled and Rob Ninkovich recovered for New England on the Patriots' 34-yard line. Only four plays later Brady hit Rob Gronkowski with a 17-yard touchdown pass and Danny Woodhead rushed for the conversion, expanding New England's advantage to 28-14 en route to an eventual 35-21 victory.
It was a day of big plays by the Patriots' defense, featuring a goal-line stand and four turnovers.
With the Pats leading, 10-7, midway through the second quarter, San Diego decided to go for the touchdown on a fourth-and-1 from a step or two from the goal line. Tolbert was stuffed by the Pats' defense. Jerod Mayo made the hit.
"Huge," said Belichick. "Spilled the ball outside, looked like we got a good push inside, and the runner never really got turned up because he ended up going sideways and we were able to make the play. It was a first-and-goal on the three or something like that (first-and-goal at the five). They were down there on all four plays, so it was huge for us."
So were the two interceptions as well as the fumble recovery.
"You can't say enough about those turnovers," said Belichick. "That had a huge impact on the game with the goal-line stand."