ORCHARD PARK, N.Y. -- Patriots wide receiver Wes Welker set a franchise single-game record with 217 receiving yards in Sunday's 34-31 loss to the Bills, breaking Terry Glenn's mark of 214, which was set in 1999.
To Welker, the result overshadowed the accomplishment.
"Pretty much it detracts from everything," he said. "You know, what should be a great fun day of breaking records and doing all those things, it's totally the opposite."
Welker was remarkable, finishing with 16 catches and two touchdowns as quarterback Tom Brady targeted him a whopping 20 times. In fact, Patriots receivers caught only three other passes (Chad Ochocinco with two, Julian Edelman the other).
And it was the four passes that the Bills caught from Tom Brady that really made the difference.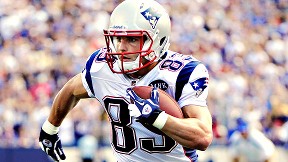 AP Photo/Gary Wiepert
Patriots wide receiver Wes Welker set a single-game Patriots record for receiving yards."I think the turnovers really killed us in the end," Welker said. "We were able to do some good things out there and moved the ball pretty well and things like that. We get in key positions, we can't turn the ball over and make some of those mistakes, and pick 6s and different things like that. We didn't play very good complementary football with each other. The Bills came out there and played hard and kept fighting, and they were definitely a tougher team than us today."
On the turnovers, Welker said, "I think it's multiple things. You know, I'm sure Tom [Brady] will tell you, bad throws and different things like that; ultimately we got to be on the same page and we're all accountable for it and making sure that we're in the right spots making the plays we need to.
"I think any time you turn the ball over, especially in the situations we were in, it's never good. It's never good for your psyche, it's never good for the team and never good for scoring points. It's not just Tom. It's everybody getting on the same page and understanding that we're in this together."
Welker bookended New England's scoring, catching a 14-yard touchdown pass from Brady on New England's first drive of the game to help stake the Patriots to a 21-0 cushion. And it was Welker that came up with numerous big-time catches on New England's final drive, including a 6-yard touchdown grab on fourth-and-goal to tie the game at 31 with 3:25 to play.
"Wes is always a big factor in the game," said Brady. "I know he had a bunch of catches and he's a great player for us. We threw the ball quite a bit today. A lot of the guys made plays out there and we needed each of them. I just wish we would have made a few less mistakes."
And it was those mistakes that Welker kept coming back to as well.
"I knew that there were some opportunities and things like that," said Welker. "You know sometimes that's just the way the games play out. You go into it trying to catch some balls, give yards for the offense, try to move the ball down the field, and, ultimately, score. At times we did that very well and at times we didn't. We just got to put it all together and be on the same page and understand that we just have to keep possession of the ball."