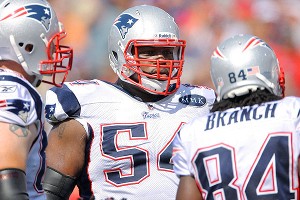 Tom Szczerbowski/Getty Images
Newcomer Brian Waters has been impressed with the Patriots' focus on the collective goals.Patriots coach Bill Belichick said it takes three or four regular-season games for a team to tell what it's got. With that in mind, New England reaches a checkpoint Sunday in Oakland, writes ESPN Boston's Mike Reiss:
One might call this an "identity" game for the Patriots, a team that has flashed offensive brilliance at times through the first three weeks of the season, but also major vulnerability on defense.

Is this what the Patriots really are?

One of the themes among players this week has been getting back to playing "Patriots football," which ties in to a team identity. That starts with taking care of the football after four interceptions last week against the Buffalo Bills, and limiting big plays on defense, which has been a major problem.

Brian Waters noted those goals aren't unique to the Patriots, but "we take a lot pride in that."

"It's really just trying to get back on track in terms of doing the things we do right," Waters said. "We know we're going into a tough environment, so we can't let those things to distract us."

A tough environment sometimes brings a team together, creating an us-against-the-world mentality. The 2009 Patriots, for example, struggled to win on the road, which reflected, in part, a locker room in which players were pulling in different directions.

Waters doesn't see anything like that with this club.
Hop HERE to read the full story.