FOXBOROUGH, Mass. – There aren't too many "football journeys" that can match that of veteran guard Brian Waters. After all, how many can say they entered the NFL as an undrafted tight end and then went on to earn five Pro Bowl berths as an offensive lineman?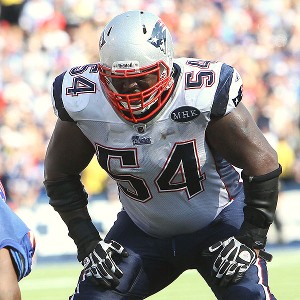 Icon SMI
Patriots right guard Brian Waters.
The 34-year-old Waters, of Waxahachie, Texas, has taken an unconventional route at various points in his career. In addition to his on-field success, he was named the 2009 NFL Walter Payton Man of the Year for his off-the-field community service.
Waters shared his journey with ESPNBoston.com this week.
When he first started playing football: "I started pretty early. I was 5 years old."
Why so early: "I'm from Texas. Everybody plays football. That's something you grow up in. Texas football is like a religion, you join in with everybody else."
First position: "Center. I was overweight by a pound, so I couldn't play one of the skill positions."
Top memories as a TE, FB, LB and DE at Waxahachie High: "There are a lot. We were a very good team, only losing three games in my four years. We played in a lot of big games. The first time we played in Texas Stadium was huge. That was one of the first great moments."
Why he attended college at North Texas: "It was a pretty easy decision for me. I wanted to stay close to my family, and the other part was being able to go to a program where I could establish myself. I came from a program where we had a few Division I prospects every year, and those guys were trying to go to the bigger-name schools. North Texas was just coming back to Division I, and I'm one of those guys who likes to root for the underdog."
Other possibilities for college: "There was the University of Houston, Arkansas, UTEP, Texas Tech. Those were other programs where I had opportunities, but I didn't think those would have been as great for me as going to a school where I had an opportunity to play right away."
Top memories at North Texas: "Beating Texas Tech, in Lubbock, when we were 20-point underdog. That was probably the biggest win for the school."
Going undrafted in the NFL: "I knew there was a likelihood I wouldn't get drafted because I played multiple positions in college (tight end, defensive line), and we weren't a very good program. In the draft process, and because of my size (6-3, 265), they didn't know where to play me. Some teams were looking at me as a defensive end, other teams tight end, other teams fullback."
Signing as a rookie free agent with the Cowboys in 1999: "It went fast, just [training] camp and a few weeks. It was a unique situation, playing with all those great Hall of Fame players I grew up watching. It was kind of an awe moment at first, but then reality kicked in right away that you had to earn your stripes. I played tight end and fullback. At fullback, they only carry one of those (Darryl Johnston at the time), and the numbers didn't present themselves well for me."
Joe Robbins/Getty Images
Waters with the Chiefs.
After being released by Dallas in September of 1999, joining the Chiefs in March of 2000: "That was the first workout I had in what was supposed to be a series of workouts with different teams. Gunther Cunningham was the head coach at the time, and he persuaded me after a two-hour conversation to work out along the offensive line, at center to be exact. He thought I could make the move, and he had done it before (with other players). It was the first time an NFL team showed that much interest in me and I took the chance on it."
Cunningham and others who made a difference in his NFL career getting started: "It was a couple guys. Mark Murphy. Gunther. And John Schneider, the general manager in Seattle now, was a huge part of that process."
After signing with the Chiefs, playing in NFL Europe for the Berlin Thunder in 2000: "I started and played every snap at center. It was definitely one of the great experiences for me."
Top memories with the Chiefs (2000-2010): "That's tough, because there were so many great ones. We had some great times. I think most of them for me were reveling in others' accomplishments – Priest Holmes' single-season touchdown record, Will Shields over 200 straight games started, starting off 9-0 one season and getting a bye in the playoffs. We had the game with eight rushing touchdowns against Atlanta."
When he truly settled in as an offensive lineman: "The third year. My first year, I was mostly special teams. The second year, I started eight games, one at center, the rest at guard. But the third year, with the full offseason to concentrate on my craft and understand what the job entailed, is when I really felt more comfortable."
After being released by the Chiefs this year, landing with the Patriots: "I knew it wasn't over. I had many options, but it was one of those things where you want to pick a place that you feel is right for you. I felt like this place was."
What he's learned about the Patriots: "Just a consistent program. They come to work every day. Seven days a week, guys are here, working, watching film, studying their playbooks. That's something you grow to appreciate, being a veteran and coming to a team like that."
Mentors and role models in his life: "Dante Wright, who is a great friend of mine and was my coach in college. He's now a pastor of a church in Round Rock, Texas. And my grandmother was a great role model for me. She worked very hard, 40-plus years, doing the same job. It may have been tedious and not exciting, but she had to put food on the table to raise me and she took on that position without any hesitation."
Favorite teams growing up: "That's easy. Cowboys."
Favorite players: "The reason I wear 54 is Randy White, "The Manster." He was as tough as they get."
Where the journey goes from here: "To be continued, hopefully. You hope it ends up in great fashion. I just take it year by year. It's been a great run, even before I got here. This is just icing on the cake."