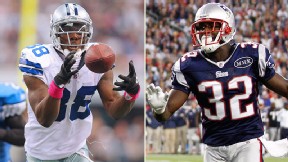 US Presswire
Dallas WR Dez Bryant and New England CB Devin McCourty are linked by the 2010 draft.Cowboys wide receiver Dez Bryant and Patriots cornerback Devin McCourty, intertwined in draft day dealings, will meet on the field on Sunday, writes Chris Forsberg:
The Patriots entered the 2010 draft with the No. 22 pick, but -- as they are wont to do -- traded out of that position, sending the selection to Denver in exchange for the No. 24 pick and a fourth-round choice (113th overall) that they would use to select tight end Aaron Hernandez.

The Patriots had a second chance to select Bryant -- a player they hosted in Foxborough on a predraft visit despite buzz that he could be selected well before New England would be on the board -- but this time facilitated a swap with the Cowboys, who drafted Bryant, and used New England's original fourth-round pick to grab linebacker A.J. Edds (119th).

New England landed McCourty at No. 27, then used Dallas' third-round pick (90th) to select wide receiver Taylor Price.

The unanswered question is how seriously the Patriots considered Bryant before dealing away those picks. Coach Bill Belichick and personnel director Nick Caserio shed a tiny bit of light on their thought process Tuesday.
Hop HERE to read the full story.
[Your turn: Now that we've had a season-plus to evaluate the players involved, would you change anything about the Patriots' 2010 draft? Sound off in the comments]