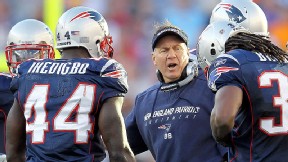 Jim Rogash/Getty Images
What do we know now about the Patriots that we didn't six weeks ago? We reflect at the bye.After six weeks of football, what do we know about the 2011 Patriots? Our experts break it down as New England enjoys some time off at the bye week.
ESPN Boston's Mike Reiss checks in with his five things, including how the 2011 squad has proven itself to be mentally tougher than recent seasons:
Unlike the 2009 season, when the Patriots went deep into late December before proving they could win in a true road game, this club checked that off the list in Week 1. Add in a Week 4 win at Oakland, and then a clutch fourth-quarter comeback against the Cowboys at home last Sunday, and a picture starts to come into focus of a team with a steely resolve.... Some have compared [Sunday's win over Dallas] to a Patriots-style 2003- or 2004-type win. It's well said.
ESPN Boston's Chris Forsberg adds his five things, including the importance of adding guard Brian Waters just days before the season kicked off in Miami:
After sitting out training camp, Waters had rotated reps at right guard with Connolly on opening night. Since Koppen went down, Waters hasn't left the field. Nor would the Patriots want him to. According to analytical site Pro Football Focus, Waters has allowed no sacks, two quarterback hits, and just one quarterback pressure over 261 total plays in pass protection... Most impressively, Waters had virtually never played right guard in his NFL career. After 11 seasons and five Pro Bowls with the Chiefs, he seamlessly made the switch to the right side, solidifying a side where rookie Nate Solder has started five of six games in place of injured Sebastian Vollmer.
Hop HERE to read Reiss' 5 things, or HERE for Forsberg's 5 things.
[Your turn: What stands out to you after the first six weeks of the NFL season? Sound off in the comments section.]