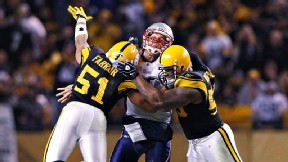 Jason Bridge/US Presswire
The Patriots have had an extra week to prepare for the Steelers' defense.With an extra week to prepare, the New England Patriots know what the Pittsburgh Steelers will bring -- a top-notch defense:
It might not have been as emphatic as the one quarterback Tom Brady delivered after producing the winning touchdown against the Dallas Cowboys in Week 6, but you get the feeling New England Patriots coach Bill Belichick might have given a tiny fist pump when the 2011 schedule came out and he saw his team's bye week situated before a late-October visit to Pittsburgh.

Sure, New England has dominated the series against the Pittsburgh Steelers in the Belichick era, winning six of eight meetings since 2001, including AFC championship games during the Super Bowl seasons of 2001 and 2004. But with three Super Bowl appearances and two titles of their own over the past five seasons, the Steelers have essentially jockeyed with -- and maybe even overtaken -- the Patriots in the recent battle for AFC supremacy.

That rivalry resumes Sunday when the 5-2 Steelers host the 5-1 Patriots at Heinz Field. With the Steelers the defending AFC champs, Belichick knows the road to the Super Bowl passes through Pittsburgh, and, to him, every extra second of preparation could be the difference in the game.

"They look good as usual -- the AFC champion last year -- a lot of the same players, same schemes," Belichick said. "Big challenge, a lot to get ready for. They do a lot of things to make it tough on you. They're well coached, [they have] a lot of talent in all three phases of the game.

"Both teams know each other well, so I don't think there will be a ton of surprises here. It will come down to preparation, execution and decision-making on game day. Hopefully we can do a good job of that."
Hop HERE to read the full story.