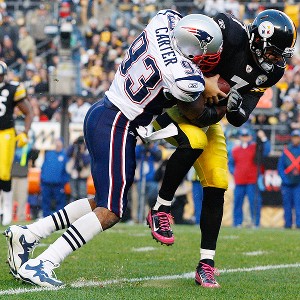 Jared Wickerham/Getty Images
Andre Carter's second consecutive two-sack effort was among the positives in Sunday's loss.Patriots safety Patrick Chung said he was "definitely encouraged" after Sunday's loss in PIttsburgh. We help him look for the silver linings:
When asked if he saw positives in film review on Monday, Patriots safety Patrick Chung found some bright spots.

"[I'm] definitely encouraged," Chung said. "We played a good game. [The Steelers] just played a better one. They had more big plays than we did. We played a good game, they played a better game, and they got the best of us."

Some will wonder if Chung is delusional. Was he truly encouraged by a defense that gave up 427 total yards, while allowing the Steelers to convert a whopping 10-of-16 third-down tries (63 percent).

Chung seemed to be focused on the fact that, amidst overwhelming struggles, the Patriots still found a way to give themselves a chance to win. Much like the team did in topping Dallas before its bye week.

The bottom line is winning and it doesn't always have to be pretty.
Hop HERE to read the full story.
[Your turn: While many are lamenting New England's play in Sunday's game, did you find any silver linings in their effort? Sound off in the comments.]