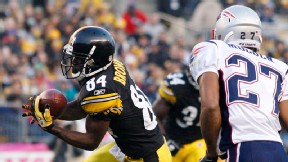 Jared Wickerham/Getty Images
Antwaun Molden (27) at work vs. the Steelers.FOXBOROUGH, Mass. -- While the Patriots were scorched by Pittsburgh's passing game Sunday, coach Bill Belichick came out in defense of his cornerbacks Wednesday, suggesting that much of the blame fell on the linebackers and safeties for all of the plays made in the middle of the field.
The Patriots left themselves thin at corner after releasing veteran Leigh Bodden late last week (and rookie Ras-I Dowling, who started the first two games on the season, went on season-ending injured reserve). Inexperienced young players like Antwaun Molden and Phillip Adams were thrust into elevated roles.
"I thought [Molden and Adams] were competitive," said Belichick. "The problems we had in the Pittsburgh game, I wouldn't put that at the top of the list."
When a reporter brought up a poor coverage play involving Molden, Belichick added, "I wouldn't say every play was a good play. But the number of plays that happened on the perimeter of the field, relative to the plays that happened well inside the numbers, there isn't a comparison."
Molden played a career-high 42 snaps in Sunday's loss, more than doubling his previous output (41 snaps) with New England. According to coverage stats logged by Pro Football Focus, Molden allowed four receptions (on five targets) for 38 yards and two first-half touchdowns. He didn't use the late-week roster shuffling as an excuse for any of his struggles.
"It wasn't necessarily challenging," said Molden. "If you study, if you execute well, you should be successful."
Asked what stood out to him on film, Molden noted, "Each and every week, I have a standard. After watching film this week, there were little things where I could get better at."
Adams, who hadn't played a defensive snap yet this season, was on the field for 19 plays and allowed one catch (on one target) for 5 yards. Like Molden, he didn't lament being thrust into a bigger role against a pass-happy Steelers squad.
"You're a professional, so you have to do what you have to do," said Adams. "Your team is depending on you... You just have to be ready for every situation, prepare yourself both mentally and physically for it."
Signed three times by the Patriots since initially joining the team on Sept. 21, Adams admitted it felt good to be back on the field (he played just 76 total snaps his rookie season with the 49ers last year).
Both Adams and Molden know that, barring further moves, they will have big roles moving forward and they stressed the need to work on continuity and communication moving forward. As Adams noted, "With everything you do, repetition is key, especially in building confidence."