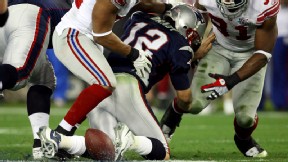 Matthew Emmons/US Presswire
Tom Brady under pressure vs. the Giants.Heading into Sunday's game against the New York Giants, Tom Brady and the Patriots are grumpy. But it's not about Super Bowl XLII:
Pressed on the 17-14 loss in the Arizona desert that spoiled New England's quest for a perfect season, running back Kevin Faulk suggested he has avoided even the briefest of highlights.

"I never watched the game; never seen the game," he said. "Let's just talk about us playing them on Sunday -- us trying to play better and win a football game. That's what we want to do right now as a football team."

If Faulk sounds a little grumpy, it's because he and the rest of the Patriots pretty much are. But it's got nothing to do with the Giants. One cringe-worthy film the Pats had no choice but to review this week was Sunday's debacle in Pittsburgh, and that's left all the players -- those here for the 2007 season and otherwise -- feeling pretty sour.

"We're all pretty much in a bad mood," admitted quarterback Tom Brady. "There is a mourning process that goes on with our team, our coaches, players. We hate losing. It's not something we'll ever get used to. It sucks. The whole week sucks, actually."
Hop HERE to read the full story.