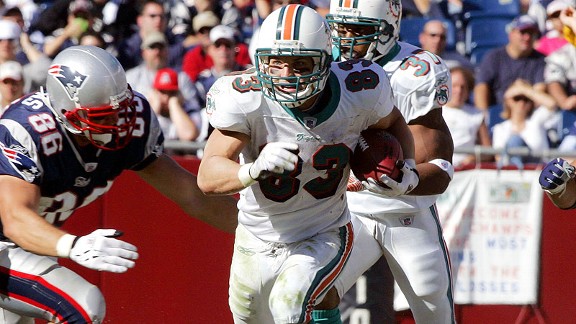 Scott Boehm/Getty Images
Wes Welker at work for the Dolphins vs. the Patriots.Patriots coach Bill Belichick had just finished gushing about Wes Welker's play this season during a conference call to the New York media Wednesday when he was asked how he might devise a game game plan to stop the team's top receiver.
Quipped the coach: "That is why we traded for him from Miami, because we couldn't cover him when he was down there."
That's not entirely true. In six career regular-season meetings against the Patriots, Welker combined for just 14 catches for 157 yards. This season, it's not unfathomable for Welker to put up those type of numbers in a single game. But Welker certainly made his contributions in the kicking game while with the Dolphins, particularly on returns as he took back 21 kicks against the Patriots for 521 yards (24.8 yards per return) and 18 punts for 213 yards (11.8 yards per return).
A closer look at Welker's regular-season game log against the Patriots:
CAN'T BEAT HIM? TRADE FOR HIM
A look at how wide receiver Wes Welker fared against the New England Patriots before joining the team in 2007:
Welker sat out Wednesday's practice with a neck injury, but did talk to New York reporters on his own conference call earlier in the day. Asked why he believes he's hard to cover, Welker pointed to hard work and understanding what opponents are trying to do against him (suggesting film work and advanced study is crucial for his success).
When he was asked how difficult he thought he was to cover, Welker noted, "I think when I am on top of my game, I feel like I am pretty tough to cover. I feel like when I am in that flow, it is pretty tough."
Of course, all Belichick wanted to talk about was Welker's contributions as a blocker.
"Wes has done a good job and has been returning some punts for us. He is a smart player that has been productive," said Belichick. "He has really done a good job of blocking as well as receiving. He had a couple big blocks for us in the Jets game when we were running out the clock. He had a big block on the sweep. He has done a good job all the way around and has been well prepared. He has caught the ball well, done a good job of getting open and run after the catch."
The Patriots traded second- (center Samson Satele at 60th overall) and seventh-round picks (defensive end Abraham Wright at 238th overall) in the 2007 draft to Miami in exchange for Welker.