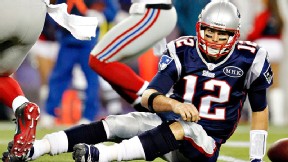 David Butler II/US Presswire
Tom Brady and the Patriots are down... but certainly not out.At the midpoint of the 2011 season, the numbers are troubling for the New England Patriots, but they've got one thing working in their favor: The schedule.
In 10,000 simulations of the remainder of the season conducted by AccuScore, the Patriots captured the division 69.1 percent of the time, followed by the Jets (18.3) and Bills (12.6).

Sunday's result against the Jets certainly will have a major impact on those odds, but New England could already hold a key advantage. The two teams have nearly identical remaining schedules apart from one key opponent. While New England has the 0-9 Indianapolis Colts ahead, the Jets must face the 6-2 New York Giants.

At the season's midpoint, the AFC playoff picture is quite unclear. Eleven of the 16 teams are between 4-4 and 6-2. At 5-3, the Patriots are tied for the fifth-best record in the conference. Yet, their inviting schedule remains an advantage. AccuScore gives New England an 85.9 percent chance at the postseason. Only the Houston Texans (92.6 percent) are given a more favorable outlook in the AFC.
Hop HERE to read the full story.