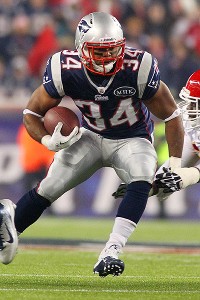 Stew Milne/US Presswire
Patriots running back Shane Vereen vs. the Chiefs.FOXBOROUGH, Mass. -- Injured for much of training camp and limited to three offensive snaps over the first nine games of his rookie season, Patriots rookie running back Shane Vereen admitted he'd been itching for some touches.
Vereen, a second-round draft choice (56th overall), rushed eight times for 39 yards Monday and capped the scoring with a 4-yard touchdown run late in the fourth quarter of a 34-3 throttling of the Kansas City Chiefs at Gillette Stadium.
"I think anybody who's played football this long has been itching to get out there when they haven't been out there for a while," said Vereen, who has been inactive for four games and didn't get off the sideline in two others. His only three snaps came in a Week 6 win over the Cowboys. "It was good to get out there. It was fun, I enjoyed it. It was a good team victory."
Patriots backs combined to rush for 157 yards on 35 carries, sparked by BenJarvus Green-Ellis' 81 yards on 20 trots. But in the fourth quarter, it was Vereen who took the baton and he made the most of his first real opportunity.
Vereen carried eight times in 11 plays, highlighted by a 19-yard, third-down jaunt that set up touchdown run.
"I was just playing," he shrugged. "I saw [the defense] overpursue [on the long run] and I cut back. The offensive line did a great job blocking for me."
On fourth-and-goal, Vereen found room between rookie left tackle Nate Solder and tight end Aaron Hernandez to reach paydirt. Like any good running back, he didn't part with the ball, clutching the keepsake all the way back to the sideline after the score.