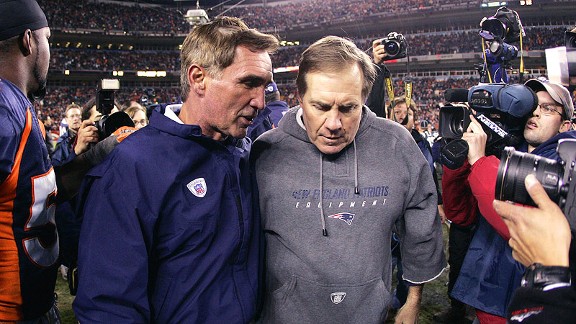 Joe Robbins/Getty Images
Bill Belichick and Mike Shanahan share a coaching bond.Patriots players are off today, but the team's coaches are currently involved in preparations for Sunday's road game against the Redskins.
Today's media conference calls offered the opportunity to explore the connection between head coaches Bill Belichick and Mike Shanahan. There is a lot of mutual respect there, with Belichick hosting Shanahan at Patriots training camp two years ago.
Where did the connection between the two begin?
"I think Mike liked me because he used to beat up on us all the time," Belichick cracked. "Denver, they got us a few times."
Belichick then turned serious.
Robert Mayer/US Presswire
Shanahan with the Redskins."I've gotten to know Mike a little bit off the field, at league meetings and stuff like that," he said. "He's a great competitor. I've had great respect for what he's done, the championships, and all the outstanding teams he's had and coached."
Belichick relayed that when Shanahan visited Patriots camp, the two talked about some of the drills the team was running and why they were doing it.
"And he gave input as to how he had done it and things he had done a little differently," Belichick said. "It was good. It's great to be able to talk to somebody that has that perspective, the Jimmy Johnsons, the Mike Shanahans, people like that who have been through NFL seasons and have a lot of experiences and can relate to the different points time, whether it be the draft, training camp, regular season, Xs and Os, personnel and so forth. Mike is a really smart guy who has had a tremendous career. He has a lot to offer in a conversation."
Belichick acknowledged that the conversation can only go so far because the two might later be competing against each other, as is the case Sunday.
At the same time, Belichick said that because Shanahan is such a smart, experienced coach, there isn't much he hasn't seen.