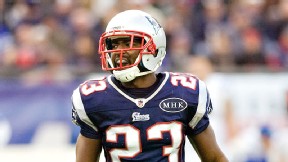 Icon SMI
Nate Jones vs. the Colts on Sunday.Leftovers nuggets after the Patriots conducted conference calls Tuesday with coach Bill Belichick, offensive coordinator Bill O'Brien, and director of player personnel Nick Caserio:
1. Jonesing for an opportunity: Veteran defensive back Nate Jones had played a mere one defensive snap this season before being signed off the street last week. Against the Colts, he played 69 of 73 snaps, bouncing between slot corner and safety while being credited with nine tackles and a pass defended. Caserio explained the process of brining him in late in the season. "Nate's played a lot of football; [he's an] experienced player, pretty instinctive. He played star with the Dolphins. He played some star and some weak safety when he was in Denver when Josh [McDaniels] had him. He was available. He was somebody that we were familiar with having played against him, even in Dallas. He played in Dallas -- I think in '07 he was with Dallas when we played them down there. He's an experienced player, had some position versatility, pretty smart guy, pretty instinctive guy. He was available, so we made a decision to add him to the team. That's why we did what we did."
2. Keeping the other team guessing: Without a pure fullback on the roster, the Patriots have employed an assortment of players in that role this season (Dane Fletcher, Donald Thomas, Ryan Wendell among them). On Sunday, the Patriots lined up in a short-yardage situation with rookie Stevan Ridley at fullback in front of Ben-Jarvus Green-Ellis. "Every week, we're going to try to give the defense different looks," said O'Brien. "Being a game plan offense and a personnel-oriented offense, we're always going to try to give them something different from the week before or previous times that we played. That was one of the packages that we had and we felt good about in that game. One guy could have been a fullback, one guy could have been a tailback and they were interchangeable parts -- that's what's good about our backs. That's kind of what we were trying to do in that game."
3. Vollmer's absence makes three tight ends tricky: The Patriots have often utilized three tight end sets this season, but with only two pure tight ends on the roster, the team has often employed a backup tackle as the extra eligible receiver. One detriment to being without Sebastian Vollmer is that the Patriots cannot easily shift rookie Nate Solder over to serve as a third tight end. The team did that numerous times Sunday, bringing on rookie Marcus Cannon, but, by rule, Solder must leave the field for a play after serving as tight end. "Now, when you have to make the exchange on the next play, if you don't stay in that same personnel group -- not that everybody doesn't know what to do, but just from a practice standpoint -- you don't want to run plays in the game that you haven't had a lot of reps on in practice. It's hard to rep everything for both guys. I think you just have to think about what those next calls are and try to practice them so that you give the players the best chance to succeed, especially a younger player like Marcus. He just hasn't had an opportunity to run all the plays in our offense multiple, multiple times, just from the volume standpoint. As opposed to if that was another tight end; if you run another tight end on the field to do that and then you take the tight end off, you still have the five guys there that you always have."
4. McDonald the latest in 'next man up' philosophy: While center Nick McDonald has been a big story this week for his efforts in stepping in at center after spending much of the season on the practice squad, O'Brien suggested the young lineman was simply doing what's expected of him. "The expectation here, for everyone involved, is when it's your time to play and to step up and perform, then you're just expected to do that," he said. "That's the way it's always been here and that's the way it's always going to be here as long as Bill [Belichick] is here. There is no player here right now that we don't expect good things out of. Nick has a really good demeanor, he's a smart guy, he's a tough guy -- just like all those guys up front. We've got, obviously a really, really solid, good offensive line. Those guys are smart, they're tough and when it's time to play, they're all ready to play."