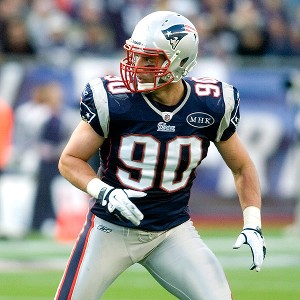 Tom Croke/Icon SMI
Patriots linebacker Niko Koutouvides.FOXBOROUGH, Mass. – Linebacker Niko Koutouvides has shown he can still cover ground in a hurry – on and off the field.
Having spent the first nine weeks of the 2011 season without a team, Koutouvides signed a one-year deal with the Patriots on Nov. 9. In four games, he's already totaled six special teams tackles, and he was a surprise starter on defense last week against the Colts in the team's nickel package.
Meanwhile, Koutouvides has raced home to Connecticut to see his wife and children (2 1/2 and 8 months) whenever possible. Born in New Britain, Connecticut, this is the first time he's played so close to home after stints with the Seahawks (2004-2007), Broncos (2008) and Buccaneers (2009-2010).
Koutouvides has played in 103 career regular-season games and eight playoffs contests, one of which was the Super Bowl in his second year in Seattle. When asked about his niche in the game, he described it this way: "Probably a guy who understands his role, who takes pride in his knowledge of the game and being limited in errors. Obviously, special teams is where I made my bones and I've taken a lot of pride in that."
The 30-year-old Koutouvides shared his "football journey" with ESPNBoston.com this week:
When he first started playing football: "I was 8 years old. Both of my parents aren't from this country, and my brothers and me actually started out playing soccer. Then my oldest brother started playing football in midget and then I kind of followed. With two older brothers, I followed their lead."
What positions he played: "I was a little chunkster. A nose tackle and a center."
Top memories at Plainville (Conn.) High School: "Probably my junior year, which was the first time in our high school history that we won the conference and went to the state playoffs. We had a great group of guys. Obviously the friendships still last here today and it's something I'll never forget."
Positioning himself to play Division-I college football: "I kind of followed the lead of a friend of mine who ended up going to Syracuse. To do that coming from our high school was something that didn't happen often. I said I wanted to play at a high-level Division I-A school, but my senior year we didn't have a very good year, so I was getting Division 2 offers, smaller schools. I ended up going to a prep school, Milford Academy, and then all these offers started coming in. That's when I said, 'Hey, I have a shot to play football at a big school.'"
Top memories at Milford Academy: "Milford is a football powerhouse. It's definitely a hard grind. You have your ups and downs, but the place is really, really fantastic to give those who can't qualify an opportunity to still go to college and get a Division I-A scholarship, and it gives those who didn't have the exposure in high school to get it. You say to yourself, 'I'll give it one last shot to see if I can get a scholarship and help my family and myself out in the future.' That's kind of what it did for me."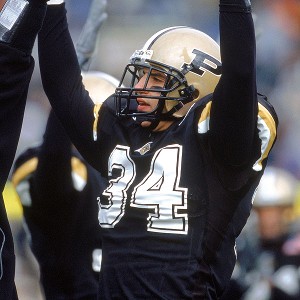 Jonathan Daniel/Getty Images
Koutouvides at Purdue.Why he decided to attend Purdue: "They were the first to offer me and they had just come off beating Kansas State in the Alamo Bowl. Kansas State had Michael Bishop and that was a big win for Purdue, with Drew Brees having a phenomenal year. I took a visit there and they had a bunch of senior linebackers leaving, so the opportunity to play right away was there. Academically it was a good school and I said 'They have a chance to do something special here and maybe fight for a national championship.' I felt comfortable and gave them a verbal commitment and I actually canceled the rest of my visits."
Top memories at Purdue: "Obviously going to the Rose Bowl with Drew Brees and Matt Light on that team. That was an awesome experience. Making All Big 10 was a big accomplishment, but like I said, the friendships and bonds are special in college. You cherish those the rest of your life. Blood, sweat and tears are all for each other, you just play for each other. The college environment – the tailgating, the walk through campus … "
Expectations entering the 2004 NFL Draft: "People were saying third, fourth round, maybe the fifth. I was the type of guy who was just happy to get picked."
Spending the first four seasons of his career in Seattle, where he was a special teams captain at one point: "An amazing group of guys. A very, very high winning percentage with Coach Holmgren. We went to a bunch of playoff games and a Super Bowl. Just a solid group of guys that wanted to work hard together. Playing in those playoff games at Qwest Field was amazing. Seattle is a great city. I loved the people there. It was a great foundation for me to start my NFL career."
Moving on to spend one season in Denver (2008): "That was a little tough. I went in signing a three-year deal and thought I'd spend more time there, but sometimes it doesn't work out. That's kind of the way it went."
Spending the next two seasons in Tampa (2009-2010): "Great time. Great group of guys. I loved my coaches. [Head coach] Raheem Morris was young and very inspiring, very exciting to play for. It was a young team so I was a veteran player there for my age. That was kind of cool, having that role, giving some information to the young guys from having grown up in the league."
Spending the 2011 season out of football before the Patriots signed him Nov. 9: "You hear these stories all the time in the NFL. In any situation, when something is taken away from you, you come back appreciating it that much more. I'm so grateful for another opportunity. I thank Mr. Kraft, Coach Belichick and the whole organization for giving me an opportunity. Each day I just tell myself that I have to keep working hard and getting better to help this team win football games."
Players he admired growing up: "I was a big Bo Jackson fan. I loved the dual sport thing he did. I thought it was amazing. I thought Bo was the ultimate athlete. I liked his character. Now that I play in the NFL, to try to comprehend that he did both sports, it's truly amazing. It's tough to see a great athlete like that get hurt."
Favorite team growing up: "I grew up a Giants fan, because I was a Mark Bavaro fan. I was actually a Pepper Johnson fan, too. Carl Banks. Phil Simms. They were an awesome team to watch."
Summing up his football journey: "I think it shows that you don't have to necessarily have a football background. Anyone can learn the game as long as you put the hard work and effort into it. I've had my ups and downs my entire career, but you learn from those. That's one thing about football, the learning lessons in life and how your true character will be brought out in this sport. I really respect that part of it. I think it's an awesome game and I have a lot of love and passion for it."