Football journey: Julian Edelman
January, 14, 2012
1/14/12
6:00
AM ET
FOXBOROUGH, Mass. -- Julian Edelman has become a do-it-all player for the Patriots. Receiver. Defensive back. Returner.
When recently asked how he likes the role, he responded by saying, "You know what I love? I love winning."
[+] Enlarge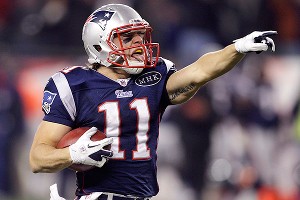 AP Photo/Stephan SavoiaNo matter what position or role he's filling, Julian Edelman is happy as long as the Patriots are winning.
He's done plenty of that over the years, often with the ball in his hands at quarterback. But Edelman knew that his days under center would almost certainly be over in the NFL, so he had a decision to make coming out of Kent State in 2009: Would he go to the Canadian Football League and stick with quarterback or reinvent himself at receiver while facing long odds to stick in the NFL.
"The British Columbia Lions took my negotiating rights and wanted me to come play quarterback," Edelman said this week.
The offer was enticing, but he felt the tug of something else. Asked how difficult it was to choose to the NFL over the CFL, Edelman didn't hesitate.
"It was hard for the fact that you never played the other position [receiver], so you have a huge road ahead of you to learn something at the highest level in the world to it. But the easy part was that you didn't grow up wanting to go to the CFL. I grew up wanting to go to the NFL, having that dream," he said.
When it comes to football, much of the last three years have been dream-like for the 25-year-old Edelman, who hails from Redwood City, Calif.
In advance of Saturday's AFC divisional-round playoff game, he shared his "football journey" with ESPNBoston.com:
When he first started playing football:
"I was 8, playing Pop Warner for the Redwood City 49ers. We won a Super Bowl that year. Then we won a Super Bowl when I was 12 and we flew to Florida. That was a huge part of my life. My pops was a coach my whole life, and because I had an older brother, so I was always around the sport. When I was diapers, I was on the practice field running around with my pops and my brother."
Why the Redwood City 49ers were so popular:
"You're battling for national championships every year. Just the fact of playing football at a young age, you're learning life skills from the coaches. I had great coaches there. I learned core values of life. Teamwork. Building goals. [Reacting] when things aren't going your way. Sacrificing for the team. You learn all that at a young age and it helped me get to where I am now. Not just that but the football skills developing -- how to run and catch."
What positions he played:
"I was a tailback. We used to run the wishbone. I did that from 8 to 15. Then from high school, four years, I transferred to quarterback after my sophomore year."
Attending Woodside (Calif.) High School:
"I played quarterback. We won a CCS championship, went 13-0 my senior year. Our third game we played Gunn High School and the year before there was some controversy at our school and they ended up canceling our season with three games to go. It's our third game of the year, we're 2-0, which was big for the school, and we're playing Gunn and down by 10 points with two minutes to go. All the fans had left and we ended up coming back and winning that game. That's when you knew it was going to be a special year. That was a huge memory of my high school career."
Going to junior college at College of San Mateo:
"I didn't get recruited out of high school. I was small and a late bloomer, so I ended up at College of San Mateo. We won the Bulldog Bowl and were ranked eighth in the country or something. I was a qualifier out of high school and went to JUCO because I didn't get recruited and wanted to further my football playing career. My top memory there wasn't a good one; we played San Francisco City College, the No. 1 team in JUCO, and it's a rivalry. We were up 17 points at halftime, there were 50 seconds to go in the game, we were battling back and forth and we ended up losing that game."
[+] Enlarge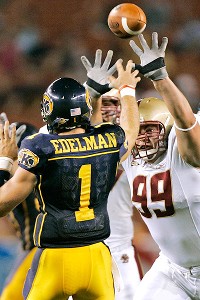 AP Photo/Mark DuncanAfter four years at quarterback with Kent State, Julian Edelman had an offer to play QB in the Canadian Football League.
Enrolling at Kent State:
"Since I did well in school in high school I could transfer [from junior college] after a year, and being a quarterback, I wanted to play quarterback at the next level, Division 1. Kent State came and they offered me after my first year. I decided to go with that. I started there for three years, had some good years, had a lot of fun and met a lot of good people. My top memory was the first win. Playing against Miami, at Miami, it was like the first time Kent had won there since the early '80s. Just getting that first win in your career, it was a special moment."
Preparing himself for the NFL draft:
"I didn't go to the combine, but had a pretty productive Pro Day. The crazy thing was that all the scouts weren't there to see me. They were there to see an offensive lineman. I ended up having a pretty good day and that opened the door for a bunch of workouts. You really don't know what's going on. With the whole Wildcat thing, I think some teams were intrigued to see what I was about. I had a couple trips. All you could do was prepare. I worked with Charlie Frye, a quarterback with the Browns, a lot. I was trying to pick his brain because he was a quarterback in the league and that was a big help for me."
Getting drafted in the seventh round by the Patriots (232nd overall):
"The expectation was either late or 'priority free agent' and by the time that pick came around, I was planning on what team I was going to sign with. My agent told me New England could come pick me up and that was probably one of the happiest days of my life. Even though I was a seventh-rounder, even though you're against the odds of making the team, I'll be able to tell my kids and my friends and family that I was drafted in the National Football League. It's not like baseball, where there's a thousand rounds. There are only seven of them. It was a great experience to share that with my family because they had been part of that road the whole time."
Life as a Patriot:
"It's been great. It's definitely an emotional roller coaster, just the life of the NFL season, how long it is. That's why, over the years, you learn to have steady emotions and not to get too high or too low. We've won a lot of games here. Unfortunately, the outcome of some seasons hasn't gone the way we would have liked. We have a huge opportunity ahead of us this year."
Favorite teams and players growing up:
"Definitely the San Francisco 49ers. I was a huge fan. My dad was a huge [Joe] Montana fan. So I grew up loving Joe, liking Steve [Young], loving Jerry Rice. Walter Payton was a big one who my father always liked. I loved Barry Sanders. Deion Sanders, I used to wear No. 21 because of him."
Patriots influences:
"Getting here and playing the receiver position, obviously watching Wes Welker. That was a blessing in disguise, to play behind him and watch the way he practices and prepares, and kind of do everything the way he did. That's been a big help, along with Tom Brady; just having a quarterback who is like a mini offensive coordinator out there. He knows everything that is going on. It's been a big help to have those two. When Randy [Moss] was here, he'd help me out as well."
Role models and influences in his life:
"My dad is my best friend, the guy who got me to where I am. It's not just football but becoming a man. It helps you because football is a microcosm of life -- what you put into the game, that's what you're going to do after you're done with the game, how you'll treat your other job. That's how I always looked at it and that's how he always brought me up -- a man of details, doing little things. He never had a dad, and the fact that he's done what he's done in life, from where has came from, he's a great model and person to look up to. He's definitely my hero. My mother as well. She was there, always, with a lunch in my hand, taking me to practices, supporting when me and my pops were battling about sports. My core family -- my dad, mom, brother and sister -- they're huge."
Summing up his football journey:
"I've been fortunate enough to play football since I've been 8 years old. To sum it up, it's hard to say in one word, or even a lot of words. I truly am a lucky man to get to do what I love to do. It gets better every day. I never thought I'd be playing up here. It's definitely been a great experience."