Football journey: Shane Vereen
January, 21, 2012
1/21/12
6:00
AM ET
FOXBOROUGH, Mass. -- Running back Shane Vereen grew up in Valencia, Calif. and attended college at Cal, so his rookie NFL season has been a transition on two fronts.
There's the football part, then there's the cultural part.
"Coming out here, I didn't know what to expect," he said of the West Coast to East Coast move. "I was happy I was leaving California and experiencing something new, and I've enjoyed it. I don't miss home all that much, although right now I do because it's cold as heck [laughing]."
[+] Enlarge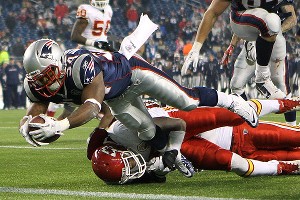 Jim Rogash/Getty ImagesShane Vereen hasn't played enough to rack up a lot of highlights, but this touchdown against the Chiefs was a big one.
While this winter has been mild by New England standards, it's naturally been an adjustment for the 22-year-old Vereen, who lives close to Gillette Stadium and has adapted to a quieter environment than he's accustomed to being around.
"I'm used to a lot of hustle-bustle, people always around, always moving," he said. "It's not like that. If you go into Boston, it's a little different, but out here [in the suburbs] it's a little slower. It's a cool switch-up."
Vereen has experienced another switch-up when it comes to his football role. After starring at Cal, he's been a reserve with the Patriots, dressing for seven of the team's 17 games, appearing in five of them, while totaling 25 offensive snaps on the season (most coming late in games). His playing time has included work on special-teams coverage and return units.
Vereen's limited opportunities have been tied, in part, to multiple hamstring injuries. It also didn't help that he got a late start at training camp while a contract was finalized. Looking ahead, he should benefit from a full offseason with the team, as he has flashed potential in the limited time he has been on the field.
Vereen, who comes across as humble and mature beyond his years, shared his "football journey" with ESPNBoston.com this week:
When he first started playing football:
"I was 7 and played flag football for two years. Then tackle all the way up. My dad [Henry] played in college and a little bit in the NFL and Canada. I was always around it, always watching it."
First positions:
"Running back and defensive back. When I was little, I was faster than everyone else, so it was always running back."
Favorite teams growing up: "
49ers. When I was younger, they were a wild-card team for a couple years, after Steve Young left and with Jeff Garcia at quarterback. After that, it's been down years, until now. It's been tough being a 49er fan for a while and now I can't root for them [laughing]"
Favorite players growing up:
"Steve Young, Garrison Hearst, Jerry Rice. I liked watching Warrick Dunn play, but my favorite running back of all time is Walter Payton; just the way he ran and who he was."
[+] Enlarge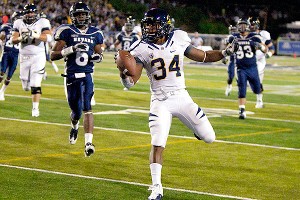 Jason O. Watson/US PresswireCalifornia native -- and 49ers fan -- Shane Vereen starred at Valencia High and then for the Golden Bears.
Top memories at Valencia (Calif.) High:
"I think the best thing is the camaraderie, then the atmosphere. There's nothing like playing football under the lights on Friday night. Those were the best things to me about high school football."
Attending Cal:
"It was a combination of being close to home and also a good education program, and on the field athletically being real good too. Far enough away from home, but still close enough so my parents could see me play. It was the right fit for me."
Top football memories at Cal, where he rushed for 2,834 yards and totaled 29 touchdowns:
"Beating Stanford. They are our biggest rival and we beat them a couple times. College football itself is special. Even watching the games now, I still miss it a little."
Drafted in the second round by the Patriots (56th overall):
"It was a dream come true. Amazing. We didn't have too many people at the house, because I was super-nervous. I didn't say a word the whole day until I finally got the call. Everyone in the house was going nuts. Everyone was crying. It was a great moment for me and my family."
Expectations entering the draft:
"I knew around where I was [ranked] with other running backs, but you never know until it happens. That was what had me nervous. I didn't think it was coming in the second round because it was almost over when I was picked. So I was thinking 'maybe third round, fourth round' and then other things, and right when I was thinking about something else, the phone rang."
Life as a Patriot:
"Accountability is the biggest thing. You are accountable for all your actions, which is a good thing. Responsibility. They want you to be professional as soon as you walk in the door. I wouldn't want it any other way."
Describing his rookie season:
"It's been a learning experience, from waking up every day and getting to work on time to watching film at home – learning how to be a pro, learning how to handle myself around the guys, fit in, and do the right things."
His approach on waiting for an opportunity to break through:
"It's tough, but you just keep working and come in with a good attitude knowing that you're going to get better, and knowing that you need to learn something new each and every day. I think in the end, everything will take care of itself."
What he loves about football:
"Game day. Coming to work every day is a blessing. Where else would you rather be? It all pays off every Sunday when you get to put your pads on, your uniform on, and see the fans."
Role models in his life:
"Definitely my parents [Venita Taylor-Vereen and Henry Vereen], without a doubt. Both of their stories and their backgrounds are real inspiring and most of what I do is for them and to set an example for my younger brother, too. My father, his family was a big family and they didn't have a lot of money. But he made himself. All of his brothers did. Coming from that, you know you have to be at your best at all times. He never stood for being good in football and bad at school, and vice versa. My mom was a top-of-the-class student who graduated early from high school and college, so I knew academics was always important for me and my brother. If we didn't finish our homework, we weren't going to football practice."
Summing up his football journey:
"It's been amazing. It's also still going. The story is still being written. I thank God every day for the opportunity."