Football journey: Nick McDonald
January, 28, 2012
1/28/12
5:00
AM ET
FOXBOROUGH, Mass. – Not many players in the NFL have started their careers like Patriots offensive lineman Nick McDonald.
Two years, two teams, two Super Bowl berths.
While McDonald hasn't exactly been on the frontlines of those Super Bowl runs – he was inactive for all of the 2010 season with the champion Packers and started two games this year for the Patriots as an emergency center – he still has appreciated every part of the experience.
"Some guys go 15 years and don't even win a playoff game," he said. "I've been very fortunate to play for two great organizations."
[+] Enlarge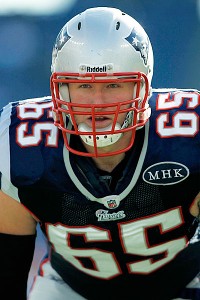 Greg M. Cooper/US PresswirePatriots C Nick McDonald is a part of a Super Bowl squad for the second straight season.
This year's Super journey has felt a bit different because McDonald came through for the Patriots in a pinch in early December. After a run of injuries at center over the course of the year, McDonald was the team's fourth player to start a game there, Dec. 4 against the Colts and Dec. 11 against the Redskins. He held his own.
"Practice squad guys and those who don't play work just as hard as everyone else, but this year, you feel like you contributed more," he said.
The 24-year-old McDonald currently represents an insurance policy along the interior of the offensive line, the role he's slid into with Dan Connolly back in the center spot. He shared his "football journey" with ESPNBoston.com this week:
When he first started playing football:
"I was 7, and started playing flag. I haven't missed a year since. My older brother played, my dad played, so football was just part of the family. It was big in our lives."
Positions he played growing up:
"I was a running back when I first started. In high school, I was a tight end/backup quarterback."
When he switched to the offensive line:
"In college. We ran a spread offense and I guess I wasn't athletic enough to be a tight end. Our tight ends were like receivers. It was a better fit for me."
Top memories of Henry Ford High School in Sterling Hills, Michigan, where his jersey is retired:
"Probably my senior year. We made it to districts. It was a really good game. We lost in double overtime to a really good team, and that was the furthest we had ever been."
Attending Grand Valley State, where he played in the Division II national championship as a senior:
"It was a good school. There were opportunities to attend a couple of Division I schools, but talking to my high school coach, he felt like it was my best shot to play early. It was a great program, I loved the campus, and the education was amazing [criminal justice and sociology major]."
Top football memories at Grand Valley:
"We won a lot of games. I think the entire five years I was there, we lost four games, and played in three national title games. You can't go wrong with that."
[+] Enlarge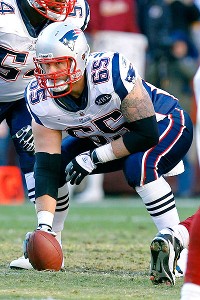 Geoff Burke/US PresswireNick McDonald has started in two Patriots games, including this one on Dec. 11 vs. the Redskins.
When he realized the NFL was a possibility:
"Probably my senior year. I never really thought about it. I wanted to focus on my senior year and then whatever happened, happened. At the end of the year, I started getting phone calls and got my shot."
Signing as a rookie free agent with the Packers and making their 53-man roster:
"There were other offers as a free agent, but after talking with my agent, we thought that was the best place for me to play in the long run and my best shot of making the team that year. I was always a Packers fan too. One of my best friends was a die-hard Packers fan, and I thought the organization was great. Great players have come out of there and there is a great history. You can't go wrong."
Describing his time in Green Bay, in which he was inactive for every game:
"It was a great experience. Not many people can say their rookie year that they went to the Super Bowl. That was a special year."
Being released by Green Bay heading into his second season:
"I think everything happens for a reason. My time there was cut short and 24 hours later I was on a plane here. I couldn't be happier. This is a better spot for me – great organization, great guys to play with, great locker room. I don't think anything could have gone better."
Why he feels New England is a better spot:
"I got to showcase myself and play. I like being a Patriot. It's a great organization, good coaching staff, from Coach Belichick to Coach Scarnecchia. It's a great fit for me and I just feel comfortable here. Who wouldn't want to play for the Patriots? It's really a dream come true to play and be a part of this."
Starting the year on the practice squad before being promoted Dec. 3 and starting two games at center
. "It was quite a ride, a lot of ups and downs this year. Every guy on this team has worked extremely hard and I got my shot because of injuries. It was unfortunate for those guys who got hurt, but every guy on this team is expected to play and know their stuff. It was a great journey. There is nothing better than starting your first game, with the New England Patriots, snapping to Tom Brady."
Role models growing up:
"My high school football coach. My mom was a huge role of mine [she passed away from cancer 10 years ago]. My older brother, I tried to learn from him growing up, wanting to be like him. Just my family."
Favorite team growing up:
"I was a big Saints fan growing up, right around the time with Aaron Brooks. I don't know why. When we moved to Michigan, I started liking the Lions."
What he loves about football:
"There's nothing better than putting that helmet on and running on the turf and playing the game. It's a little kid's game. I love it. I have a lot of passion for it, a lot of commitment for it. There is nothing better than playing with guys who have the same passion as you do."
Summing up his football journey:
"It's been hectic, a dream come true. I've been dreaming about this for a long time, thinking about it as a little kid. For the most part, it's been a great ride."