Hot Button: Who ya got, Pats or Giants?
February, 3, 2012
2/03/12
1:31
PM ET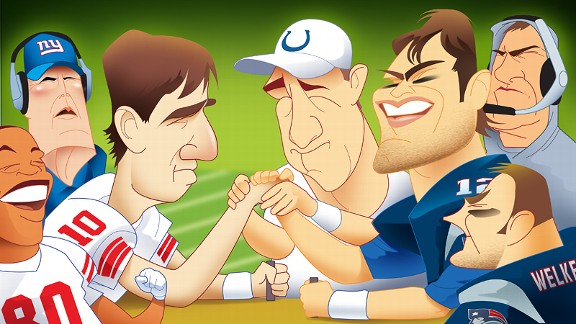 CAMORRIS.com
Over the course of the last week, ESPN Boston and ESPN New York faced off on key matchups for Sunday's Super Bowl.
Today's final Hot Button debates which team will win Super Bowl XLVI the Patriots or Giants?
Click HERE to check out the back and forth
between ESPNNewYork.com's Ohm Youngmisuk and ESPNBoston.com's Mike Reiss.
Here's a look at all seven of our Hot Buttons:
* Thursday:
Boston vs. New York: Which is the better sports town?
* Friday:
Can the Giants stop the Patriots' tight ends?
* Monday:
Who'll be the better coach on Super Sunday, Belichick or Coughlin?
* Tuesday:
Who'll be the better QB on Super Sunday, Brady or Manning?
* Wednesday:
Which team has better offensive weapons?
* Thursday:
Is the Giants' pass rush the Patriots' Kryptonite?
* Friday:
Prediction -- Patriots or Giants?
MORE FROM ESPN BOSTON

Want to submit a question for Mike Reiss' weekly Patriots mailbag? Click here and come back every Tuesday around noon for the 'bag.
Latest headlines on ESPNBoston.com:
WEEK 14 - SUNDAY 12/8 - FINAL
UPCOMING GAMES
| | W-L | PF | PA | HM | AW | STK | L10 |
| --- | --- | --- | --- | --- | --- | --- | --- |
| NWE | 10-3 | 26.8 | 22.1 | 7-0 | 3-3 | W3 | |
| MIA | 7-6 | 22.0 | 21.2 | 3-3 | 4-3 | W2 | |
| | W-L | PF | PA | HM | AW | STK | L10 |
| --- | --- | --- | --- | --- | --- | --- | --- |
| NWE | 10-3 | 26.8 | 22.1 | 7-0 | 3-3 | W3 | |
| BAL | 7-6 | 21.4 | 20.1 | 6-1 | 1-5 | W3 | |
| | W-L | PF | PA | HM | AW | STK | L10 |
| --- | --- | --- | --- | --- | --- | --- | --- |
| BUF | 4-9 | 21.0 | 25.7 | 3-4 | 1-5 | L2 | |
| NWE | 10-3 | 26.8 | 22.1 | 7-0 | 3-3 | W3 | |
BLOG ARCHIVE:
CATEGORIES:
LATEST ON THE NEW ENGLAND PATRIOTS