Handing out '11 Pats awards
February, 11, 2012
2/11/12
5:00
AM ET
If a ballot was to be filled out for the Patriots' 2011 season, here is what it would look like from this perspective:
Most Valuable Player: Tom Brady
Quarterback has raised the bar to a high level. He turned it on in the second half of the season, and while there were a few throws in the playoffs he'd surely like to have back, a big reason the team was playing into February was because of him.
[+] Enlarge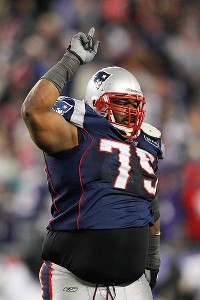 Greg M. Cooper/US PresswireVince Wilfork took his game to another level this season.
Offensive Player of the Year: Rob Gronkowski
In only his second season, he set the NFL record for receiving yards by a tight end in a season (1,327) as well as the all-time record for receiving touchdowns by a tight end in a season (17). But the numbers alone don't do it justice; seeing would-be tacklers bounce off him and him race away from others became the norm.
Defensive Player of the Year: Vince Wilfork
His playing time spiking to almost 90 percent after being in the high 60s in 2010, the versatile, athletic defensive lineman was dominant in the AFC Championship Game and was the unit's most consistent performer over the course of the year. His two interceptions showcased another aspect of his game.
Best play of the season: Wes Welker's 99-yard touchdown
In the opener, Welker was one-on-one against Dolphins cornerback Benny Sapp and swatted him away after catching a beautiful ball from Tom Brady, who was throwing from the end zone. It was the longest completion in Patriots history and tied for the NFL's longest.
Worst play of the season: Sergio Brown's pass interference penalties
First in the end zone against the Bills on Sept. 25, which negated an interception, and then close to the goal line against the Giants on Nov. 6 to set up what turned out to be the game-winning touchdown. The coaching staff seemed to lose confidence in Brown defensively in the second half of the season.
Rookie of the Year: Nate Solder
Some felt as if the first-round draft choice would need a year to build up strength before he made an impact, but Solder was thrown right into the fire because of injury to starting right tackle Sebastian Vollmer. He ended up starting 13 games and performed admirably given the situation.
[+] Enlarge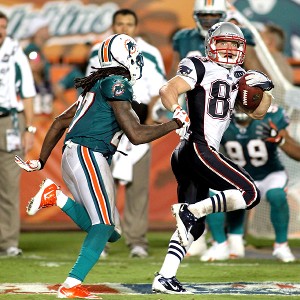 Marc Serota/Getty ImagesIt's pretty hard to come up with a better play than Wes Welker's 99-yard TD in Miami.
Best acquisition: Brian Waters
Signed at the end of training camp, the veteran offensive lineman made it look easy in switching from left guard to right guard. He started every game and brought both a high level of play to the field as well as a professionalism to the locker room. Defensive linemen Andre Carter and Mark Anderson would have been good picks too.
Worst acquisition: Albert Haynesworth
One could say there was no harm in trying, as it was a low-risk, high-reward type trade. But while the talent was tantalizing, it soon became clear to some players that Haynesworth didn't have football in his heart. The decision to let him go after eight games sure seemed to spark a second-half turnaround. Chad Ochocinco also drew consideration.
Most improved player: Kyle Love
Second-year defensive tackle didn't have a great Super Bowl, but he outplayed the competition (Albert Haynesworth, Gerard Warren, Ron Brace) on the inside to earn the most snaps next to Vince Wilfork.
Biggest dip from previous year: Devin McCourty
After earning a Pro Bowl berth as a rookie in 2010, the cornerback struggles in coverage and doesn't look like the same player for long stretches of 2011. At times, it looked like his fundamentals simply broke down (e.g. not looking back for the ball).
Best value: Mark Anderson

Sixth-year veteran defensive end signed a one-year, $1.375 million deal in the preseason and some viewed him as being on the roster bubble at the time. He totaled 10 sacks and got better as the year progressed.
Coach of the Year: Dante Scarnecchia
Working with four different centers and getting first-round draft choice Nate Solder up to speed quickly presented a tough challenge, but the longest tenured Patriots coach aced it.