Reiss on ESPN Boston Radio
April, 27, 2012
4/27/12
2:45
PM ET
Reporter Mike Reiss was a guest on ESPNBoston Radio with Adam Jones on Friday,
and the interview can be heard here
.
ESPN Boston Radio with Adam Jones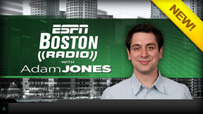 Listen to our ESPN Boston Radio show weekdays from noon-2 p.m.
Listen live

Podcasts

More »
1. What made this year different for the Patriots to trade up.
2. Chandler Jones and why he was available at No. 21.
3. How fast to expect contributions from Chandler Jones and Dont'a Hightower.
4. Where Hightower might fit in the defense.
5. What to expect from the Patriots in the second round.
6. Devin McCourty and where he might fit in the defense in 2012.
7. Sharing thoughts on the AFC East teams in the draft.
MORE FROM ESPN BOSTON

Want to submit a question for Mike Reiss' weekly Patriots mailbag? Click here and come back every Tuesday around noon for the 'bag.
Latest headlines on ESPNBoston.com:
UPCOMING GAMES
| | W-L | PF | PA | HM | AW | STK | L10 |
| --- | --- | --- | --- | --- | --- | --- | --- |
| BAL | 1-1 | 30.5 | 26.0 | 0-0 | 1-1 | L1 | |
| NWE | 2-0 | 40.0 | 19.0 | 2-0 | 0-0 | W2 | |
| | W-L | PF | PA | HM | AW | STK | L10 |
| --- | --- | --- | --- | --- | --- | --- | --- |
| IND | 2-1 | 19.0 | 22.7 | 1-0 | 1-1 | L1 | |
| NWE | 2-0 | 40.0 | 19.0 | 2-0 | 0-0 | W2 | |
| | W-L | PF | PA | HM | AW | STK | L10 |
| --- | --- | --- | --- | --- | --- | --- | --- |
| NWE | 2-0 | 40.0 | 19.0 | 2-0 | 0-0 | W2 | |
| SEA | 2-0 | 29.5 | 19.5 | 2-0 | 0-0 | W2 | |
BLOG ARCHIVE:
CATEGORIES:
LATEST ON THE NEW ENGLAND PATRIOTS