Outgoing Holley glad for another chance
June, 12, 2012
6/12/12
7:08
PM ET
FOXBOROUGH, Mass. -- When new Patriots receiver
Jesse Holley
spoke to the media at Tuesday's minicamp, it was hard to forget that a former Dallas Cowboy was surrounded by microphones.
The loquacious Holley, a former reality show winner who signed with the Patriots on Monday, did not miss a beat with reporters after three seasons in Valley Ranch.
[+] Enlarge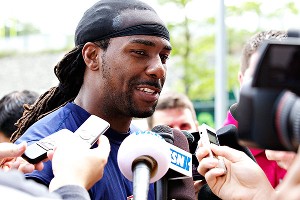 David Butler II/US PresswireJesse Holley had an entertaining introduction to reporters at Patriots minicamp.
At one point, a reporter asked Holley about how difficult it is to pick up the Patriots' offense.
"Have you ever been to Japan? Do you speak Japanese?" Holley retorted. The reporter said he did not speak Japanese, and asked Holley how he is learning the new language of the Patriots system.
"I just bought a Rosetta Stone," Holley joked, drawing laughter from reporters. "I'm working my way through it, taking it one day at a time. I'm around a bunch of veteran guys, asking questions, paying close attention. My notebook will probably be filled by the end of tonight. I'm closing my mouth, opening my eyes, opening my ears, and absorbing as much as I can."
Holley won
Michael Irvin
's 2009 reality TV show "Fourth and Long," which gave him a spot on the Cowboys' training camp roster, after more than a year out of football (he spent time with the Bengals and in the CFL after going undrafted in 2007). He was not tendered by Dallas as an exclusive-rights free agent this offseason.
"Dallas broke with me. It was a little bit (hard). It was shocking," Holley said Tuesday. "You come home and everything's gone and they leave a love letter for you. A goodbye letter. But that's what it's about. You mend a broken heart, you find a new relationship, and you trust again."
More from Holley's entertaining 12-minute exchange with reporters:
On if he has talked to QB Tom Brady.
"Tom and I introduced ourselves, and that's pretty much it right now. Until I start learning the offense, I don't think Tom and I will have any pretty long conversations. But we'll see. I'm optimistic. ... He knows my name hopefully. I know his name. We're two lockers down, so hopefully I'll be able to lean over and ask a couple questions. If he answers them, that's great. If not, then I'll ask them again tomorrow (laughter)."
On if he has spoken to coach Bill Belichick.
"Actually, we have not talked yet." A reporter followed up asking what he would tell Belichick. "Thank you. To be even thought about, to come to this program, that says a lot about myself and the ability that I have. Just thanking him to see enough in me to want to be a part of this program and this organization, so I definitely want to say thank you."
On the Patriots' offensive system.
"It's fast. They run a pretty fast system here. They expect you to learn a lot. And I'm OK with that. I'm excited about it and ready to get to work."
On getting a call from the Patriots after starting a vacation in Mexico.
"I always laugh, because I say God has a sense of humor. He gets a laugh out of me. Even coming here, like I said before. I just landed in Mexico (Thursday) and I turned my phone on, and my agent's like 'Where you at?' and I'm like 'Mexico. Cancun.' He's like 'Well, you have to get back. The Patriots want to work you out.' So I'm grabbing my bags, finding a flight to get back here. I get back at the wee hours of the morning, and I'm ready for a workout the next morning. So it's just another chapter in the book. Hopefully it's something I can tell my kids and my grandkids when I'm old and gray."
On his experience on the TV show "Fourth and Long".
"'Fourth and Long' was something that I never want to experience again. It was a culmination of mental toughness, physical toughness, endurance, and so it was a good opportunity. I met great people. ... I was working security at night, 11 at night to 7 in the morning, and I was working T-Mobile part time. I got the call. I had to go through a rigorous amount of things. I quit a job. I didn't have anything to come back to. I didn't have any money. The reality show came about. There were 300,000 applications sent in for it. They auditioned 20,000 people. They sent 50 of us to this combine in (Los Angeles). Out of that 50 they picked 12 of us to go on the show: six wide receivers and six (defensive backs). Out of the 12 there was one, and that's just when the job started. I had to go to training camp, and I was the 80th man in the training camp. So I had to work my way up from there. So again, hard work, hard work, hard work, busting my tail every day, and when you do that, success will find you."
On being a teammate of Tony Romo in Dallas.
"It took me and Tony to have a full conversation. A year, seriously. I just came in, I didn't know anybody. He had his guys. Once we warmed up to each other, it took a while to warm up to each other. I was invited to his house, invited to his wedding. Once we got acquainted, we were good friends."
On his 77-yard catch against the 49ers last season.
"San Francisco game, Week 2 of last year. That was a verifying moment for me, not only in football, but in life. If you have been working so hard at something, and you finally see results, that's the kind of feeling that was. I thank my lord and savior every single day for that moment, and for these opportunities that I'm having now. ... I was a rock star. I was bigger than Tony Romo. For a week. ... (Romo and I) went to dinner and everything. He invited me to dinner. We went to a place called Hibiscus."
On how fans got behind him.
"Of course. I worked hard. I was a special teams demon. I worked hard whenever I got a chance to get in the offense, I made a play. That's all fans want. All they want is a guy who can come in, work his tail off. When it's his turn to make a play, make a play, and they'll be happy with you. You have some fans and I found out via Twitter that they are happy that I came to New England."
On how he feels about fans recognizing him as a reality TV show winner.
"At first -- granted it's been three years from now, (but) my Twitter name is still Mr.4thAndLong, I get a lot from that -- but people recognize me, I get more so now, 'Hey, you're the guy from San Francisco, Week 2, 77 yards.' That's me. Whatever helps. Whatever helps to remember you. As long as they don't hate you. As long as they remember you for something good, I'm happy."