Stacking up Ridley & Vereen vs. peers
June, 18, 2012
6/18/12
10:00
AM ET
James Walker, who writes on the AFC East for ESPN.com, files a story from his recent visit to Patriots minicamp with the headline,
"Patriots venture into unknown at tailback."
"We have a bunch of young kids that have a lot more to learn," running backs coach Ivan Fears says in the piece. "I had a lot of guys [last year] who experienced the game and knew what to expect in the pro game. These guys are young."
[+] Enlarge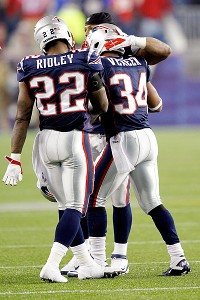 AP Photo/Paul SpinelliStevan Ridley (441 yards) and Shane Vereen (57 yards) combined for 498 yards rushing as rookies last season.
"These guys"
are second-year rushers Shane Vereen (2011 second-round pick) and Stevan Ridley (2011 third-round pick).
Every team has to turn things over to unproven talent at some point. After all, the only way a player can become proven is to be given a chance.
With this in mind, here is how Vereen and Ridley stack up to their running back peers selected in the 2011 draft in terms of rushing production last season (list by draft order):
Mark Ingram
(Saints, 1st round, 28th overall) -- 122 rushes for 474 yards (3.8 avg.), 5 TDs
Ryan Williams
(Cardinals, 2nd round, 38th overall) -- No stats (ruptured patella tendon)
Shane Vereen
(Patriots, 2nd round, 56th overall) -- 15 rushes for 57 yards (3.8), 1 TD
Mikel Leshoure*
(Lions, 2nd round, 57th overall) -- No stats (torn Achilles tendon)
Daniel Thomas
(Dolphins, 2nd round, 62nd overall) --165 rushes for 581 yards (3.5)
DeMarco Murray
(Cowboys, 3rd round, 71st overall) -- 164 rushes for 897 yards (5.4), 2 TDs
Stevan Ridley
(Patriots, 3rd round, 73rd overall) -- 87 rushes for 441 yards (5.0), 1 TD
Alex Green
(Packers, 3rd round, 96th overall) -- 3 rushes for 11 yards (3.6)
Roy Helu
(Redskins, 4th round, 104th overall) -- 151 rushes for 640 yards (4.2), 2 TDs
Kendall Hunter
(49ers, 4th round, 115th overall) -- 112 rushes for 473 yards (4.2), 2 TDs
Delone Carter
(Colts, 4th round, 119th overall) -- 101 rushes for 377 yards (3.7), 2 TDs
Taiwan Jones
(Raiders, 4th round, 125th overall) -- 16 rushes for 73 yards (4.5)
Bilal Powell
(Jets, 4th round, 126th overall) -- 13 rushes for 21 yards (1.6)
Jamie Harper
(Titans, 4th round, 130th overall) -- 17 rushes for 44 yards (2.5)
Johnny White
(Bills, 5th round, 133rd overall) -- 12 rushes for 38 yards (3.1)
Jacquizz Rodgers
(Falcons, 5th round, 145th overall) -- 57 rushes for 205 yards (3.5), 1 TD
Dion Lewis
(Eagles, 5th round, 149th overall) -- 23 rushes for 102 yards (4.4), 1 TD
Evan Royster
(Redskins, 6th round, 177th overall) -- 56 rushes for 328 yards (5.8)
Jordan Todman
(Chargers, 6th round, 183rd overall) -- No stats
(now with Vikings)

Allen Bradford
(Bucs, 6th round, 187th overall) -- 5 rushes for 13 yards (2.6)
(now with Seahawks)

Da'Rel Scott
(Giants, 7th round, 221st overall) -- 5 rushes for 16 yards (3.2)
Anthony Allen
(Ravens, 7th round, 225th overall) -- 3 rushes for 8 yards (2.6)
Baron Batch
(Steelers, 7th round, 232nd overall) -- No stats
Jay Finley
(Bengals, 7th round, 246th overall) -- No stats
(now with Seahawks)
* suspended 1st two games of 2012