Football journey: Tavon Wilson
September, 8, 2012
9/08/12
5:00
AM ET
FOXBOROUGH, Mass. -- Safety
Tavon Wilson
opened eyes when he was selected by the Patriots in the second round of the 2012 draft. The pick was a surprise, as Wilson was not on the radar of many draft analysts.
Since that time, the 6-foot, 210-pound Illinois alum has positioned himself as the team's top backup behind
Patrick Chung
and
Steve Gregory
. He also is projected to play a linebacker-type role at the "money" spot in the dime defense.
Wilson, a 22-year-old who is from Washington, D.C., shared his football journey with ESPNBoston.com:
[+] Enlarge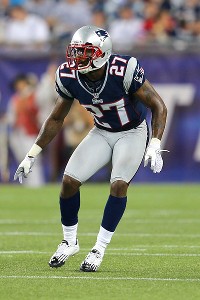 Jim Rogash/Getty ImagesKeep an eye on Pats rookie safety Tavon Wilson, who's poised to make an impact right away.
When he first started playing football:
"I was 9 years old. I played little league for the Marshall Heights Bisons [in D.C.]. My uncle was a coach, and my grandfather had played a lot. I just wanted to get out there and play, and my mom allowed me to play."
What he loves about football:
"Everything. I love studying the game, learning new things about the game and becoming a better player."
Role models in his life:
"I'd probably say my grandmother [Darlene Williams]. She's been a big part of my life because I lost my parents at a young age. So she's really been there for me through everything."
What he admires about his grandmother
: "Just how strong she is. It takes a lot to raise a man like she did. I feel like my grandmother did everything she could to raise me the best possible way, and I respect her a lot for that and love her a lot for that."
How he keeps in touch with his grandmother, who lives in D.C., on a regular basis:
"She actually learned how to text message [laughs]. She texts me every day. I try to talk to her every day, and she makes sure to call me the night before a game and wish me luck and just talk about life stuff. She helps me relax."
His environment while growing up:
"It kind of brings you together with all of your other family members. I feel like my family is very traditional. I feel like my grandparents took the place of my parents, and those are my parents. I had a role model as far as my stepdad, who was there for me. So I feel like my family is no different than anyone else. I don't walk around upset with how I grew up."
First position:
"Quarterback. I was average."
Favorite team growing up:
"I never had a favorite team in any sports. I've always been a fan of the game and liked to watch different sports. I've never had a particular team that I liked to watch. I just liked sports."
Favorite player growing up:
"I thought players like Michael Jordan were good, but never really had one of those, either. I've never been one to imitate a different player or compare myself. I was just a young kid trying to learn a game."
Top memories from H.D. Wilson High School, where he played cornerback:
"It was great, just being out there with some people you grew up with. You learn a lot about your character and how to overcome adversity and how to get through tough times with your team. You learn how to form that team bond. My first [scholarship] offer, from Illinois, was great. That was a blessing to get a scholarship, and then others started to roll in. That was probably the most exciting. I had committed to Maryland, but ended up going to Illinois. I just felt like I needed to get away and that it was a better opportunity for me."
Other schools who offered in addition to Illinois and Maryland:
"UNC, Tennessee, Michigan State, Boston College, Virginia Tech."
What stood out from his time at Illinois:
"I had a lot of good memories there. We won back-to-back bowl games, and that was definitely a memory. And being with all those guys was just great, spending four years. College is some of the best years of your life. It was great, and now I'm excited about this part of the journey."
Most proud accomplishment at Illinois:
"Getting my college degree [in communications]. I'm the first one in my family to get a college degree from a Division I-A school."
Getting selected by the Patriots in the second round:
"It was good, a blessing. Now, I feel like all that stuff is behind me, in terms of second round and all that. Now you have to come in and help the team any way you can, and that's what I'm focused on. You just have to come to work every day, and that's something I want to be a part of. Consistency is the key."
What he does with his free time:
"I'm a pretty boring guy. I'm just a hard worker; anything I do, I give it my best shot. When I'm not working, I'm just relaxing, watching [sports on] TV."