Picked-up pieces from first-half review
September, 17, 2012
9/17/12
8:00
AM ET
After re-watching the Patriots' Week 2 game against the
Arizona Cardinals
, passing along some first-half thoughts.
1. The Patriots were dominant across the board in Week 1, but in no phase more so than run defense. Conventional wisdom might have suggested that the Cardinals, who averaged just over two yards per carry in Week 1, would shy away from running at the Patriots in a perceived matchup of imbalance. From the first play from scrimmage, it was apparent this would not be the case. The Cardinals dialed up three straight interior runs to start the game, and were able to get nose tackle
Vince Wilfork
on the ground on the opening snap. It took all 60 minutes for the Cardinals to put the Patriots away, but just one play for them to set the tone that they were prepared to attack an area of strength for the Patriots. Although Arizona averaged just 3.2 yards per carry on the ground, they amassed 105 total rushing yards through a dedicated 33-carry attack.
2. The Cardinals wisely inserted a package of Wildcat offense centered around cornerback (and elite athlete)
Patrick Peterson
. He carried the ball just once, but it resulted in a 17-yard gain. The Patriots appeared to check into a man coverage scheme when the Cardinals showed the Wildcat formation (with an empty backfield aside from Peterson), with linebacker
Jerod Mayo
aligning opposite running back
LaRod Stephens-Howling
, who split out wide to the defense's right. Peterson called for Stephens-Howling to jet across the formation in motion, and Mayo started to follow him. The ball was snapped to Peterson with Stephens-Howling approaching, which left Mayo almost directly behind right defensive end
Chandler Jones
. Neither player was able to set the edge, allowing Peterson to scamper around the corner for a big gain. It looked as though there was pre-snap confusion on the Patriots' part, and it's possible that there was a breakdown in terms of which player was assigned to be the force player on that side of the formation.
[+] Enlarge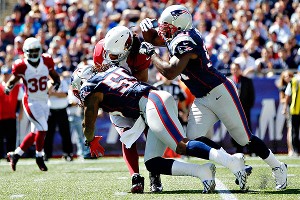 Greg M. Cooper/US PresswireThe Patriots' secondary held Larry Fitzgerald to a single catch for four yards in the first half Sunday. Containing Fitzgerald was clearly a point of emphasis during New England's week of practice.
3. The Patriots' secondary was sensational in holding
Larry Fitzgerald
to just a single catch for four yards, which occurred early on in the game. It would be oversimplifying what was great work to try to chalk it up to a single factor, but there were a couple of common threads that seemed to exist throughout the first half as it related to defending Fitzgerald: the Patriots did a good job of being physical with Fitzgerald near the line of scrimmage, while also keep a safety over the top of Fitzgerald to prevent him from driving deep. The Patriots targeted containing Fitzgerald as a goal throughout the week. Hard to argue with the output on Sunday.
4. An area that was mentioned in this space last week as a strength for the Patriots was the ability of the left side of the offensive line to play in space. On a 1st-and-10 with roughly five minutes to go in the first quarter, that thought was reaffirmed by a screen pass from
Tom Brady
to
Stevan Ridley
. Left tackle
Nate Solder
sold a drop-back pass with a deep set, while
Logan Mankins
timed up his release down the field beautifully. Center
Ryan Wendell
scampered down the field to the third level of the defense. The athleticism on that side of the line allows the Patriots to run screens and perimeter running plays at an effective clip. Incidentally, it was on the aforementioned screen pass that
Tom Brady
surpassed
Johnny Unitas
for 13th on the NFL's all-time passing yardage list.
5. On Thursday night, Mike Reiss passed along the highlights of "
Belichick's Breakdown
" in which he talked about fundamentals of the running game. Two components were featured: "line" and "own." Line referred to the linemen setting a back up with sound blocking, and own referred to a back's ability to generate yardage on his own after hitting the hole. On the penultimate play of the first quarter, tight ends
Rob Gronkowski
and
Michael Hoomanawanui
, as well as receiver
Julian Edelman
, did well to set the edge for running back
Stevan Ridley
on a right side run. Ridley was untouched until seven yards down the field, at which point he was able to elude the grasp of linebacker
Daryl Washington
and pick up another nine yards. That's one nice example of "line" and "own" coming together for a successful play.
6. It's still early on in the career of
Chandler Jones
, but it's becoming clear that any time he's lined up against a tight end as a blocker, it's a mismatch. Jones exploded on tight end
Jeff King
on the first play on the Cardinals' first possession of the second quarter, driving into running back
Ryan Williams
for a 4-yard loss. Just two plays later, Jones forced a hold on Cardinals' left tackle
D'Anthony Batiste
, followed by a pressure on the ensuing third down. Jones was a bright spot on Sunday.
7. We'll have to double check the specifics of the rule on grasping the football pre-field goal, but it sure didn't appear as though long snapper
Danny Aiken
was guilty of a false start penalty prior to
Stephen Gostkowski's
second field goal attempt. Aiken appeared to adjust his grip on the ball, which caused multiple Cardinals' rusher to jet across the line of scrimmage. The penalty was called on Aiken, however, rather than on Arizona, which would have set the Patriots up with a 1st & goal on the seven. The bottom line remains that the Patriots were ineffective on third-down throughout the day, finishing just 5-of-15. This is an area that needs to be improved.
8. On the Cardinals' second series of the second quarter, we saw something defensively from the Patriots that this scribe can't recall seeing previously during this season: aligning in what was essentially a 3-4 front.
Kyle Love
aligned shaded over the center, with
Ron Brace
and
Rob Ninkovich
reduced down to 3-4 end spots.
Jermaine Cunningham
and
Dont'a Hightower
flanked the line as outside 'backers, with
Jerod Mayo
and
Brandon Spikes
working inside. On the following play, Cunningham was in a three-point stance in an end alignment. So what's it all mean? With personnel like Cunningham, Hightower, and others, the Patriots have the ability to throw a variety of fronts at an offense, and can flex between different fronts on a play-to-play basis.
9. A forced fumble by
Chandler Jones
looked to be an opportunity for the Patriots to swing momentum in the second quarter, but
Tom Brady
was sacked on consecutive plays following the turnover. On the first play, tight end
Michael Hoomanawanui
shuffled across the formation in which looked like motion to set up a wham play. Receiver
Julian Edelman
faked a reverse on the same play. The sell of the reverse of Edelman was an aid to keep linebacker
Sam Acho
at bay and prevent him from storming after Brady off the edge, and he was also to be neutralized by a block from Hoomanwanui. Acho neither bit on the fake nor did Hoomanwanui get over in time to block him flying off the edge for an easy sack. Following a false start, the Patriots faced a 2nd-and-25, and
Quentin Groves
worked a two-man game off the defense's left side for another easy sack. Groves and defensive tackle
Darnell Dockett
twisted, with Groves circling around Dockett and back inside. It's hard to diagnose exactly who was the guilty party on the Patriots' line between right guard
Donald Thomas
and right tackle
Marcus Cannon
, as it looked a communication breakdown led them to both working outside (and accordingly towards Dockett). The line needs to be sharper than that in protection.
10. Generally speaking, in re-watching the film, it was a tale of missed opportunities on offense for the Patriots. They weren't efficient on third down, and had a number of plays that they were close to gaining extra yardage on, but failed to do so. It did not appear as though the offense was able to establish a rhythm, which could be due in part to the absence of Hernandez. Defensively, the Patriots were good, forcing a turnover and playing tough throughout the half.