Football journey: Marquice Cole
September, 29, 2012
9/29/12
5:00
AM ET
FOXBOROUGH, Mass. -- In signing cornerback
Marquice Cole
to a one-year contract on March 19, the New England Patriots landed a top special-teams player who also could contribute on defense in substitution packages. They had watched him closely the previous three seasons when he played for the New York Jets.
[+] Enlarge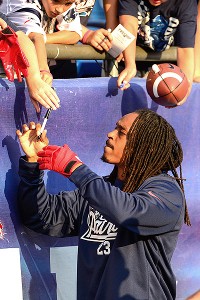 AP photo/Jim MahoneyJourneyman defensive back Marquice Cole appreciates his opportunity with the Patriots.
Through three games with the Patriots this season, the 5-foot-10, 190-pound Cole has been a solid fit, appearing on the kickoff coverage, punt coverage and punt return units, as well as playing nine snaps on defense.
To say Cole appreciates the opportunity is an understatement. Based on the hard road he traveled to make it to this point, it's no wonder he's always smiling around teammates and coaches.
The 28-year-old Cole explains why that's the case as he shares his "football journey" with ESPNBoston:
When he first started playing football:
"My freshman year of high school [Hillcrest High in Illinois]. Before that, I didn't even know they had football for younger kids. Growing up in Chicago, I was more into tumbling [gymnastics] and just having fun as a kid. I never really thought about playing organized sports at that young of an age."
Top memories of high school football:
"Big games. First round of the playoffs my senior year, I kicked a field goal, extra point, 2-point conversion, and I scored the game-winning touchdown. So that was a big moment. It was just being around friends, having fun."
First positions:
"I was always a cornerback. I was a big fan of
Deion Sanders
. Your first day, freshman year, they say 'What position do you want to play?' For me, it was DB."
Favorite players growing up:
"Deion, of course. He was a great player. His antics and all that off the field, I never really even knew about. I just knew him from watching the games and seeing him play and how good he was and him being a great player, week in and week out, being consistent and always on top of his game. I was a big fan of
Randy Moss
. Same thing with him, knowing going into a game that you were going to be double-teamed and still being able to produce the way he did and does, it's huge.
Brett Favre
, too. Even though I'm from Chicago, I was a big Packers fan because of Brett Favre. And
Rodney Harrison
, so I was a big Patriots fan in high school."
Role models in his career:
"My high school football coach [Ernie Sutton], my high school gym teacher [Stacey Lane]. Rodney Harrison, who is best friends with my high school coach. I met him when I was in high school and I've done his camp every year; he does it at my high school. They have always been there with advice."
When he knew playing college football was an option:
"When I got my first offer, going into my senior year. I knew I had played well -- I was all-conference, all-area, all-state -- but it never really dawned on me that I could because I didn't know anybody that went and played college football, or even went to college for that matter. Until I got that offer, I was like 'this is pretty real.'"
Enrolling at Northwestern:
"I wanted to go to the University of Illinois and they had done well that year; I think they won the Big Ten. They offered me, but the day before my official visit there, the defensive backs coach came to my school and they withdrew the offer, saying I was going to be too far down on the depth chart. So they took the offer back. I had been telling other schools I was going to Illinois. When that happened, Northwestern came in and I was like, 'Yeah, I'll get to play against Illinois, and I'll be able to play early.' So I decided to go there and also get a great education [degree in communication studies]."
Entering the NFL as a rookie free agent:
"It started in Oakland [in 2007]. I was there throughout the preseason. I got released and then I was out of football until Week 13. Then Tennessee called and I ended up getting on their practice squad for the rest of that season, and then they signed me for the next season. I went to their training camp, got released, and was out of football again until Week 13, 14. Then it was on to the New Orleans practice squad. They didn't sign me [for the 2009 season], and I had a tryout with the Jets. They signed me and I made the opening roster. But after Week 1, they released me, and brought me back on the practice squad for a week. I was getting interest from some teams, but a couple of DBs got hurt in Week 2, and they put me on the active roster and I was active ever since."
Top memories of the Jets:
"Everything was fun. Coaches. Just having an opportunity to make a team and having an opportunity to go out there, play and make plays, and feel like you're part of a team helping a team win games."
After three seasons, not being tendered by the Jets as a restricted free agent:
"They let me go into free agency. I had some interest from some teams, and the Patriots offered me. I looked at the good tradition of winning, and also the DB situation and how it got kind of thin at the end of the year, so I figured I could come here and have a chance to play -- not only on special teams but also on some defense as well."
Happy with the Patriots:
"Any opportunity that I get in life to do stuff that I want to do, I'm happy and can't complain. All the guys say I'm always joking, always laughing, always smiling. Coaches say, 'You're never mad.' If you see me around here, with a job, you're not going to see me mad. There is no point walking around sad. We're blessed to do what we do. That's the way I was brought up and the life I've lived up to this point, the situations I've been through. Things could be a lot worse."
Describing the culture with the Patriots:
"It's a lot of fun. When you get here, it's like you're automatically a part of the tradition, the Patriot Way. You see the way things go and you get in line and fit in. Whatever it was before you got here, when you get here, you see how people want it to be done and you follow that and do it."
What he likes about football:
"A lot. It's a game and to be compensated the way we are, to play a game, is amazing. And then the friendships you come into. In football, those friendships are tied to how you have to rely on teammates. Our jobs intertwine. There is a trust that you generate and that makes it fun."
Support at home:
"My girlfriend [Rebecca] has stuck by me through those tough times. I was out of football for 27 weeks in two years, so no job, and she was pushing me to stay in shape. Then after that, when my son [Marquice Jr.] was born, you have to grind harder. This journey I'm on right now is just an awesome story that I'll have for my son. It's one of those stories I don't have to make up or read out of a book. I have living proof, to be that role model he looks up to. Everything is not always going to go your way, but you stuck through it and fought through all the garbage to provide a way for him to go to good schools and have clothes and food and all of that."
Summing up this football journey:
"It's just like life. You'll have your ups and downs and it's just about what you're willing to do when you hit those downs. Are you going to give up and take the easy road? Or is this something that you want that you'll keep fighting for? You persevere through it."